Shrimp Scampi – Flavorful shrimp covered with breadcrumbs, broiled and tossed with buttery linguine!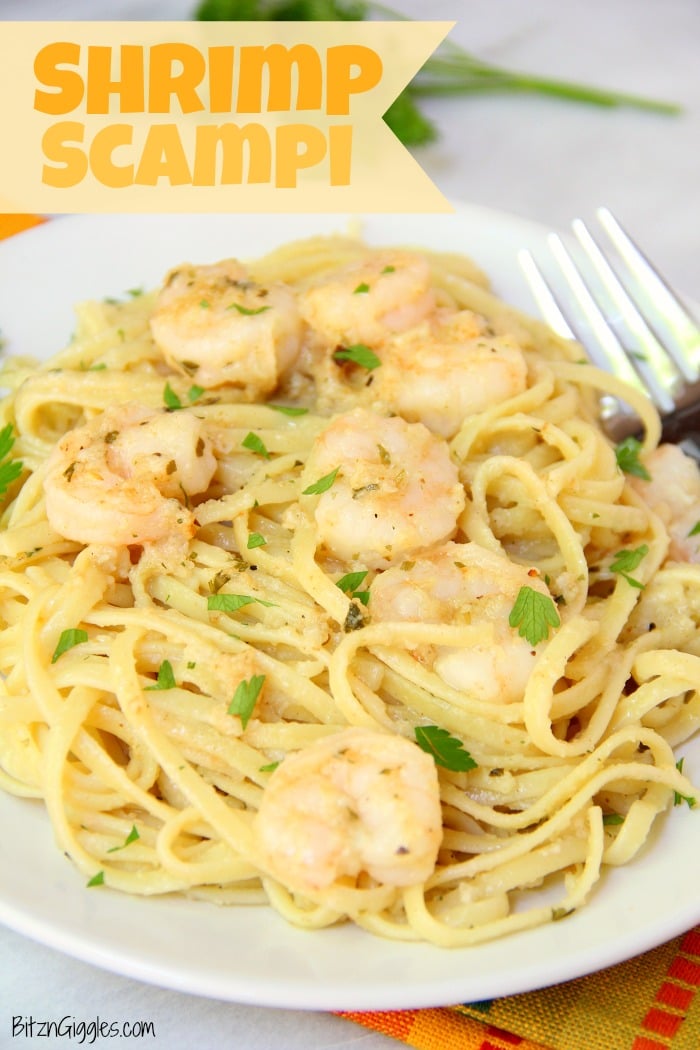 This post may include affiliate links. Please see my disclosure
I've been craving light and fresh recipes as of late. When I think light and fresh, I usually think salads or seafood. I normally can only eat salads for lunch, however, because they just don't seem to keep me satisfied for long. For dinner, I crave something with more substance, or I'll be looking for a snack come 9:00 pm. Not good.
This shrimp scampi is SO simple and fast. I actually use frozen, cooked shrimp. Get this. . .I don't even thaw it all the way. Who has time for that? The shrimp actually turns out perfect when doing it this way because it doesn't overcook.
Preparing the Shrimp
The recipe calls for heating the ingredients in a skillet and then transferring to a baking pan to broil for the last 2-3 minutes.
The parmesan cheese and seasoned bread crumbs are the magic to this dish.
Adding the Linguine
After broiling, toss the buttery linguine with the flavorful sauce and you're ready to go.
You can literally throw this together in 20 minutes from start to finish. . .if that. However, it's SO beautiful that those you serve it to will think you slaved away in the kitchen for hours. I won't tell if you don't. It's our little secret.
This scampi is a winner. It's delicious, light, fresh, fast and EASY! Let's get to eating!
Craving more shrimp deliciousness?
Shrimp Scampi
Flavorful shrimp covered with breadcrumbs, broiled and tossed with buttery linguine!
Ingredients
3 cloves garlic, minced
1 stick of butter, divided
1/4 cup olive oil
1 pound frozen, cooked shrimp (peeled and deveined), almost thawed
1/4 cup lemon juice
1/2 teaspoon garlic pepper
1/4 cup Progresso Herb & Garlic bread crumbs
1/4 teaspoon dried oregano
1/2 cup grated Parmesan cheese
1/4 cup parsley (dried or fresh, minced)
8 ounces linguine pasta
Instructions
Turn your oven broiler on low.
Cook the linguine according to directions; drain, mix with 1/4 cup of butter and set aside.
In a skillet, heat the minced garlic together with the rest of the butter and olive oil.
Add the shrimp, lemon juice, garlic pepper and oregano. Cook and stir until the shrimp are warm and cooked through.
Transfer the shrimp and sauce to a baking pan and sprinkle with bread crumbs, cheese and parsley.
Broil on low for 2-3 minutes or until topping is golden brown.
Add the linguine to the baking pan and toss or just top the linguine with the shrimp and sauce. Serve immediately.
SaveSaveSaveSaveSaveSave
SaveSave
SaveSave