Summer Popsicle Party With FREE Printables! What a cute idea and party theme for summer!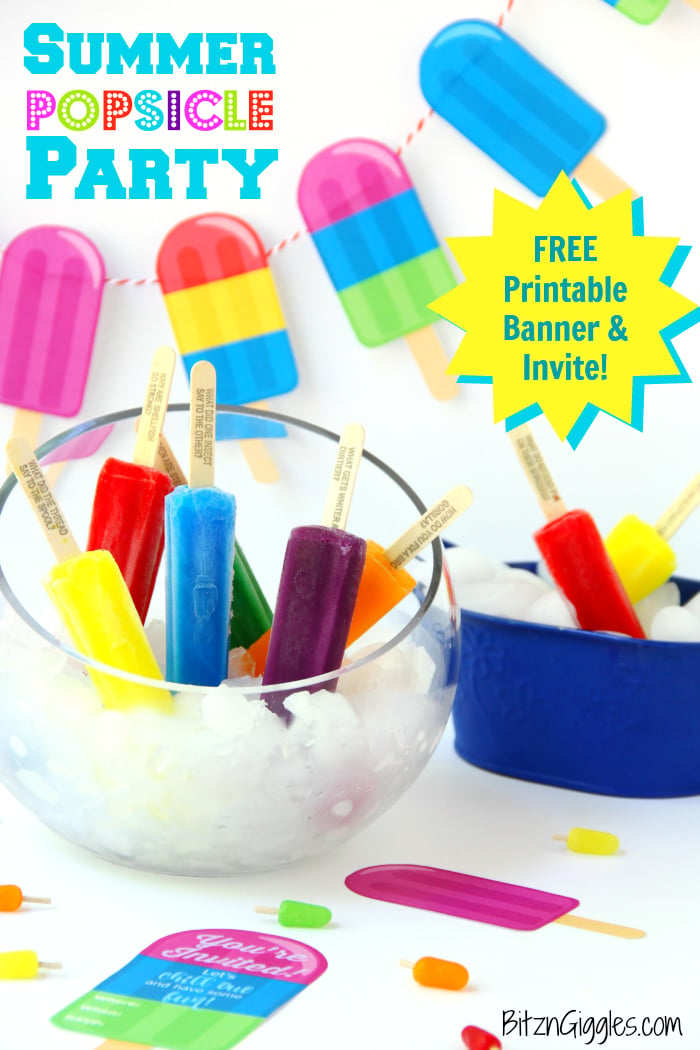 SCHOOL'S OUT FOR SUMMER! This past week Dane finished 1st grade and Cora wrapped up preschool. They've been counting down the days to summer break and looking forward to lots of fun in the sun! Aren't we all?! I thought the perfect way to kick off the start of summer was by throwing a popsicle party!
There's nothing better than enjoying a cold, delicious ice pop on a hot summer day. So it just made sense to put the two together. Party + ice pop = the perfect start to summer break. After the picnic I organized for the kids at the beginning of spring this year, they've come to "expect" a party or surprise of some sort to kick off each season. I can't blame them. . . and I certainly couldn't disappoint. . .my kids. . .or the twins next door. 😉
So today, we're going to talk about how to throw your own popsicle party!
It's up to you who you'd like to invite, but once you have that decided, I'm going to make the rest of the planning a piece of cake.
The Invite
First things first – you'll need an invite. I created this fun popsicle-shaped invite for the kids. There's just something about a physical invite that gets the kiddos excited. Heck, I get excited when I receive a physical invite in the mail. It just seems so much more special. I've made it easy for you. All you need to do is download, print, cut out and fill in the details. Wah lah.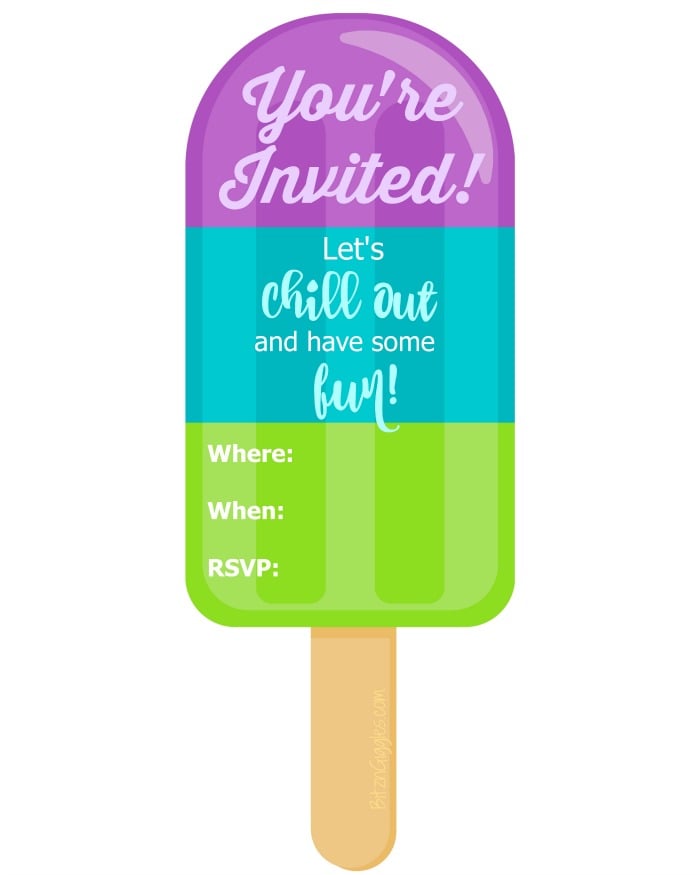 I didn't need to use the RSVP line, but you may – especially if you're going to plan a larger party with extended family and friends!
Note: Printable includes three invites per sheet
The Banner
Now, don't get nervous. This printable popsicle banner is so easy, and I promise you, it's going to be so cute! I've done all of the work for you. All you need to do is download, print and cut it out. Now, where have you heard that before?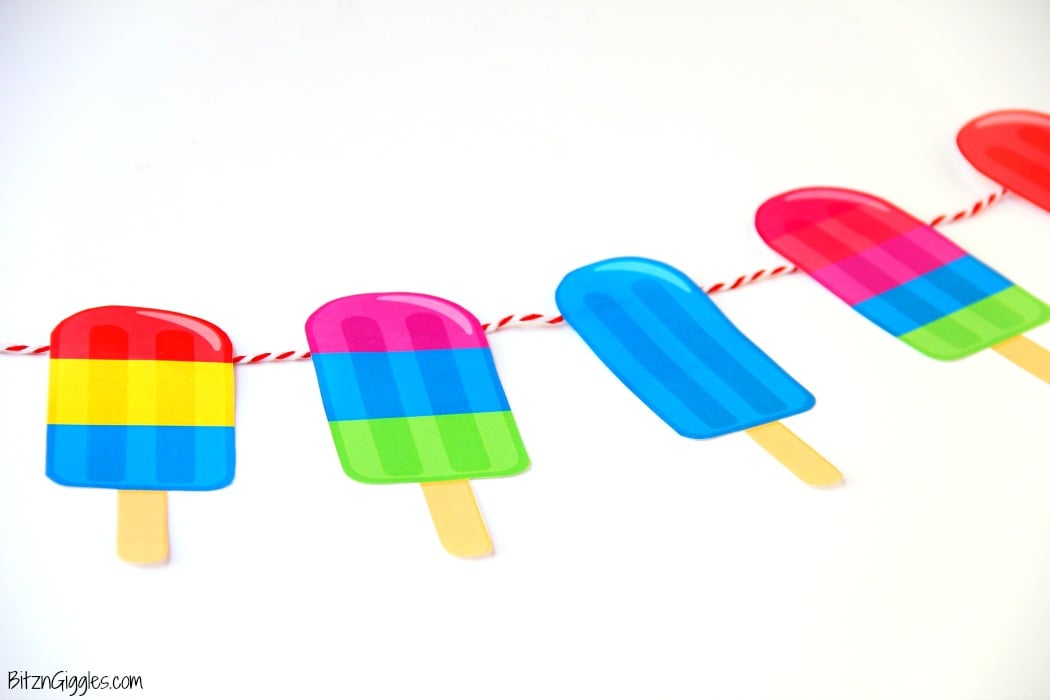 Well, let me back up a bit. . .you are going to need a bit of string and a little tape. 😉 For the banner I made, I printed out two of the banner sheets because I wanted a total of 7 popsicles with a red popsicle on each end. Why? It goes back to my obsession with cherry. 😉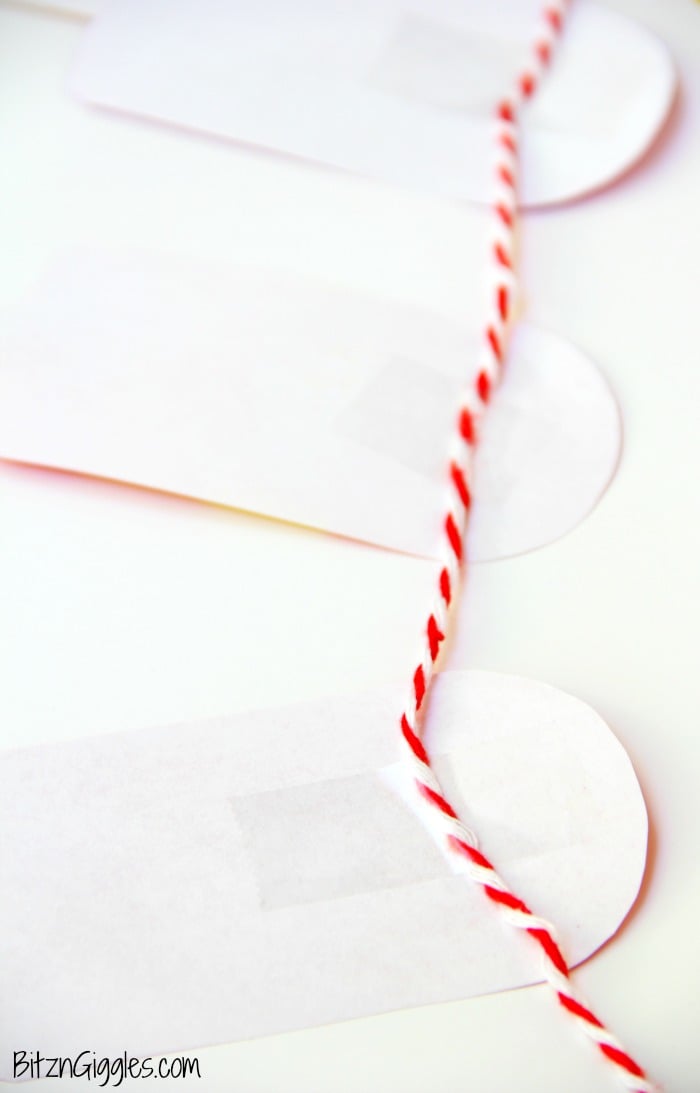 The Popsicles
If you're looking to amp up the nostalgia factor and serve up America's favorite ice pop, then just look for the Original Brand Popsicle® pops in the iconic yellow box we all remember as kids. They truly are the original summertime treat! Today, there are more than 20 unique flavors including the old standbys. . .orange, cherry and grape!
Which flavor is your favorite? I've always been and will always be a cherry fan, however, when I went to pick up the pops, to my surprise, I saw that Popsicle® is offering three new varieties:
Popsicle® Teenage Mutant Ninja Turtles™ (complete with Michelangelo™, Donatello™, Raphael™ and Leonardo™)

Includes four action-packed flavors: Orange Fury, Cherry Crush, Blue Raspberry Blast and Smashing Grape.
Which kind would you choose? I went with the Teenage Mutant Ninja Turtles pack. The bright bold colors and fun flavor names sold me! Oh, and I grabbed a box of the Rainbow pops! Of course I did.
The Table
My kids taught me how to make little popsicles out of toothpicks and chewy candies so I thought I would make a couple of those and just sprinkle them on the table as edible confetti along with a few more popsicles I had cut out when I made my banner.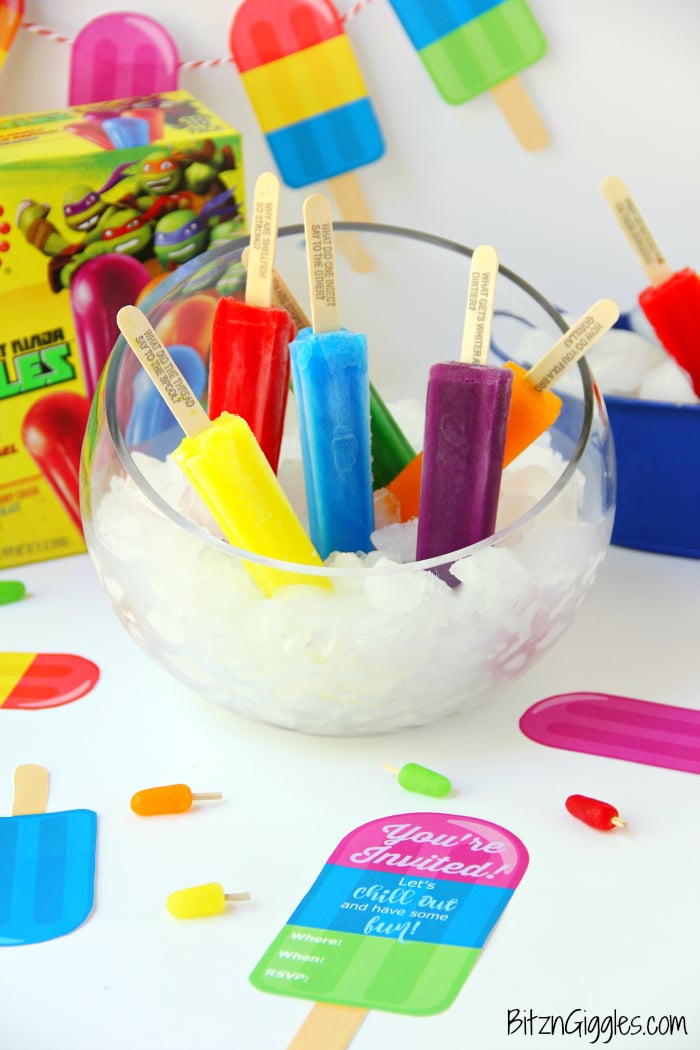 I had a cool glass vase (is that what you'd call it) that I filled with crushed ice and stuck the popsicles right inside. This is a great way to keep the popsicles cool until your guests arrive! But don't put them in there too early!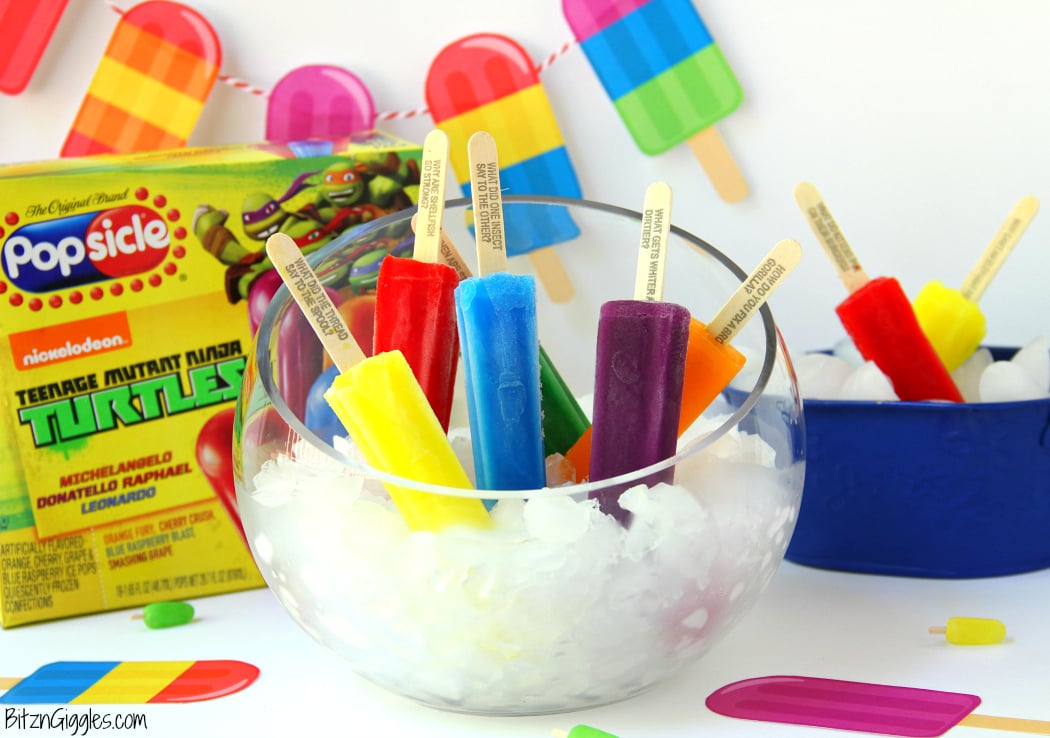 The Fun
So, I'm going to be honest. The kids may or may not have had multiple popsicles at the party. I'm not sure if it was the party or just the sheer happiness of knowing school was out for the summer, but we had smiles all around and a lot of red lips and blue tongues. . .which equates to a REALLY great day!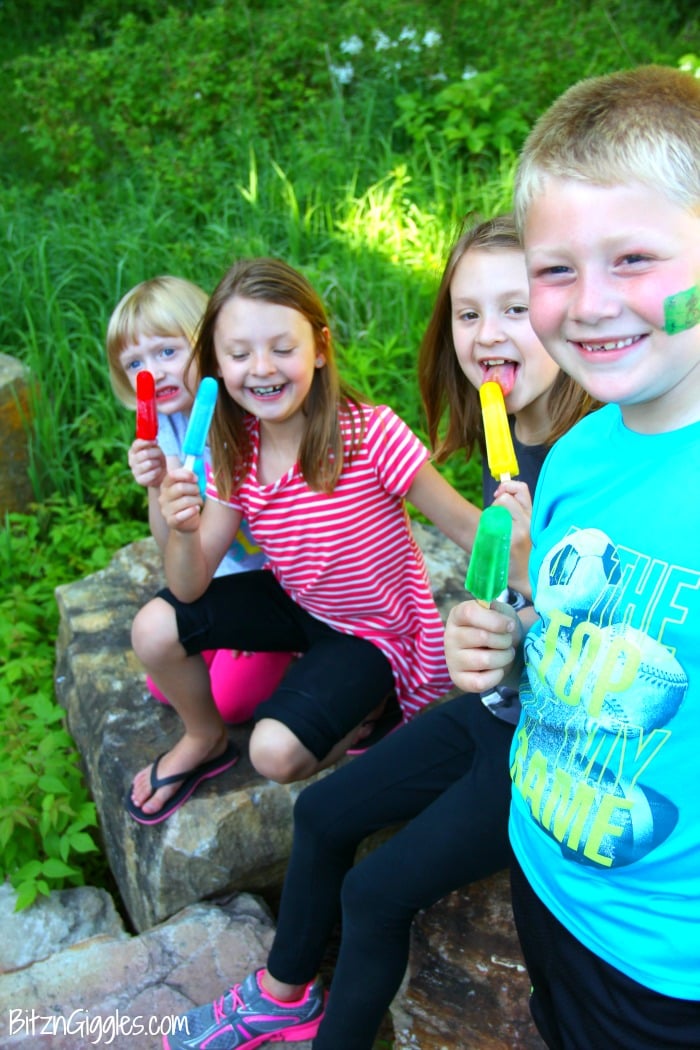 So, of course I jumped on the opportunity to take some candid shots. I ran inside to grab the banner off the wall and had some help from the adults at the party to hold it up behind the kids. I can't stand the cuteness.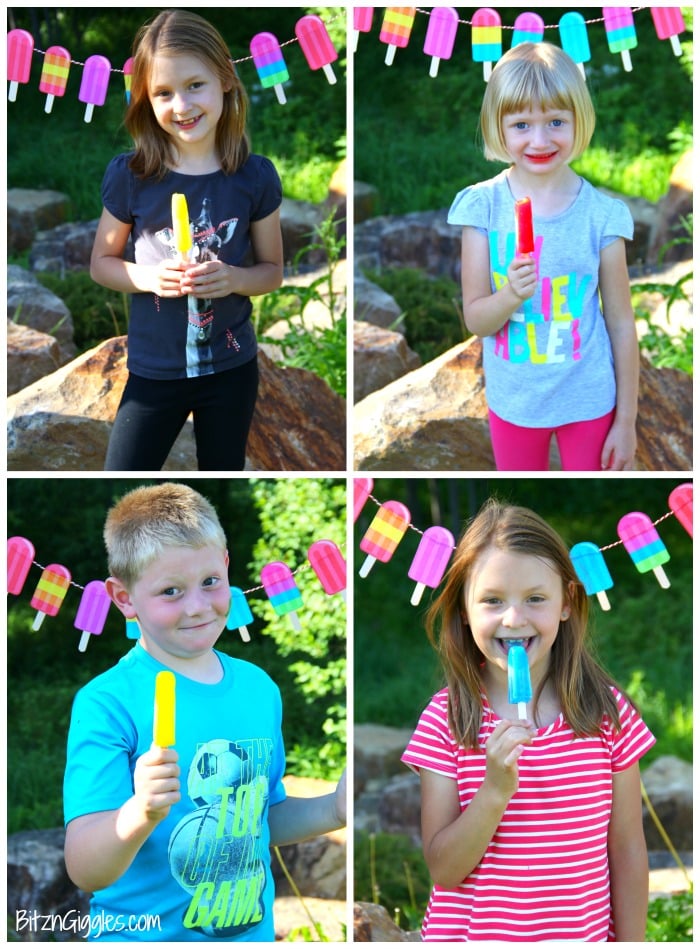 So, you're inspired, right? You're ready to throw your own summer popsicle party, right? Right. I sure hope you do! I promise it won't take much planning at all! Get the kiddos to help out with the banner and the invites. In about a week they're going to be coming to you anyway with the "I'm bored" look on their face. Am I right? Sounds like perfect timing to plan a popsicle party. 😉
For more cool summertime fun, follow along with Popsicle® on Facebook and Twitter!
This is a sponsored conversation written by me on behalf of Popsicle. The opinions and text are all mine.
(Visited 5,610 times, 1 visits today)