Air Fryer Angel Food Cake – A simple and beautiful layered cake topped with strawberries and cream, made right in the air fryer!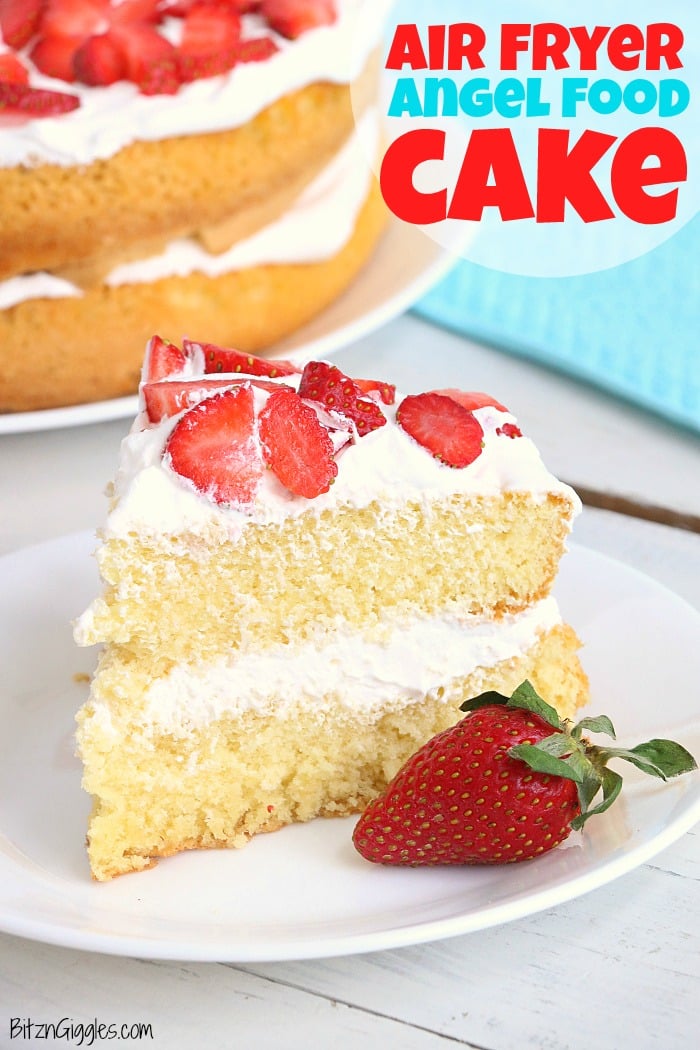 This post may include affiliate links. Please see my disclosure.
I continue to figure out new things to make with my air fryer! So many people think it's sole purpose is heating frozen foods. There's so much more to it than that. Today I'm making Air Fryer Angel Food Cake.
Let me just preface this by saying that I understand this may not be "true" angel food cake. This version isn't made with egg whites and I didn't bake it in the normal angel food cake pan. I used whole eggs and the cake pan from this air fryer accessories set. It fits perfectly in the air fryer!
The cake's ingredients are still pretty close to the standard ingredients in angel food cake, so I decided to leave the name as such. Call it whatever you like. The one thing I'm sure we will agree on is that it's absolutely delicious.
Making Air Fryer Angel Food Cake
Begin by mixing the batter. Since this is a layer cake you're going to make one layer at a time.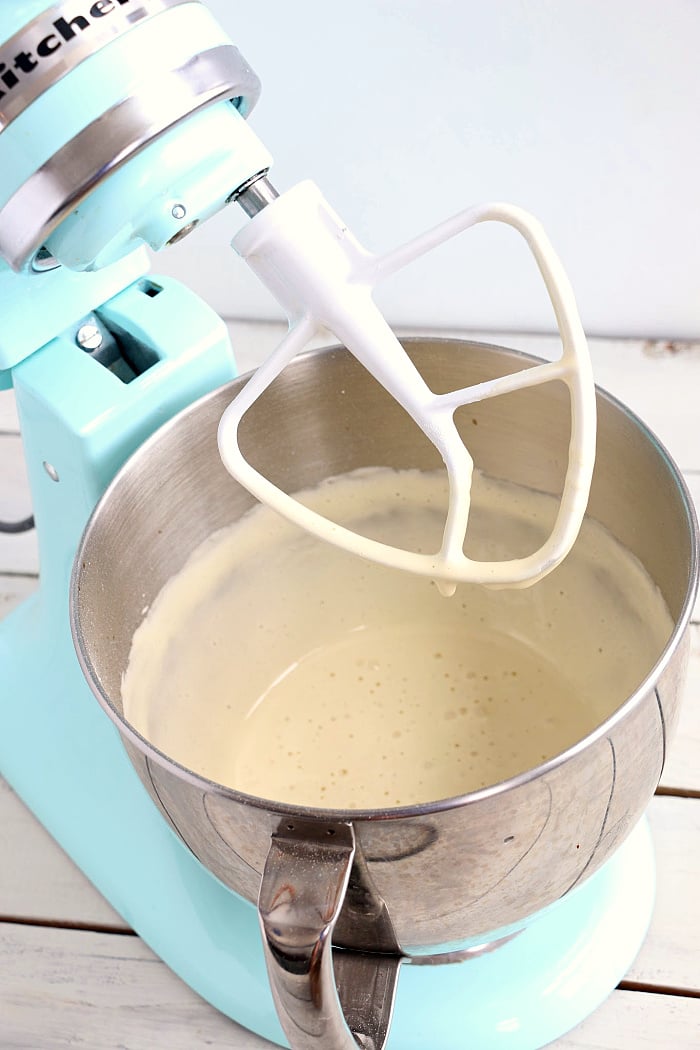 Pour the batter into the greased cake pan.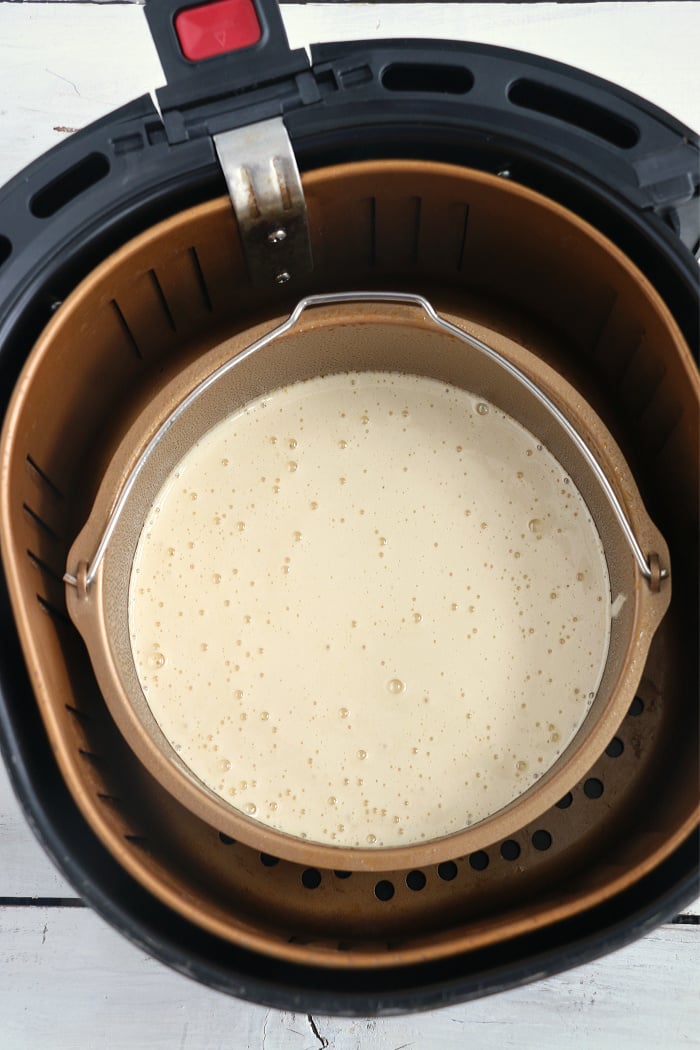 Repeat this same process for the second cake. When both cakes are cooled and ready, it's time to dress them up a bit. Grab the Cool Whip and the strawberries.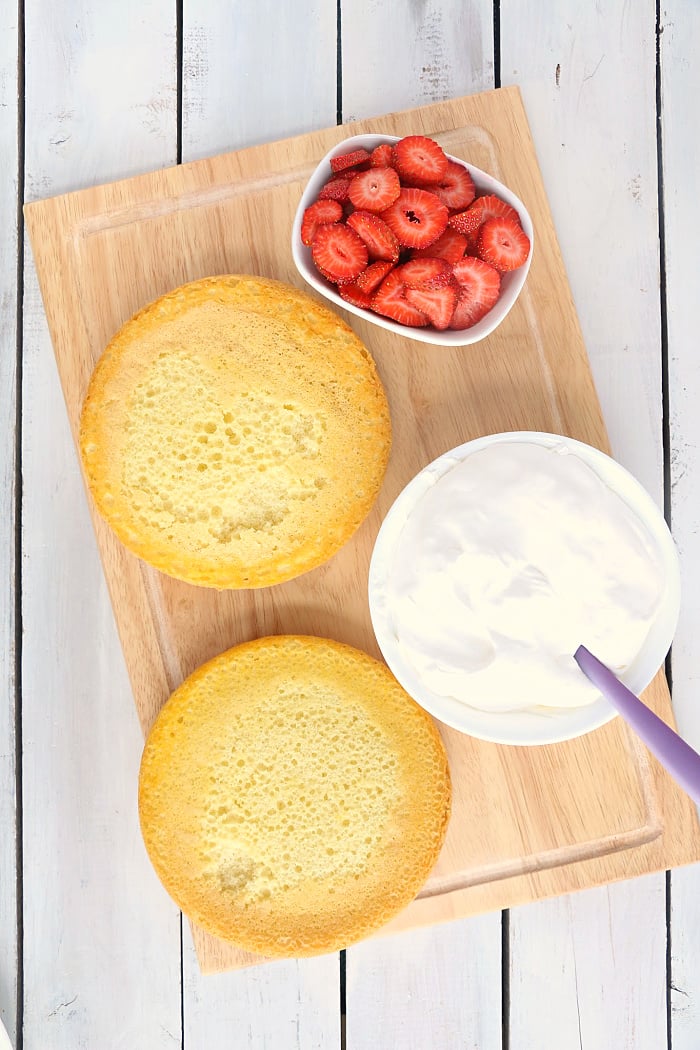 Spread a layer of Cool Whip onto the first cake, place the second cake on top of the first and cover the second layer with Cool Whip as well.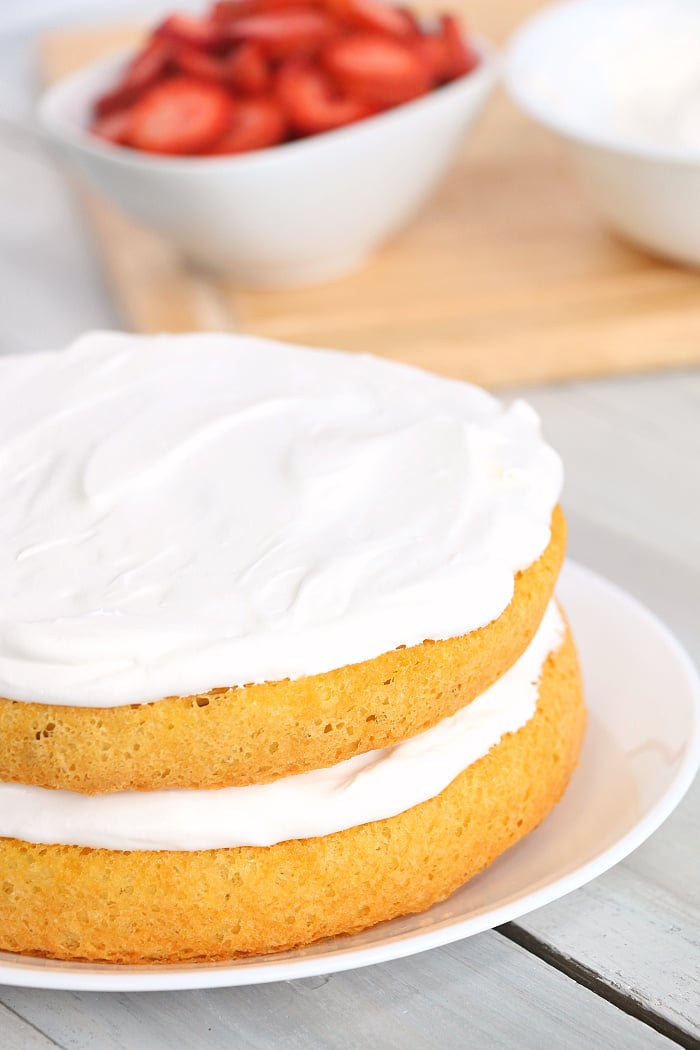 Are you with me so far? Easy, peasy. You can do this.
Now, just start decorating the top of the cake with pieces of strawberries. . .or use whole strawberries. It's completely up to you.
This cake is so simple to prepare but it looks like you spent much more time on it.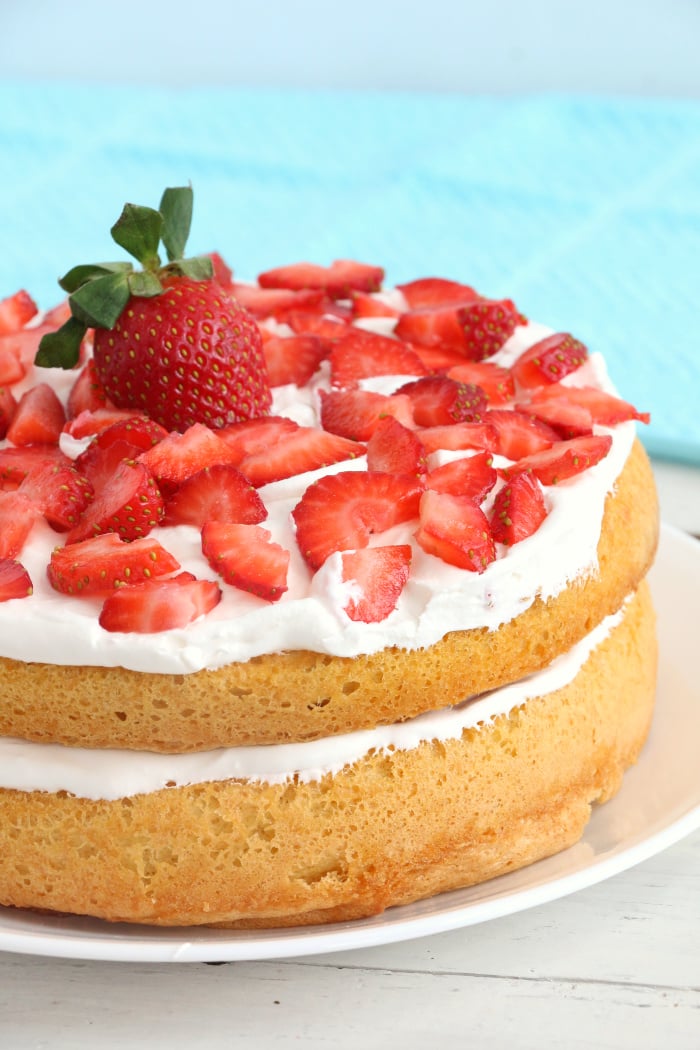 The kids often request that I cover the entire cake in Cool Whip. ☺️ So, I have done that in the past. Just not this time.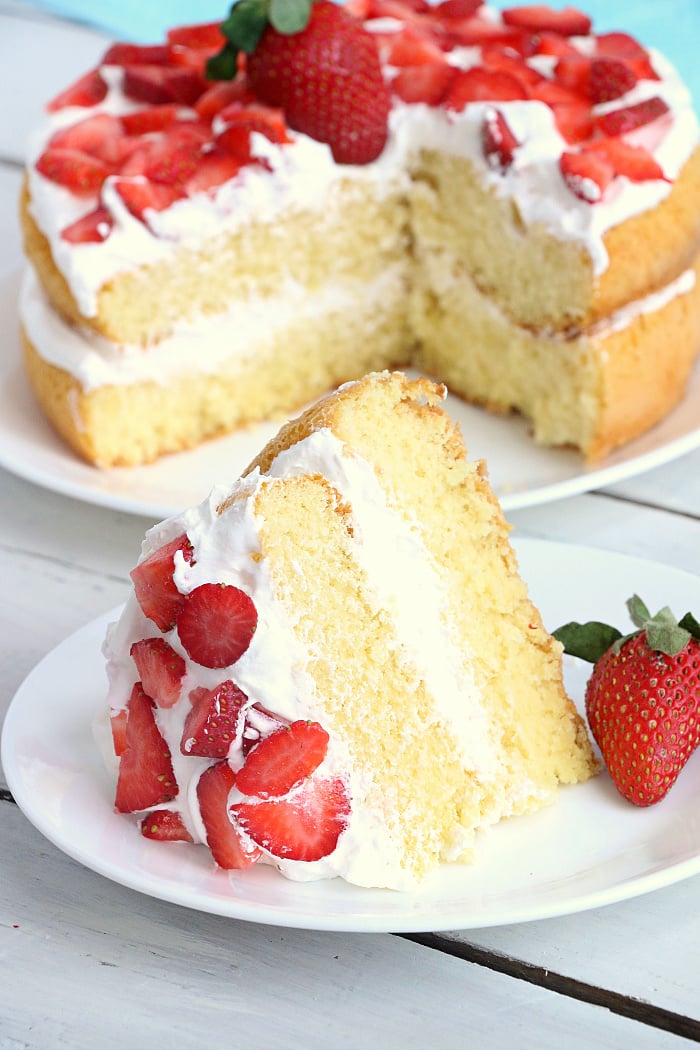 Pretty incredible, right?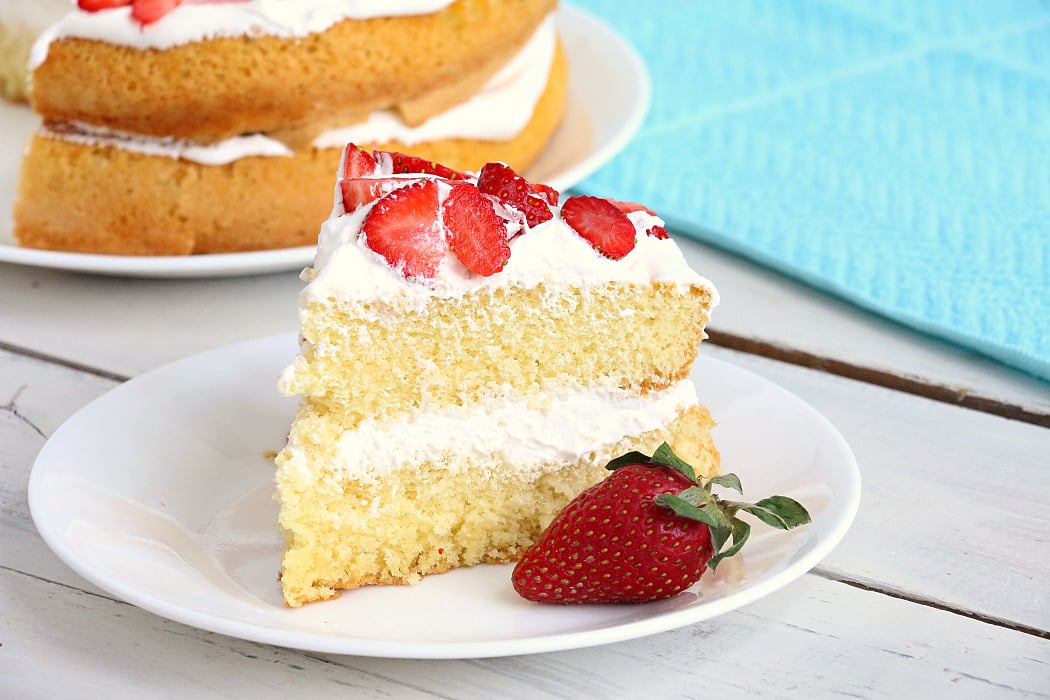 Let's not forget we made this in an air fryer.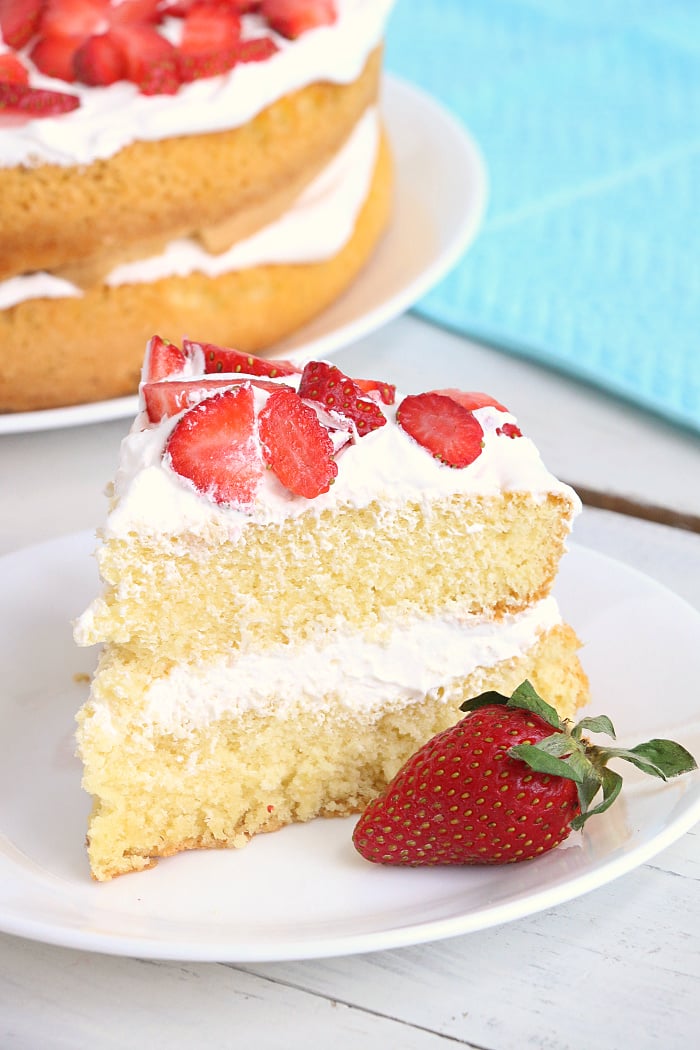 I can't wait to see photos of your finished cake!
To become part of our Air Fryer Easy Recipes community on Facebook, you can request to join here. I can't wait to see you inside of the group!
Ready for More Air Fryer Recipes?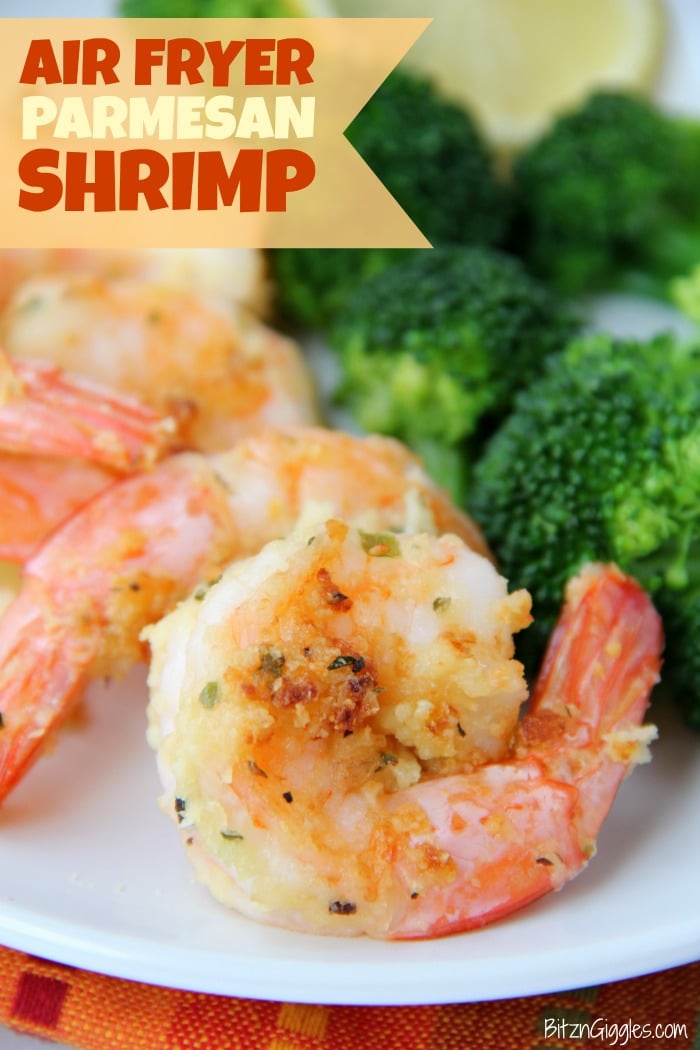 Air Fryer Angel Food Cake
A simple and beautiful layered cake topped with strawberries and cream, made right in the air fryer!
Ingredients
Ingredients for each layer:

2 eggs
6 tbsp sugar
1/4 tsp vanilla
1/4 cup flour
1/4 tsp baking soda
1/2 tsp cream of tartar
8 oz. Cool Whipped, divided
1 cup sliced strawberries, divided
Instructions
To prepare first layer of cake, beat eggs and sugar on high for 6 minutes.
Add vanilla, flour, baking soda and cream of tartar and mix on medium for 1 minute.
Pour batter into your greased air fryer cake pan.
Bake at 325º Fahrenheit for 15 minutes.
Cool and flip cake onto a plate.
Repeat for additional layer.
Top first layer with half of the container of Cool Whip.
Place second cake layer on top of first.
Spread the remaining Cool Whip on top of the cake.
Evenly distribute strawberries for garnish.