Big Batch Homemade Chili – A flavorful, yet mild chili, perfect for parties and gatherings. This chili is a family favorite and serves a crowd!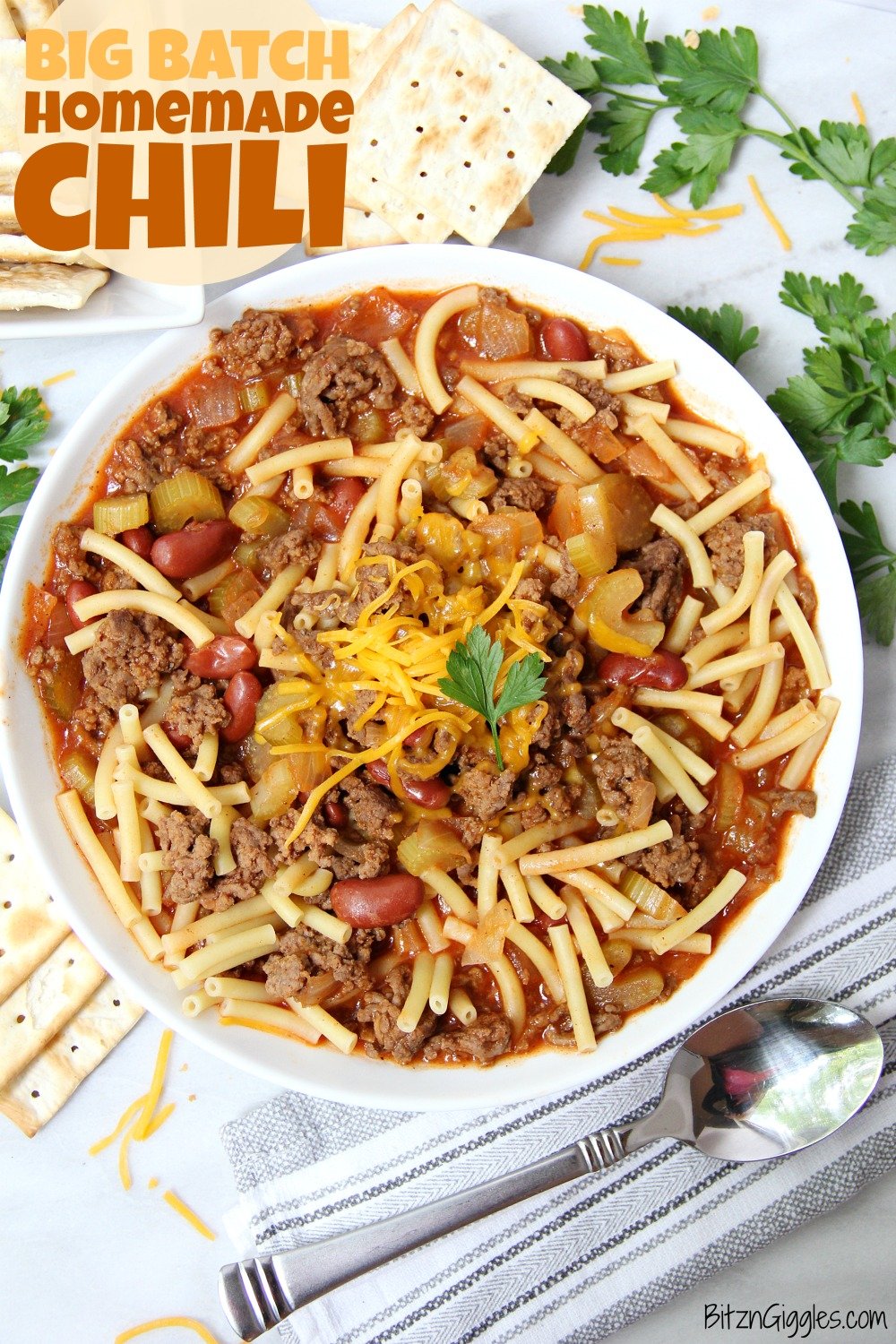 This post may include affiliate links. Please see my disclosure.
One of my favorite recipes of ALL TIME is this Big Batch Homemade Chili I'm sharing today. It's such an awesome recipe that I can't even tell you where I got it or how I obtained it. That part is top secret.
What I will say is that this recipe has made a lot of money over the years for many good causes. It's tried and true and my absolute go-to chili recipe.
This isn't a spicy/hot chili – it's actually quite mild with a hint of sweetness. If you want to spice it up a bit, go ahead and experiment with more chili powder or sprinkle in some cayenne or chipotle pepper.
HOW TO MAKE BIG BATCH HOMEMADE CHILI
To make a big batch of this homemade chili, you're going to need:
Ground beef
Celery
Onion
Crushed tomatoes
Light kidney beans
Ketchup
Tomato soup
Tomato juice
Brown sugar
Ready-cut spaghetti or elbow pasta
Chil powder, pepper, salt
HOW SHOULD I COOK CELERY & ONIONS FOR CHILI?
If you'd ask my mom how to do this, she'd probably throw the celery and onions into a saucepan and sauté the mixture in butter. That will work great!
I, however, choose to use an electric steamer. I usually begin by steaming the celery and then add the container of onions on top of the celery about halfway through cooking time. The celery always seems to take longer to soften than the onions.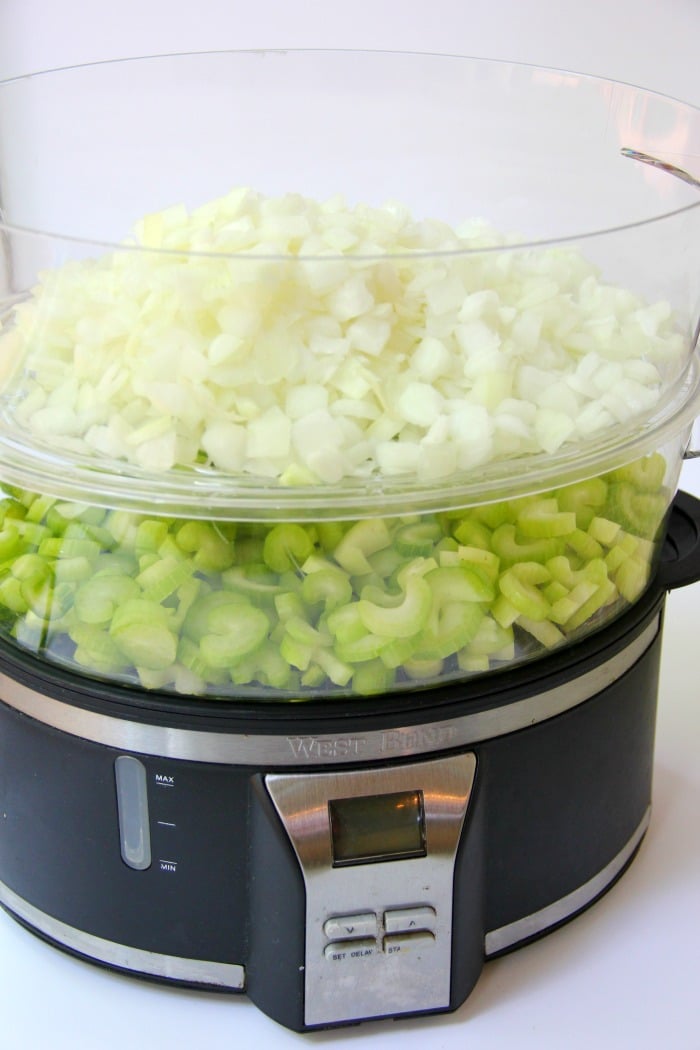 WHAT CAN I COOK A BIG BATCH OF CHILI IN?
If you have a very large stockpot, you can use that. I opt for an even more affordable option, my 21-quart canner! It gives me plenty of room for stirring and I never have to worry about anything bubbling over.
Okay, so now that we have our celery and onions softened and our big ole' pot ready to go, let's get cookin'!
You'll begin by browning the ground beef over medium-high heat in a large skillet. Then, begin to add everything to your stockpot or canner. I add the ground beef, celery, onion, and beans first.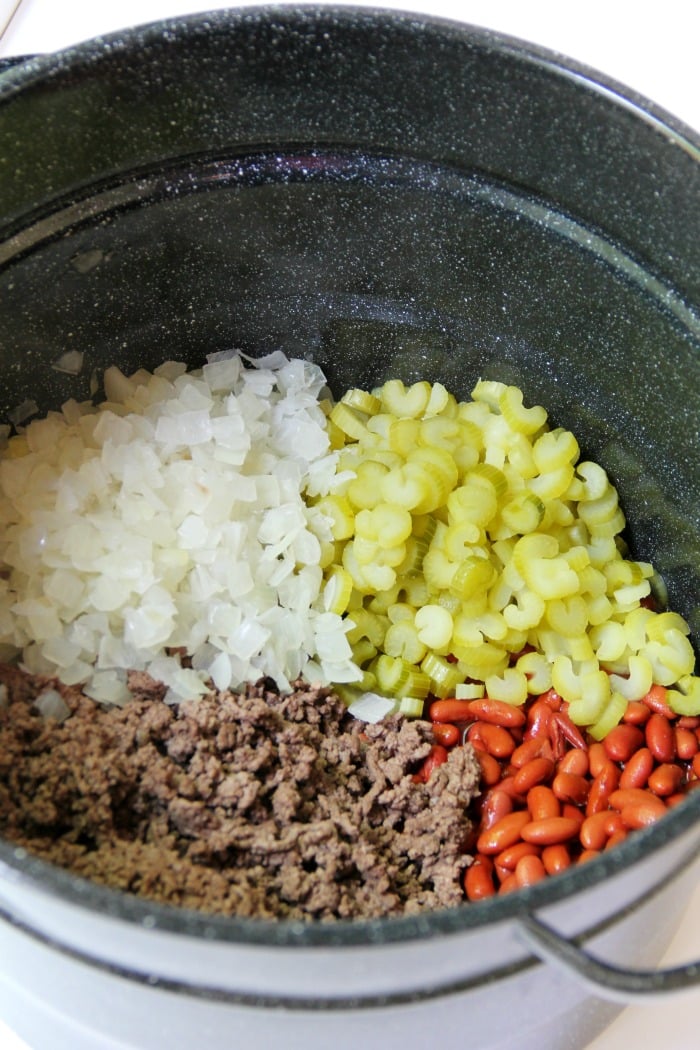 Then, I add the tomatoes, ketchup, tomato soup, tomato juice, water and seasonings. Let it all simmer for 30 minutes or more. I often make the chili on Sunday afternoon and just keep it on low until dinner time.
SHOULD CHILI HAVE NOODLES?
That's up to you. Everyone has their own preference and opinion. My husband, Josh, doesn't like noodles in his chili. I, on the other hand, LOVE noodles in my chili.
Your best bet is to boil some noodles separately, drain 3/4 of the water out of the pot and allow the noodles to sit in what's left. Stir them around every so often so they don't stick together.
Let your family members or guests add the noodles on their own. I never put them in the chili for two reasons:
Not everyone likes noodles in chili.
Noodles will get soggy sitting in warm chili for too long.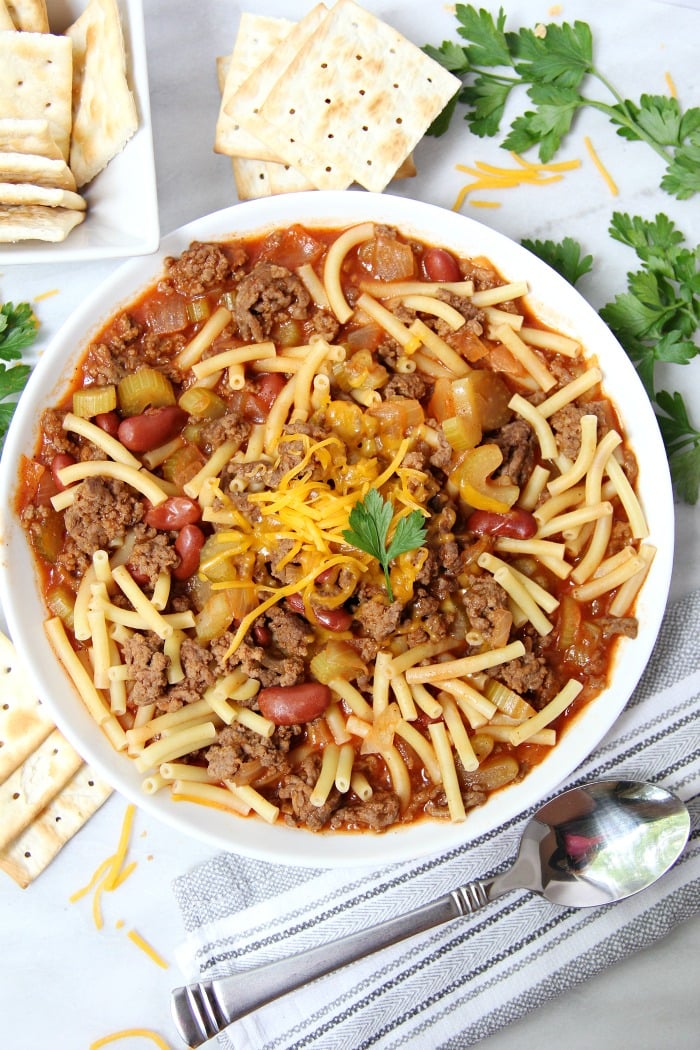 WHAT KIND OF NOODLES SHOULD YOU USE IN CHILI?
The most common pasta to use in chili is elbow macaroni. I like a thinner pasta in my chili, so I use ready cut spaghetti. If you're wondering what the heck this is, you can check it out here.
Walmart doesn't carry it so I always get it from one of our local grocery stores.
HOW MUCH CHILI DOES THIS RECIPE ACTUALLY MAKE?
A lot. Plenty for a party or potluck. On the recipe, I noted 20 servings – just realize these are pretty large servings. And if your family or guests add noodles to the chili, it serves A LOT more.
CAN YOU FREEZE CHILI?
Absolutely, yes. In fact, I love this big batch homemade chili BECAUSE I can freeze a couple large containers full of chili. I normally use ice cream containers or these.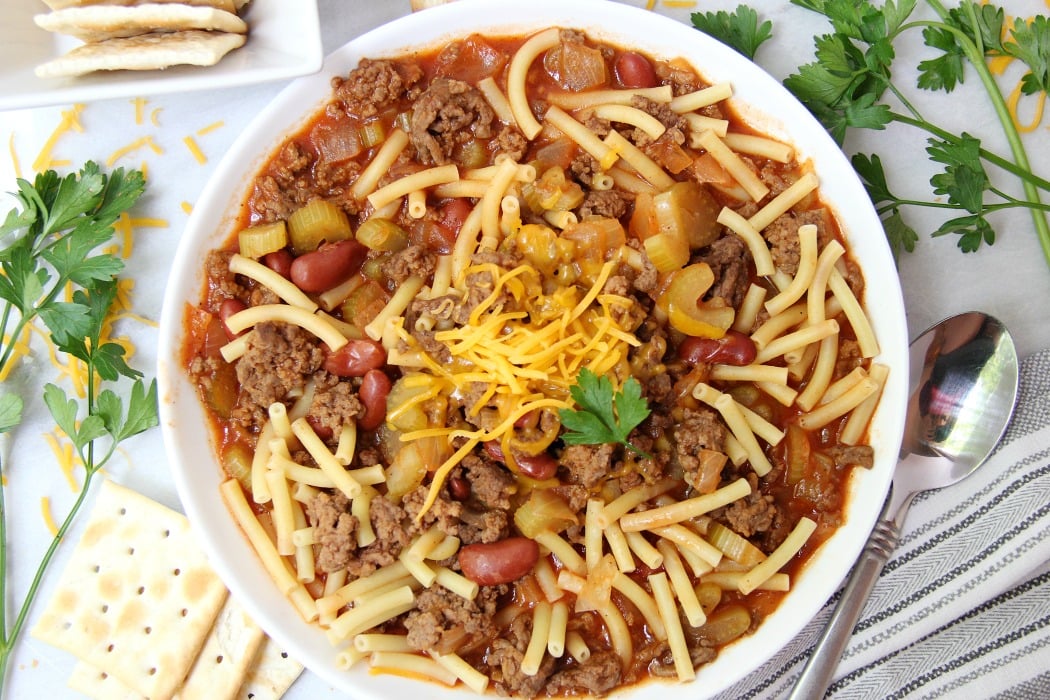 IS CHILI REALLY BETTER THE NEXT DAY?
Yes! And it's EVEN better the day after that! I'm normally drooling after 30 minutes of this chili simmering on the stovetop, so I always have a bowl the day I make it. This is just due to lack of self-control.
I often end up eating chili for lunch each day of the week after I make a batch on Sunday. It's something I never get sick of, and it's always SO delicious paired with a big glass of milk.
Does that sound good to anyone else or am I just strange?
If you're looking to serve a crowd or just want to be able to freeze a bunch of chili for future meals, you need to try this recipe. I hope your family loves it as much as mine does!!
LOOKING FOR MORE SOUP INSPIRATION?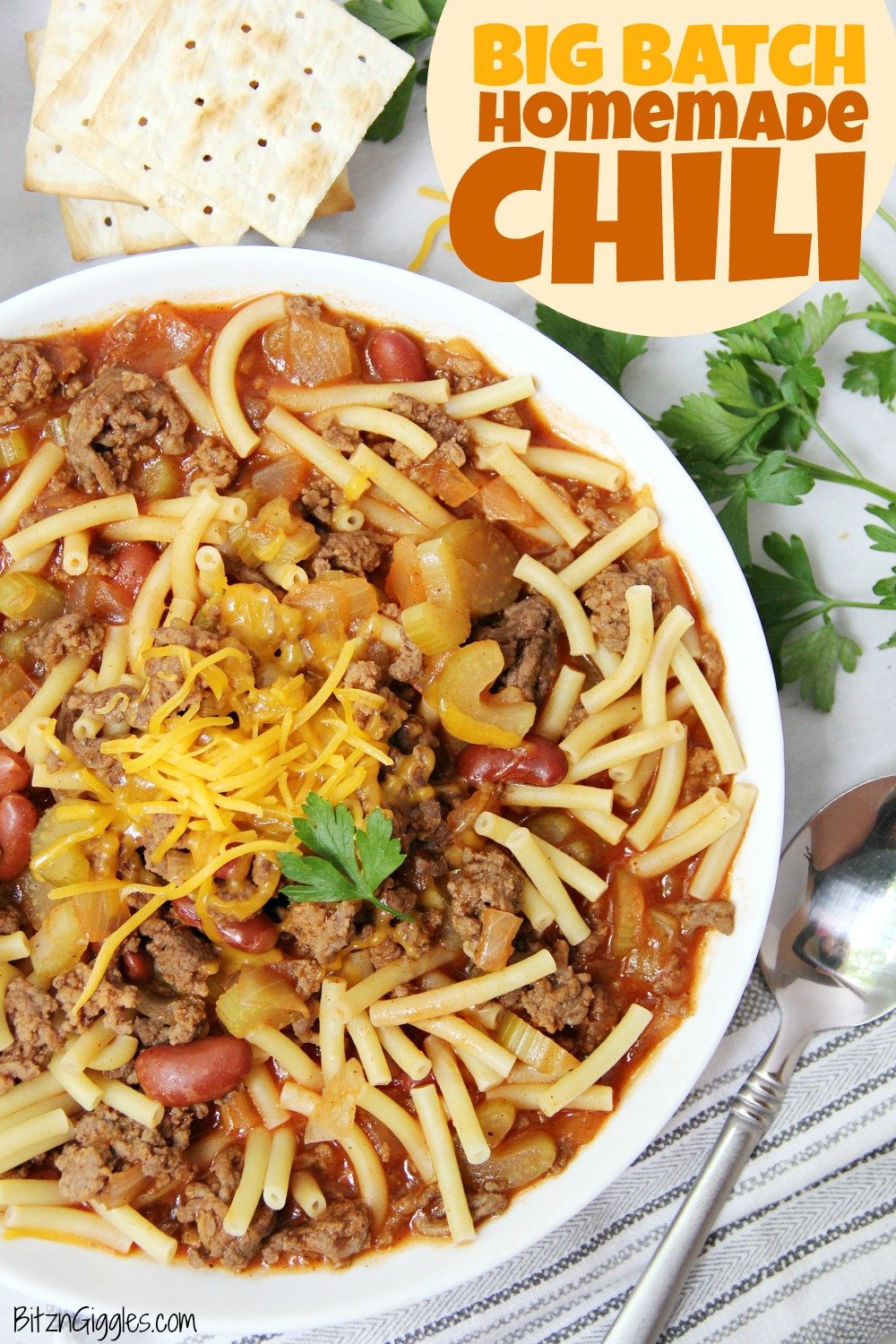 Big Batch Homemade Chili
A flavorful, yet mild chili, perfect for parties and gatherings. This chili is a family favorite and serves a crowd!
Author:
Yield: 20 servings 1x
Ingredients
5 pounds ground beef
6 cups chopped celery, cooked
4 cups chopped onion, cooked
2 – 16 ounce cans light kidney beans with juice
2 – 28 ounce cans crushed tomatoes
2 cups ketchup
2 – 23.2 ounce cans tomato soup
4 cups tomato juice
4 cups water
4 teaspoons chili powder
1/2 teaspoon pepper
2 teaspoons salt
2 Tablespoons brown sugar
2–3 cups ready-cut spaghetti or elbow pasta cooked to al dente (optional)
Instructions
Brown ground beef over medium-high heat in large skillet. Drain in colander.
To a large stockpot (I use a 21 quart canner) add ground beef, celery, onion, beans, tomatoes, ketchup, tomato soup, tomato juice, water and seasonings.
Simmer for 30 minutes on medium-low, stirring frequently.
Boil the pasta following the instructions on the box, until al dente.
Add pasta to chili or to individual bowls of soup if not everyone prefers noodles in their chili.
(Visited 3,683 times, 1 visits today)