Cheesecake Pumpkin Pie – Quick and easy pumpkin pie with a creamy and delicious cheesecake layer!
You guys! Did you see these cute printable napkin holders? I have one more thing to help adorn the table. This Cheesecake Pumpkin Pie is beyond delicious and it brings a bit of a twist to the traditional pumpkin pie everyone has come to expect on Thanksgiving Day. It's a little cheesecake. . .a little pie. . .all in one. Now, who can argue with that?
The deliciousness starts by whipping up the cheesecake layer first and then spreading the pumpkin layer over the top. Are you following me so far? I hope so, because this is so simple! Bake the pie in the oven and then allow it to cool for at least 3 hours. Me? I like to make this pie the night before. In fact, I'm making another one today to take to my parents' house for Thanksgiving!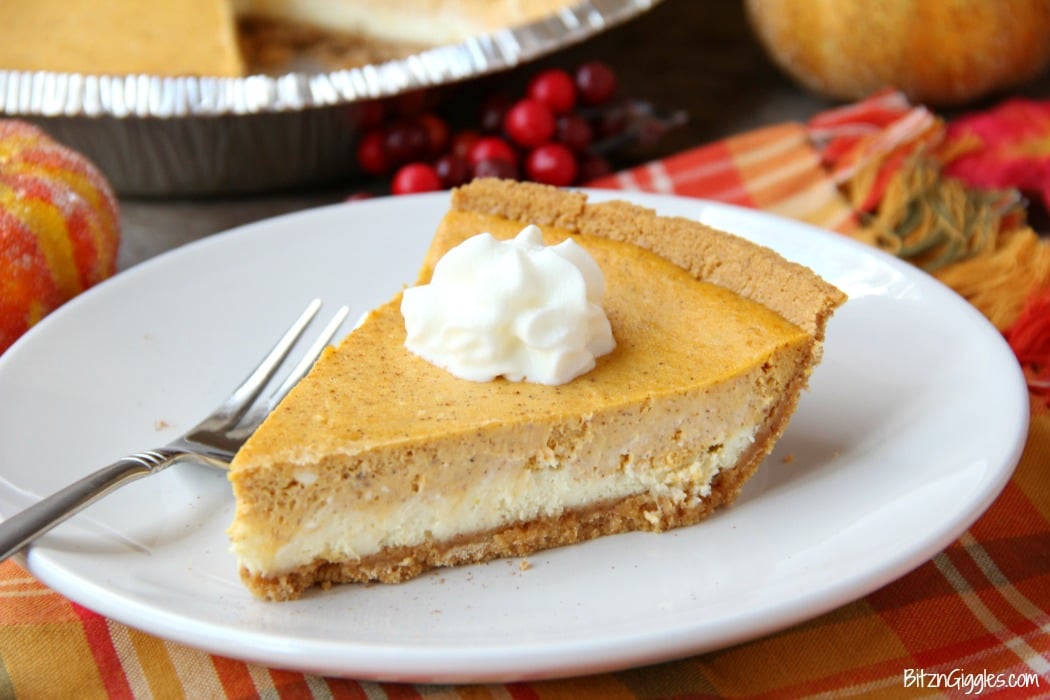 We're looking pretty good, aren't we? Add a dollop of whipped cream on top and we're really in business. Just take a look at those layers! And believe me, you get a taste of cheesecake and a taste of pie in each and every bite!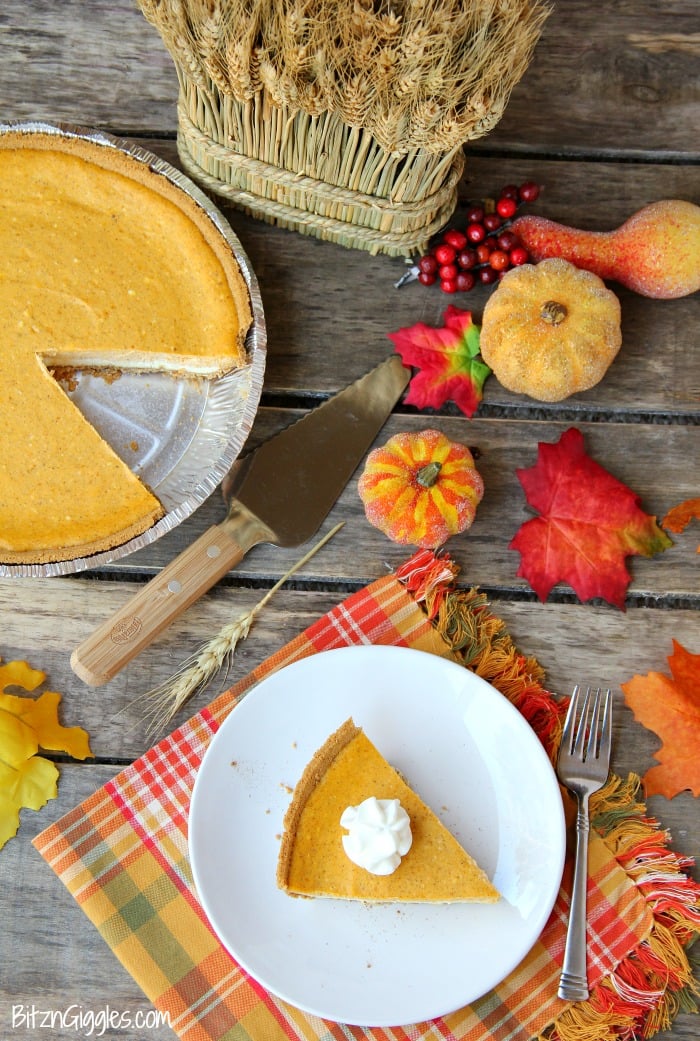 I used a pre-made graham cracker crust from the store because I'm a firm believer that you can provide delicious food for your family without sacrificing so much time in front of the oven and stovetop! If you like to cook and bake, great! I do, too, but we moms have a lot to fit into our days! This was only the first of three pies I will make today!
I hope you're busy preparing for Thanksgiving, too. What a wonderful time of the year! Take time to think about what you are thankful for. Tell your kids how much you love them. Give your grandkids a great big hug. And just be thankful. We are all so very blessed.
For more pumpkin desserts, check out my Pumpkin Pie Cake Bars and my MILE HIGH Pumpkin Pie Bars! I promise you'll love them both!
Cheesecake Pumpkin Pie
Quick and easy pumpkin pie with a creamy and delicious cheesecake layer!
Ingredients
9 inch graham cracker crust
2 8 ounce packages cream cheese, softened
1/2 cup white sugar
1/2 teaspoon vanilla extract
2 eggs
1/2 cup pure pumpkin
1 tablespoon pumpkin pie spice
Whipping cream, for garnish
Instructions
Preheat oven to 325 degrees Fahrenheit.
In a large bowl, combine cream cheese, sugar and vanilla.
Beat until smooth.
Blend in eggs one at a time.
Remove 1 cup of batter and spread onto bottom of crust.
Set crust aside.
Add pumpkin and pumpkin pie spice to remaining batter and stir gently until well-blended.
Spread over cream cheese batter.
Bake in oven 35-40 minutes or until center is almost set.
Allow to cool, then refrigerate for 3 hours or overnight.
Garnish with whipping cream.