Pumpkin Pie Cake Bars – Three-layer pumpkin bars with a cake batter crust, creamy pumpkin center and a cinnamon sugar crumble topping!
Can we talk for a minute about my relationship with pumpkin? I'm going to be brutally honest here, friends, and I'm hoping I don't hurt anyone's feelings. I. . . don't really. . . like pumpkin.
That being said, the rest of the world around this time of year, is obsessed with pumpkin (including our dog, Belle). I pray each year that I make it through October and November without needing therapy from extreme pumpkin exposure.
I'll admit it. I have made pumpkin recipes in the past. One to be exact. These Mile High Pumpkin Pie Bars had me whistling a bit of a different tune when I made them.  I actually really enjoy that recipe because the pumpkin flavor is very subtle.
I decided it was time, once again, to step outside my peanut butter and chocolate box and make another pumpkin dessert. I gotta' tell you, even as a non-pumpkin fan, I REALLY enjoyed these pumpkin pie cake bars.
Let's talk about the layers in these bars. The first layer is a cake batter layer that is so soft and moist, it literally melts in your mouth. In fact, it almost mixes up like cookie dough when you're preparing it. It's so easy to press into the bottom of the pan.
In the middle of the bars, you'll find a creamy pumpkin center. The top of the bars? Oh my. It's a cinnamon sugar crumble that just melts into the rest of the bar and adds an extra later of sweetness.
Once you have all the layers on, it's time to throw it all into the oven. Pretty easy, right? Yes, I know. You've dirtied three bowls. Wash those up while your bars bake. It will be okay, I promise.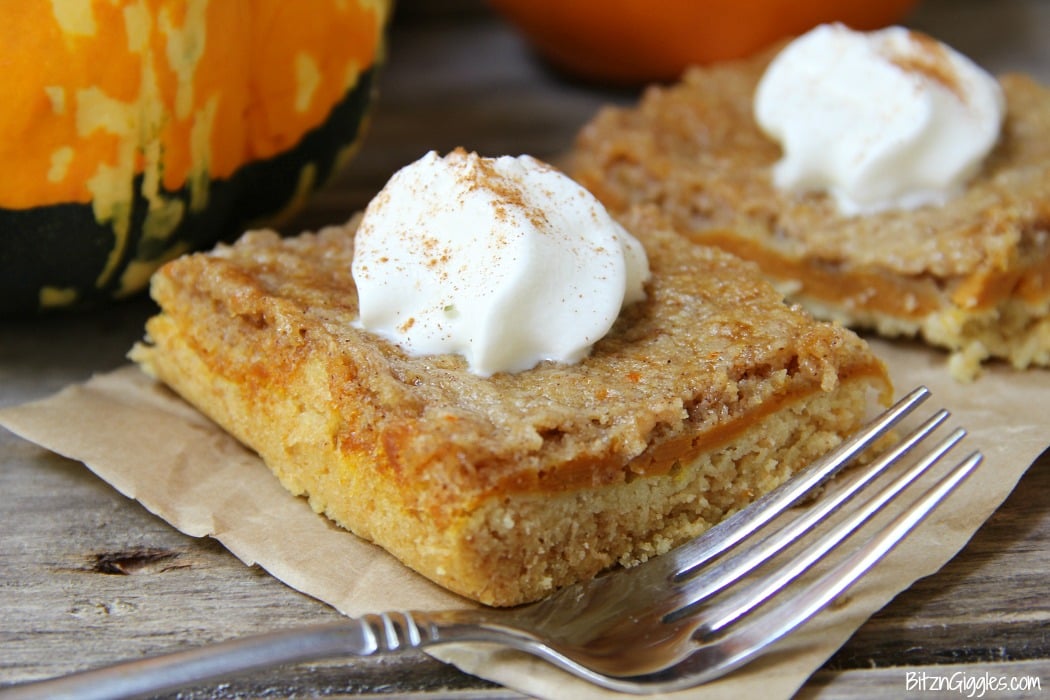 See what I mean? It's all okay. These pumpkin pie cake bars are actually worth having to wash three different mixing bowls.
Pumpkin, maybe you're not so bad after all. . .
I have a feeling I'm starting to like you because of your friends. . .cake mix and sugar.  That whipped topping sure doesn't hurt either. 😉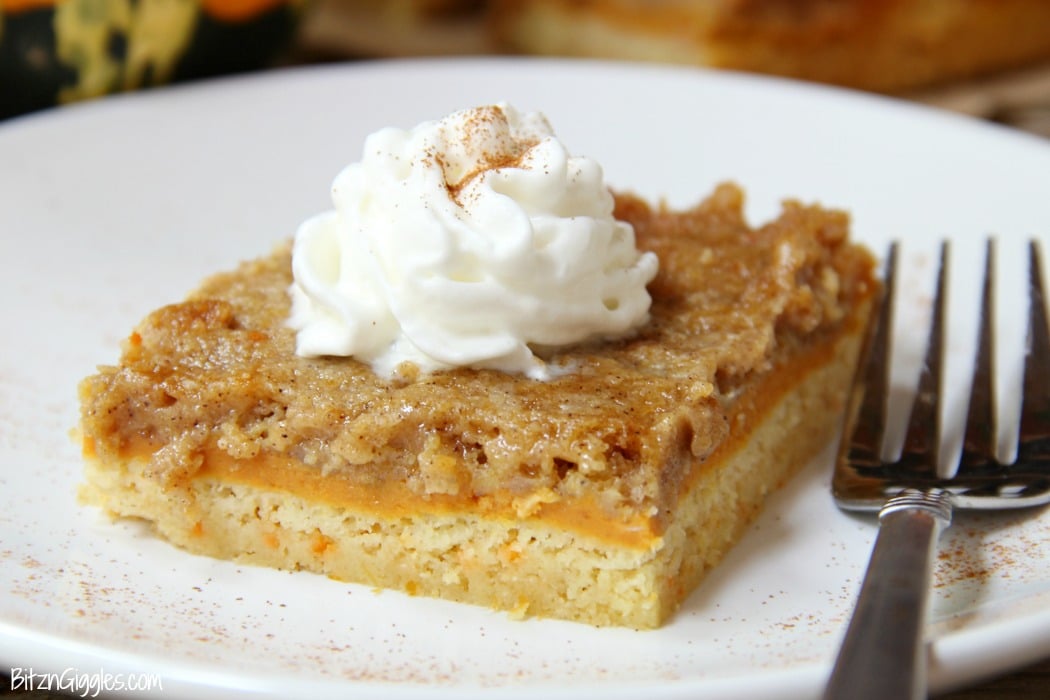 Who knows. Maybe I'll surprise you all with one more pumpkin recipe before Thanksgiving. One step at a time, friends, one step at a time. 😉
Pumpkin Pie Cake Bars
Three-layer pumpkin bars that come together with a cake mix! Cake batter crust, creamy pumpkin center and a cinnamon sugar crumble topping!
Ingredients
1 package yellow cake mix, divided
1/2 cup melted butter, cooled
3 eggs, divided
15 ounce can pure pumpkin (pumpkin puree)
2/3 cup milk
1/4 cup sugar
1/4 cup room temperature butter
1 teaspoon cinnamon
Whipped cream for topping
Instructions
Preheat oven to 350 degrees Fahrenheit.
Reserve 1 cup of the cake mix for the topping.
Mix remaining cake mix with 1/2 cup melted butter and 1 egg (Mixture will be thick like cookie dough)
Press into greased 9×13 pan.
Mix pumpkin, 2 eggs and 2/3 cup milk.
Pour over dough in pan.
For the Topping
Combine remaining 1 cup cake mix, 1/4 cup sugar, 1/4 cup room temperature butter and cinnamon.
Crumble on top.
Bake for 45-50 minutes until baked in center.
Cool and top with whipped cream before serving.
(Visited 8,427 times, 1 visits today)