Clear Confetti Slime – Easy recipe for clear slime! Add confetti and foil stars to give it color and make it sparkle. So pretty!
This post may include affiliate links. Please see my disclosure.
Did you have a fantastic 4th of July? We sure did. We invited friends and family up to the lake to celebrate and enjoyed a warm, sunny day with lots of time in the water. The weather in Wisconsin has been so beautiful – we just need these gorgeous summer days to SLOW down. It's always an ongoing conversation here in the Midwest – the winter goes by SO SLOWLY compared to the summer. Couldn't we just flip flop the seasons?
The kids always look forward to going to YMCA camp in the summer. I love that they're outdoors and active during the day. It's so much better than staying at home with their electronic devices in hand. Is anyone else concerned that phones and iPads will soon take over the world? I try to maintain a healthy balance for them – somedays I do better than others. I've found that planning little activities go a long way. Just spending time together, creating something, can be lots of fun, especially when you're making something like SLIME!
Today, we're going to have some fun and make some Clear Confetti Slime! The kids love new slime recipes and this one was a hit. I needed to think of a project to use up some leftover glitter I had from the Galaxy Jar I made a few weeks ago and this slime was the perfect solution.
Mixing up the Slime
Ingredients
Start by emptying your bottle of glue into a small bowl. I use Elmer's clear glue as the base for the slime.
Pour in two tablespoons of water to the mixture.
Add 1/2 teaspoon baking soda.
Stir in 1 1/2 tablespoons contact lens solution.
TIP: If you've ever used contact lens solution to make slime before, you'll know that not all brands work the same. Make sure you're using a contact lens solution that contains both sodium borate and boric acid. We used this brand.
Once you add the "activator" or contact lens solution, you'll begin to notice the solution become thicker and more rubbery.
TIP: If your slime is too sticky, add a bit more contact solution. If the slime is too rubbery, add a little bit of water.
Adding the Confetti & Stars
I added two different colors of chunky glitter. I got mine from Michaels craft store but you can also purchase it from Amazon.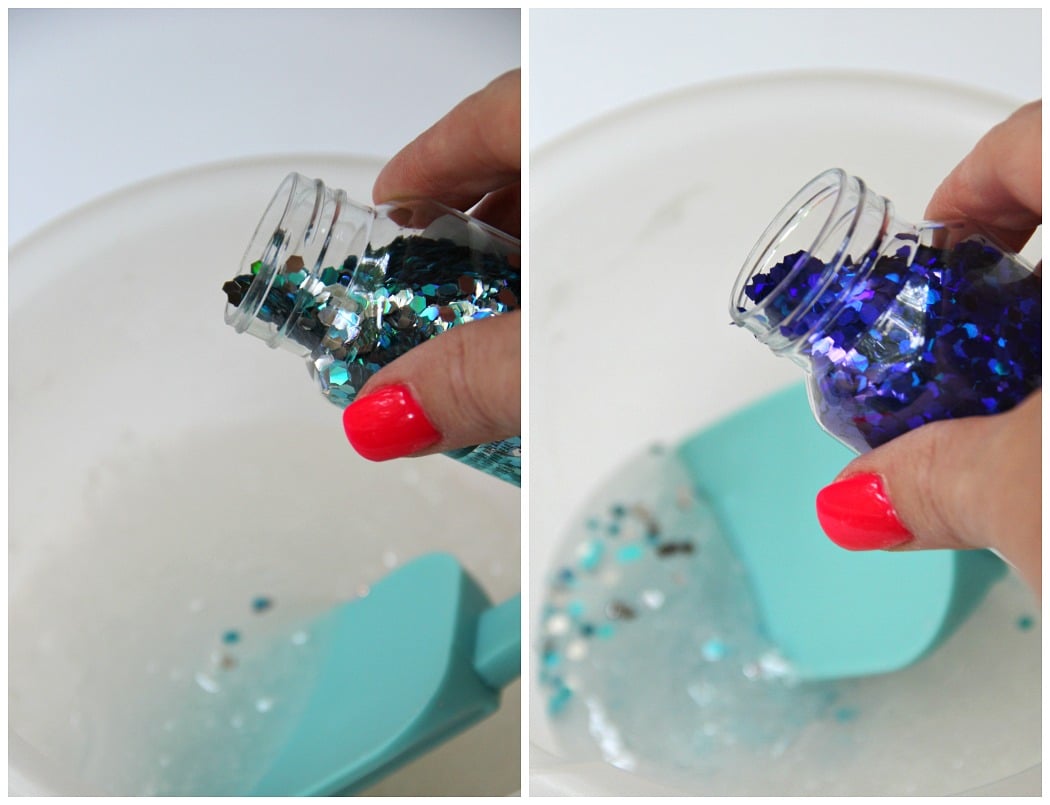 And just for good measure, I threw in some fun holographic stars which were also left over from my Galaxy Jar project.
It's Time to Play!
I tend to like my slime a little more rubbery rather than sticky and don't really like it when it gets stuck between my fingers and sticks to everything else it touches. The combination of blues, and the shimmer of the holographic stars in this recipe were the perfect touches to the clear slime.
Knead it and play with it until you get it to a consistency you're happy with.
It's so much fun to hold the slime up high and let it slowly stretch out until it hits the ground.
What else can you think of to add to your clear slime? I can't wait to hear how yours turns out!
Ready for more fun projects?
SaveSave
(Visited 25,583 times, 1 visits today)