Color Changing Lemonade – A magical, color-changing, slushy lemonade that will entertain and wow both children and adults.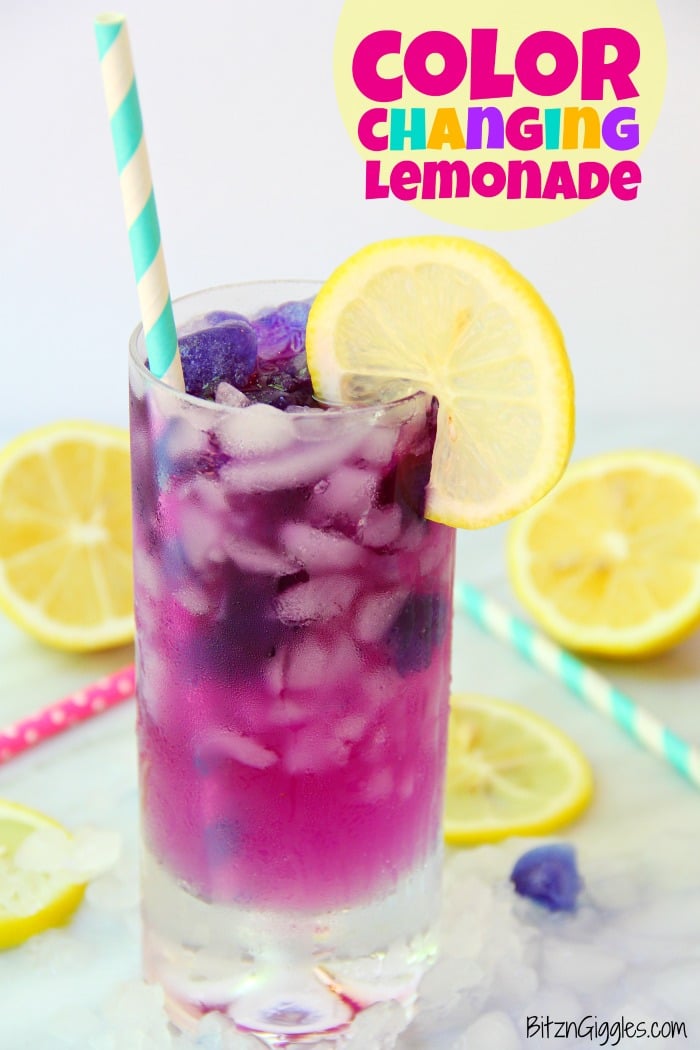 This post may include affiliate links. Please see my disclosure
Boy, do I have a fun recipe for you all today! We're making Color Changing Lemonade!
The slushy drink is made with regular lemonade and a special ingredient, Butterfly Pea Flower, that magically turns the lemonade different hues of pink!
It's certainly a conversation starter and so much fun to serve to family and friends, no matter what the age.
Join me in making a glass and I'll be sure to answer all of the questions you may have about this magical concoction!
WHAT IS BUTTERFLY PEA FLOWER?
Butterfly pea flowers are "climbing" flowers common in Thailand and Malaysia. Traditionally, their dark blue hue has acted as a natural food coloring for Thai sticky rice desserts and pudding.
They are also used in a Vietnamese herbal tea that's enjoyed after dinner with a little honey and lemon.
This is what the tea packets actually look like.
HOW TO MAKE LEMONADE THAT CHANGES COLORS
To make this awesome slushy lemonade, you'll need:
Boiling water
Crushed ice
Lemon slices
You'll begin by placing the teabags in a large measuring glass with the strings and paper labels dangling outside of the container.
When you pour the boiling water over the tea, you'll see the water change to a deep blue.
Then, you just let the tea "steep" for 20-30 minutes.
Once you've removed the teabags and the tea has cooled, you pour it into ice cube trays. It doesn't matter the shape of the cubes because you'll be crushing them later. It's funny that I don't own a regular ice cube tray!?
The trays I have are kind of cool though because they hold a little slice of lemon that can be frozen into the ice for lemonade, water or cocktails you want to add a little splash of color to.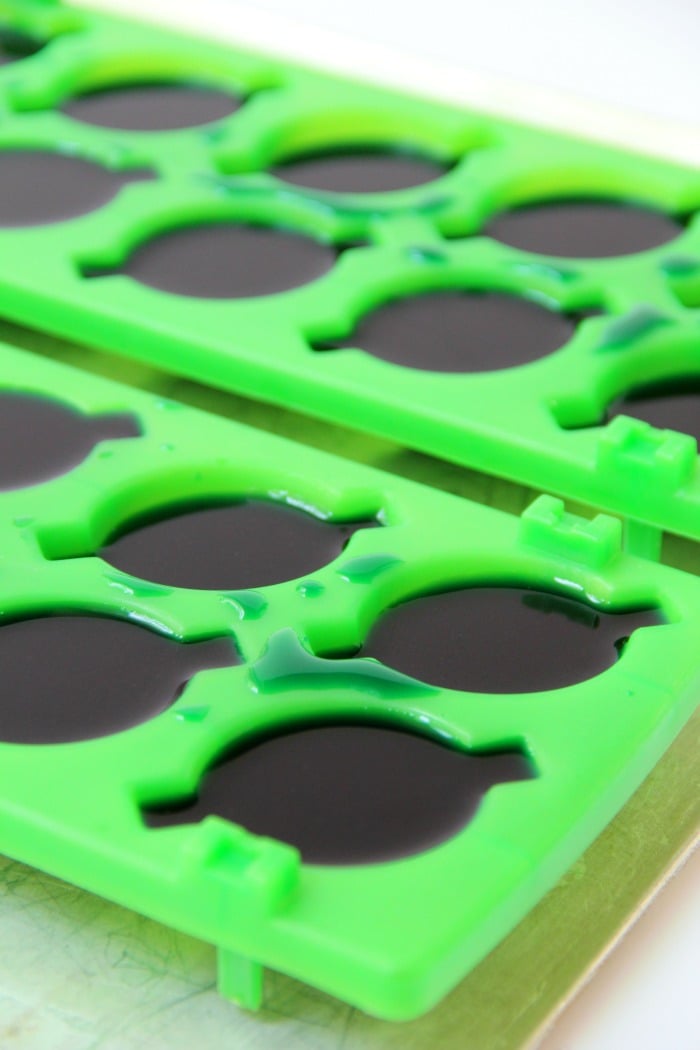 After the cubes are frozen, you can pop them right out of the tray. Take care as to what you place the cubes on, however. This is still tea and tea will stain.
I used a food processor to crush my ice. It's important to leave some larger pieces along with some of the smaller ones. It will add more color interest to the lemonade.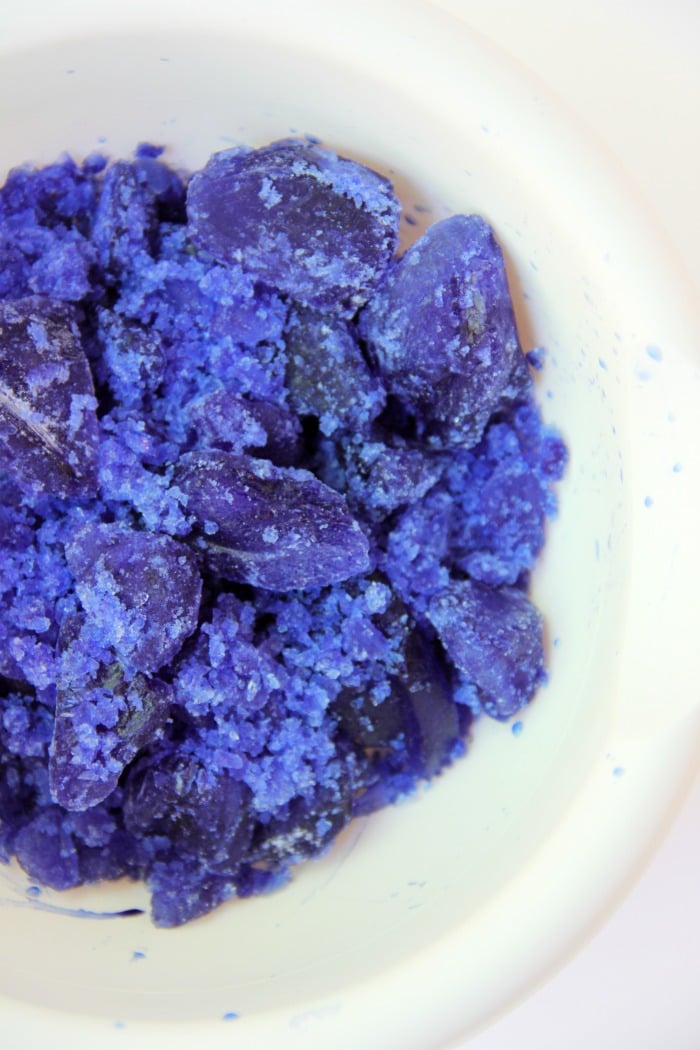 Adding a layer of regular crushed ice to the bottom of the glass can also help add to the color effect. I filled the glasses a little under halfway with regular crushed ice and placed the "blue" ice on top of that.
The magic happens when you add the lemonade.
WHAT MAKES BUTTERFLY PEA FLOWER CHANGE COLORS?
When water is added to Butterfly Pea Flower tea or powder, it changes into a deep blue liquid. Then, the deep blue liquid changes color based on the pH level of whatever is added next.
For example, when you squeeze in some lemon like we're doing today, the blue will change to purple and sometimes even magenta.
The more acid you introduce, the lighter the blue liquid will become. It's a bit like a mood ring. So cool!
The end product is super fun and so pretty!
WHAT DOES BUTTERFLY PEA FLOWER TEA TASTE LIKE?
Alone, it has a very subtle woody/grassy taste. When you add lemonade to it, you really won't be able to taste anything but lemonade. Its mild flavor makes it a fun addition to many different lemonades and cocktails.
IS BUTTERFLY PEA FLOWER TEA GOOD FOR YOU?
Butterfly Pea Flower Tea is caffeine-free and high in antioxidants, vitamin A, C and E. It is said to have strong anti-aging properties and can do wonders for your skin and hair.
Throughout the centuries, it has also been labeled as a brain booster, memory enhancer, anti-stress and calmative agent.
The tea is considered very safe with one exception. I read that pregnant and breastfeeding women are to avoid its consumption. I don't know why. I'm not a doctor or will ever claim to be one. Consult your physician about your health conditions and use of herbal supplements if you have any further questions.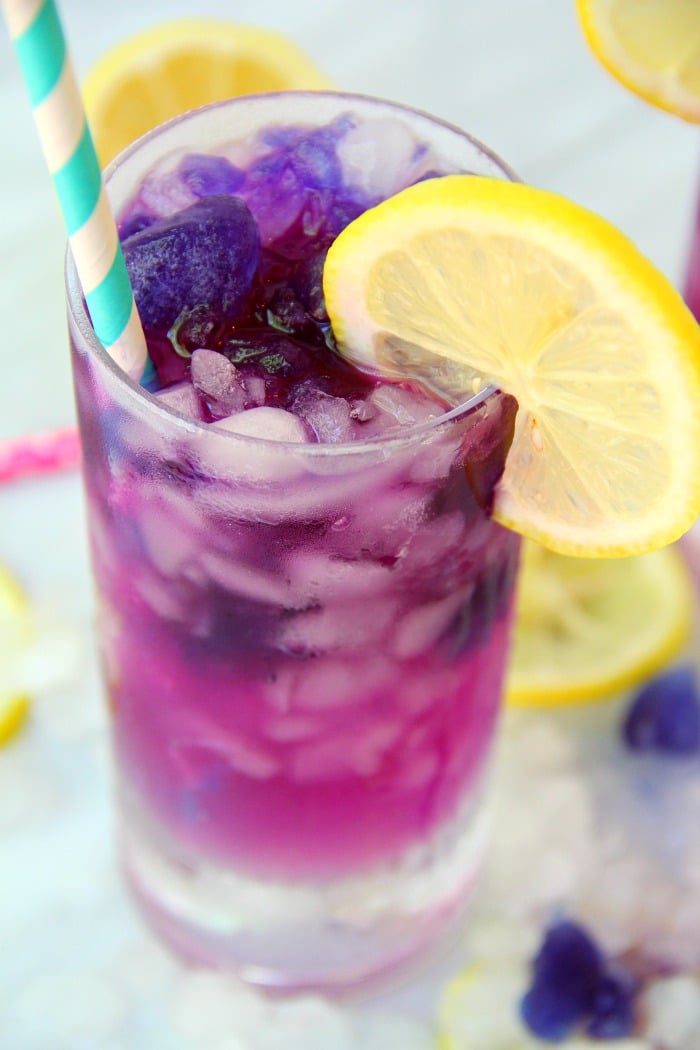 WHERE TO BUY BUTTERFLY PEA FLOWER
I purchased my tea from Amazon because Amazon has everything. 🙂 Butterfly Pea Flower is also sold dried, as an extract, as well as in powder form.
This lemonade is as fun to drink as it is to make. I can't wait to see and hear about your own creations!
LOOKING FOR MORE FUN LEMONADE RECIPES?
Color Changing Lemonade
A magical, color-changing, slushy lemonade that will entertain and wow both children and adults.
Ingredients
3 cups boiling water
Crushed ice
Slices of lemon for garnish
Instructions
Place teabags in a large measuring glass with the strings and paper labels dangling outside of the container.
Add the boiling water to the glass.
Allow the teabags to steep (set in the water) for 20-30 minutes.
Dispose of teabags and allow liquid to cool.
Pour liquid into ice cube trays (I was able to fill four trays).
Place in the freezer for 6-8 hours or until the liquid is frozen.
Pop the "blue" cubes out of the trays.
Use a blender or food processor to crush the ice cubes (Don't crush the cubes too fine – it's best to have varying sizes of ice chunks).
Fill glasses a little under halfway full with regular crushed ice.
Top with "blue" crushed ice.
Pour lemonade into each of the glasses.
Top with additional "blue" crushed ice.
Add a slice of lemon for garnish.
Use a straw or spoon to briefly "mix" the drink for a colored effect.
Notes
You will need a large measuring glass and ice cube trays for this recipe.
Add a little water to the blender or food processor to help crush the ice.
(Visited 13,946 times, 1 visits today)