This cotton candy flavored lip scrub is perfect for sweet, kissable lips! One of the best homemade sugar scrubs out there!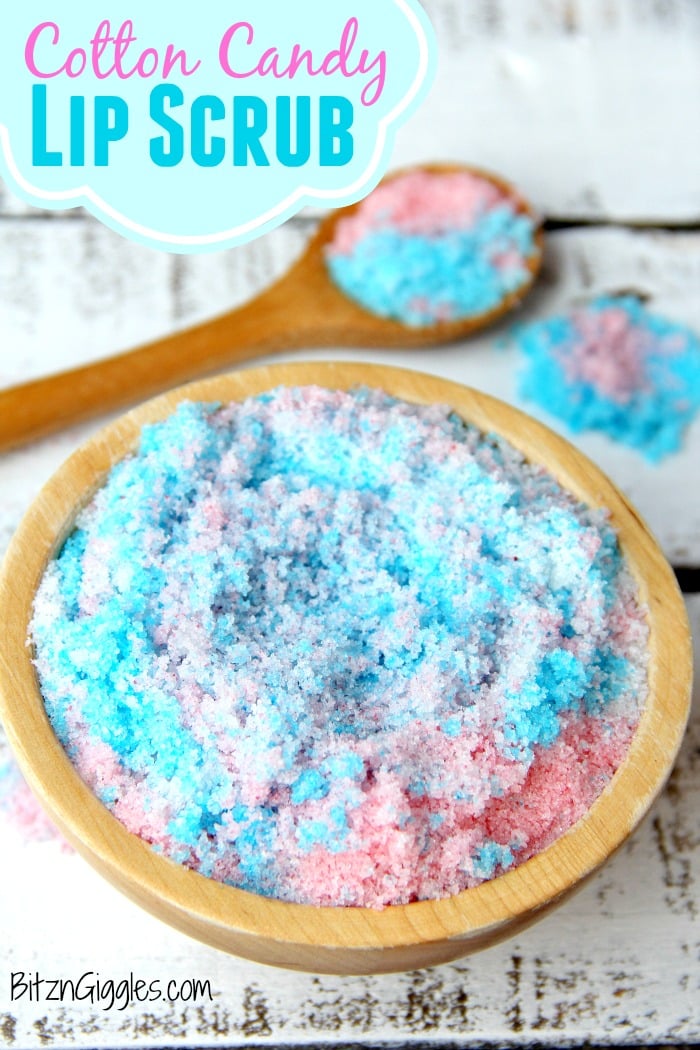 This post contains affiliate links. Please see my disclosure policy.
You know I can't get through winters around here without my lip scrub. In fact, if I didn't have a lip and skin regimen in the winter, my lips would crack off and I would just dry up. One of my favorite DIY recipes is this Vanilla Sugar Lip Polish made with coconut oil. Today, I'm sharing a new creation that I just know you're going to love! COTTON CANDY Lip Scrub!! Doesn't it look good enough to eat?! The good news is. . .I suppose you could eat it. Well, let's just be honest here, you can eat it and you will live to see tomorrow. SO good.
I think it's projects like this that really showcase who I am – food blogger + DIY blogger = DIY projects you can eat. What do you think? I like the sounds of that.
How to Make Cotton Candy Lip Scrub
Ingredients:

5 tablespoons sugar, divided
2 1/2 teaspoons olive oil, divided
6 drops cotton candy flavoring, divided
2 drops blue food coloring
2 drops pink food coloring
Instructions:
Blue Scrub
In a small bowl mix 2 tablespoons sugar with 1 teaspoon olive oil. Add 3 drops cotton candy flavoring and 2 drops blue food coloring. Set aside.
Pink Scrub
In a small bowl mix 2 tablespoons sugar with 1 teaspoon olive oil. Add 3 drops cotton candy flavoring and 2 drops pink food coloring. Set aside.
White Scrub
In a small bowl mix 1 tablespoon sugar with 1/2 teaspoon olive oil. Set aside.
Mixing the Sugars Together
In a separate bowl add the blue sugar to one side of the bowl and the pink to the other.
Pour the white sugar into the middle of the bowl and swirl the colors together with a knife.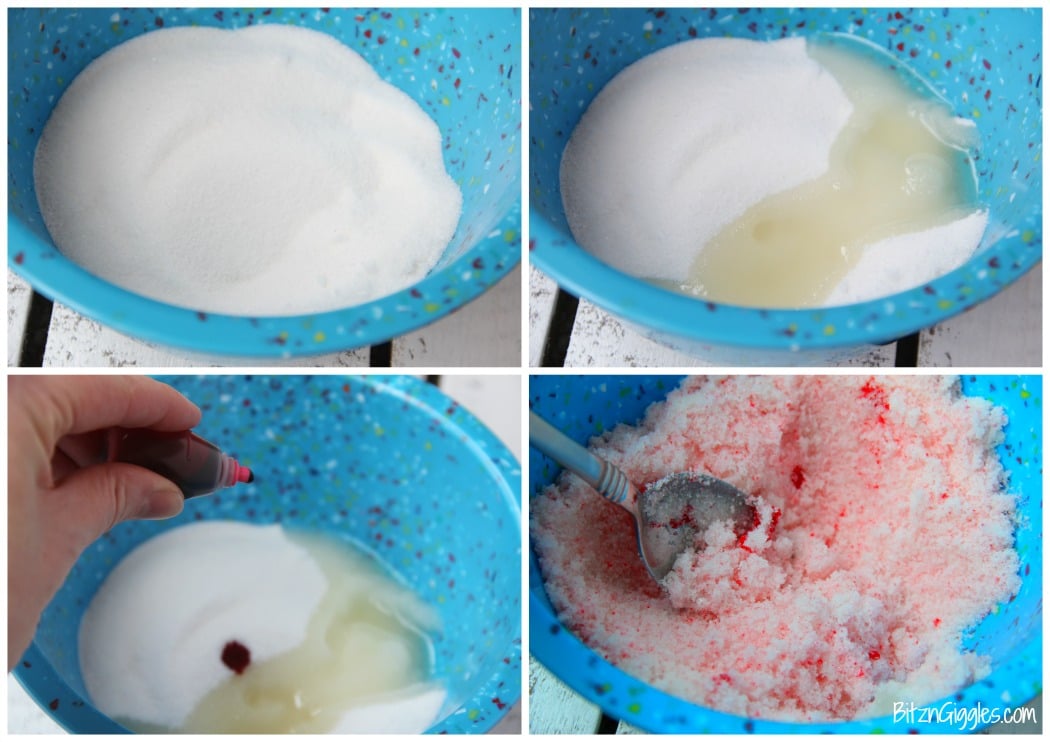 I wanted to take you through the first step of the recipe so you can see how I create the beautiful cotton candy color blend. You start out with plain sugar. For photo purposes, I made a much larger batch than what the recipe calls for. What did I do with it all in the end? I filled a couple small containers and then used the rest of it on my legs, using the same process defined in my Silky Smooth Legs Sugar Scrub post. Dual purpose. And just another reason you need to make this amazing scrub.
I use lip scrub year round. I rub it onto and around my lips in the shower. It sloughs off any dead, rough, or loose skin and preps your lips for the lipstick or gloss you'll put on before you run out of the door for the day. Smart? Smart.
Okay, so back to our sugar. . .here's where you should read the recipe before you start making this lip scrub. There are a couple steps to the recipe, and you DON'T dump all of the sugar into one bowl. You need to divide the sugar into three separate bowls.
So, for example, for the pink sugar, you'd use 2 tablespoons sugar, add a teaspoon of olive oil and 3 drops of the cotton candy flavoring. Then add a couple drops of pink food coloring and mix it together. You follow the same process for the blue sugar scrub and then make a smaller amount of the white sugar scrub. When you swirl the colors together, you get. . .this. . .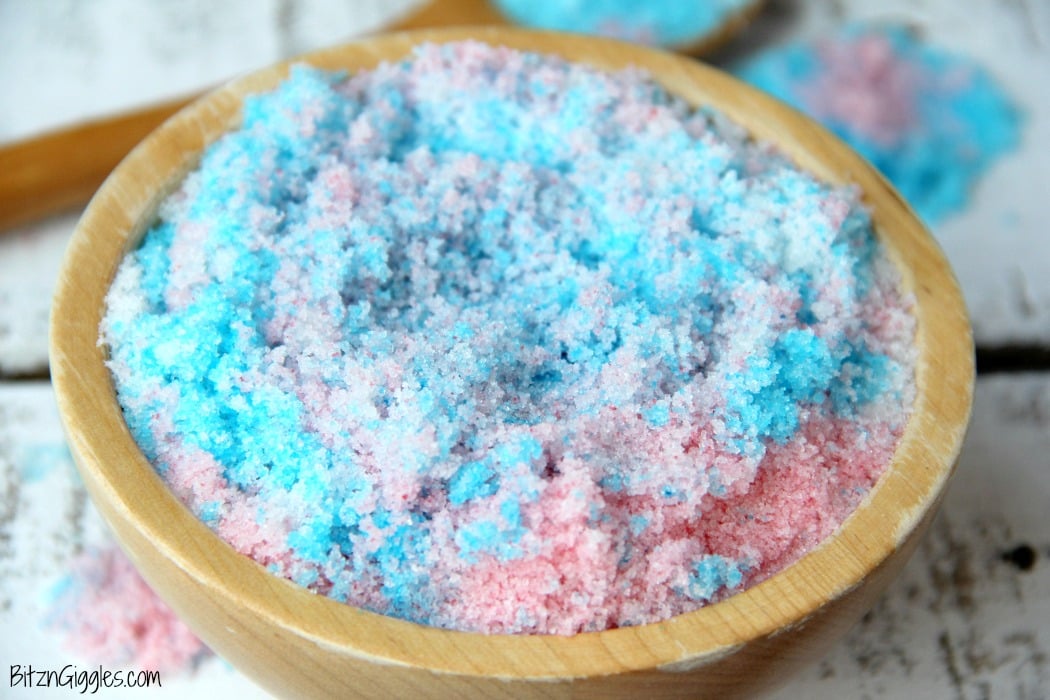 I almost wanted to bake a batch of cupcakes and just sprinkle this stuff on top. You know, I still may have to do that. It would be a sugar overload for sure, but oh so pretty. I mean, who doesn't like cotton candy? I love it so much that I've made fudge, lemonade, cupcakes. . .all cotton candy flavored. Do you think I'm getting spring fever already?
The colors in this scrub and the sweet flavor is just such an awesome combo. It would make a great gift for Valentine's Day, Mother's Day, birthdays, Christmas. . .any occasion really. So, order up some of that cotton candy flavoring, grab your sugar and olive oil and let's DO this!
Scrub will keep for up to two months in an airtight container.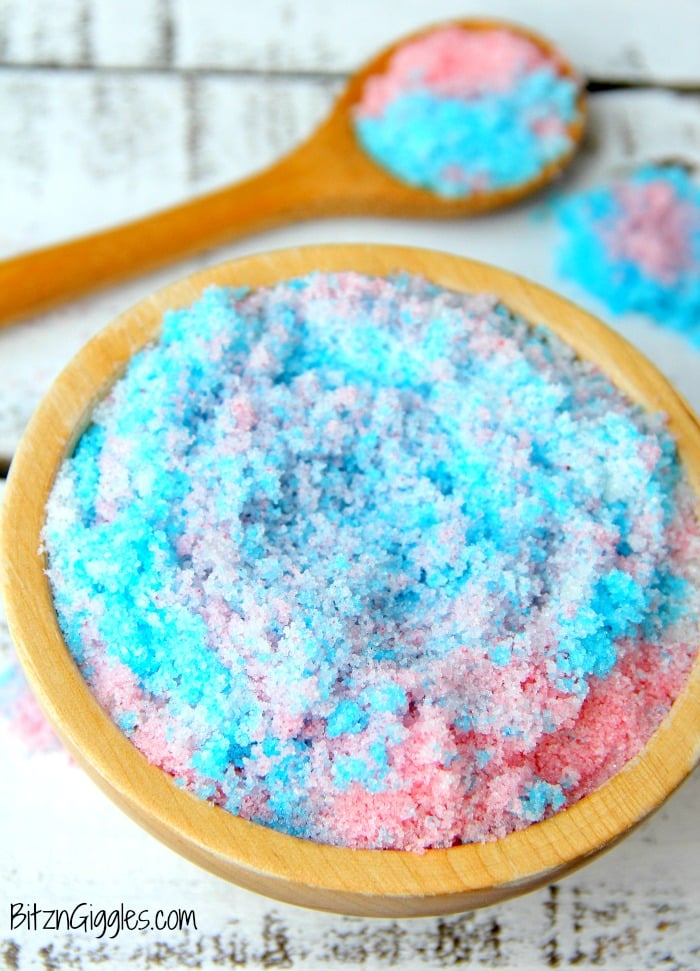 (Visited 135,984 times, 1 visits today)