Cotton Candy Popcorn – Candy coated popcorn recipe with sprinkles and real cotton candy pieces!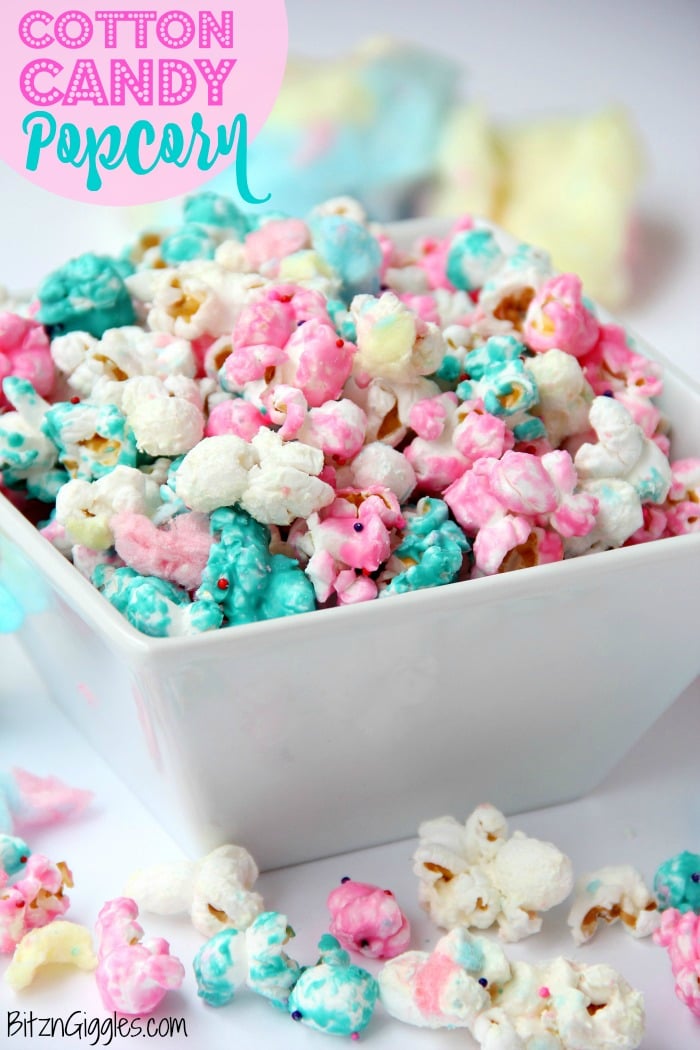 This post may include affiliate links. Please see my disclosure.
I had some fun colored candy coating left over from the Drizzled Candy Bark I made the other day. If you've been following me over the past couple years, you've probably learned that I love cotton candy. If you do too, make sure to check out my recipes for Cotton Candy Lemonade, cupcakes, fudge and even lip scrub. So, back to this Cotton Candy Popcorn. I was pretty proud of myself when I decided to tear up real cotton candy pieces to add them to this treat! You can really taste the cotton candy in this treat!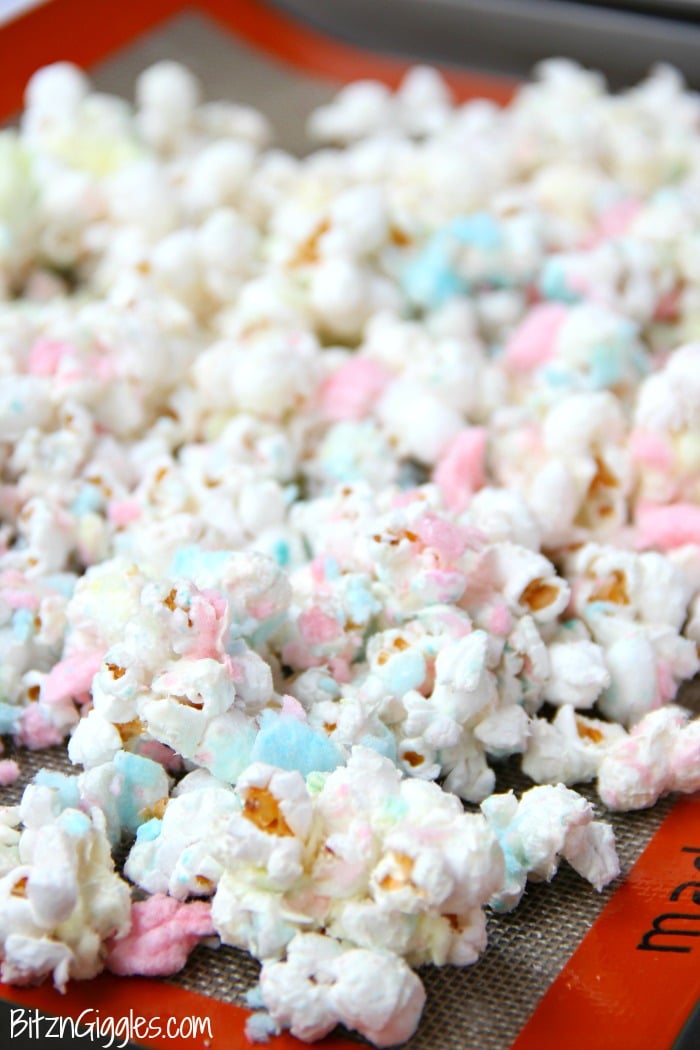 I added the marshmallow coating to 8 cups of the popcorn. Then you know what I did? I dumped in all of the cotton candy pieces, stirred them around gently and figured a few (only 1/4 cup!) sprinkles wouldn't hurt. Am I right? So, just for the record, you could technically stop here and just enjoy the recipe.
If you have a few more minutes and want additional color, here's where you add the pink and blue popcorn in. I always keep the majority of the popcorn white and just add little pops of color when needed.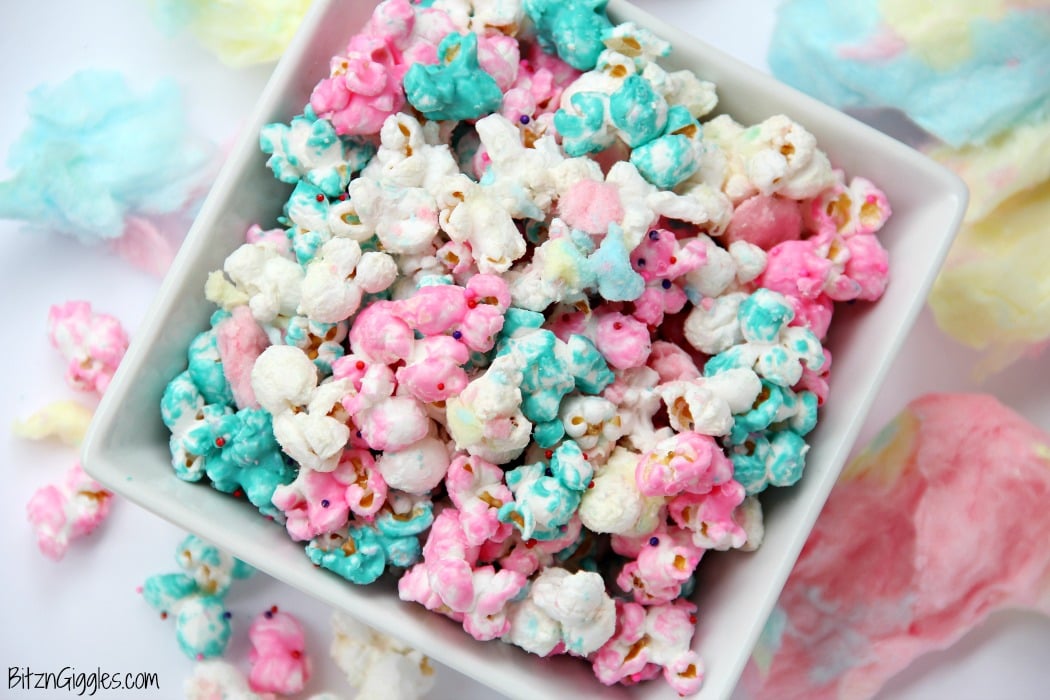 You know, I really couldn't tell you where my love of "cotton candy everything" came from.  I'm not a huge fan of cotton candy alone, but mix it with something like lemonade, fudge or popcorn and I'm your friend for life. Go figure – it's fun, easy and quick food. And that's what me and this blog are all about!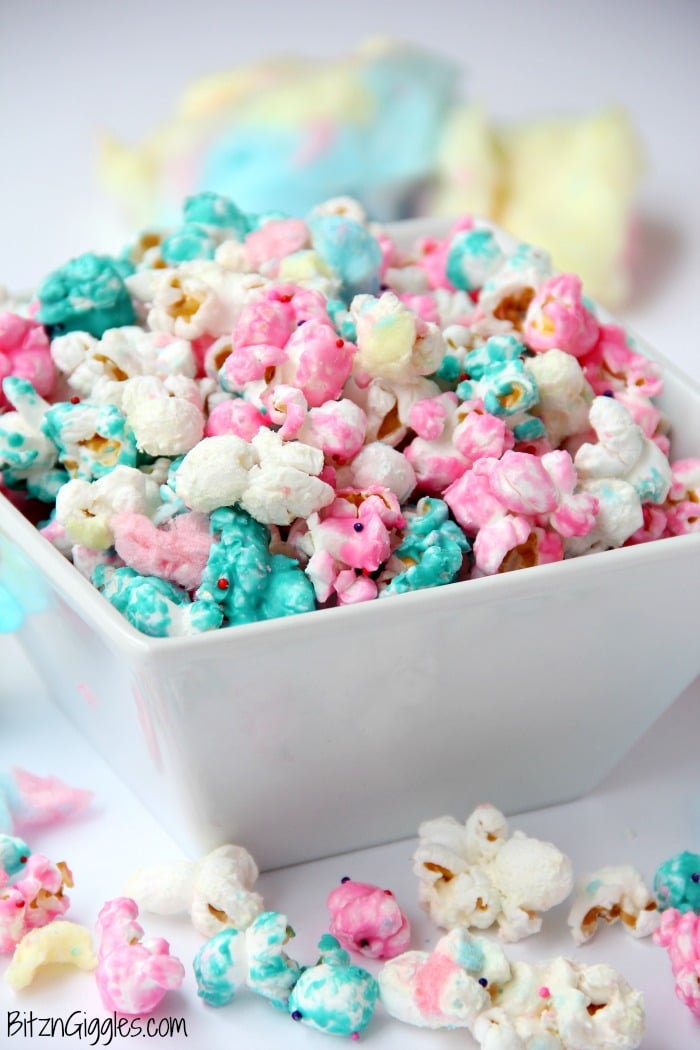 Recipes for treats like this cotton candy popcorn hold a special place in my heart. Why? Because they're gorgeous, they're fun to eat and they are the perfect treat to snack on! I know I've been posting sweet after sweet lately, but please forgive me. I can't seem to help myself. . .like "I've been having to loosen up my belt during the day lately" help myself.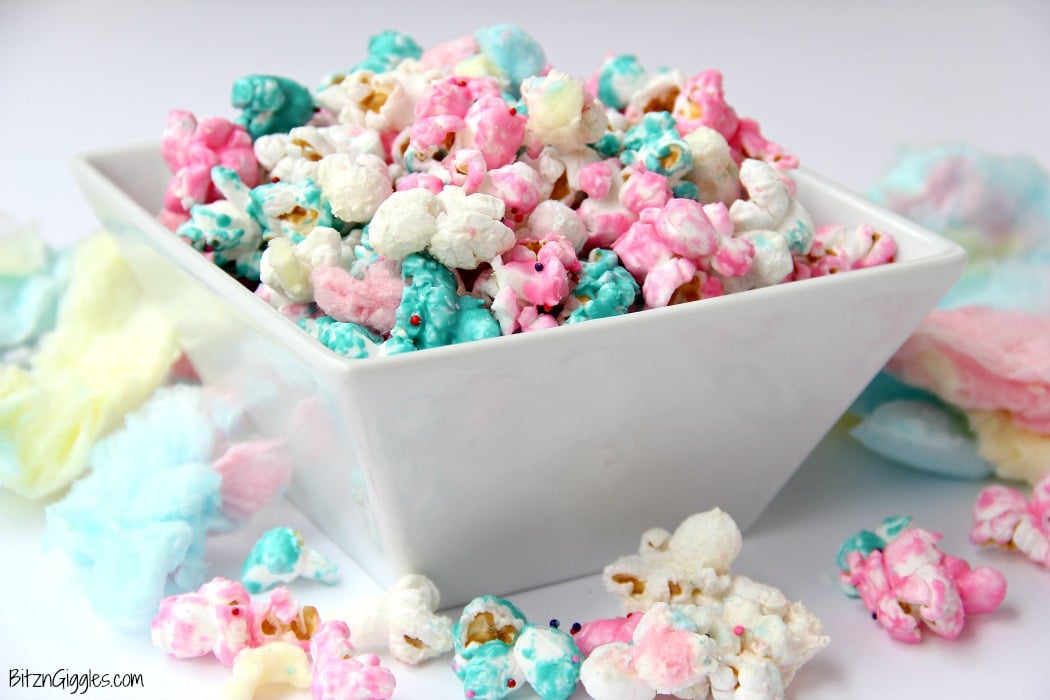 I'm a glutton for punishment, and when I try and tell myself  I can't have something. . .I become ravenous for that one thing I can't have. Does this happen to you, too? Lent has always been one of the most difficult things for me. . .along with diets, boyfriends during high school and million dollar log homes on clear water lakes. 🙂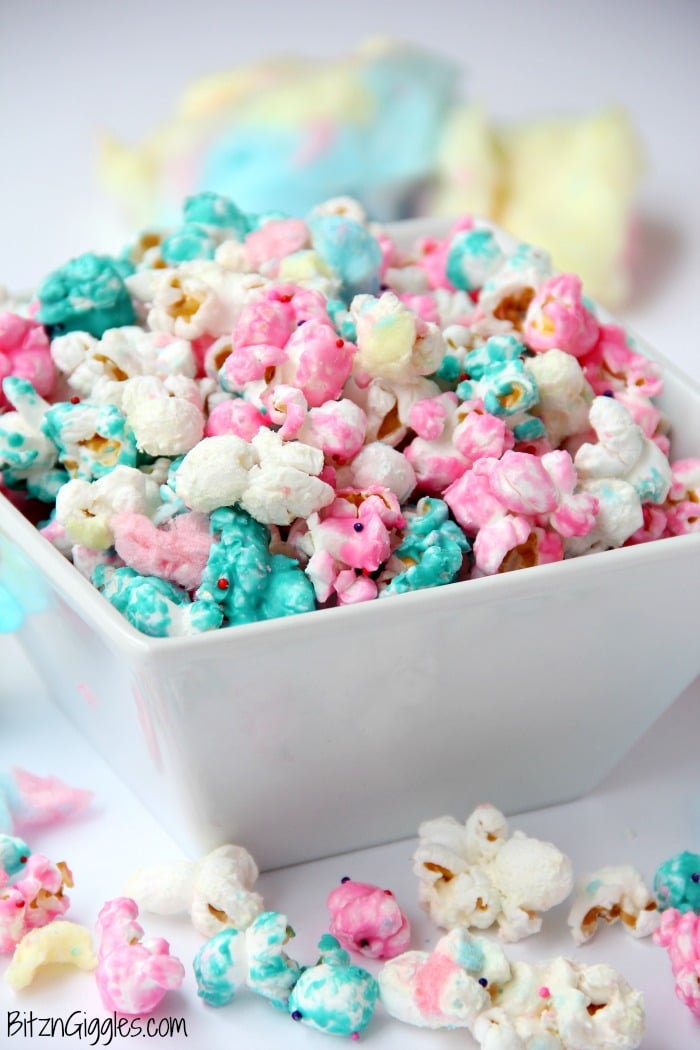 It's only popcorn, friends. It will be okay. One more sweet will be okay. Tomorrow is a new day. Tomorrow is a day for carrot sticks and rice cakes. But today, I will eat dessert. Yes, today I will eat dessert. Come on and join me!
Cotton candy popcorn recipe with sprinkles and real cotton candy pieces!
Cotton Candy Popcorn
Candy-coated popcorn recipe with sprinkles and real cotton candy pieces!
Instructions
In a microwave-safe bowl, melt the marshmallow or vanilla melts according to instructions on package.
Add 8 cups of popcorn to a large bowl and pour in the marshmallow coating. Stir until well coated.
Add the cotton candy and gently mix to distribute throughout the popcorn.
Spread popcorn out on lined baking sheet and add the sprinkles on top. Allow to cool.
In two separate bowls, melt the blue and pink candy coating.
Divide the remaining popcorn equally between two bowls – 2 cups in one bowl, 2 cups in the other.
Pour the blue coating over the popcorn in one bowl and the pink over popcorn in the other bowl.
Stir until well-coated and spread the popcorn out on another lined baking sheet.
Combine the white, pink and blue popcorn and enjoy!
SaveSave
(Visited 194,781 times, 1 visits today)