Crockpot Peanut Clusters – Made right in the crockpot in 90 minutes, this decadent treat combines chocolate, peanuts and a taste of peanut butter to make some of the most delicious candy ever!
This post includes affiliate links. Please see my disclosure.
Whew! The kitchen has pretty much been a chocolate factory around here lately. If you've missed any of my recent posts, I shared recipes for Pretzel M&M Hugs, Peanut Butter Pretzel Bites and Easy Reindeer Chow.
I've been making a ton of candy and snacks but not one cookie yet! That will be coming in the next couple weeks I'm sure.?
Today, however, we have ONE MORE Christmas candy recipe. . .Crockpot Peanut Clusters (otherwise known as Crockpot Candy). This is a classic candy recipe.
Instead of just using chocolate chips, I used a combination of chocolate chips and Toll House Delightfulls (Peanut butter filled baking morsels). You can find Delightfulls in the baking aisle of any grocery store or big name retailer.
If for some reason, you can't find them, you could always substitute peanut butter chips or just use all chocolate chips.
Making the Crockpot Peanut Clusters
First things first. If you don't want to be scraping hardened chocolate off of the inside of your crockpot, I suggest using a slow cooker liner.
I suppose the chocolate would probably come off fairly easy if I let some hot water sit in the crockpot for awhile, but I just don't have the patience. I use these liners all the time, especially when I'm taking my crockpot to a party.
When the food is gone, I lift out the liner, toss it and I'm on my way. With this recipe, as soon as you scoop out the last of the candy, you remove the liner and just toss it in the trash. How's that for easy clean up?
You start by adding all of the ingredients except the sprinkles to the crockpot. Some recipes tell you to put the peanuts on the bottom of the crockpot. I just mix everything around.
I've heard WAY too many stories of peanuts getting scorched at the bottom of the crockpot. With this recipe, you don't have to worry about scorching your nuts.?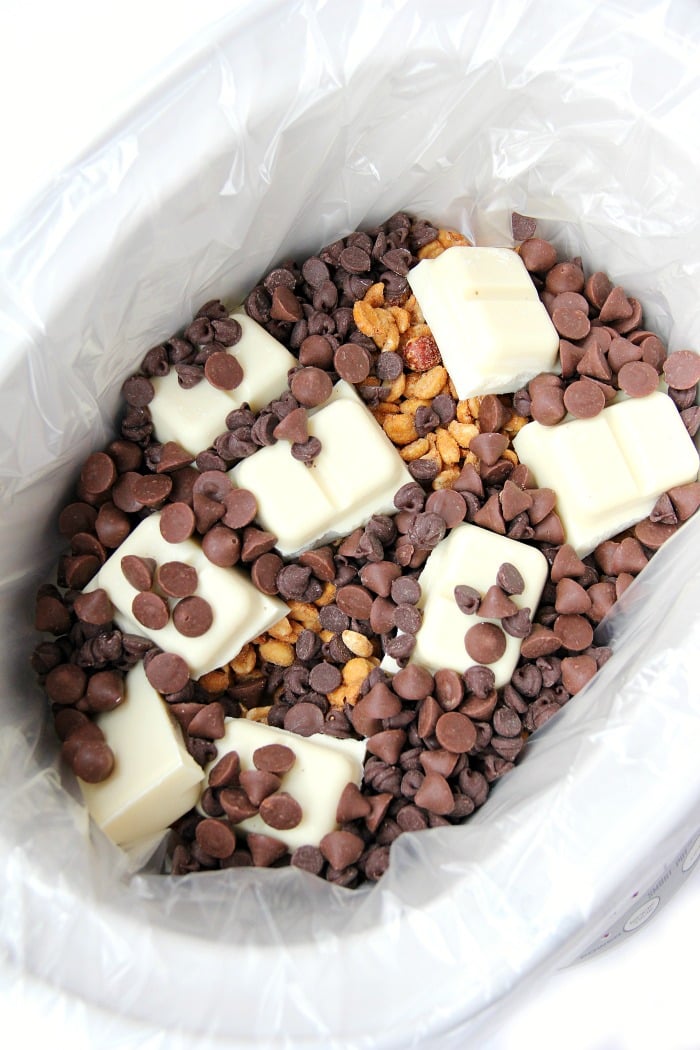 Why is that, you ask?
Because we're not cooking the candy for a long duration and we're going to stir 3/4 way through cook time.
After about an hour you'll see that things are starting to melt, but the candy coating in particular still has a ways to go. I like to use a spatula sprayed with cooking spray to stir the candy.
After another 30 minutes, stir the candy again and then start scooping the candy out using a tablespoon.
Once I have all the candy scooped out onto my lined baking sheets, I shake some sprinkles on top of the clusters.
Once cooled, you can dig right in!
The peanut clusters are so rich and the chocolate is so creamy.
I have to be honest and tell you I'm not a huge peanut fan, but I do love this candy.
And I know you and your guests this holiday season will love it, too. Remember those crockpot liners. They make life SO easy!
Looking For More Sweet Christmas Treats?
Crockpot Peanut Clusters
Made right in the crockpot in 90 minutes, this decadent treat combines chocolate, peanuts and a taste of peanut butter to make some of the most delicious candy ever!
Ingredients
Honey roasted peanuts
16 ounces vanilla candy coating (almond bark)
1 cup semisweet chocolate chips
Sprinkles for garnish, optional
Instructions
Combine ingredients in crockpot and cover.
Cook on low for 1 hour.
Stir and cook for 30 more minutes.
Line two baking pans with silicone liners or parchment paper.
Unplug crockpot and scoop chocolate mixture onto lined baking pans using a tablespoon.
Top with sprinkles while still warm.
Cool in refrigerator for 15-20 minutes.
Store in covered container.
(Visited 3,003 times, 1 visits today)