Easy Apple Crisp – A delicious, old-fashioned crisp made with sliced apples and a crunchy brown sugar oat topping. A scoop of vanilla ice cream and salted caramel sauce puts it over the top!
This post may include affiliate links. Please see my disclosure.
I've been seeking out craft shows, harvest fests and pumpkin patches to visit this fall. Although I never look forward to the end of summer, there are so many things I love and look forward to in autumn.
It's one of Wisconsin's most beautiful seasons, when all of the leaves on the trees are turning vibrant hues of red, yellow and orange.
The fall season also makes me think of apples and all of the yummy things you can make with them like cider, pie, bread, pancakes, muffins. . .and the list goes on and on.
Well, today we're making a family favorite, Easy Apple Crisp.
The recipe uses very standard ingredients most folks already have right in their pantry. So, are you ready to get started? Me, too.? Let's do this!
HOW TO MAKE APPLE CRISP

To make this apple crisp recipe, you'll need the following:
Apples (peeled, cored and sliced)
Sugar
Brown sugar
Flour
Cinnamon
Nutmeg
Quick oats
Baking powder
Baking soda
Butter
After you have your apples peeled, cored and sliced, you'll place them in a greased 13×9″ baking dish and sprinkle on a mixture of sugar, flour, cinnamon and nutmeg.
WHAT'S THE EASIEST WAY TO PEEL, CORE AND SLICE APPLES?
The easiest way to peel and core apples is with a spiralizer. This handy kitchen tool actually peels, cores and slices the apples in one easy step!
And I'm going to be completely honest here. When my time is limited and I just need to whip this apple crisp up FAST, I run to Walmart and buy the container of already peeled, cored and sliced apples right out of the fresh foods section. If you've never seen these, they look like this.
Go ahead and set the baking dish aside while you prepare the topping.
In my opinion, the topping is really the star of the show. Just wait until you see how beautiful it is once it bakes!
Go ahead and spread that gorgeous topping all over those apples.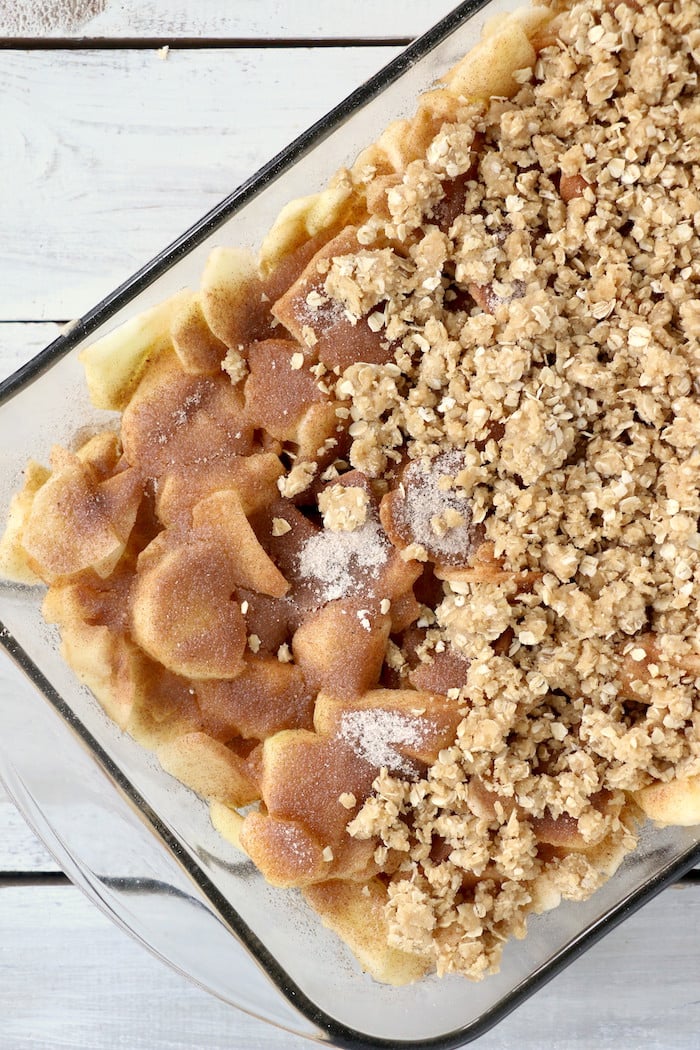 When the apple crisp is done, the sugar oat topping is browned, crisp and TO DIE FOR.
Go ahead and scoop some out while it's still warm.
Top with vanilla ice cream and a generous drizzle of caramel sauce.?
Are you kidding me right now? Who could resist this deliciousness?!
To be honest, a few years ago, I wouldn't touch a dessert with fruit in it.
I could never understand why one would put fruit in a dessert to begin with (or worse yet, vegetables).
It was all about peanut butter and chocolate for me.
Obviously, my tastes continue to change and, today, I'm all over warm apple crisps. Especially this time of year.
WHICH KINDS OF APPLES ARE BEST FOR APPLE CRISP?
Most would say that tart apples like Honey Crisp or Granny Smith are best for baking. If you can't choose, do a combination of both (that's what I like to do).
There are also many crisp recipes that call for Golden Delicious apples which are another great choice!
CAN YOU FREEZE APPLE CRISP?
Yes, you can. Go ahead and bake the crisp as directed, allow it to cool completely, then cover it with two layers of heavy duty aluminum foil. The crisp will keep for up to 3-5 months.
When you're ready to enjoy it, thaw it out overnight in the fridge and bake it in the oven at 350º for 20-25 min. or until heated through.
My sister-in-law made this crisp the other day and said it was one of the best crisps she ever made. That's saying A LOT because she and her kids are what you would call apple dessert connoisseurs.
I hope you try it out on your family! Let me know what they thought in the comments!
LOOKING FOR MORE DESSERTS TO ENJOY THIS FALL?
Easy Apple Crisp
A delicious, old-fashioned crisp made with sliced apples and a crunchy brown sugar oat topping. A scoop of vanilla ice cream and salted caramel sauce puts it over the top!
Ingredients
Base Ingredients:
10 cups apples, peeled, cored, and sliced
1/2 cup sugar
1 tbsp flour
1 tsp ground cinnamon
1/4 tsp ground nutmeg
For the Topping:
1 cup quick oats
1 cup flour
1 cup brown sugar
1/4 tsp baking powder
1/4 tsp baking soda
1/2 cup butter, melted
Vanilla ice cream, optional
Caramel sauce, optional
Instructions
Preheat oven to 350º Fahrenheit.
Place sliced apples in a greased 9×13″ baking dish.
In a small mixing bowl, combine sugar, flour, cinnamon, and nutmeg.
Evenly sprinkle the sugar mixture over the apples.
In a medium mixing bowl, combine topping ingredients.
Cover apples with the mixture.
Bake for 45 minutes or until golden brown.
Top with vanilla ice cream and caramel sauce and serve while still warm.
(Visited 3,288 times, 1 visits today)