Easy Turkey Casserole – A cheesy casserole filled with turkey and vegetables and topped with crunchy, French fried onions!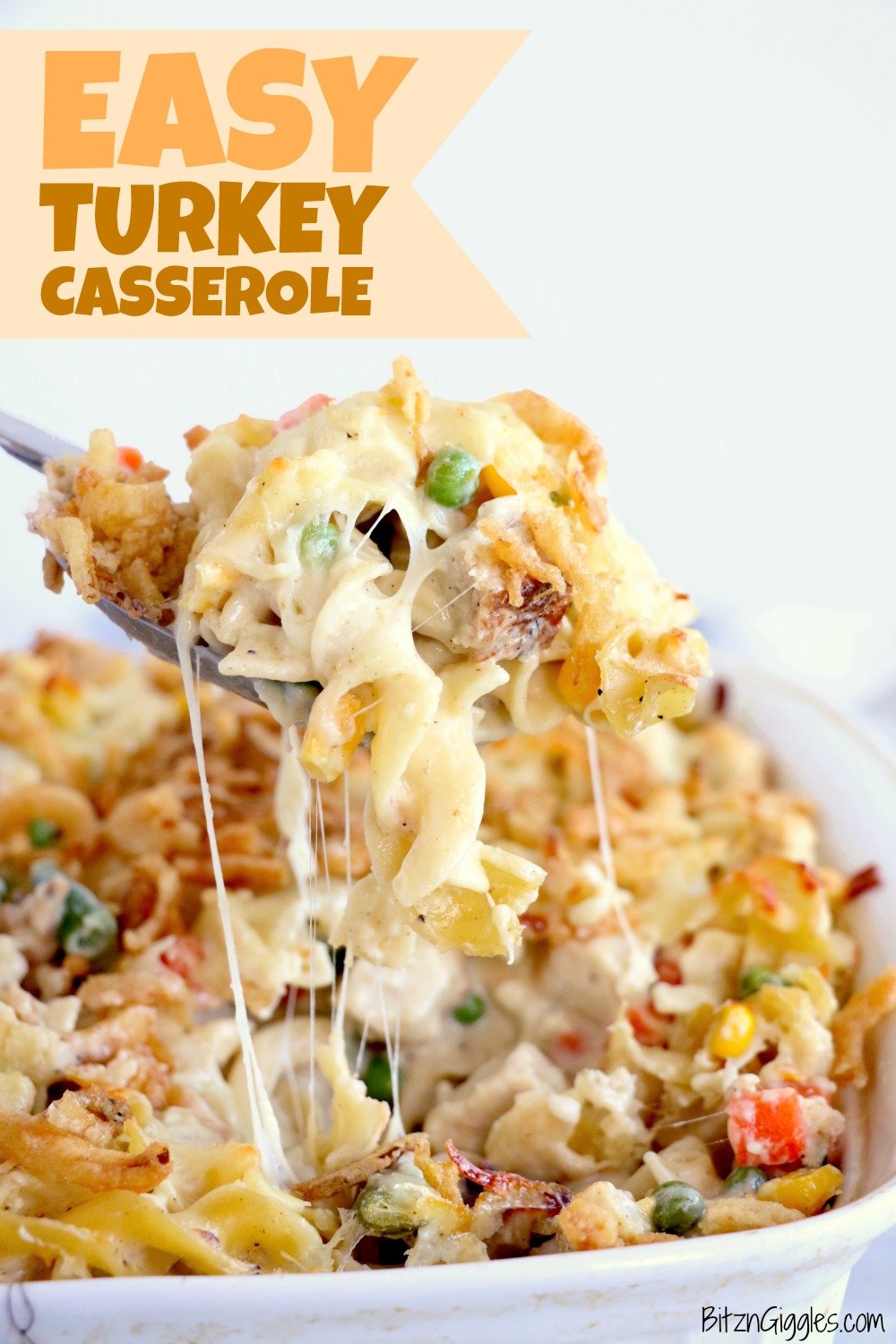 This post may include affiliate links. Please see my disclosure.
Happy BLACK FRIDAY! Did you have a nice Thanksgiving? We sure did and got to spend lots of quality time with family. In fact, we have one more Thanksgiving meal today and couldn't be more thankful! For those of you who are already staring at leftovers in your fridge, keep reading.
Today I'm sharing a delicious recipe for leftover turkey casserole, because if you purchased as big of bird as my mom did, you're bound to have some meat left over! So, what to do with it? Make a casserole of course!
Let's get started!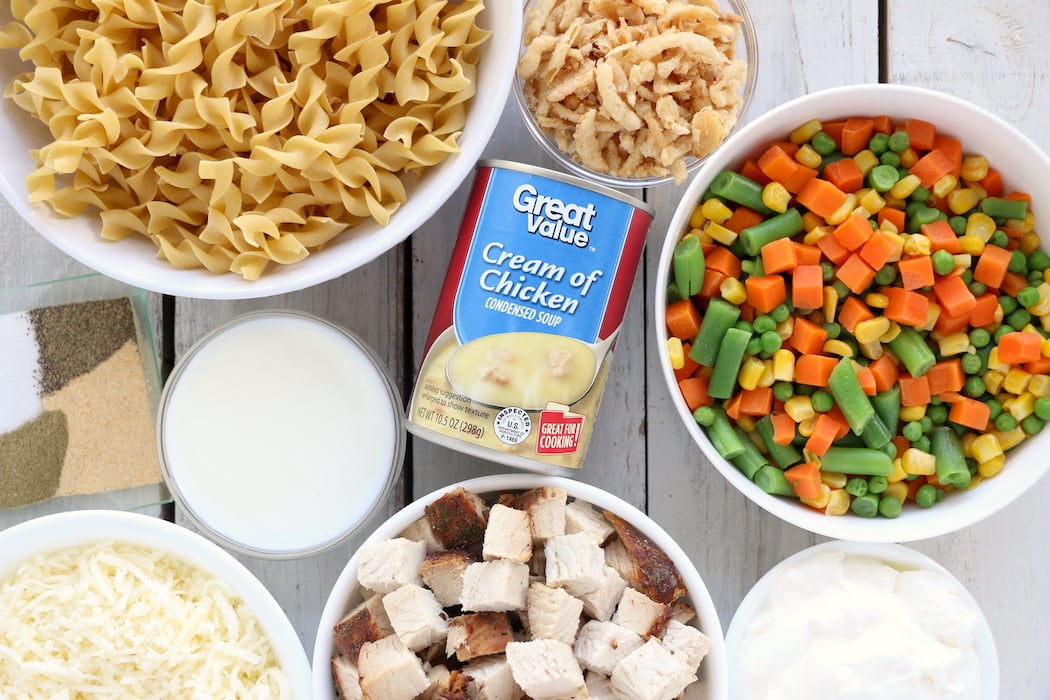 HOW TO MAKE TURKEY CASSEROLE
To make this easy turkey casserole, you'll need:
Egg noodles
Chopped turkey
Frozen mixed vegetables
Cream of chicken soup
Sour cream
Milk
Salt and pepper
Garlic powder
Thyme
Parmesan cheese
Mozzarella cheese
French fried onions
You'll want to start by grabbing a LARGE mixing bowl because here's everything you're going to have to put in there:
Cream of chicken soup
Sour cream
Milk
Salt, pepper, garlic powder, thyme
Parmesan cheese
Portion of the mozzarella cheese
I hope you grabbed a REALLY big bowl because we're not done! Now we're going to add the turkey and the mixed vegetables.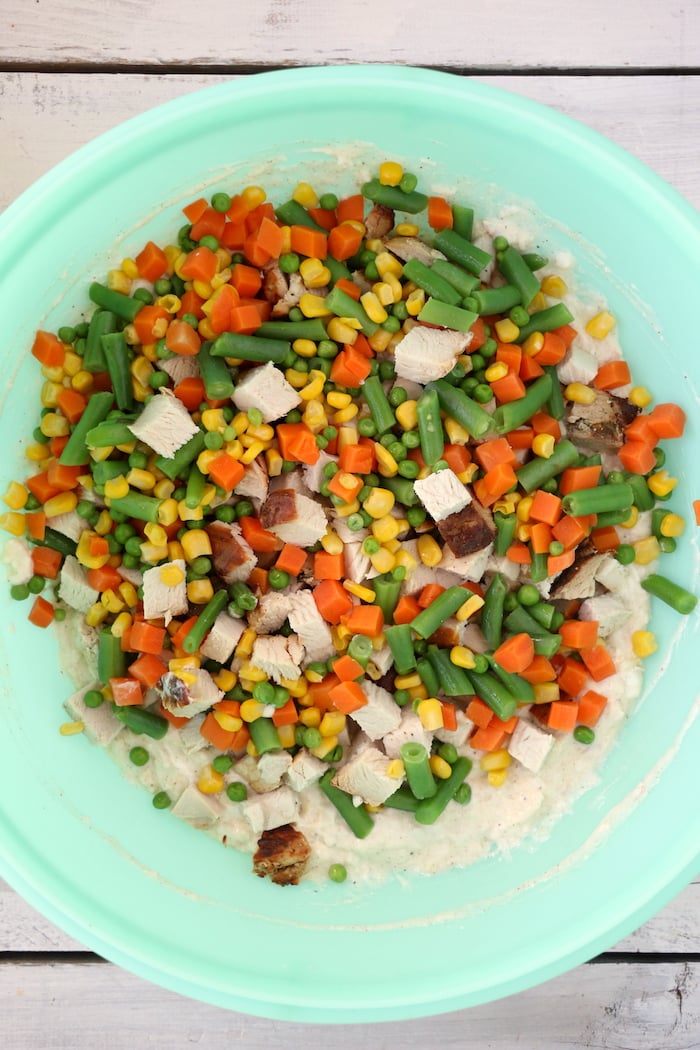 But just wait! More is going in that bowl!
Add all of those boiled noodles to the bowl, too.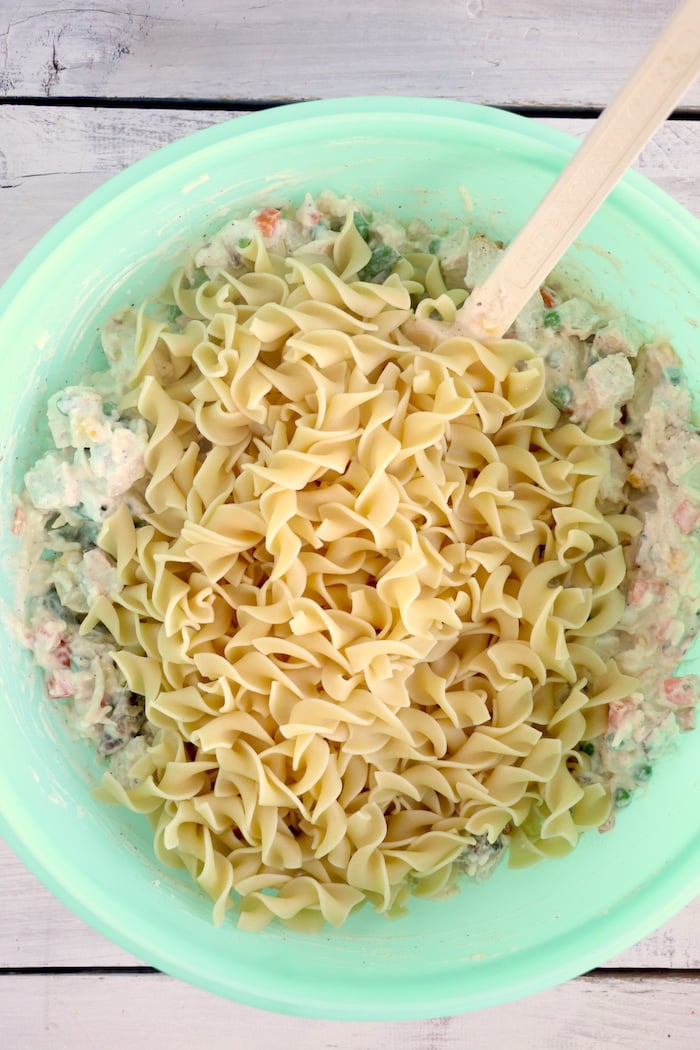 Mix everything together and transfer it to your greased baking dish.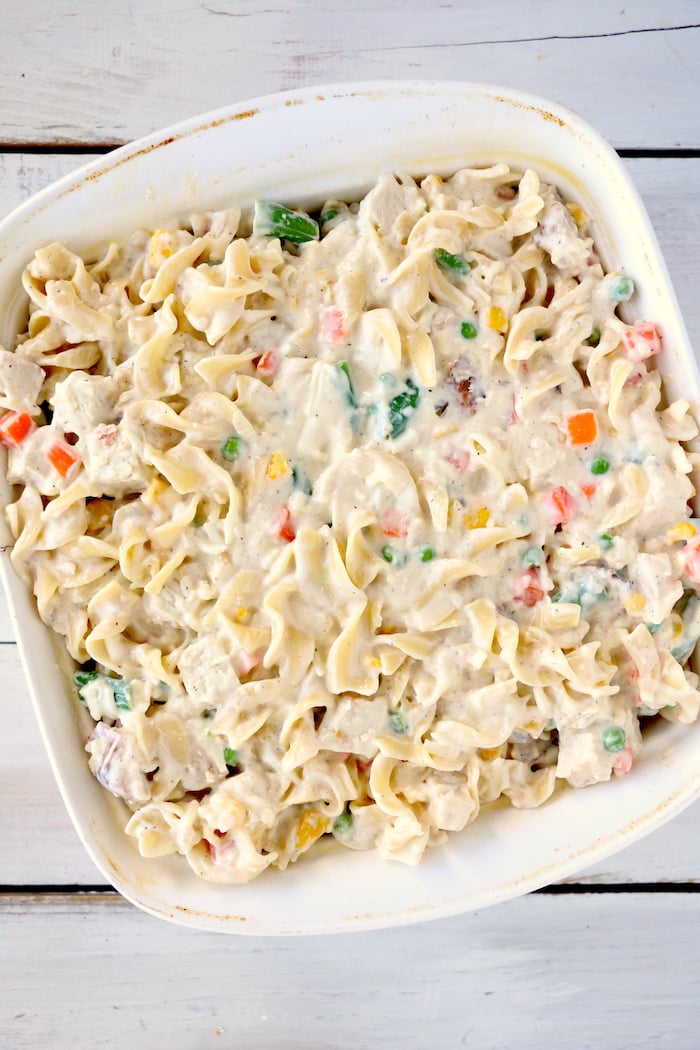 Now, it's time to pile on the rest of the mozzarella cheese – the Wisconsin way. Just keep bringing it. ?
I know you're going to want to reach for the French fried onions next, but DO NOT put them on top yet. They come later!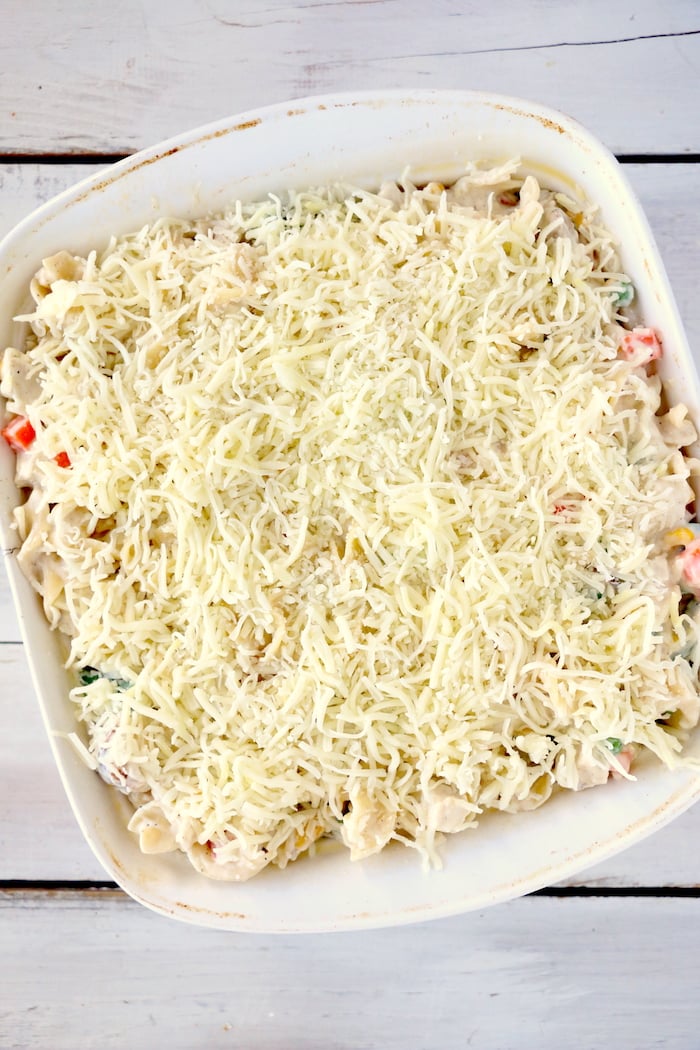 Stick the casserole into the oven to bake for 25 minutes. Then pull it out and sprinkle the French fried onions over the top of the casserole.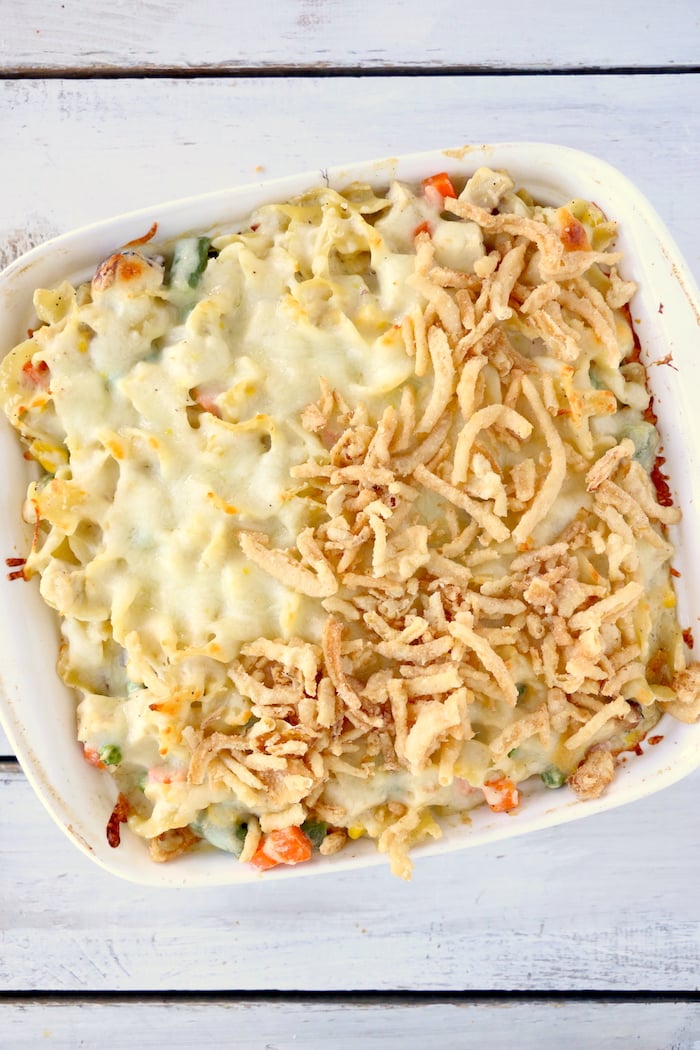 After about five minutes, the casserole will be bubbly and the French fried onions will have turned a golden brown. Perfection.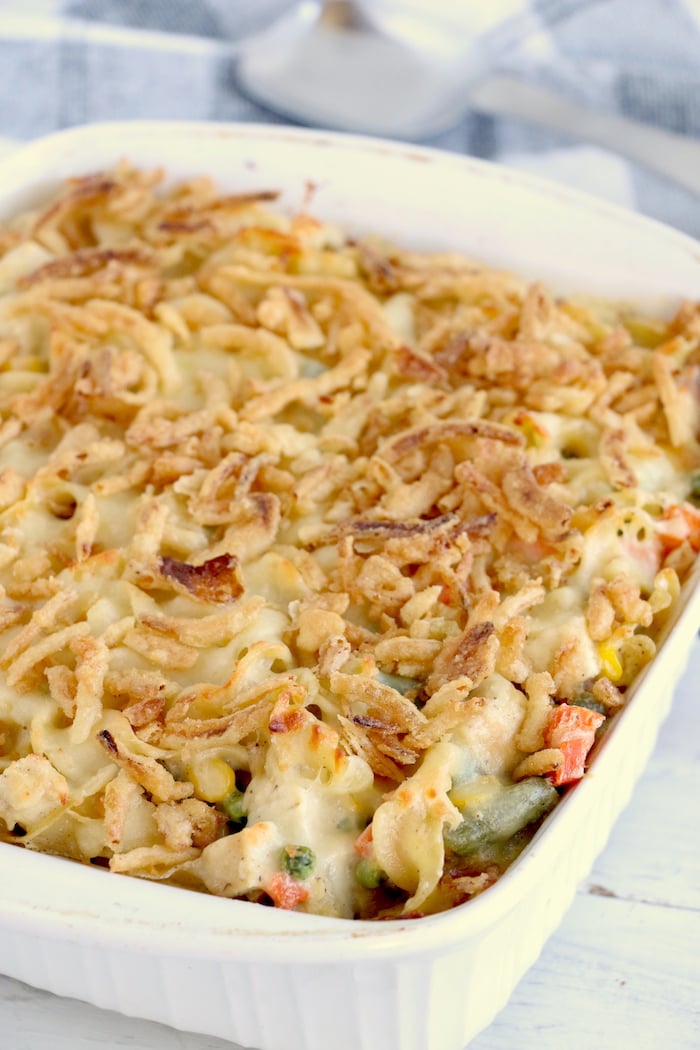 HOW DO YOU FREEZE TURKEY CASSEROLE?
If you plan on freezing your turkey casserole to enjoy at a later date, you don't even need to stick the pan in the oven after preparing the casserole. Because it already uses pre-cooked meat, you don't have to cook it at all. You can freeze the casserole for 2-3 months.
When you're ready to prepare your casserole, follow this easy process:
Line your baking dish with aluminum foil, leaving extra foil hang over the sides so you can wrap the casserole with the foil at the very end.
Mix up the casserole and transfer it to the lined baking dish.
Cover the casserole with the extra foil flaps and freeze for at least 24 hours.
Take frozen casserole and remove it from the baking dish.
Wrap the casserole in freezer paper and label it clearly.
Remove the freezer paper and foil from the casserole and place it into a baking pan.
Thaw the casserole in the baking pan in the fridge for 24 to 36 hours before you intend to cook it.
When you're ready to prepare the casserole, follow the recipe's original instructions.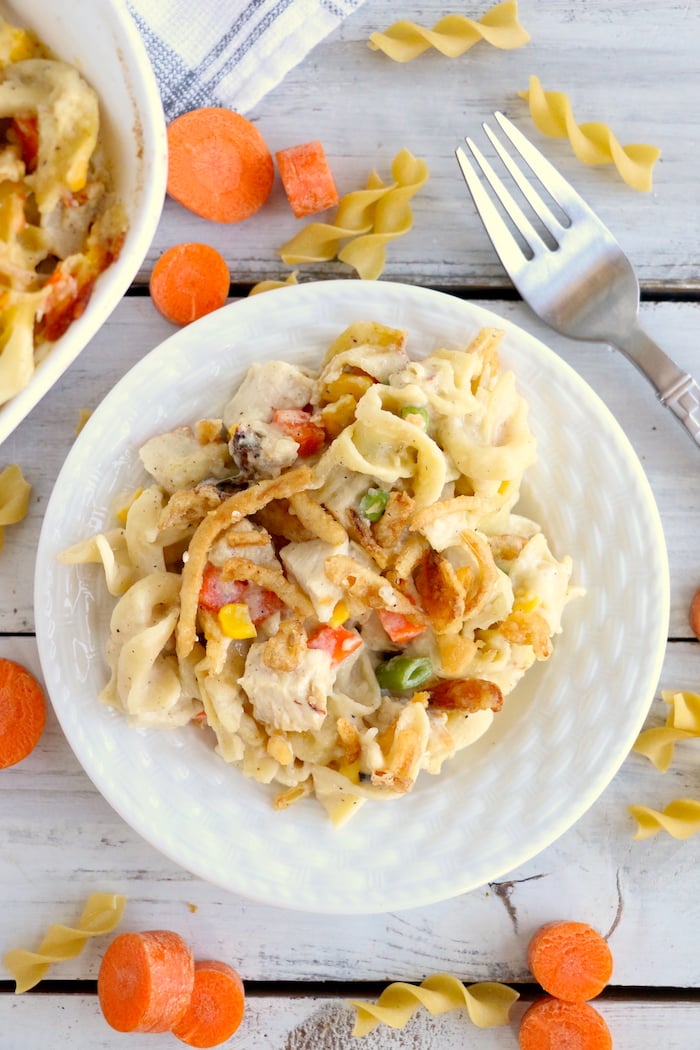 DO I REALLY NEED TO THAW THE FROZEN CASSEROLE BEFORE BAKING IT?
Nope, you don't. If you don't want to take the time to thaw the casserole, follow these instructions:
Remove the freezer paper and foil from the casserole and place it into a baking pan. Cover with a new piece of aluminum foil.
Preheat the oven to 350º Fahrenheit.
Bake for 60 minutes. Removing the foil during the final 10 minutes.
Add the French fried onions and bake for an additional five minutes.
When a thermometer reaches 165° Fahrenheit, pull the casserole from the oven.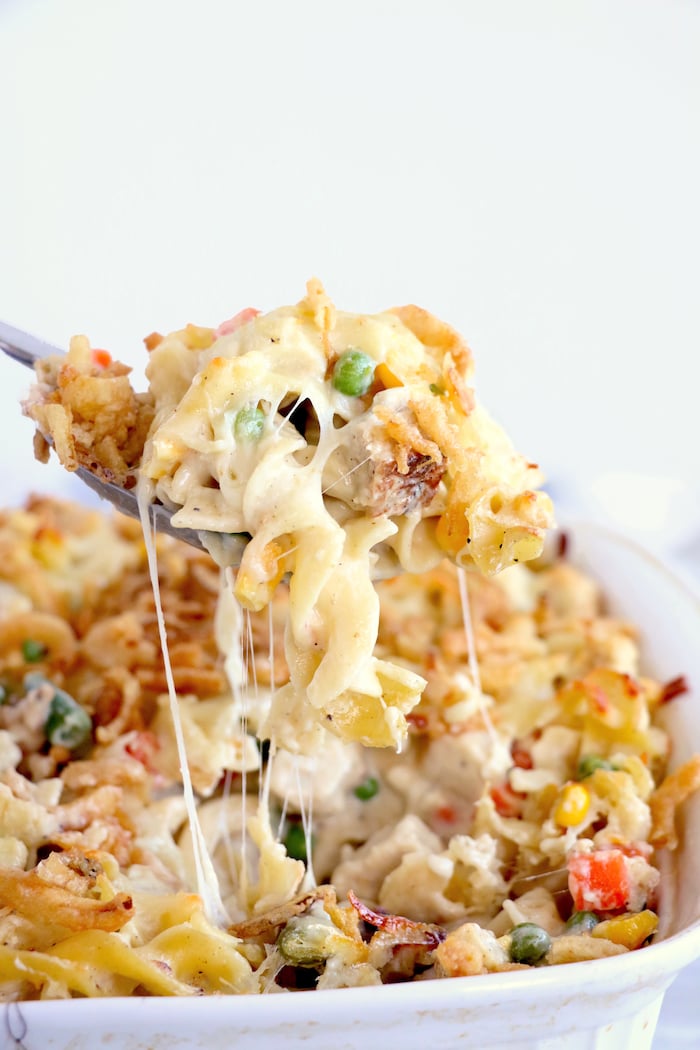 HOW LONG WILL LEFTOVER TURKEY KEEP?
Leftover turkey will keep for 3-4 days in the refrigerator, or 2-3 months in the freezer.
IN SEARCH OF MORE CASSEROLE RECIPES?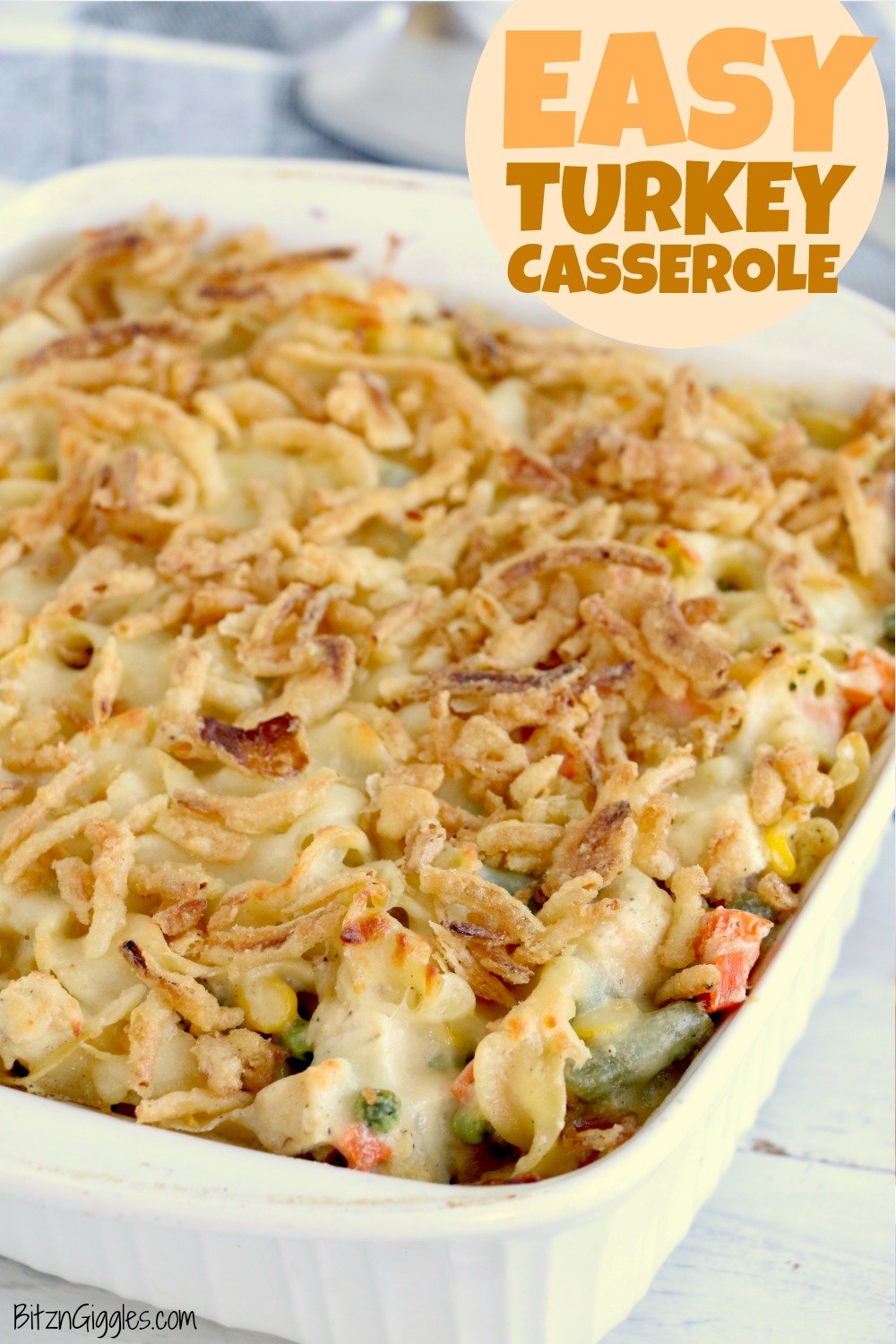 Easy Turkey Casserole
A cheesy casserole filled with turkey and vegetables and topped with crunchy, French fried onions!
Ingredients
4 cups egg noodles, cooked
3 cups turkey, chopped
1 (12 ounce) bag frozen mixed vegetables, thawed and warmed
1 (10.5 ounce) can cream of chicken
1 cup sour cream
1/3 cup milk
1 tsp salt
1/2 tsp pepper
1 tsp garlic powder
1/2 tsp ground thyme
1/4 cup parmesan cheese, shredded or grated
2 cups mozzarella cheese, shredded (divided)
1 cup French fried onions
Instructions
Preheat oven to 350ºF.
Prepare noodles according to package directions.
In a large mixing bowl, combine cream of chicken, sour cream, milk, salt, pepper, garlic powder, thyme, Parmesan cheese, and 1 1/2 cups mozzarella cheese.
Add turkey and mixed vegetables. Mix well.
Stir in cooked noodles.
Put mixture into a greased 2-3 quart baking dish and top with remaining mozzarella cheese.
Bake for 25 minutes.
Top with French fried onions and baking for an additional 5 minutes.
(Visited 20,217 times, 1 visits today)