Tater Tot Casserole – A classic casserole that's both delicious and family-friendly! Comes together quickly with a few staple ingredients!


It's all about the classics, isn't it? You wouldn't believe how many emails I get from readers ecstatic about the fact that I keep my recipes simple. . .and classic. Although there is certainly a need for putting some new twists on traditional favorites, I heard you all loud and clear. You would rather not change a thing! Why mess with a good thing, right?
If you're anything like me, you cringe at recipes with long lists of ingredients and sigh in frustration when you're out of one of the ingredients you need to make a meal. During the week, who has time for all of that? Not me – and I'm pretty certain you don't either.
There are plenty haters out there who are quite vocal about using cream of anything soup in their cooking. Well, they're not going to like this recipe, or this one, or this one. #sorrynotsorry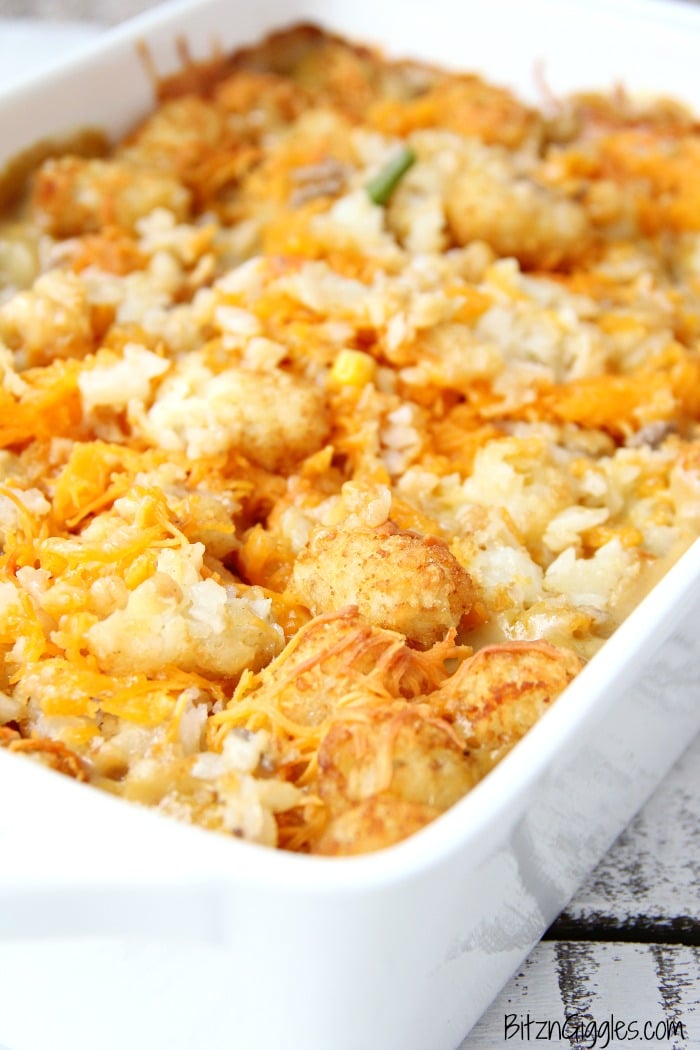 It doesn't get much more classic than Tater Tot Casserole – or Tater Tot Hot Dish like we call it in the Midwest. It's a complete meal in a pan – meat, veggies and a starch. Dinner done. I don't care if it's winter or summer. I make this dish year round because the kids love it. . .and Josh and I do too.
I have fond memories of eating tater tot casserole at school with my friends and going back for seconds each and every time. It's such a simple dish but so satisfying. Genuine comfort food here, friends.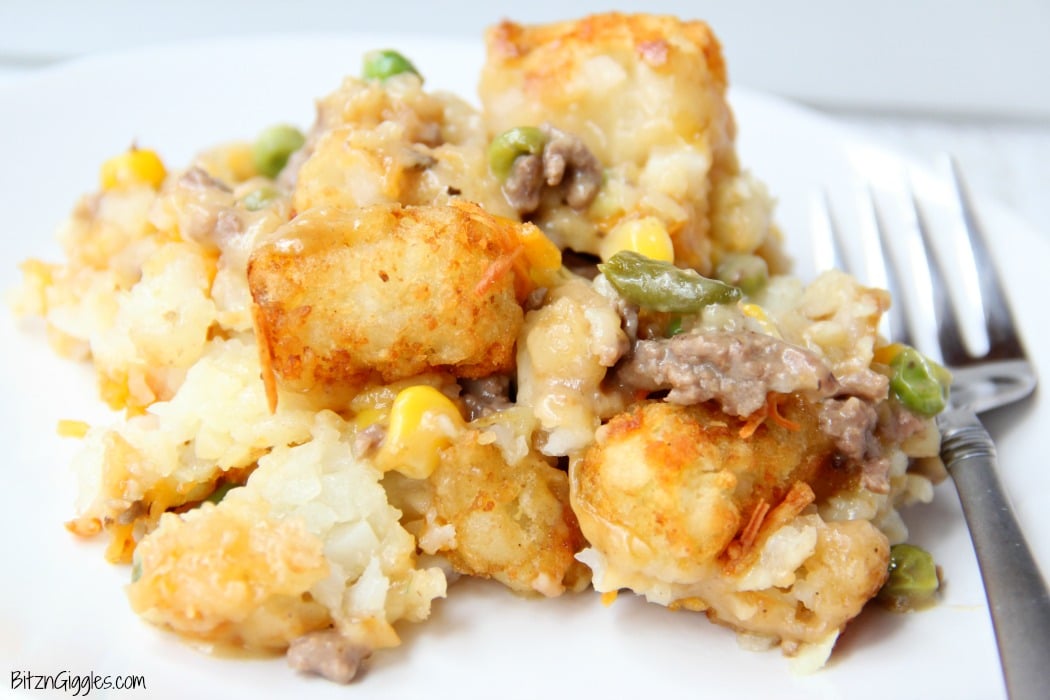 If you're used to adding chopped onions to your tater tot casserole, go ahead and fry some up with the ground beef. I leave them out because of the kids' preferences.
You know what I love best? Reheating the leftovers. So good. Isn't that what we all love about classic casseroles? If it's been awhile since you've made tater tot casserole, I hope this is inspiration to make it again and share it with your loved ones. No one deserves to go through life without having tasted this delicious dish! 😉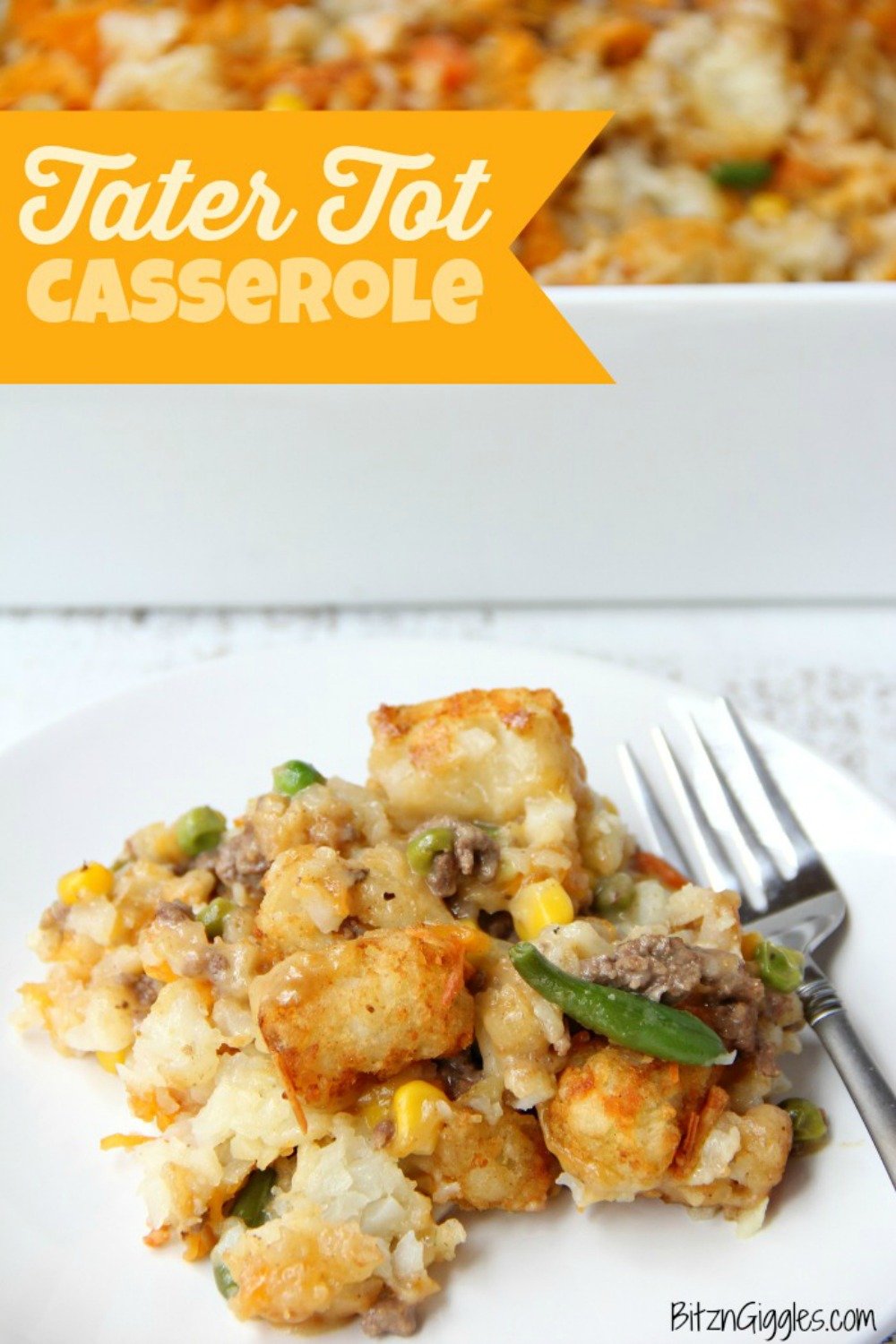 Tater Tot Casserole
A classic casserole that's both delicious and family-friendly! Comes together quickly with a few staple ingredients!
Ingredients
1 pound lean ground beef
1 teaspoon salt
1 teaspoon black pepper
1 teaspoon garlic powder
1/2 teaspoon onion powder
16 ounce bag frozen mixed vegetables (carrots, beans, peas)
15.25 ounce can of corn, drained
3/4 cup milk
2 cups shredded cheddar cheese, divided
2 pound bag frozen tater tots
Instructions
Preheat oven to 375 degrees Fahrenheit.
In a skillet, brown the ground beef. Season with salt, pepper, garlic and onion powder.
Drain and return to skillet.
Add the soup, mixed vegetables, drained corn and milk to the skillet with the beef and combine.
Pour the mixture into a 13×9 inch baking pan.
Sprinkle 1 cup shredded cheese on top of mixture.
Top with the tater tots.
Bake for 45 minutes or until hot and bubbly.
Sprinkle remaining cheese over the top of the casserole and bake 5 more minutes or until cheese has melted.

(Visited 363,989 times, 1 visits today)