Classic Tuna Noodle Casserole Recipe – Ready in under 45 minutes, this classic and comforting casserole features tuna, onions, mushrooms, peas and cheese in a creamy sauce topped with more cheese and crunchy French fried onions! So flavorful, and sure to satisfy the entire family!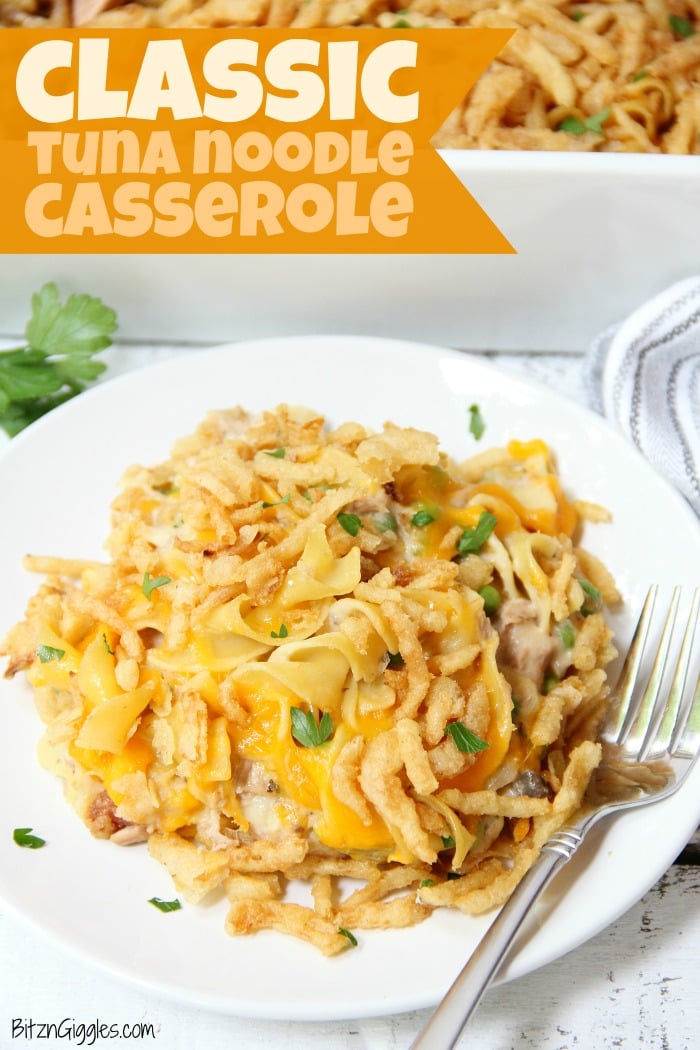 This post may include affiliate links. Please see my disclosure.
It's comfort food season, and today, I'm sharing a recipe for Classic Tuna Noodle Casserole. Here's the thing. . .I actually have two recipes on the blog for the same dish, but the ingredients and serving sizes differ a bit.
The recipe I'm sharing today is about double the size of this one and features a few more ingredients like onions, mushrooms and extra cheese. If you aren't a fan of onions or mushrooms, opt for my simpler recipe.
I promise that the recipe I'm sharing today is super simple as well – just a couple more steps and a few more ingredients. I personally love the "extras" in this version and hope you do, too!
Let's get cookin'!
HOW TO MAKE CLASSIC TUNA NOODLE CASSEROLE
To make Tuna Noodle Casserole, you're going to need the following:
Egg noodles
Chopped onion
Butter
Shredded cheddar cheese
Frozen peas
Tuna
Cream of mushroom soup
Cream of celery soup
Milk
Sliced mushrooms
Salt & pepper
You're going to start by boiling the egg noodles until al dente.
WHAT KIND OF NOODLES WORK BEST FOR TUNA CASSEROLE?
Casseroles, like this one, are really forgiving in regards to the type of pasta you use. If you don't have egg noodles, go ahead and try shell or rotini.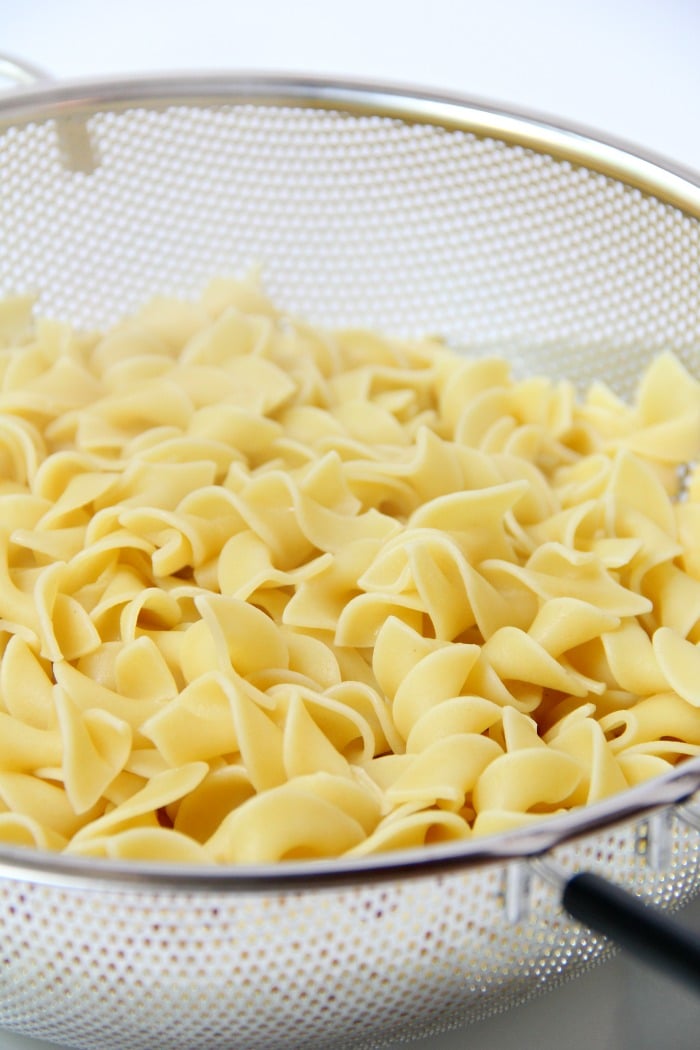 After you drain the noodles, set them aside and start sautéing the onions.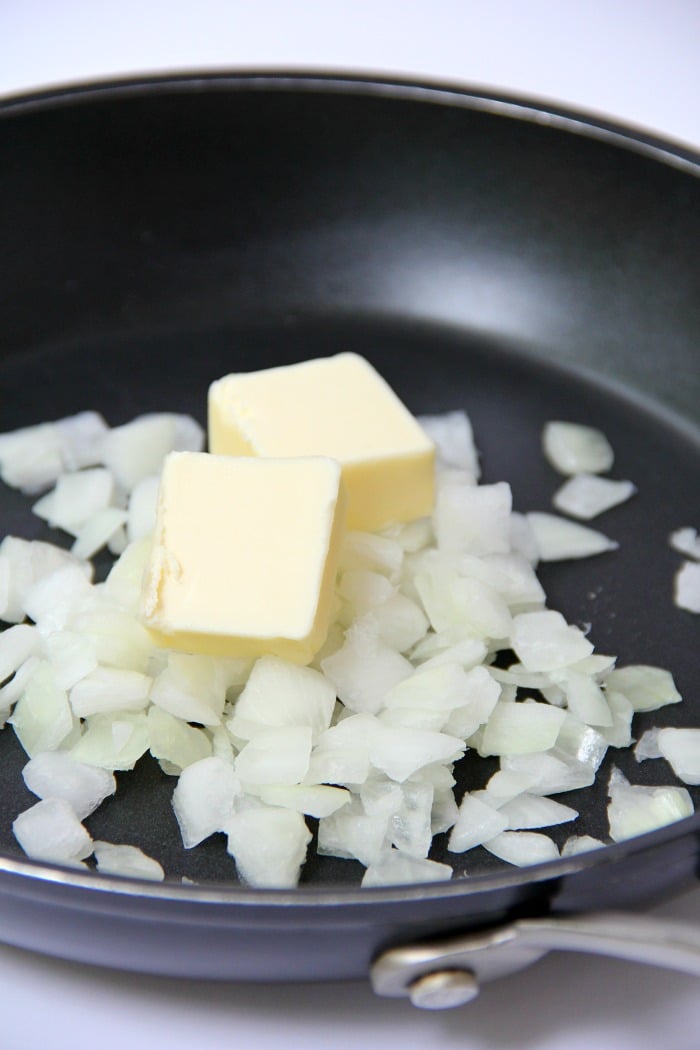 Here's where all the "good stuff" comes in. The tuna, cheese, peas, onions, soup, mushrooms, milk and seasonings.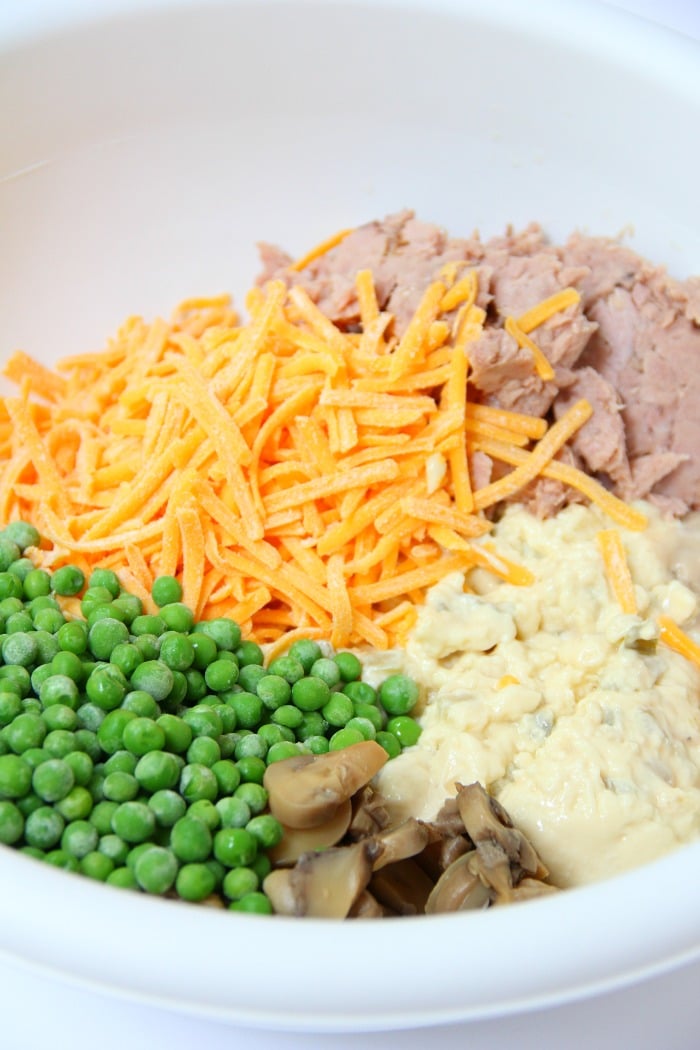 Mix it all together, add the noodles and transfer everything to your baking dish.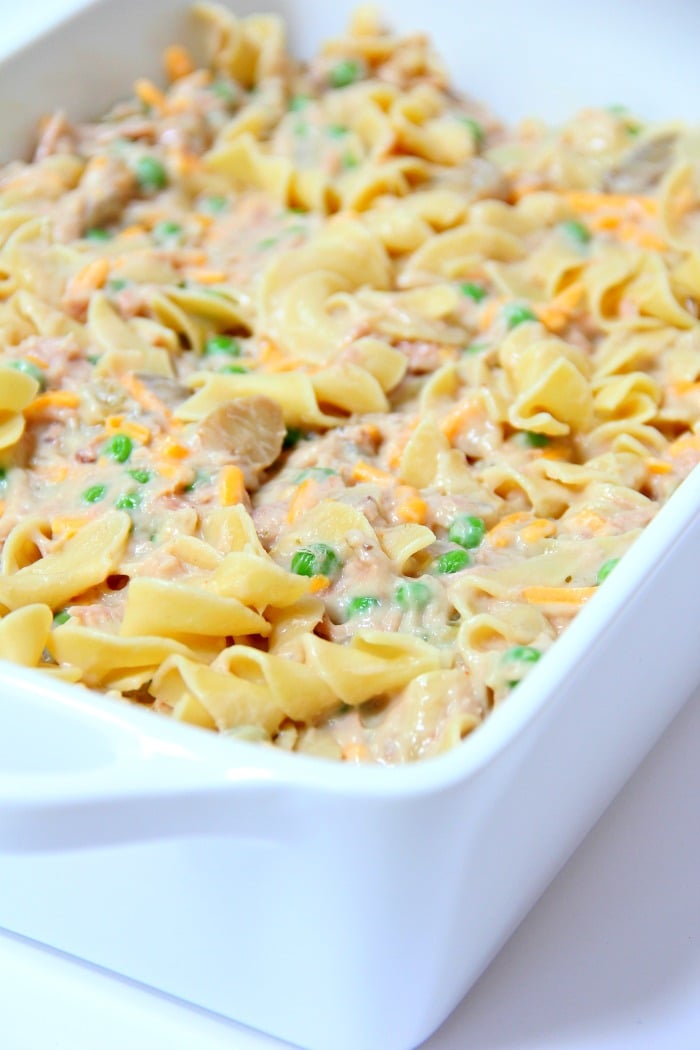 And then, add more cheese. Why? Because it's the Wisconsin way and it's delicious.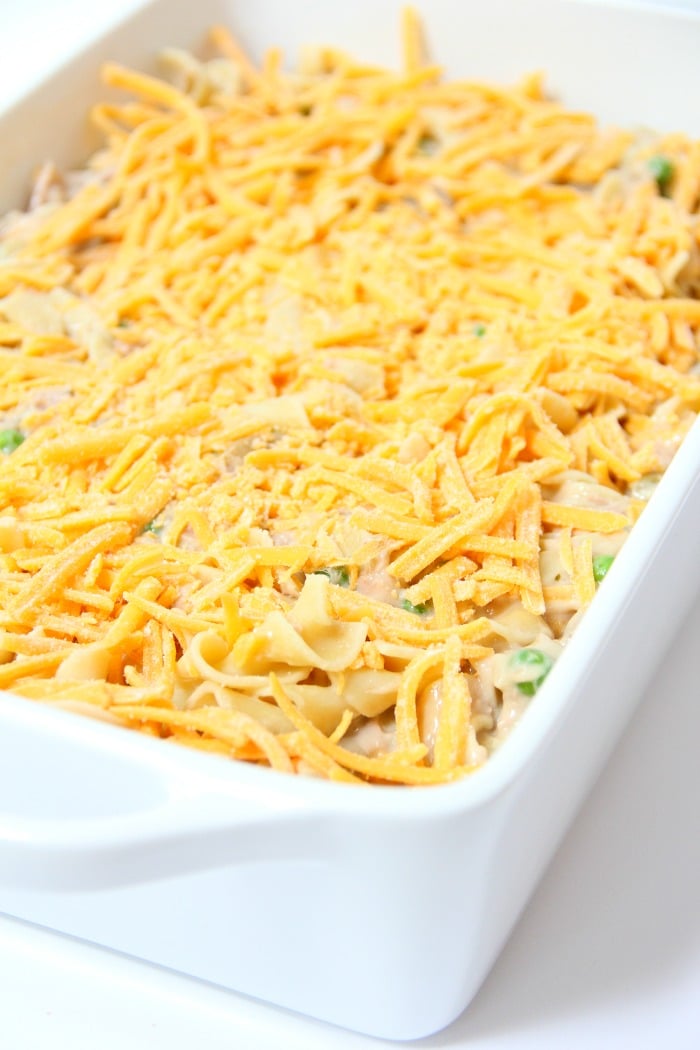 WHY IS TUNA NOODLE CASSEROLE OFTEN DRY?
There are usually two reasons why tuna casseroles end up dry:
The recipe doesn't include enough "liquid" – In addition to the soups used in this recipe, liquid from the undrained tuna and the extra milk ensures you won't end up with a dry casserole. Pasta in casseroles tend to "soak up" much of the liquid, so you need to make sure you have enough in the pan.
The casserole is uncovered while it bakes – Before placing the casserole into the oven, I like to cover the baking pan with a piece of aluminum foil. It keeps the casserole from drying out and prevents the noodles and cheese from crisping.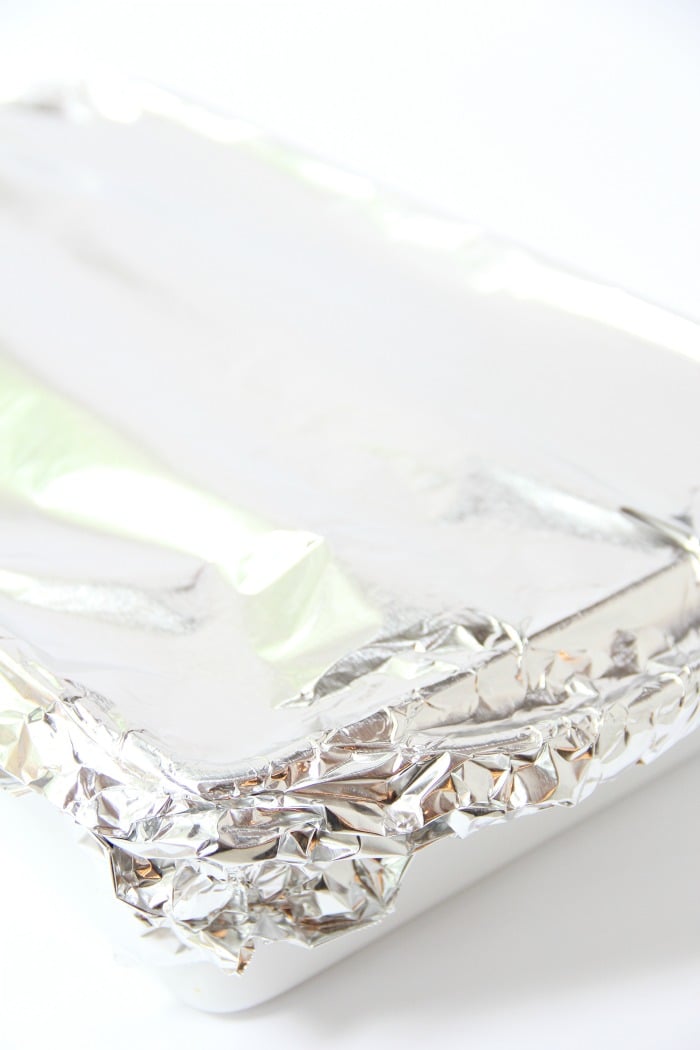 That doesn't look like crispy cheese to me! And the noodles held their moisture as well.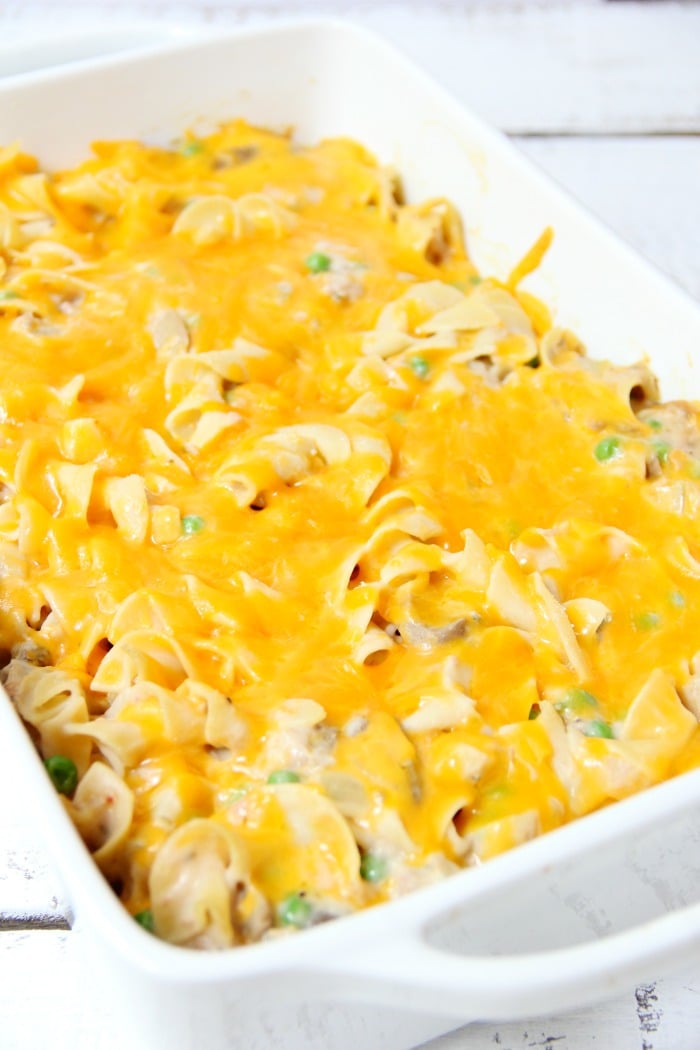 Once the casserole is cooked through and the cheese is all melty, dispose of the foil, add the French fried onions and return to the oven uncovered for 5 more minutes.
Here's where you DO want to encourage crisping!
I'm a super fan of crunchy French fried onions and can hardly contain my excitement when I pull this casserole out of the oven. All I want to do is DIG IN!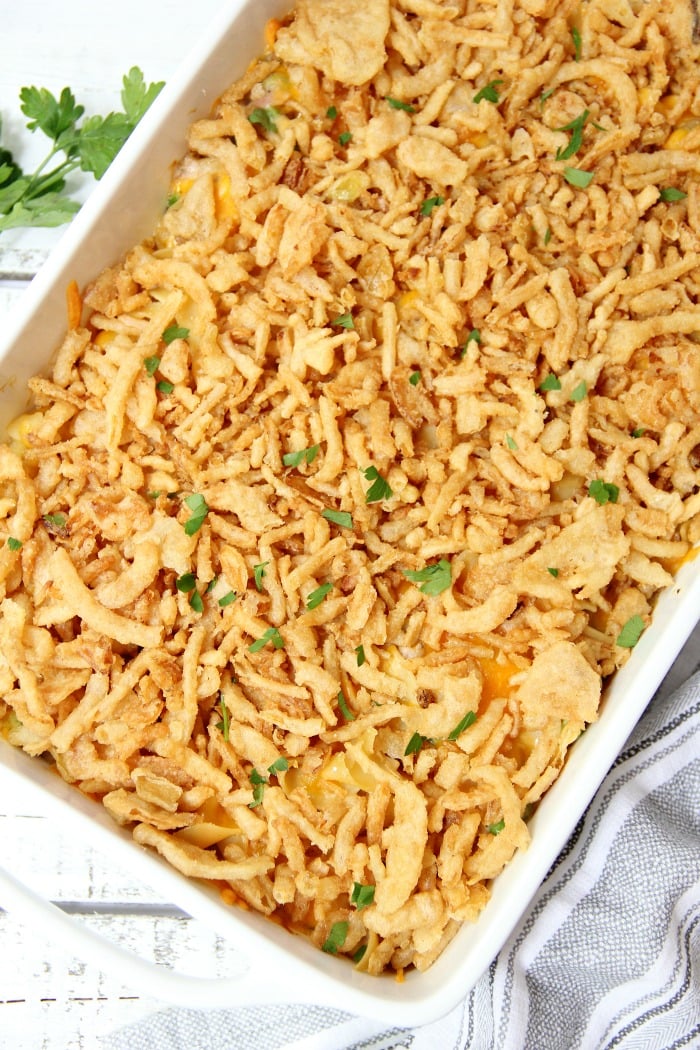 WHAT KINDS OF TOPPINGS GO WELL WITH TUNA CASSEROLE?
If you're not as much of a fan of French fried onions as I am, don't fret. The options are pretty much endless as far as toppings go. If you want to forego the onions, substitute one of these instead:
Breadcrumbs
Crushed potato chips
Cracker crumbs
Croutons
Chow Mein noodles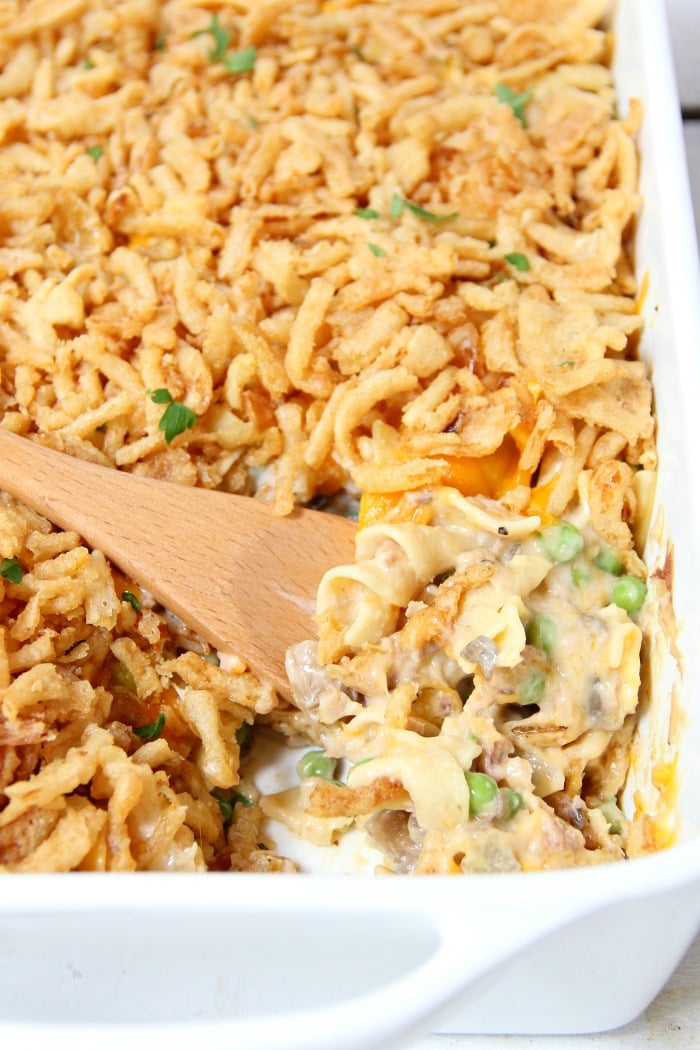 Go ahead and serve yourself a big ole' plateful. This my friends is true comfort food.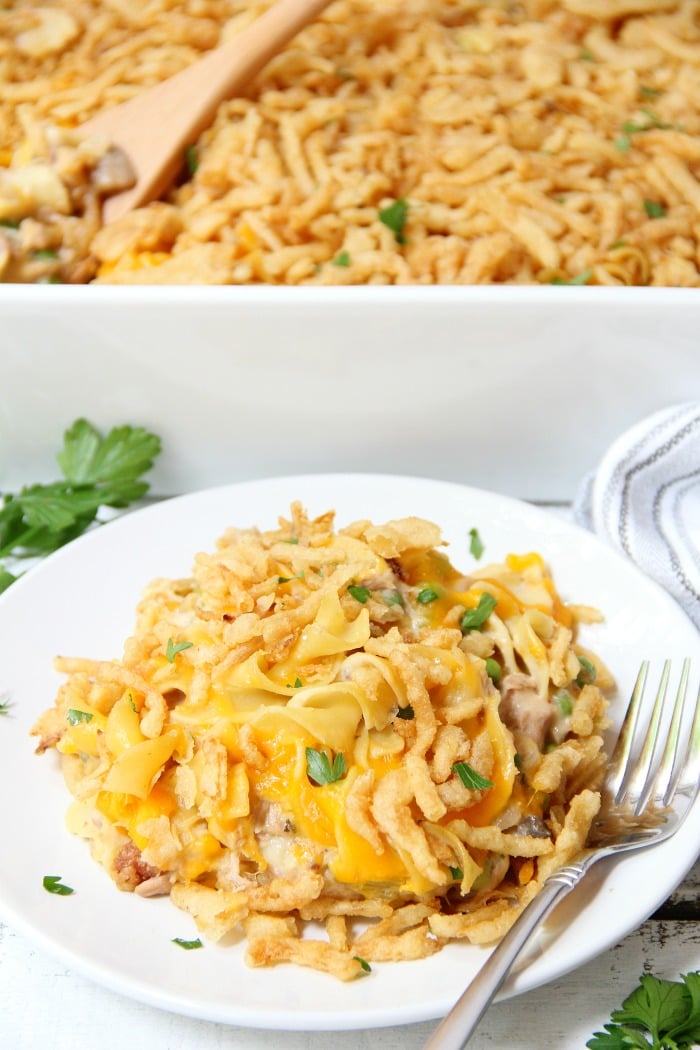 This casserole can serve up to 10 people if you have light eaters. If your guests or family enjoy larger portions, you can still serve 6-8 people easily.
CAN YOU FREEZE TUNA NOODLE CASSEROLE?
Yes, tuna noodle casserole freezes well for 2-3 months. Bake the casserole in a disposable aluminum foil baking pan, cover with aluminum foil and place the entire thing in the freezer for a few hours. Once frozen, slip the pan (still covered with the aluminum foil) into a large freezer bag (I love these) and pop it back into the freezer.
When you're ready to enjoy, take it out of the freezer, allow it to thaw completely, then bake as instructed below (keeping the foil on until it's time to add the French fried onion topping).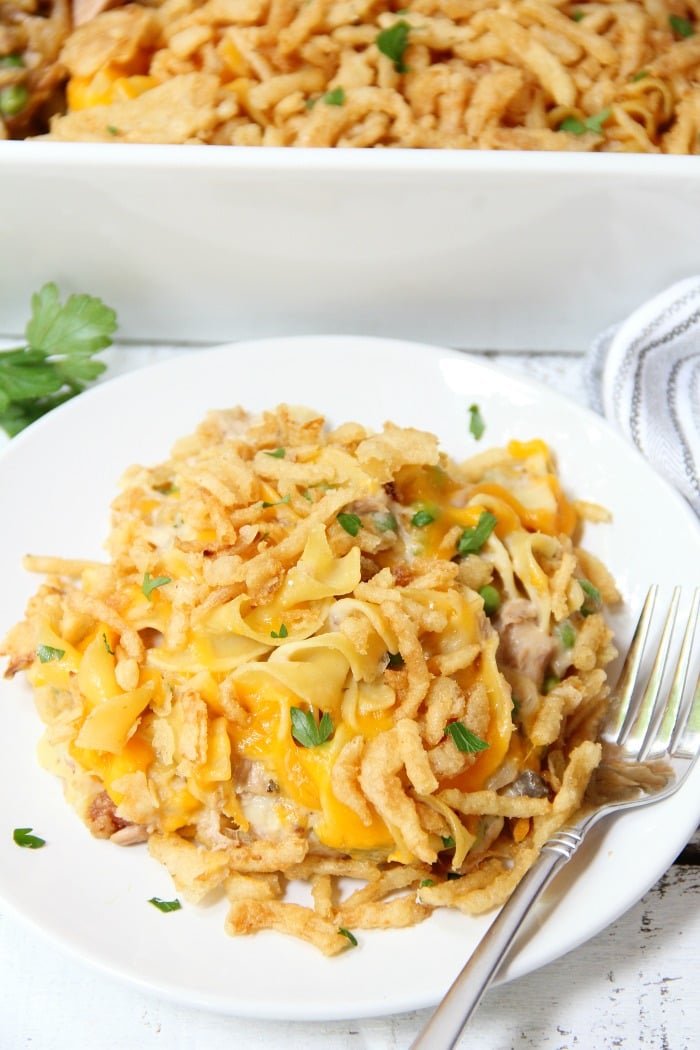 Enjoy this classic favorite, my friends!
READY FOR MORE FALL FAVORITE RECIPES?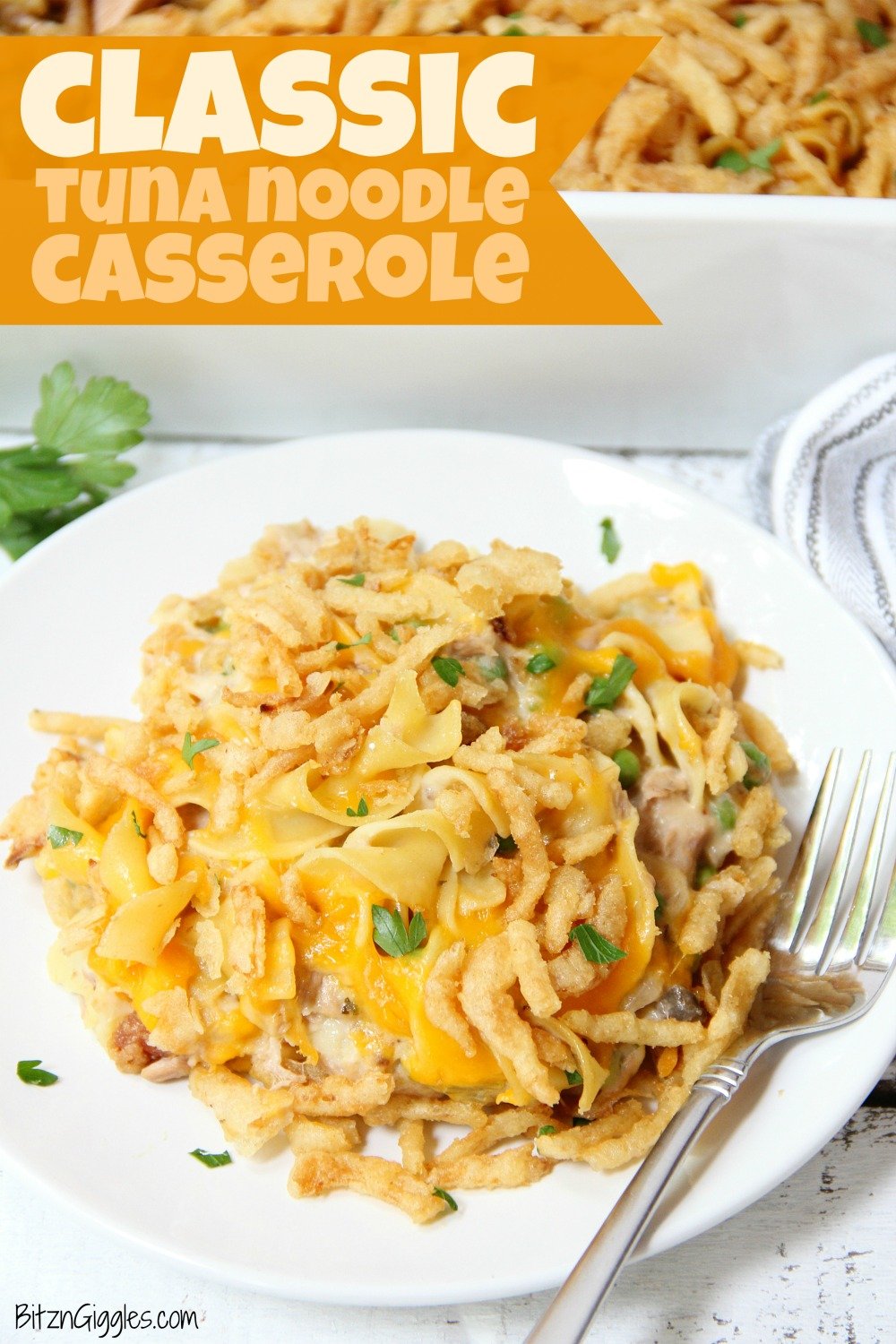 Classic Tuna Noodle Casserole
Ready in under 45 minutes, this classic and comforting casserole features tuna, onions, mushrooms, peas and cheese in a creamy sauce topped with more cheese and crunchy French fried onions! So flavorful, and sure to satisfy the entire family!
Ingredients
12 ounce package egg noodles
1/4 cup chopped onions
2 Tablespoons butter
2 cups shredded cheddar cheese, divided
1 cup frozen peas
11 ounces tuna, undrained
10.75 ounce can condensed cream of mushroom soup
10.75 ounce can condensed cream of celery soup
1/2 cup milk
4.5 ounce can sliced mushrooms, drained
1 teaspoon salt
1/4 teaspoon black pepper
6 ounce container French fried onions
Instructions
Preheat oven to 375º Fahrenheit.
Boil a pot of lightly salted water. Cook egg noodles for 8-10 minutes or until al dente, drain. Set aside.
Sauté the chopped onions in a small saucepan with 2 tablespoons butter for 3-4 minutes.
Add the sautéed onions, 1 cup shredded cheese, peas, tuna, soup, milk, mushrooms, salt, pepper and noodles to a large bowl and mix thoroughly.
Transfer to a 9×13″ baking dish and top with remaining 1 cup cheese.
Cover baking dish with aluminum foil.
Bake for 30 minutes.
Remove aluminum foil, top with French fried onions. Bake for 5 additional minutes.
(Visited 6,749 times, 1 visits today)