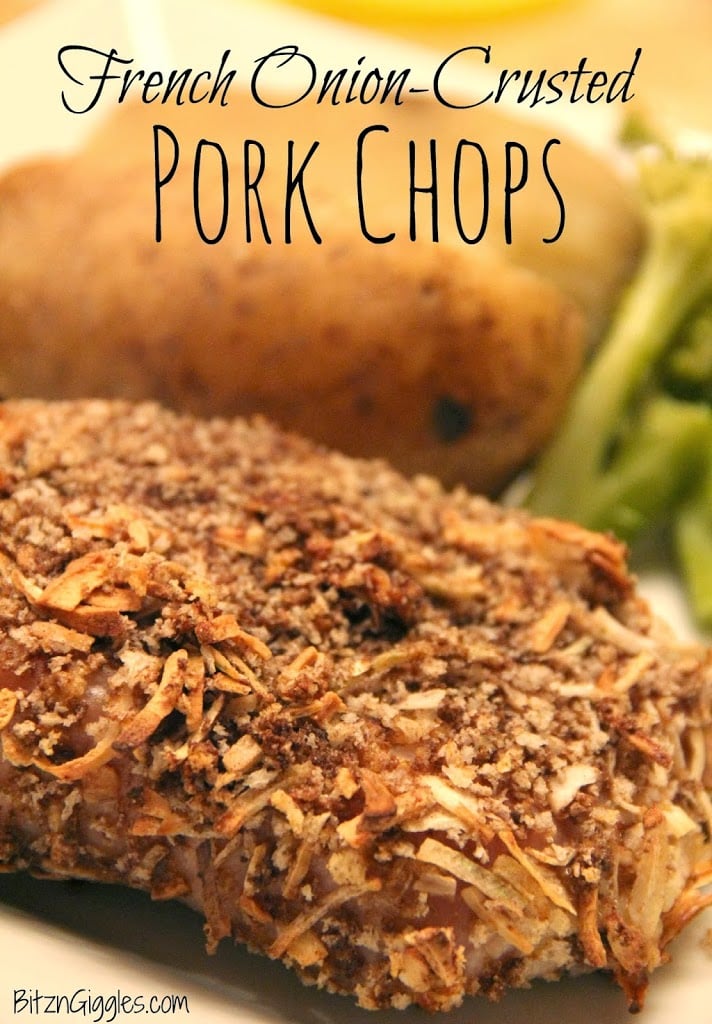 My family loves pork chops, if that wasn't apparent already. We like them grilled, pan-fried, oven-baked and broiled. In fact one of the teachers at my son's daycare asked him how he got so tall and he said, "My mom feeds me pork chops." True story.
We eat them, probably once a week, and I'm always trying new recipes to keep things interesting. Today I'm sharing a recipe for French Onion-Crusted Pork Chops. Like most of the recipes I share, it uses staples that can be found in most everyone's pantry.
The Panko bread crumbs mixed with the onion soup mix makes a wonderfully crunchy crust that surrounds the juicy, tender pork chop inside.
If you're looking for more pork chop recipes, try these Parmesan and Herb-Crusted Chops, Smothered Mushroom Pork Chops or Sweet BBQ-Glazed Pork Chops. All of the recipes are tried and true. . . and delicious!
Let's get cookin'!
Ingredients
2 packets French Onion Soup mix (I used Lipton)
4 boneless pork loin chops
1/2 cup Panko bread crumbs
2 eggs
Instructions
Preheat oven to 400 degrees Fahrenheit.
In a small bowl beat the eggs.
In another dish, mix the Panko and soup mix.
Dip the loins in the eggs and then dredge with the Panko/onion mixture.
Place in a shallow baking pan and bake for 20 minutes. Turn the chops over and bake for another 10-15 minutes or until the meat reaches an internal temperature of 145 degrees Fahrenheit.
(Visited 1,969 times, 1 visits today)