Halloween Veggie Pizza – A spooky themed graveyard pizza featuring a flavorful ranch cream cheese covered crust, topped with colorful veggies and "tombstone" crackers.
This post may include affiliate links. Please see my disclosure.
Who is ready for Halloween this week??‍♀️ Last week I was traveling for work so the month seemed to get away from me. On the flight home I started looking at my calendar to plan for the week ahead and couldn't believe how quickly Halloween was approaching!
I figured I best get my act together and make one more super cool Halloween treat to share with you all! Today we're creating a spooky themed graveyard pizza featuring a flavorful ranch cream cheese covered crust, topped with colorful veggies and "tombstone" crackers!
For those of you who want to take something a little more healthy to the Halloween party this week, this colorful and "spooky" appetizer is for you!
HOW TO MAKE A HALLOWEEN VEGGIE PIZZA
To make this spooky graveyard pizza, you'll need:
Crescent rolls
Cream cheese
Sour cream
Packet dry ranch seasoning
Carrot
Red bell pepper
Yellow bell pepper
Red onion
Broccoli
Shredded cheddar cheese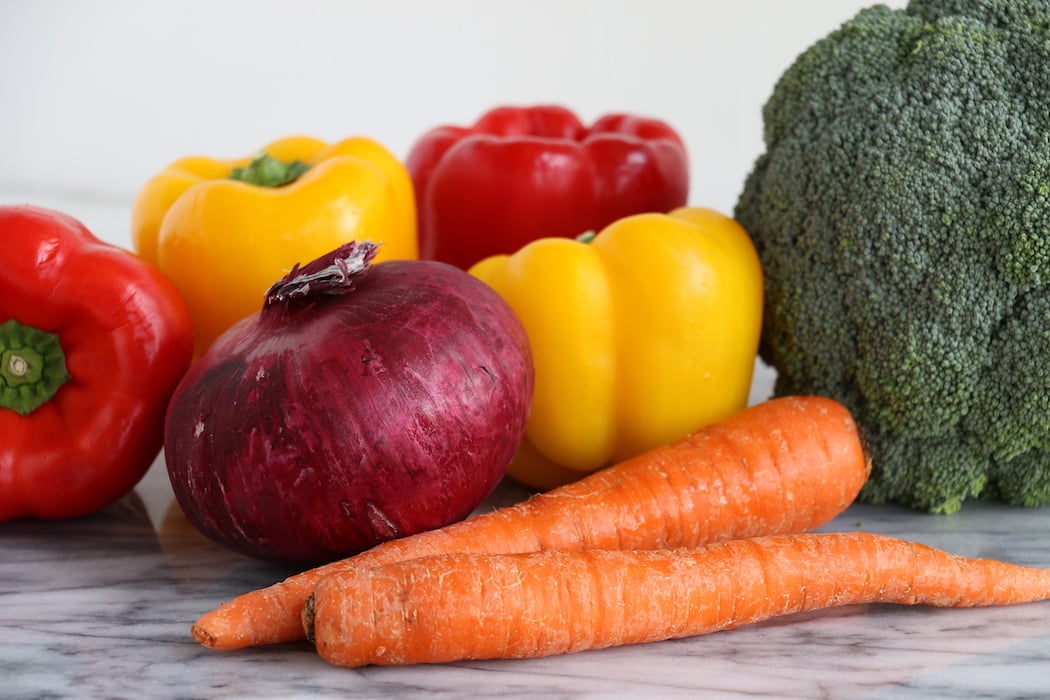 WHAT OTHER VEGGIES COULD I USE ON A VEGGIE PIZZA?
Radishes
Celery
Cauliflower
Tomatoes
Cucumbers
Green onions
Kohlrabi
So, once you have all of your ingredients together and you've made a decision on which vegetables you'd like to use, you get to chop and dice them all up.
I like to do this step first so all of my prep is complete and ready when my crust is.
To prepare the crust, begin by "spreading" out the crescent rolls on a jelly roll pan.
And then use your fingers to push the seams together to create one solid crust. Pretty easy so far, right? I thought so.
While the crust in baking, go ahead and begin to make the ranch and cream cheese mixture. Combine the cream cheese, sour cream and ranch seasoning until smooth and creamy.
Spread the creamy mixture onto the cooled crust.
Try to resist from eating a piece just yet. The best part is coming – if you love veggies, that is. And I sure do! Start sprinkling all your veggies on and top with some cheese!
Just look at the gorgeous color from all of those veggies!
I used Keebler Town House Original crackers for the "tombstones." A mixture of cream cheese and sour cream works beautifully to add your own spooky messages.
To write on the tombstones I put the cream cheese and sour cream mixture into a small plastic baggie, cut a small hole in one of the corners and used it as a makeshift piping bag.
IS THERE AN EASIER WAY TO "WRITE" ON THE CRACKERS?
If you're questioning your cracker writing skills with a DIY piping bag, these writer bottles make it super easy!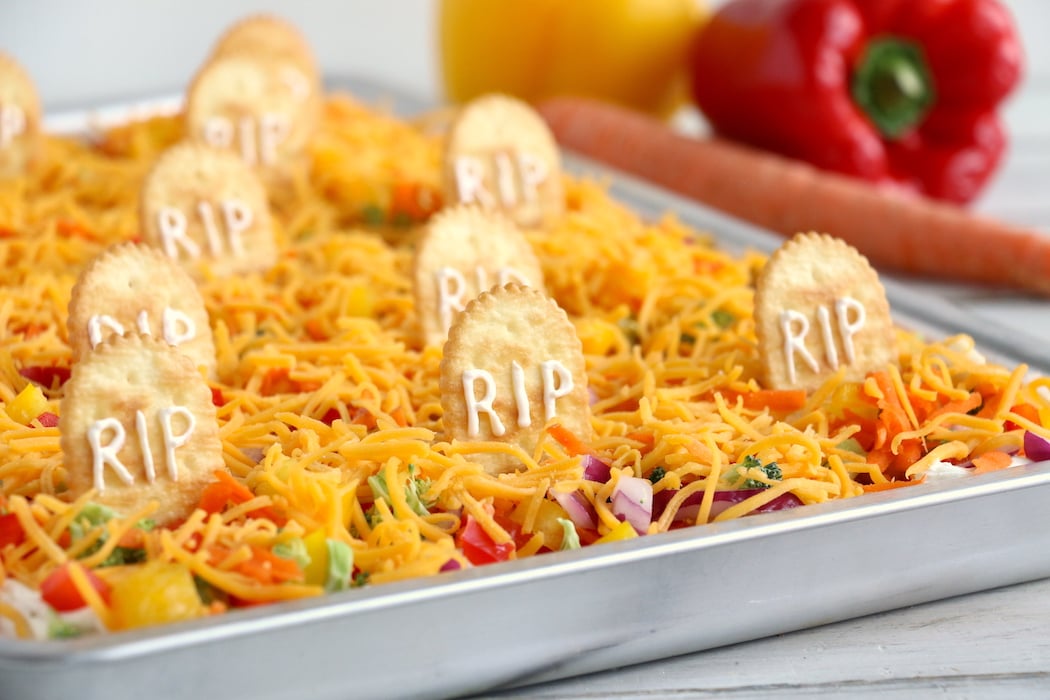 CAN I MAKE VEGGIE PIZZA AHEAD OF TIME?
Yes! You can bake the crust the day before and just cover it tightly and store at room temperature. You can also chop up your veggies and make the cream cheese ranch mixture the night before as well.
Pop those things in the fridge and you'll be all set for the next day.
HOW DO I TRANSPORT THE VEGGIE PIZZA FOR A PARTY?
I would prepare the veggie pizza completely, excluding the cracker gravestones. Cover the veggie pizza with plastic wrap and take the cracker and sour cream/cream cheese mixture separately.
This is when a writer bottle would really come in handy.
Once you arrive to the party, write on the crackers, stick them in and you're ready to party!
I hope you have a "spooktacular" Halloween! Let me know if you make this Halloween Veggie Pizza for your ghouls and goblins!
READY FOR MORE SPOOKY HALLOWEEN TREATS & DRINKS?
Halloween Veggie Pizza
A spooky themed graveyard pizza featuring a flavorful ranch cream cheese covered crust, topped with colorful veggies and "tombstone" crackers.
Ingredients
Ingredients:
2 – 8 ounce tubes crescent rolls
16 ounces cream cheese, softened, divided
8 ounces sour cream, divided
1 packet dry ranch seasoning
1 carrot, shredded
1 red bell pepper, diced
1 yellow bell pepper, diced
1 medium red onion, diced
1 cup broccoli, chopped
1 cup shredded cheddar cheese
Instructions
Preheat oven to 375º Fahrenheit.
For crust, lay crescent rolls on a greased jelly roll pan at least 11″ x 17″.
Using your hands, push the seams together to create a solid sheet.
Bake for 15 minutes or until golden brown. Cool.
In a medium mixing bowl, combine 15 ounces cream cheese, 7 ounces sour cream, and dry ranch seasoning with a hand mixer.
Spread over cooled crust.
Evenly sprinkle all veggies over cream cheese mixture.
Top off with shredded cheese.
For the Tombstones:
Combine remaining ounce cream cheese and ounce sour cream.
Put mixture in a small ziplock bag. Cut a small hole in the corner to write on the crackers.
Place the crackers throughout the veggie pizza.
Chill and serve.
Notes
1 ounce = 2 tablespoons
(Visited 21,075 times, 1 visits today)