Mega Chocolate Chip Cookies – Your guests' eyes will get as big as these cookies when they see and taste the soft, chewy deliciousness!
It's Friday! Hallelujah! The first week back to work after vacation is always brutal. We had such a nice time on our cruise, and the warmth of the sun felt amazing. Coming back to the snow and ice was pretty difficult, to say the least. I needed some comfort food – a BIG bite of comfort food, so I whipped up a batch of these Mega Chocolate Chip Cookies.
When I say mega, I mean mega. Each cookie is about 1/3 cup of dough or a decent sized ice cream scoop. You know that saying, "Go big or go home?" I'm home from vacation and I'm going BIG!!
This recipe takes 4 sticks of butter – count them. . .four and 24 ounces of chocolate chips. It took me awhile to get these right. The first couple batches, I OVER baked. I'm not a fan of crispy cookies. I like mine soft and chewy. I reduced the baking time and finally got them right.
For my oven, 19-20 minutes seemed like the perfect bake time.
We're all big fans of these cookies. How could you NOT be? They're soft, chewy and LOADED with chocolate chips!
I mean, come on. When is the last time you saw a cookie that looked this good? Well, hello beautiful.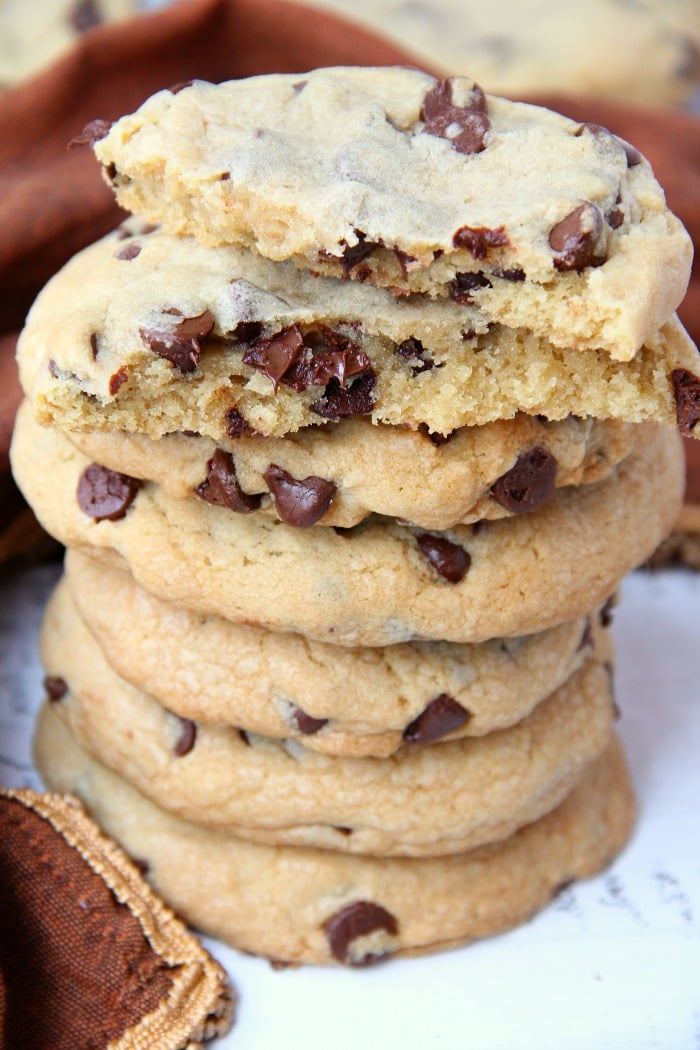 Listen to me now. . .one cookie at a time. One is all you need. If you eat one of these cookies before dinner, you won't eat dinner. Trust me. Share with a friend, if necessary. 😉 And then store the rest in a BIG, BIG covered bowl. Enjoy, my friends!
To keep the cookies soft and chewy, throw a slice of bread into the bowl with the cookies. As the piece of bread dries out, replace with a fresh one. 
For more cookie madness, try these peanut butter cookies (they're a reader favorite)- follow that up with a slice of milk & cookies pie and then dig into this cookies & cream Oreo dessert! You'll be in cookie heaven for sure!
Mega Chocolate Chip Cookies
Your guests' eyes will get as big as these cookies when they see and taste the soft, chewy deliciousness!
Author:
Yield: 2 1/2 dozen 1x
Ingredients
3 large eggs
4 sticks butter, softened
1 1/2 cups white sugar
16 ounces brown sugar
2 tablespoons vanilla extract
1 1/2 teaspoons salt
1 1/2 teaspoons baking soda
6 cups all-purpose flour
24 ounces semi-sweet chocolate chips
Instructions
Preheat oven to 350º Fahrenheit.
In a very large bowl, beat eggs with a hand mixer for 3-4 minutes.
Add butter, sugars, vanilla, salt and baking soda and beat on low.
Stir in flour and chocolate chips.
Mold dough in 1/3 cup balls, flatten and place about 2 inches apart on greased cookie sheets.
Bake cookies 18-21 minutes, rotating cookies between upper and lower racks halfway through baking.
Transfer cookies to cooling racks.
Repeat with remaining dough.
Store cookies in a tightly covered container with piece of bread to keep them soft.
Notes
Will keep for up to 1 week in a container at room temp or in the freezer for up to 3 months.
SaveSave
SaveSave
SaveSave
SaveSave
SaveSave
SaveSave
SaveSave
SaveSaveSaveSave
(Visited 3,921 times, 1 visits today)