Ninja Foodi Applesauce – Easy homemade applesauce that comes together in minutes in your Ninja Foodi pressure cooker or Instant Pot.
This post may include affiliate links. Please see my disclosure.
It's the beginning of September and we're headed into APPLE PICKING SEASON! This month is going to be filled with apple recipes, and I look forward to you following along!
Today I'm sharing an easy and delicious recipe for applesauce made right in the Ninja Foodi or Instant Pot.
Not counting the water, there are only six ingredients and you can make the sauce within minutes once the pressure cooker has come to pressure!
Even if you don't have a Ninja Foodi or Instant Pot, you can still make this applesauce on your stovetop. I've included instructions in the recipe card at the bottom of this post!
ARE YOU NEW TO THE NINJA FOODI PRESSURE COOKER?
If you're a new Ninja Foodi pressure cooker owner and are still getting used to the appliance as well as pressure cooker lingo, check out my Ninja Foodi Beginner's Guide that offers 30+ pages of tips and tricks to help you master the Ninja Foodi and have you cooking with confidence in no time at all!
HOW TO MAKE APPLESAUCE IN THE NINJA FOODI
To make applesauce in the the Ninja Foodi, you'll need:
Apples
Water
Brown sugar
White sugar
Ground cinnamon
Lemon juice
Vanilla extract
Before you begin mixing anything together, you're going to need to clean, peel, core and chop up your apples.
If you're doing a larger batch or several batches of sauce, this peeler could come in handy!
Just set the apples aside while you mix up the rest of the ingredients.
Add the water, brown sugar, white sugar, ground cinnamon and lemon juice to the Foodi cooking pot. For an even more flavorful sauce you could substitute apple juice or cider for the water!
Now, stir in the chopped apples until they are coated.
Place the pressure lid on your Foodi and select HIGH PRESSURE for 8 minutes.
Once the pressure cooking is complete, perform a quick release. The apples should be softened and have a beautiful brown hue.
At this point, you can grab either a hand-held potato masher for a more textured, chunky applesauce or you can puree it with a food processor or blender to make the sauce smooth.
I went old school and used a potato masher.
Stir in the vanilla extract and enjoy!
Use your applesauce to make pancakes and muffins (it's a great substitute for the oil in many baked goods), use it as a topping for pork chops, french toast or ice cream or just eat it "as is"!
WHAT ARE THE BEST APPLES FOR MAKING APPLESAUCE?
Choosing a mix of different kinds of apples is the key to winning flavor and texture.
I've found that a combination between Granny Smith and Gala apples makes a tasty applesauce. Granny Smith apples are tart, fresh and crisp and Gala apples cook down easily. Win, win.
Other apples you could consider, include Fuji, McIntosh, Jonagold and Honeycrisp.
WHY DO YOU ADD LEMON JUICE TO APPLESAUCE?
A splash of fresh lemon adds some brightness, balances out the sweetness and brings out the flavor of the apples.
DO I NEED TO ADD BOTH WHITE AND BROWN SUGAR TO APPLESAUCE?
White granulated sugar, alone, could be used for the applesauce, but brown sugar adds a richer flavor that really complements the apples.
If you'd like more of a natural sweetener, you could try maple syrup or honey and add a little more cinnamon.
If you decide to leave out the sugar completely, just make sure you choose a sweeter apple like McIntosh or Gala. You'll want to avoid tart apples like Cortland and Granny Smith.
HOW LONG DOES HOMEMADE APPLESAUCE KEEP?
I usually scoop the applesauce into small mason jars but you could also just leave it in a larger covered bowl. It can be refrigerated for up to 10 days.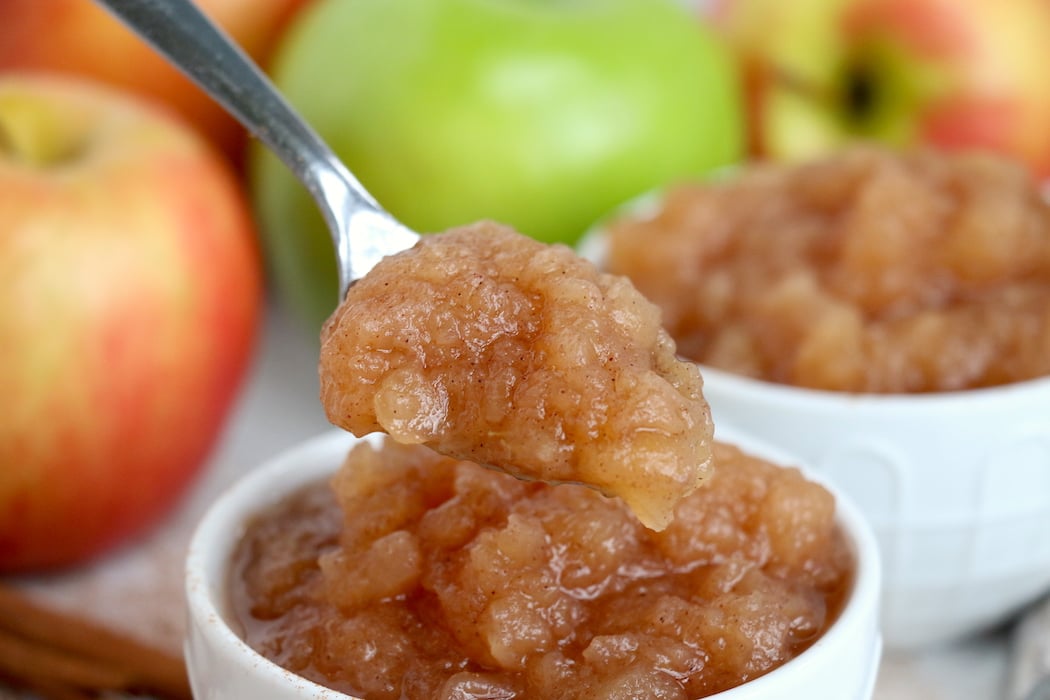 CAN I FREEZE HOMEMADE APPLESAUCE?
Yes, you can! Just transfer the applesauce to freezer bags or freezer-safe containers and freeze for up to 3 months. I've also known moms to freeze applesauce in ice cube trays for their little ones.
LOOKING FOR MORE RECIPES YOU CAN MAKE IN THE NINJA FOODI?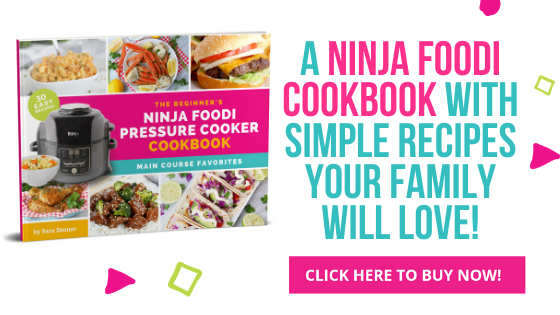 Ninja Foodi Applesauce
Easy homemade applesauce that comes together in minutes in your Ninja Foodi pressure cooker or Instant Pot.
Ingredients
8 apples, peeled, cored and chopped
3/4 cup water
1/8 cup brown sugar
1/8 cup white sugar
1 teaspoon ground cinnamon
1 tablespoon lemon juice
1 teaspoon vanilla extract (stir in at the end)
Instructions
Add water, brown sugar, white sugar, ground cinnamon and lemon juice to the Foodi cooking pot.
Stir in chopped apples until they are coated.
Select HIGH PRESSURE for 8 minutes. Then quick release.
Remove the lid.
Smash any remaining large chunks with a potato masher.
Stir in vanilla and enjoy.
Notes
If making this applesauce on the stovetop, mix the ingredients in a large cooking pot and stir the apples over medium to medium-high heat. Then cover the pot and let the apples cook for 25 minutes or so until tender.
(Visited 8,430 times, 1 visits today)