Ninja Foodi Cheesy Cauliflower Soup – A rich, creamy and delicious soup loaded with cauliflower and grated cheese made right in the Ninja Foodi pressure cooker.
This post may include affiliate links. Please see my disclosure.
As we say goodbye to summer and the cooler days roll in, this cheesy cauliflower soup is sure to warm the soul. It's one of my favorite soups because it's packed with veggies, protein, and is perfectly cheesy and delicious.
The best thing about this recipe is that you can make it in a flash – only 8 minutes of pressure cooking time in the Ninja Foodi!
HOW TO MAKE CAULIFLOWER SOUP IN THE NINJA FOODI
To make this creamy, cheesy soup, you'll need:
Cauliflower florets
Garlic cloves
Yellow onion
Chicken broth
Salt & pepper
Cream cheese
Cheddar cheese
Most of the ingredients you may already have right in your fridge and pantry. So, gather them up and let's get started!
First, place your cauliflower, garlic, salt, pepper and chicken broth into your Ninja Foodi cooking pot.
Seal the lid and set your pressure cooker on high pressure for 8 minutes.
When the time is up, you can go ahead and do a quick release to release the pressure immediately. If you find the soup spews out the release valve, you can allow the pressure to release naturally for 10 minutes and then do a quick release.
Next, add in your cream cheese and sharp cheddar cheese.
Mix everything together with a potato masher until desired consistency. I like to keep some chunks in the soup to give it some texture.
If you'd like a smoother consistency, keep mashing.😉
Then, you're ready to serve and enjoy!
HOW CAN I GET THE LUMPS OUT OF SOUP?
As I mentioned before, I like this soup a little lumpy to add some texture. If you would rather it be smoother, keep mashing or use a handheld immersion blender to remove the larger "lumps."
WHAT'S THE EASIEST WAY TO THICKEN CAULIFLOWER SOUP?
I've never had a problem with this soup being too thin, but if you'd like it thicker you can create a slurry (1 part cornstarch to 2 parts water) to thicken it up.
HOW DO YOU STORE LEFTOVER CAULIFLOWER SOUP?
You can store your leftover soup in a storage container in the refrigerator for about 4 days. If you don't have a bowl with a lid, make sure you cover it with either aluminum foil or plastic wrap.
CAN YOU FREEZE CAULIFLOWER SOUP?
Absolutely! In fact, this is one of my favorite freezer meals. Let your soup cool completely and transfer it to a large freezer bag or freezer-safe storage containers.
Store in the freezer for up to 3 months. To reheat your soup, let it defrost overnight in the refrigerator and reheat it in a saucepan.
LOOKING FOR MORE RECIPES TO TRY IN YOUR NINJA FOODI?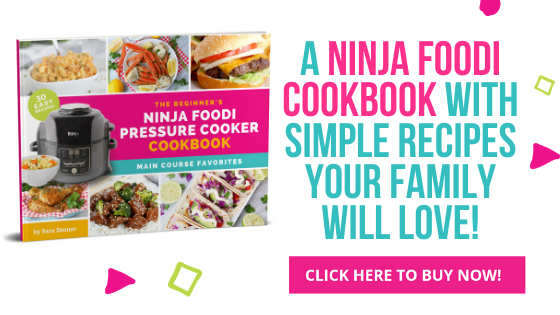 Ninja Foodi Cheesy Cauliflower Soup
A rich, creamy and delicious soup loaded with cauliflower and grated cheese made right in the Ninja Foodi pressure cooker.
Ingredients
2.5 pounds cauliflower florets (about 2 heads)
8 cloves fresh garlic, minced
1/2 yellow onion, chopped
2 cups chicken broth
1/2 teaspoon salt
1 teaspoon pepper
8 ounces cream cheese, softened
4 ounces sharp cheddar cheese, grated
Instructions
Place cauliflower florets, garlic, onions, chicken broth, salt, and pepper in the Foodi cooking pot.
Cook on HIGH PRESSURE for 8 minutes. Quick release.
Add cream cheese and shredded cheese.
Using a potato masher, mix everything together until cheese is melted.
Serve immediately.