Ninja Foodi Fall Apart Ham – Deliciously tender ham made right in your Ninja Foodi or Instant Pot with only four ingredients!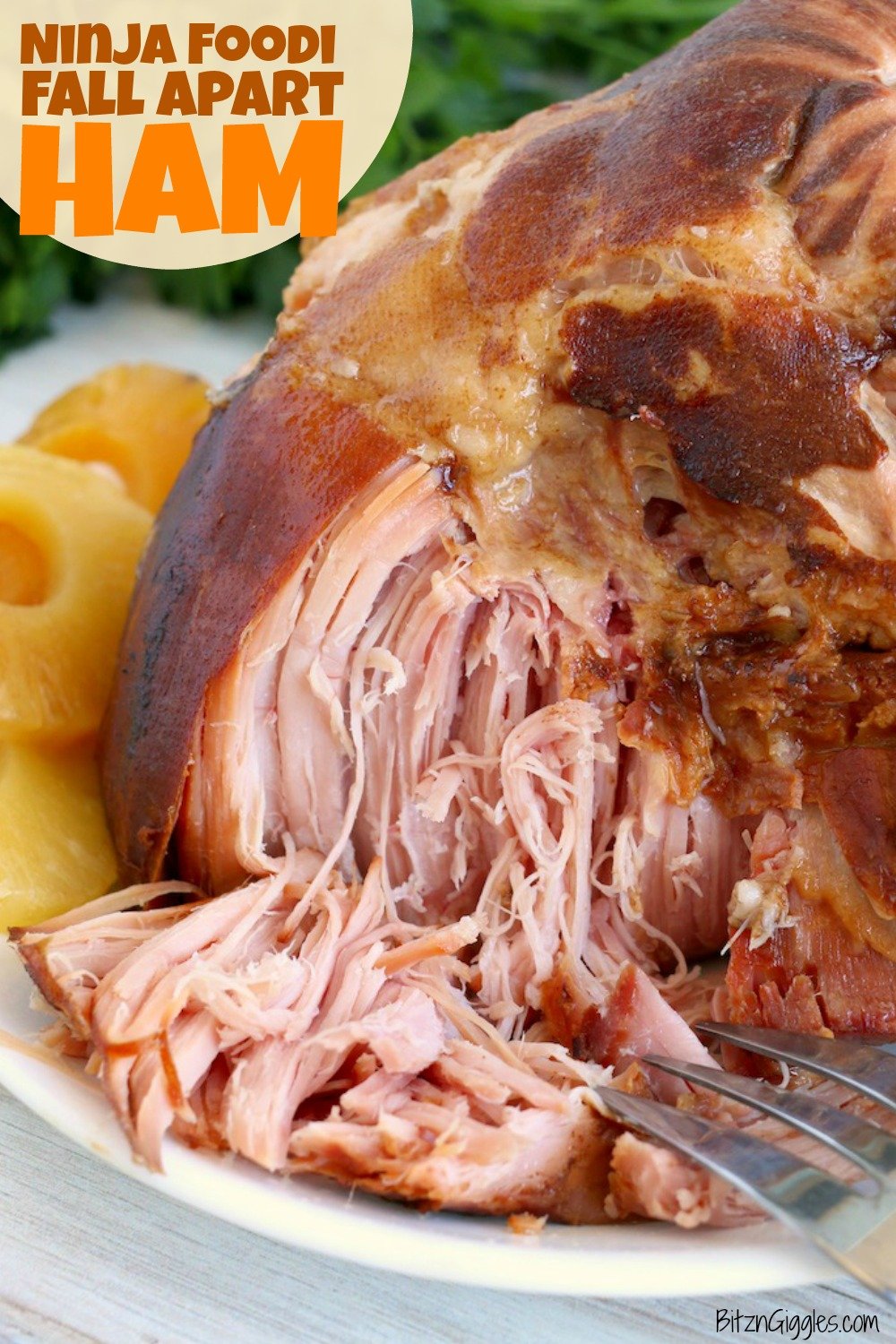 This post may include affiliate links. Please see my disclosure.
I've been using my Ninja Foodi and air fryer almost daily since we received our shelter-in-place order. It's just an easy way to get dinner on the table after a day filled with conference calls, helping the kids through their school work and just trying to keep on keeping on.
As of right now, our shelter-in-place is supposed to last until April 24. Although, with the way things are going with so many people around the nation still gathering when they're supposed to be staying home, this may all drag out much longer.🤯
A WRENCH IN OUR EASTER PLANS
Even if our shelter-in-place was, indeed, removed on April 24, that's still after Easter.
Right now is about the time of year my family would be getting together to dye Easter eggs and plan our Easter menu. That, unfortunately, isn't going to happen this year.
The reality of not spending Easter with my extended family this year became very real last week. In fact, I started feeling a bit sorry for myself and my eyes welled up with tears. Has this happened to you through all of this? I seem to have good days and bad days.
I eventually pulled myself together and told myself this is temporary, we will get through it and we must make the most out of what we have.
So, this year, I plan to re-create our family's normal Easter dinner for our own little family using some of my favorite gadgets, like my Ninja Foodi pressure cooker, to make things easier. If you're here today because you plan to do the same, welcome. Let's make some Ninja Foodi fall apart ham!
HOW TO MAKE HAM IN THE NINJA FOODI
To make this tender and juicy ham, you'll need only four ingredients:
Bone-in ham
Coca-Cola
Apple juice
Canned pineapple slices
Okay, so for this recipe you can ditch your big roasting pan, rack, baster and almost everything else you normally used to make a ham in the past.
The first thing you're going to do is pour the Coca-Cola, apple juice and 3/4 of the container of pineapple slices right into the Ninja Foodi cooking pot.
Now, place the ham into the cooking pot, flat side down and place the remaining pineapple slices on top.
HOW LARGE OF HAM CAN I FIT IN MY FOODI COOKING POT?
This ham was cooked in the 6.5 quart Foodi and it was 7.45 pounds. I'd say anything under 8 pounds will work in the 6.5-quart Foodi. And I actually wouldn't put anything larger than a 9 pound ham in my 8-quart Foodi.
Put the pressure cooking lid on the Foodi, making sure the pressure valve is set to SEAL and select HIGH PRESSURE. Set timer to 50 minutes. When cooking is complete, NATURAL RELEASE for 10 minutes.
WHAT ARE THE COOKING TIMES FOR DIFFERENT WEIGHTS OF BONE-IN HAMS?
First off, let me say that some of you may have questioned the amount of time I'm telling you to pressure cook the ham – 50 minutes may seem like too long. It's not. Not if your ham is between 6-8 pounds and you're looking for your meat to be tender and fall-off-the-bone.
If you have a smaller or larger ham, try these suggested cook times below:
3-4 pounds – 30 minutes plus 10 minutes Natural Release
5-6 pounds – 40 minutes plus 10 minutes Natural Release
7-8 pounds – 50 minutes plus 10 minutes Natural Release
Note: For a fully-cooked, spiral cut ham, pressure cook on high for 3 minutes with a 10 minute Natural Release.
Use a basting brush and brush the ham with the leftover juices in the Foodi before you go ahead and slice it.
WHAT TEMPERATURE SHOULD HAM BE COOKED TO?
Use a digital thermometer to ensure the ham has been cooked to 145º Fahrenheit, and allow the ham to rest 3-4 minutes before carving.
The ham is beautiful and tender.
WHY CHOOSE A BONE-IN HAM VS. SPIRAL SLICED?
I chose a bone-in ham for this recipe because I wanted FALL APART meat. A bone-in ham is going to be more tender and juicy than a spiral sliced. It also takes a bit longer to cook, however, because it isn't pre-cooked like a spiral ham.
If you're short on time, you can use a spiral ham. You should only have to pressure cook a 3-4 pound spiral sliced ham for about 3 minutes. And don't forget that it's also pre-sliced, so there's minimal carving involved.
With all of that being said, if you do have the time, I'd encourage you to go the bone-in route. It may take a bit longer and you may need to carve it, but I promise you, it will be a more juicy, tender and flavorful ham!
WHAT SHOULD I DO WITH LEFTOVER HAM?
When making a bone-in ham, my mom always used the ham bone for making pea soup. If you have leftover ham, it can be stored in an airtight container in the fridge for up to four days. You can also use it in other dishes like this oven omelette, these sliders or even this ham and broccoli bake.
The best way to freeze leftover ham is to place it in freezer bags and place in the freezer. It will keep for up to 3 months.
READY FOR MORE EASTER FUN?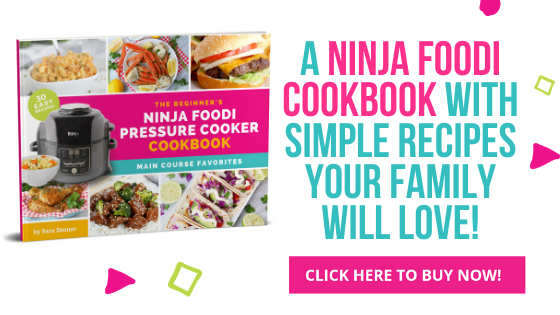 Join Our FB Group for Ninja Foodi Fans!
And remember, if YOU are a Ninja Foodi owner, join me over in the new Facebook group! I'd love to have you!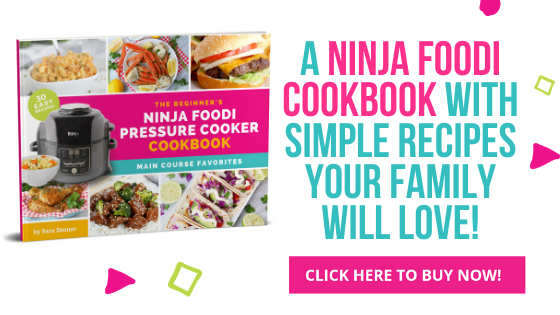 Ninja Foodi Fall Apart Ham
Deliciously tender ham made right in your Ninja Foodi or Instant Pot with only four ingredients!
Ingredients
6–8 pound bone-in ham
1 cup Coca-Cola
1 cup apple juice
20 ounce can pineapple slices, divided
Instructions
In your Ninja Foodi cooking pot, combine Coca-Cola, apple juice and 3/4 of the container of pineapple slices.
Place ham in the cooking pot, flat side down. Place remaining pineapple slices on top.
Select HIGH PRESSURE for 50 minutes.
Allow to NATURAL RELEASE for 10 minutes, then QUICK RELEASE.
Baste ham with juice in Foodi, slice and serve.
(Visited 57,727 times, 1 visits today)