Pink Flamingo Vodka Slush – A refreshing and flavorful slushy drink, perfect for parties and BBQs!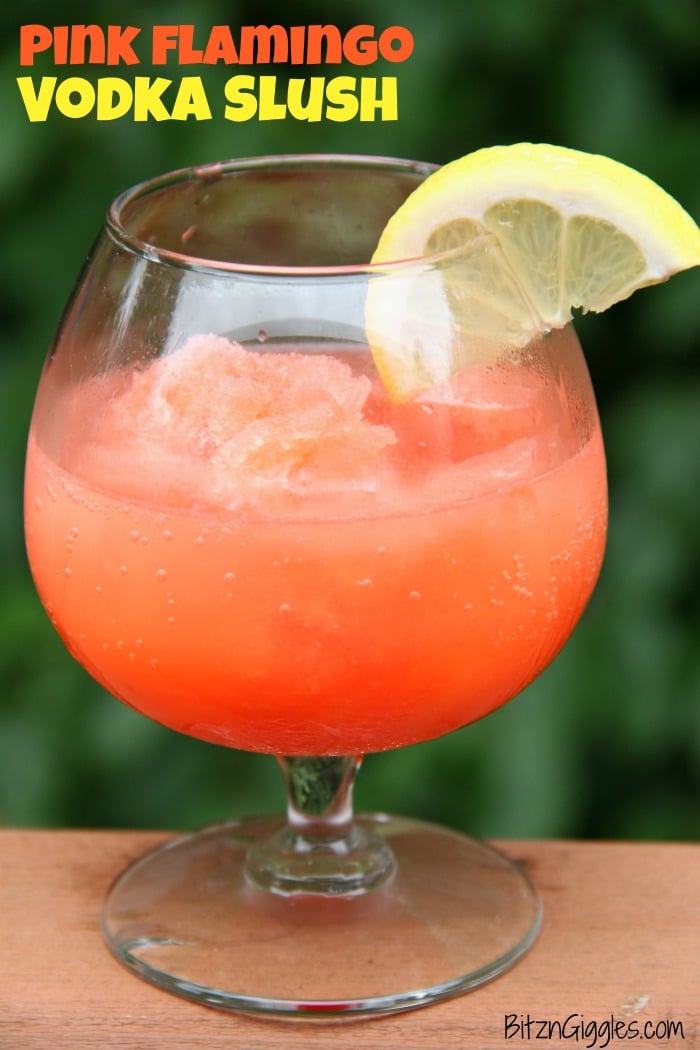 It's Friday! Woohoo! We're headed up to the lake cabin this weekend for some chillaxin'! Normally we're entertaining up there every weekend but this weekend, it's just the four of us. We have a list of things we need to get done but as soon as we check the last thing off, it's time to play!
One of the things I will be doing for sure is sipping this Pink Flamingo Vodka Slush! The recipe makes quite a bit but you keep it in the freezer. It's great if you're entertaining a larger group and it's also great if you just want to make individual drinks and scoop it out of the freezer for one drink at a time. Pretty perfect.
And if you want to make an alcohol-free version, then just leave out the vodka! Easy.
The drink starts out very similar to my slush punch, but with this recipe, there's no heating or cooling necessary. You just mix the ingredients in a big bowl. I use three different concentrates in the recipe: orange juice, lemonade and cranberry juice. YUM!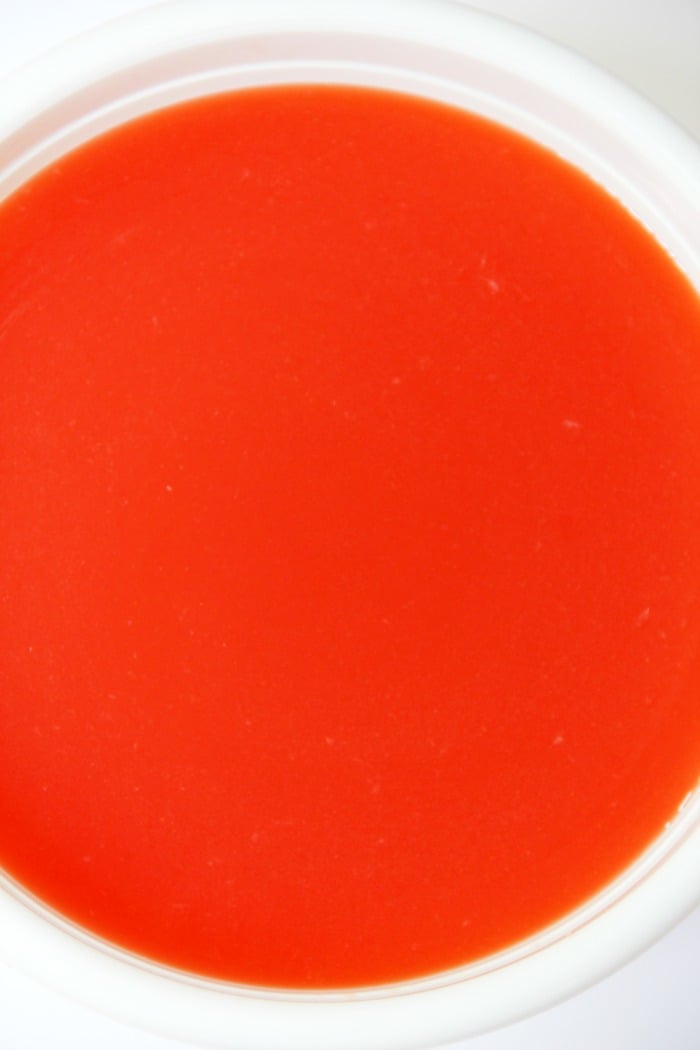 After you mix the ingredients, go ahead and freeze the mixture. I like to use gallon bags when I know I'll be serving the slush to a crowd. With this recipe, I usually fill about a gallon bag and a half.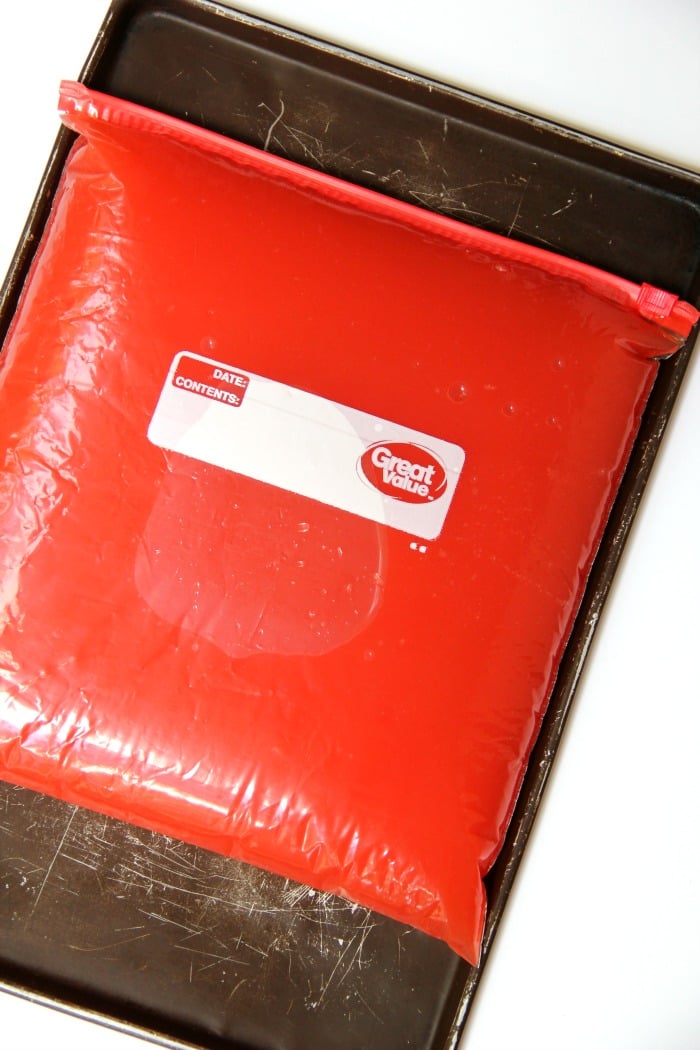 I lay the bags flat on a cookie sheet and then place them in my chest freezer to freeze.
If I'm making the slush for individual drinks rather than for a group, I tend to re-use sherbet containers. It makes the slush so easy to scoop out!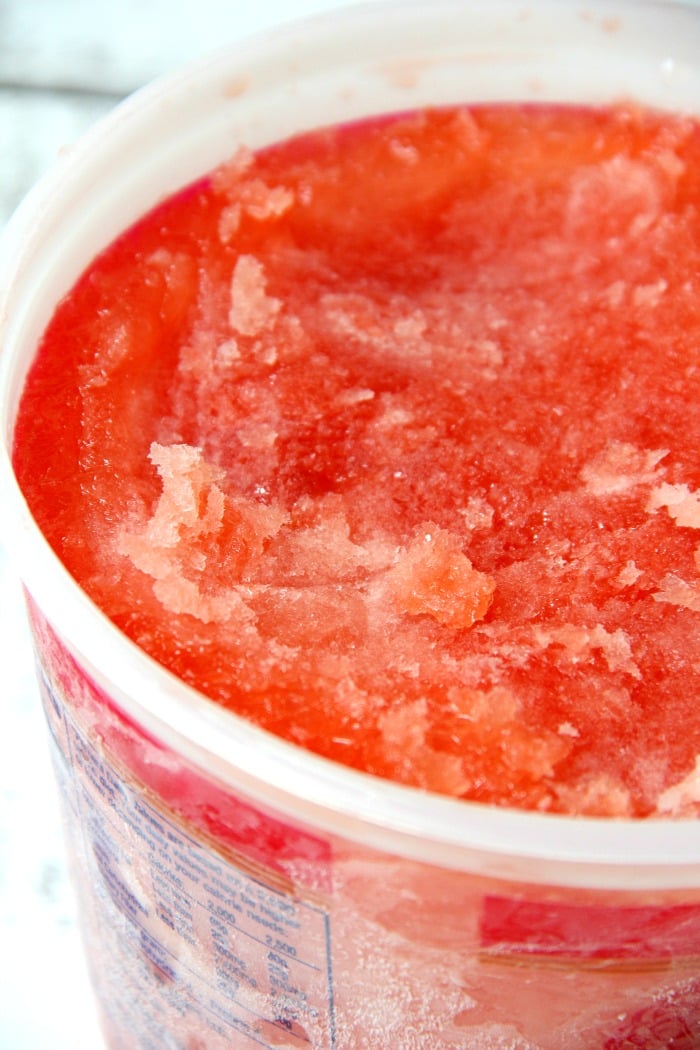 So now, you need to go to your cupboard and find a fancy glass. I have a little brandy snifter I like to use for this slush. Why is a fancy glass necessary? Because this is a special drink and well. . .special drinks are served in special glasses. Period.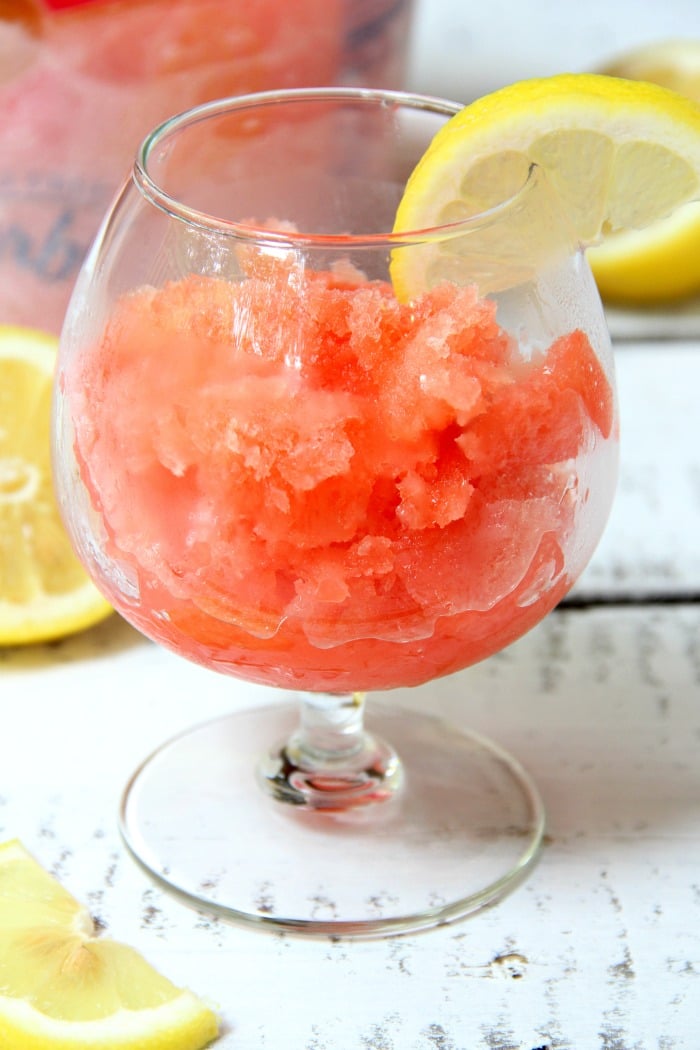 See how you want to break up the slush a bit when you put it in the glass?
You always want more slush than "wash" or soda so fill the glass about 2/3 full with slush and then pour the soda in just so there's a bit of slush left sticking out of the top.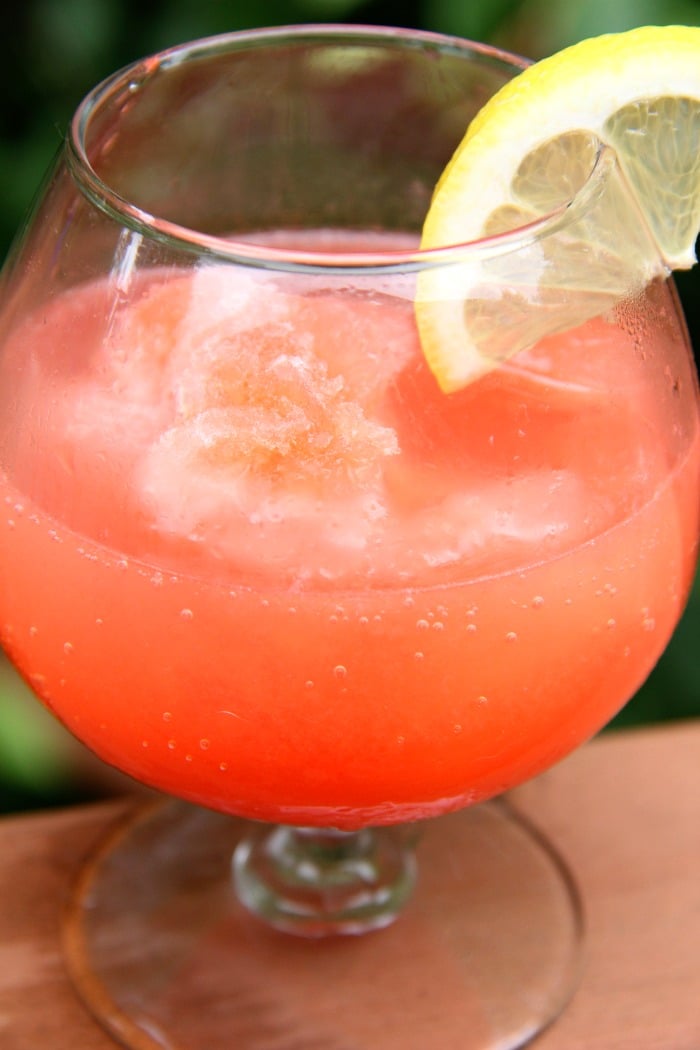 If you can tell, this is about the time I carried my drink outside to enjoy on the deck. Besides being in a fancy glass, this slush tastes best when you drink it in your favorite spot – mine being outside on our deck.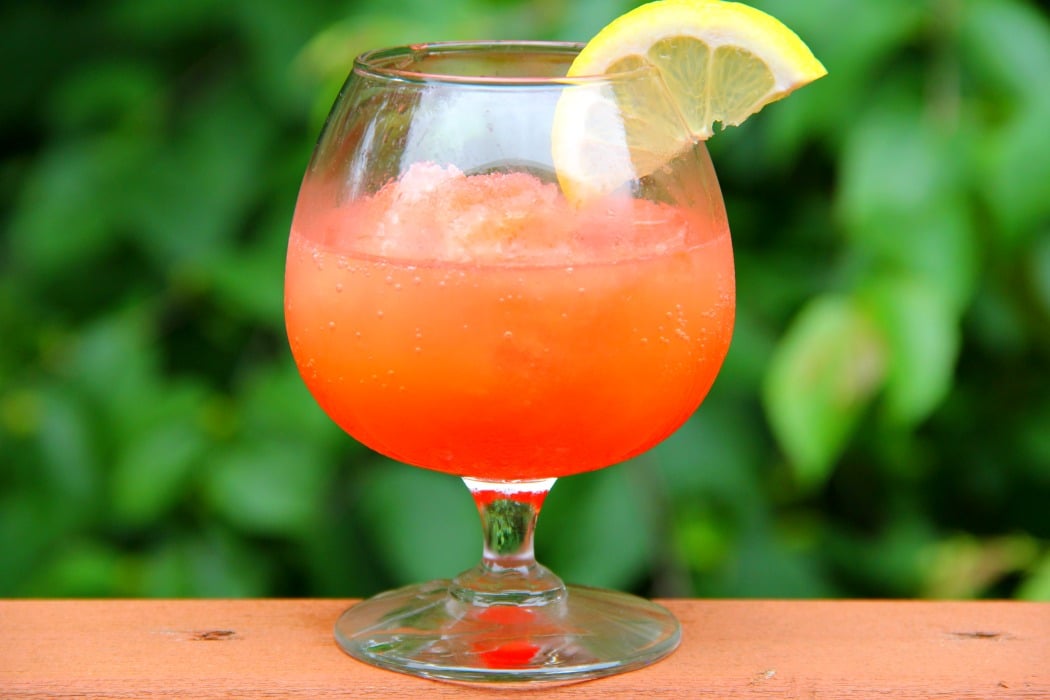 The drink has a pretty pink hue – almost an ombré look to it, don't you think?
It's such a fun drink for summer! If you're into slush drinks, check out my Kool-Aid slush, cranberry lemonade slush and my popular blue raspberry lemonade JELL-O slush too!
Whatever you're doing this weekend, you'll enjoy even more with a Pink Flamingo Vodka Slush in your hand.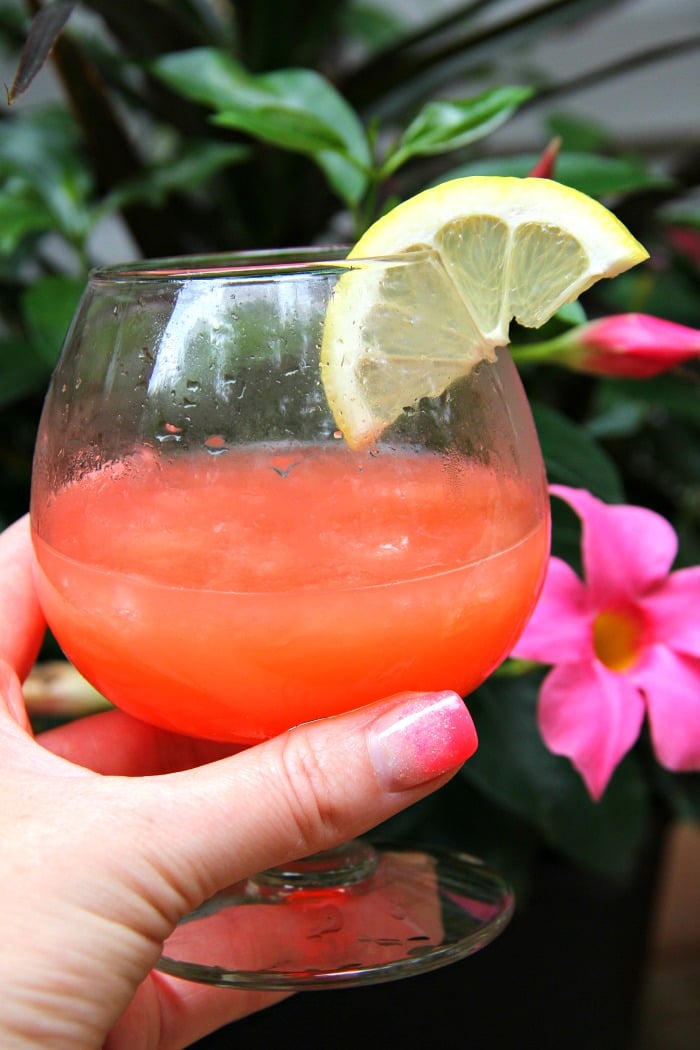 Cheers to summer!

Pink Flamingo Vodka Slush
A refreshing and flavorful slushy drink perfect for parties and BBQs!
Ingredients
9 cups water
2 cups sugar
1 can (12 ounces) frozen orange juice concentrate, partially thawed
1 can (12 ounces) frozen lemonade concentrate, partially thawed
1 can (12 ounces) frozen cranberry juice concentrate, partially thawed
2 cups vodka
1 liter lemon lime soda
Instructions
In a large bowl (about 5-6 quarts), combine the water and sugar. Mix until sugar is dissolved.
Stir in the concentrates and vodka.
Freeze overnight in freezer-safe containers or gallon ziplock bags.
To serve, fill glass with 2/3 cup slush and 1/3 cup soda.
(Visited 58,066 times, 1 visits today)