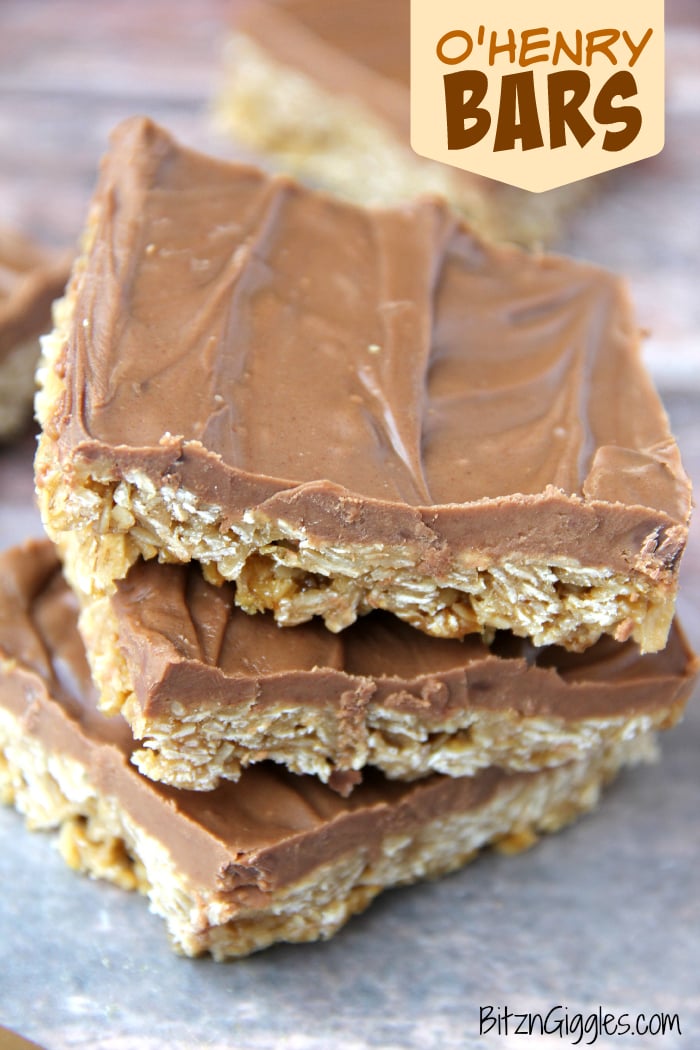 Are you all ready for Thanksgiving Day? It's TOMORROW, people!! O'Henry Bars. I have a full day ahead of me and a lot to get done. I'm working all day today, then I have packing to do, dessert bars and a pie to make and a house to straighten up before we're out the door and headed West (3o minutes ;)) to visit our families! I was talking to my mom the other day about the Thanksgiving meal. . . and these O'Henry Bars.
I didn't make these bars specifically for Thanksgiving. I made them because I was craving them. And believe it or not, when I called my mom with a question about the recipe, she told me she was making them, TOO!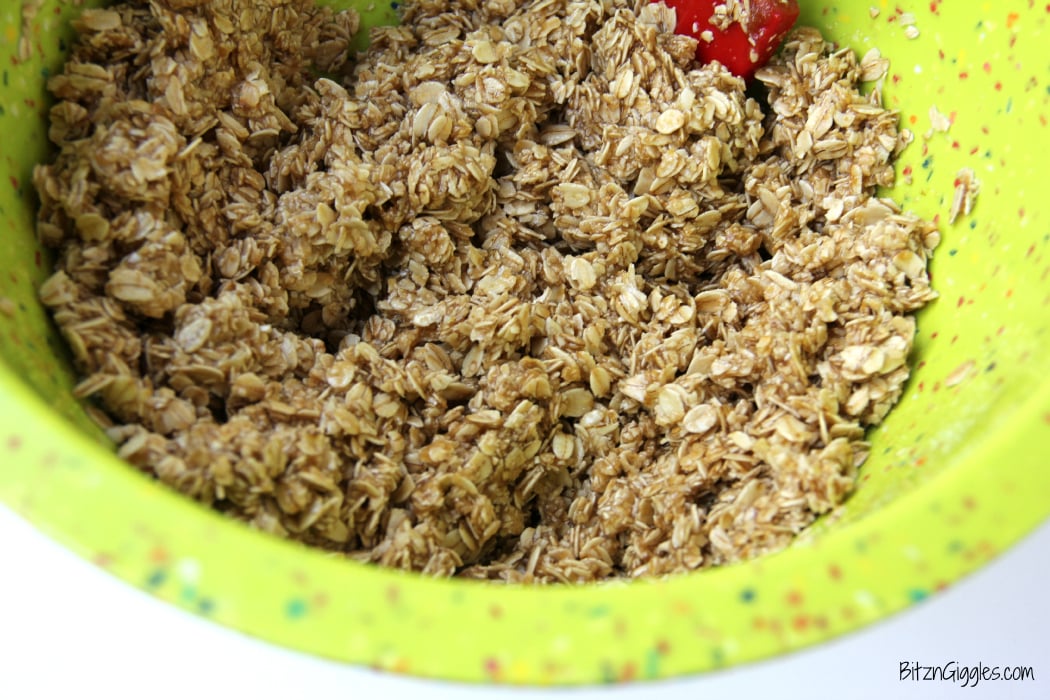 My mom makes THE BEST O'Henry Bars. They're quite possibly my favorite dessert bar ever. She's actually made them for me on my birthday before because she's aware of my "needs." She is my mom, after all, and moms know everything.
When I don't have my mom around to make O'Henry Bars for me, I need to fend for myself. So every once and awhile, I'll splurge and make these little squares of pure deliciousness. . .just because.
These bars are so easy to make and they start with a soft and chewy crust made from butter, oats, sugar, corn syrup, baking soda and vanilla. In fact, I'm pretty certain most of you will already have all of the ingredients needed right in your baking pantry. Am I right?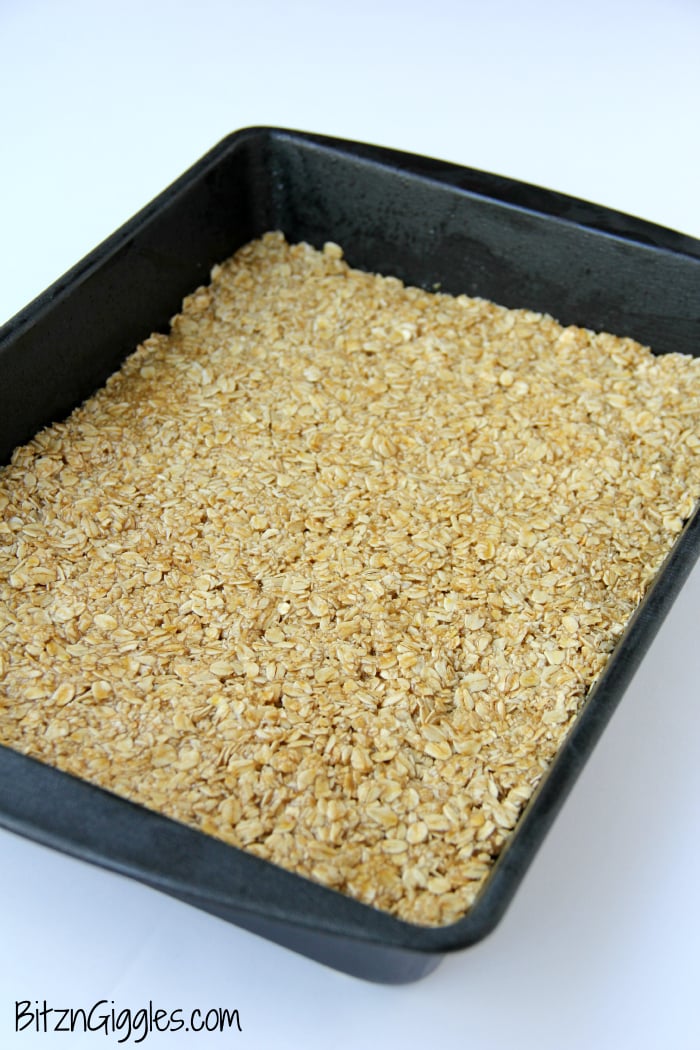 All that goodness in the bowl is pressed into a greased and floured 9″ x 13″ baking pan, baked for about 9 minutes and then left to cool while you whip up the very best part. . .the peanut butter and chocolate frosting!! Do you hear angels singing? I do when I make these bars.
I know, I know. You're thinking, here we go again. This woman has a real problem when it comes to chocolate and peanut butter. You're right. I absolutely do. And I wouldn't have it any other way. Just to properly express my addiction fondness of this flavor combo, let's reflect on my past creations like the chunky dunk cookies, cracker layer bars, soft batch cookies, brownie bowls, mason jar cake, ice cream bread, oat bites, cupcakes, fudge and more bars.
This madness will continue, don't you worry. Heck, maybe I should make another pan of these to take home tomorrow. It's the holidays. Eat, drink and enjoy chocolate and peanut butter. I'm going to need all of the sugar I can get to make it through all of the dishes after the big meal. Oh, the Thanksgiving dishes. The piles of Thanksgiving dishes. . .that we wash and dry. . . by hand. I'll try and capture the moment for you on Instagram. I've never seen so much silverware or big bulky kettles and roasters in my life.
Oh, and how is it that the men retreat to the living room for naps and John Wayne westerns while the women are stuck in the kitchen?
Okay, okay. As much as I complain about the dishes and the men, Thanksgiving is one of my favorite times of year. I have so much to be thankful for – happy, healthy children, the love of my life, a roof over my head, food on the table, wonderful family and friends and all of YOU. . .my readers!
Thank you, thank you for your support. You have no idea how much it means to me when you visit my little blog. I'm so thankful for each and every one of you. I hope you are surrounded by those you love this Thanksgiving Day. Enjoy the day with family and friends and remember to never take what you have been given for granted. Be grateful for all that you have. . .each and every day!
P.S. I'm taking some time away from the blog tomorrow. . .and quite possibly Friday as well to spend some quality time with my family. I'll be back in full force on Monday as we kick it into high gear preparing for the blessed Christmas season!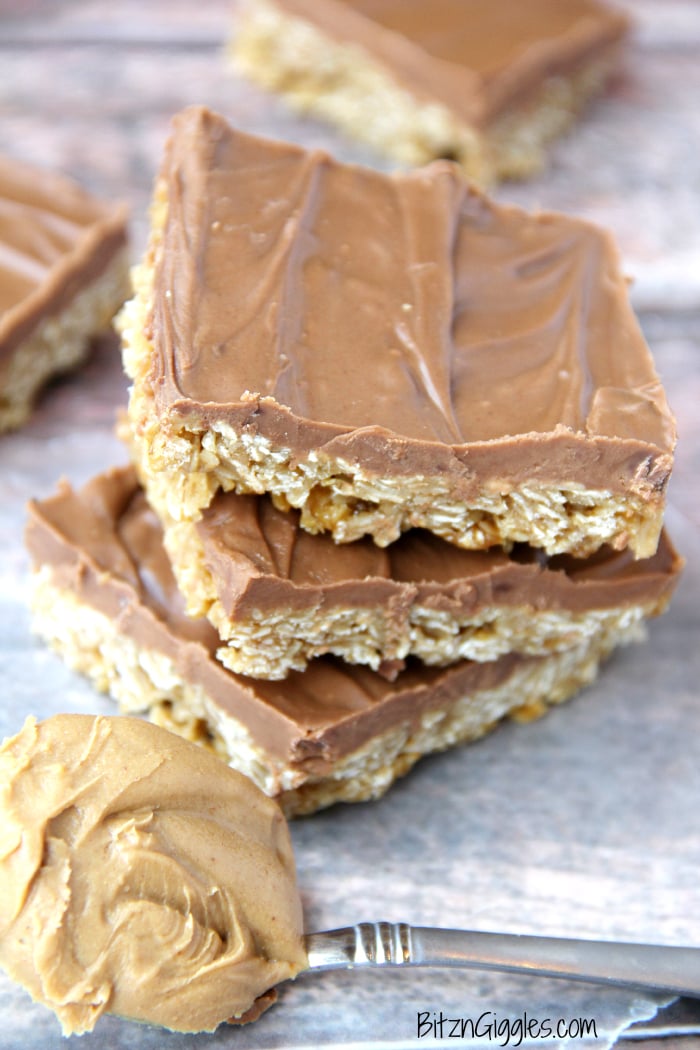 O'Henry Bars
Soft, chewy, decadent bars with a sweet oatmeal-based crust, smothered with a rich chocolate and peanut butter frosting!
Ingredients
For the Bars
4 cups Quaker Quick Oats
1/2 cup butter, melted
1/2 cup white corn syrup
1 teaspoon baking soda
1 cup brown sugar
2 teaspoons vanilla
For the Frosting
12 ounces chocolate chips
1 1/2 cups peanut butter
Instructions
For the Bars
Preheat oven to 400 degrees Fahrenheit.
In a large bowl, mix the oats, butter, corn syrup, baking soda, brown sugar and vanilla until well-combined.
Press into greased and floured 9″x13″ pan.
Bake for 9 minutes. Allow to cool.
For the Frosting
Melt the chocolate chips in a saucepan over low-medium heat on the stove or in a microwave-safe bowl in the microwave.
Remove from heat and stir in the peanut butter.
Spread over bars and allow to cool.
Cut into squares and serve.
Nutrition
Calories: 7444
Sugar: 473
Sodium: 3598
Fat: 409
Saturated Fat: 154
Unsaturated Fat: 214
Trans Fat: 4
Carbohydrates: 852
Protein: 164
Cholesterol: 322
(Visited 16,446 times, 1 visits today)