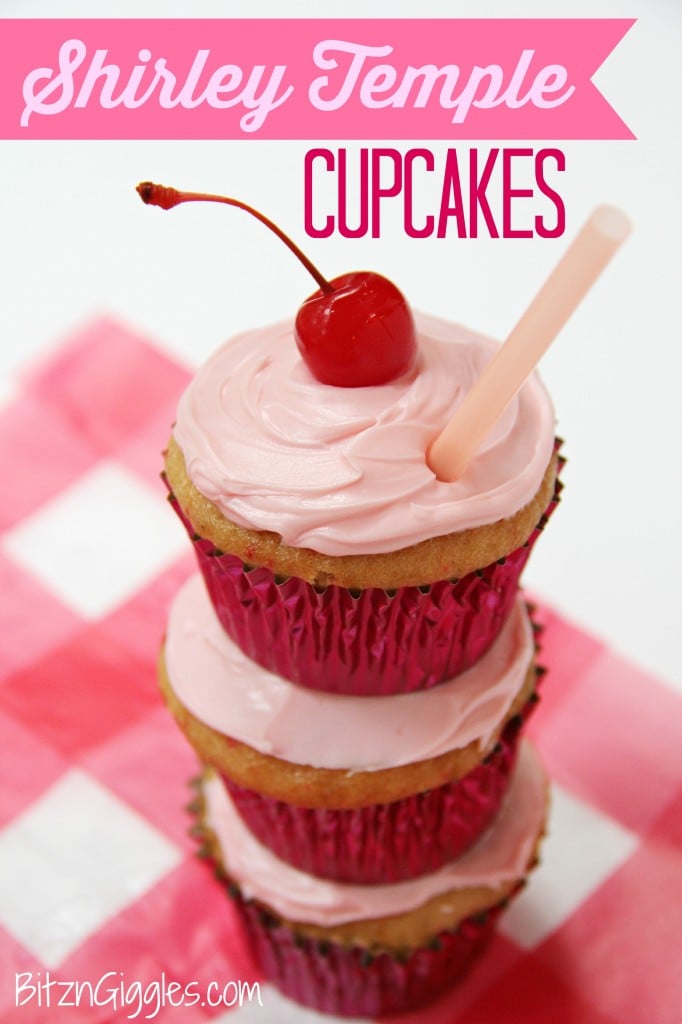 I shared these wonderful cupcakes over at Smart School House about a month ago and today I'm bringing them to my Bitz & Giggles readers to enjoy! These tasty and super fun Shirley Temple Cupcakes are made with Cherry Chip cake mix spiked with lemon-lime soda, filled with a marshmallowy fluff, topped with vanilla butter cream frosting and garnished with a cherry. Whew! Talk about CRAZY good – your kids will love them!
Do you remember the first time you tasted a Shirley Temple (A.K.A. Kiddie Cocktail like we call them in Wisconsin)?
I honestly can't remember the first time I tasted one, but I do remember how special they were to me. They were special because I only really was allowed to drink them when something "special" was taking place – Christmas, family weddings, going out to eat, etc.
These cupcakes are just as special, and are great for birthdays, holiday desserts or a delicious way to say THANK YOU!
So, let's start talking cupcakes. It all begins with the filling. Have you ever filled a cupcake? I'll admit that I don't do it that often because it is a bit time consuming, but since this is a special occasion and we're talking Shirley Temples I thought I would snap a pic or two on how I do it. Everyone may have their own little method. Mine includes my measuring spoon that I use to scoop out a small chunk in the center of the cupcake and then a baby spoon dipped in warm water to scoop the marshmallow filling into the cupcake.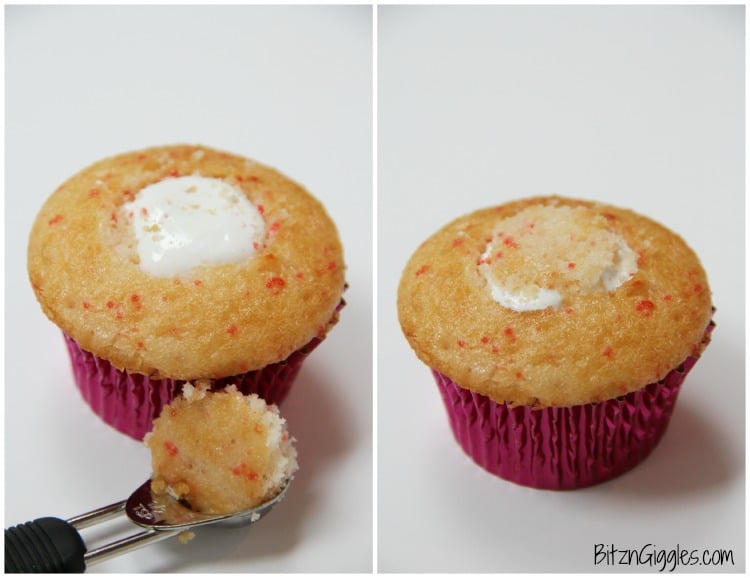 Once the filling is in, gently place the piece of the cupcake you had scooped out back on top of the cupcake. Don't worry if it looks a little messy. You're going to cover it with frosting anyway. It's kind of the same reason why I put makeup on in the morning. 🙂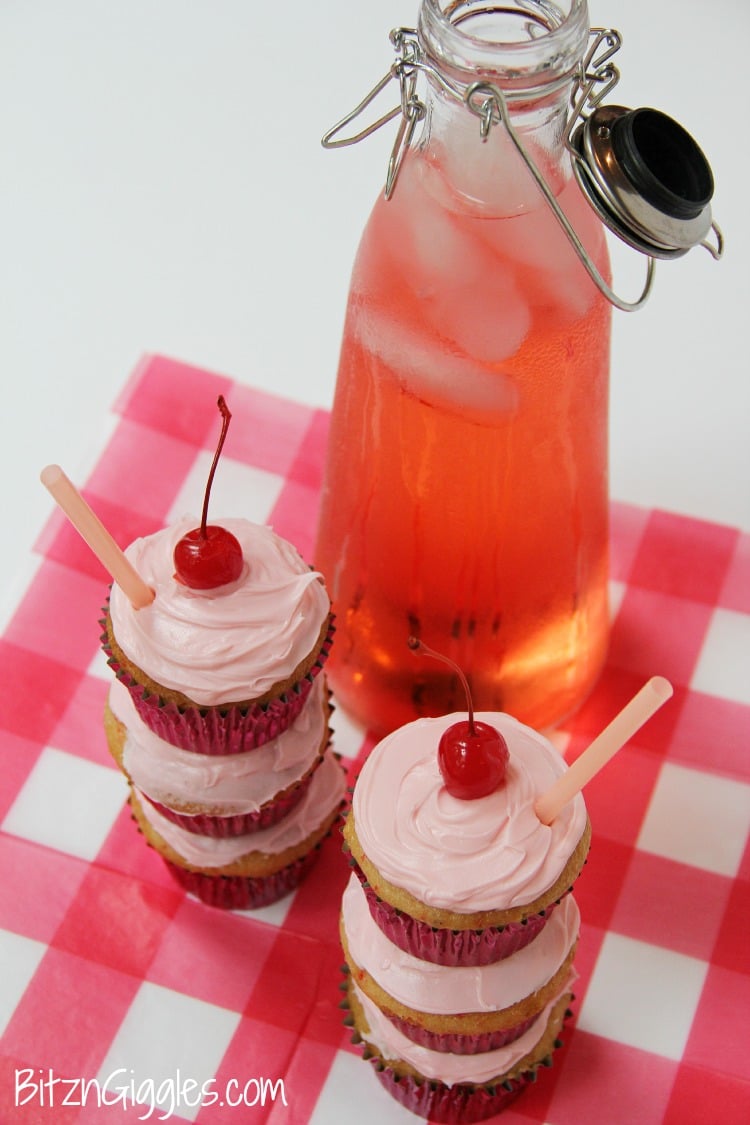 Alright, so it's not THAT bad, but seriously, don't worry if the tops of your cupcakes look a little rough. You're going to cover it all anyway with this sweet, delicious frosting! When the cupcakes cooled and it was time to frost them, I whipped up the frosting, licked the bowl, slathered on some of the frosting and popped one of these babies into my mouth. HEAVENLY!!
I frosted a couple more, grabbed my camera and started shooting some photos.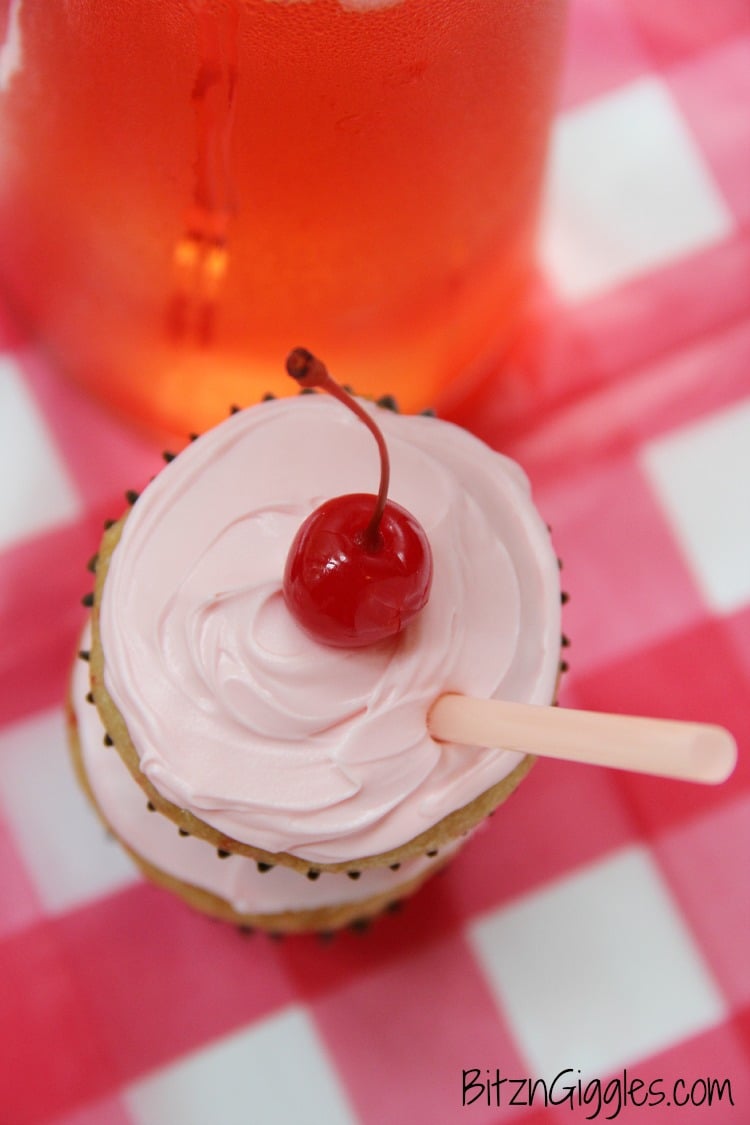 All of a sudden, the kids showed up and it was a game of 20 questions. "Why are those cupcakes on top of each other?" "Is that a real cherry?" "Can I drink that juice?" "Did you eat one already?" Sigh.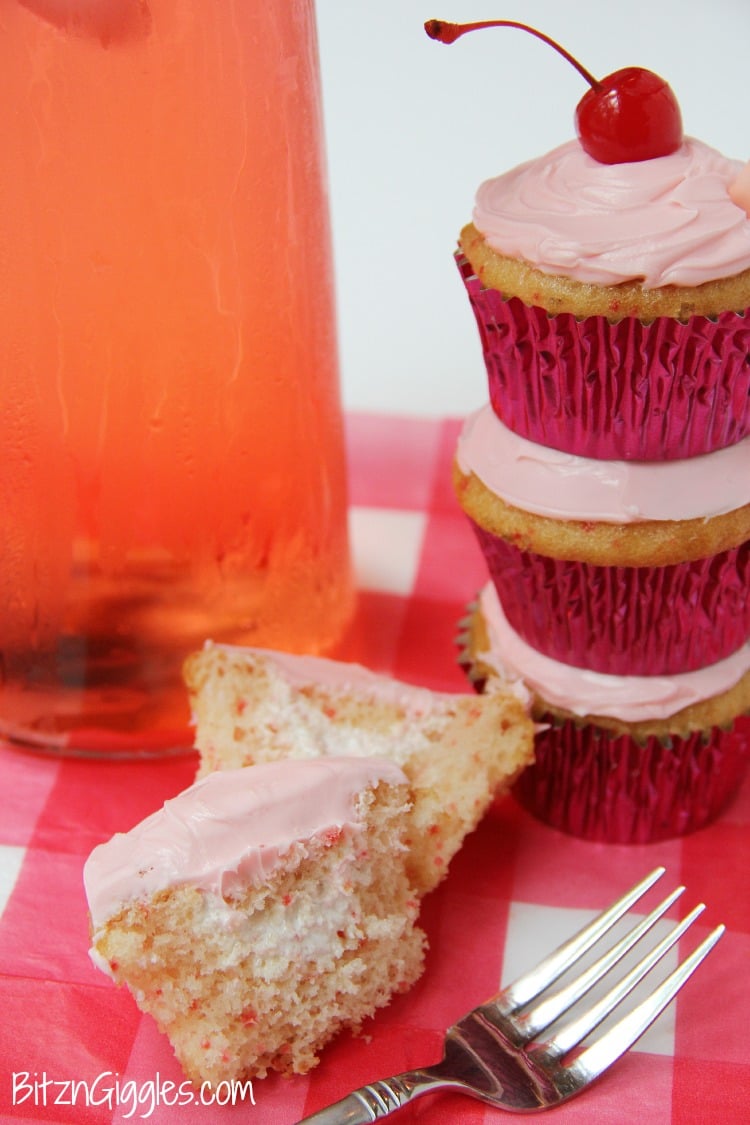 So, that was the end of the photo shoot. I packed up my things, the treats were disassembled and we all sat in the kitchen eating our cupcakes and drinking Shirley Temples. Yep, I had another cupcake. After all, Shirley Temples are for special occasions, whether in liquid. . . or cupcake form. So celebrate!
CONNECT WITH ME HERE:
Twitter | Instagram | Pinterest | Google+ | Facebook | Bloglovin'
Shirley Temple Cupcakes
These cupcakes are made with Cherry Chip cake mix spiked with lemon-lime soda, filled with a marshmallowy fluff, topped with vanilla butter cream frosting and garnished with a cherry.
Ingredients
For the Cupcakes
Cherry Chip boxed cake mix with specified ingredients (substitute lemon-lime soda for water)
Maraschino cherries for garnish (optional)
For the Filling
7 oz. marshmallow fluff
1 stick unsalted butter, softened
2 teaspoons vanilla extract
For the Frosting
8 oz. cream cheese, softened
1 stick butter, softened
5 cups powdered sugar
2 teaspoons cherry JELL-O powder
1 teaspoon vanilla extract
Instructions
For the Cupcakes
Prepare cupcakes as directed on the box, substituting the water with lemon-lime soda.
When cooled, use a small spoon or melon baller to scoop out a portion of the top of each cupcake.
Use a small spoon dipped in warm water (to prevent the marshmallow mixture from sticking to the spoon) to put a scoop of the marshmallow mixture into the hole you just made in the cupcake.
Put the top of the cupcake you had cut out back into the hole, gently pressing it back into its place.
Frost the cupcakes and garnish with a maraschino cherry if desired.
For the Filling
Combine the butter and vanilla extract until creamy and add in the marshmallow fluff.
For the Frosting
Use a mixer to combine the cream cheese and butter, add in the JELL-O and the vanilla extract.
Gradually add the powdered sugar continuing to mix.
Beat until all ingredients are combined and frosting reaches a spreadable consistency.
Notes
If you want a thicker frosting use more powdered sugar, if you'd like it to be thinner, use less powdered sugar.
Nutrition
Calories: 7672
Sugar: 712
Sodium: 4370
Fat: 322
Saturated Fat: 169
Unsaturated Fat: 126
Trans Fat: 7
Carbohydrates: 1183
Protein: 42
Cholesterol: 746
LOOKING FOR MORE SWEET FUN?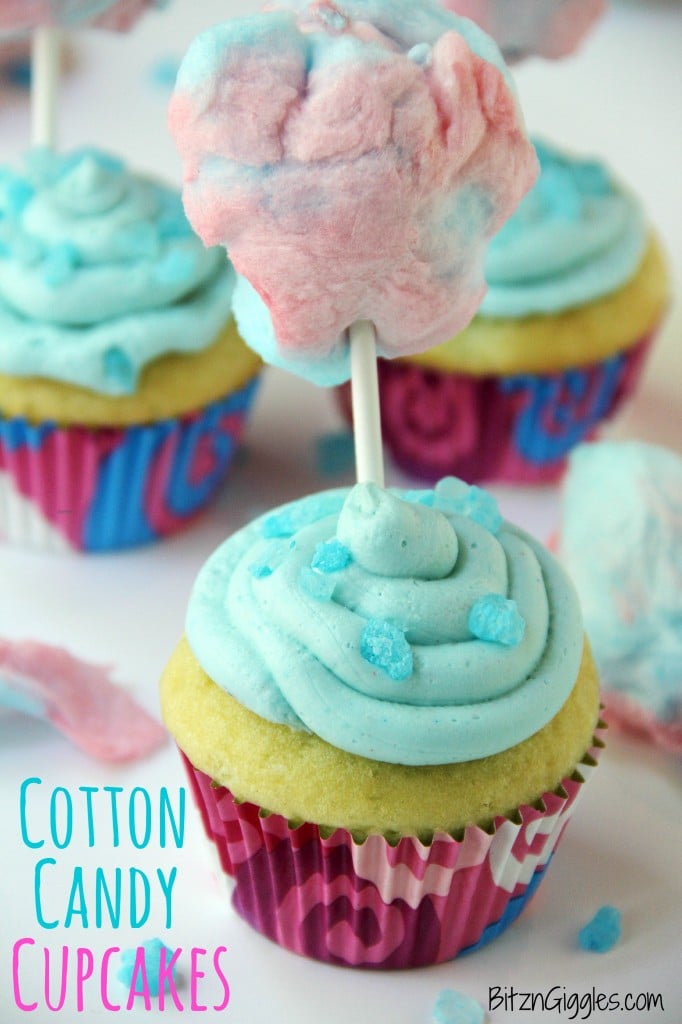 (Visited 3,674 times, 1 visits today)