Sticky Popcorn – Five-ingredient popcorn with a sweet and sticky vanilla glaze that's completely addicting!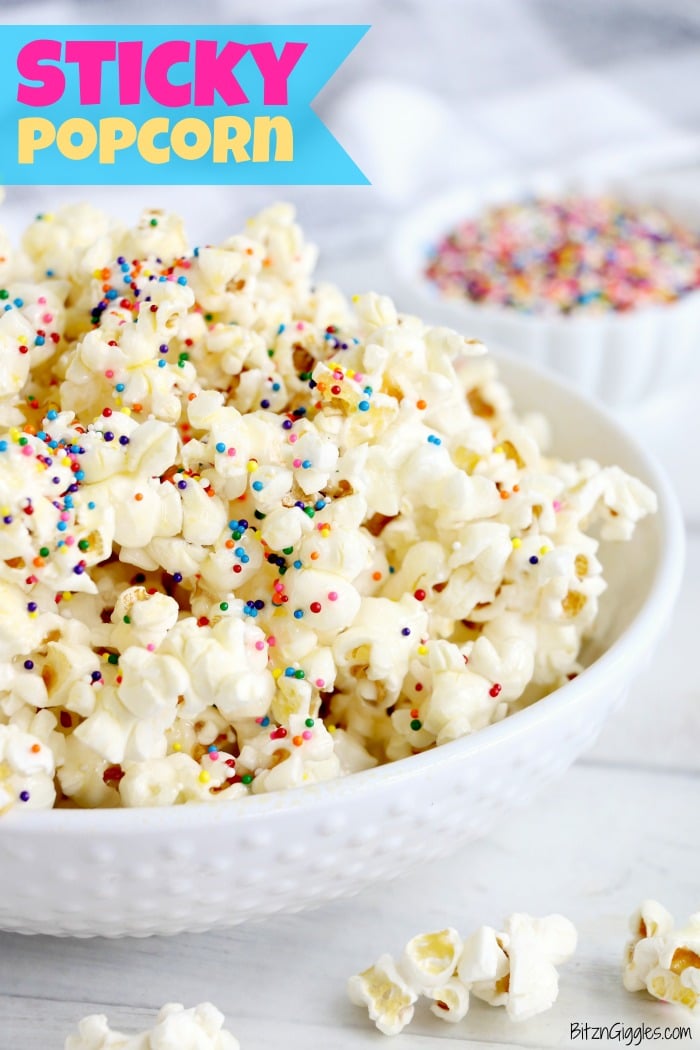 This post may include affiliate links. Please see my disclosure.
Do you like your popcorn sweet or savory? I often go back and forth between the two. It usually just depends on what I'm feeling that day.
I'd have to say my favorite popcorn is still classic movie theatre buttered popcorn, but when I'm in the mood for something sweet, I grab for cotton candy popcorn or this nostalgic sticky popcorn I'm sharing the recipe for today.
Sticky Popcorn is a little like caramel corn except it tastes more vanilla than caramel which is what I REALLY love about it. Because who doesn't like vanilla, right?
Enough talk about the taste. You'll get to taste it soon enough. Let's get poppin'!
HOW SHOULD I POP MY POPCORN?
Before we get deep into the recipe and the steps, I just have to talk to you about popcorn poppers.
I always used to pop popcorn in the microwave for my family. . .until my kids visited their grandma and aunt's homes.
Josh's mom pops corn in one of those old stovetop poppers and his sister uses an electric popper. After they tasted popcorn at their houses, they began begging me to make it the same way.
Soooo. . .I ended up buying this popper.
To all of you out there who buy microwave popcorn, it's ALL GOOD. And to be completely honest, we don't use the popper ALL of the time. I still pull out the microwaveable bags every now and then, especially when we're traveling.
So, regardless of your popping method, just pop that corn and get ready for the next steps!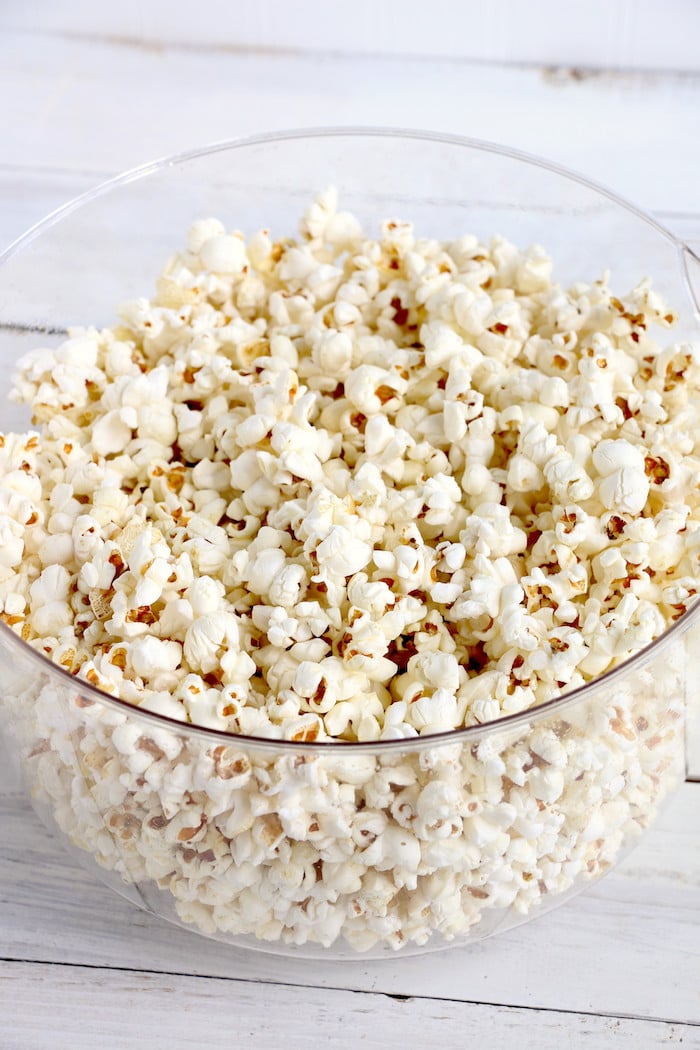 HOW TO MAKE STICKY POPCORN
To make sticky popcorn, you'll need:
Popped popcorn
Butter
Corn syrup
Sugar
Vanilla
Sprinkles, optional
Begin by heating the butter, corn syrup and sugar together in a medium-sized saucepan.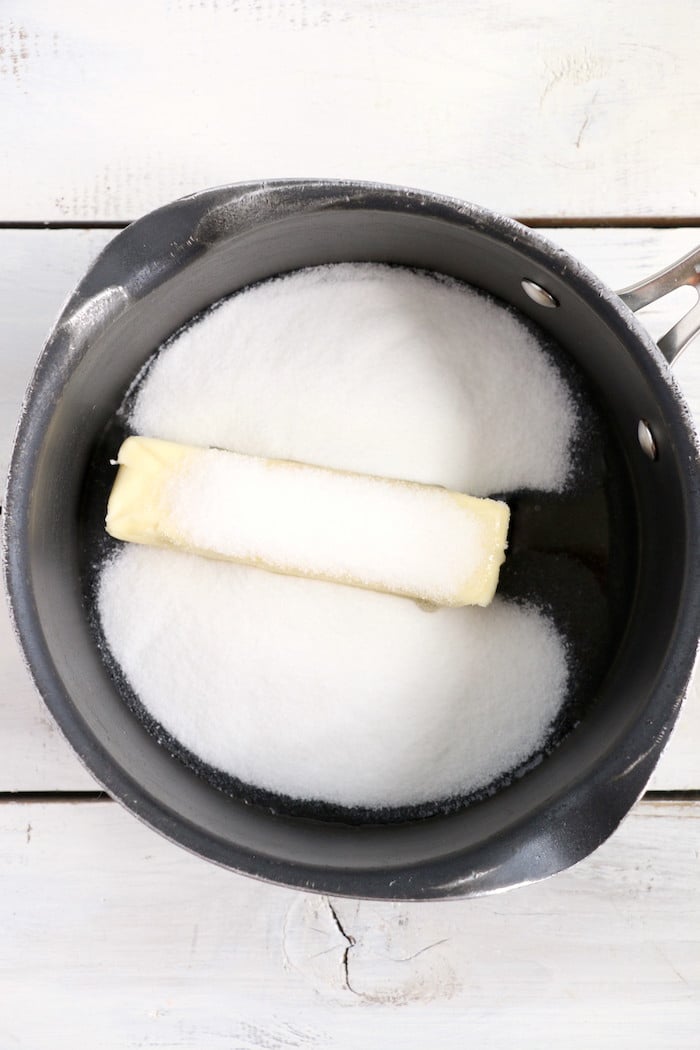 This is where it gets DELICIOUS. Once that mixture is smooth and melted, pour it over your popcorn and mix it all together.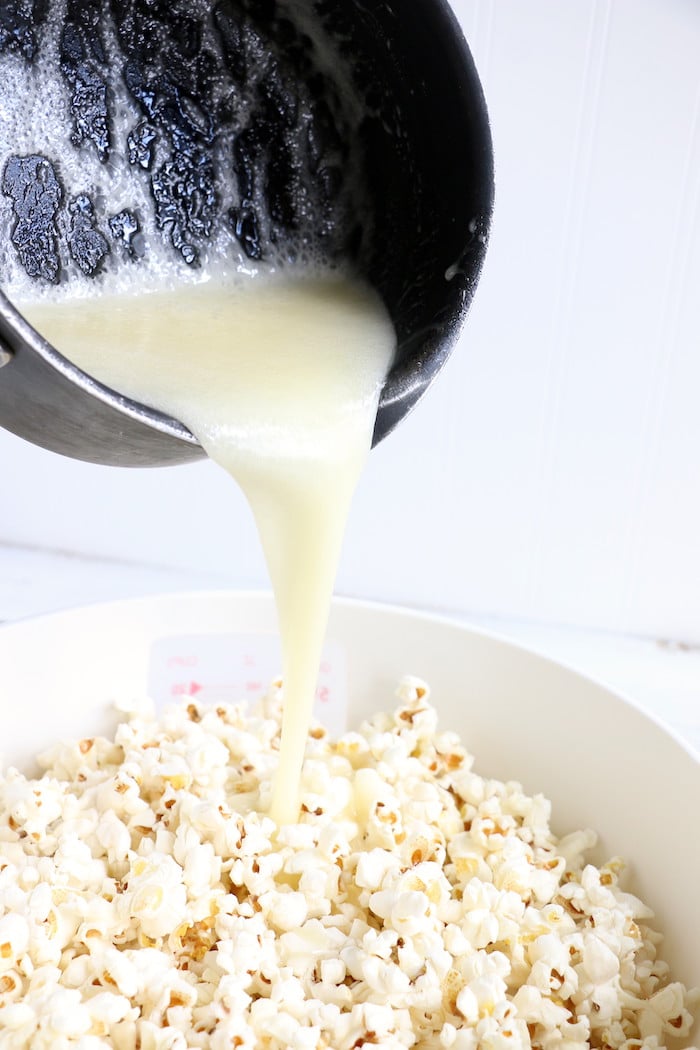 Go ahead and add some sprinkles, because everything looks and tastes better with a pop of color, doesn't it?!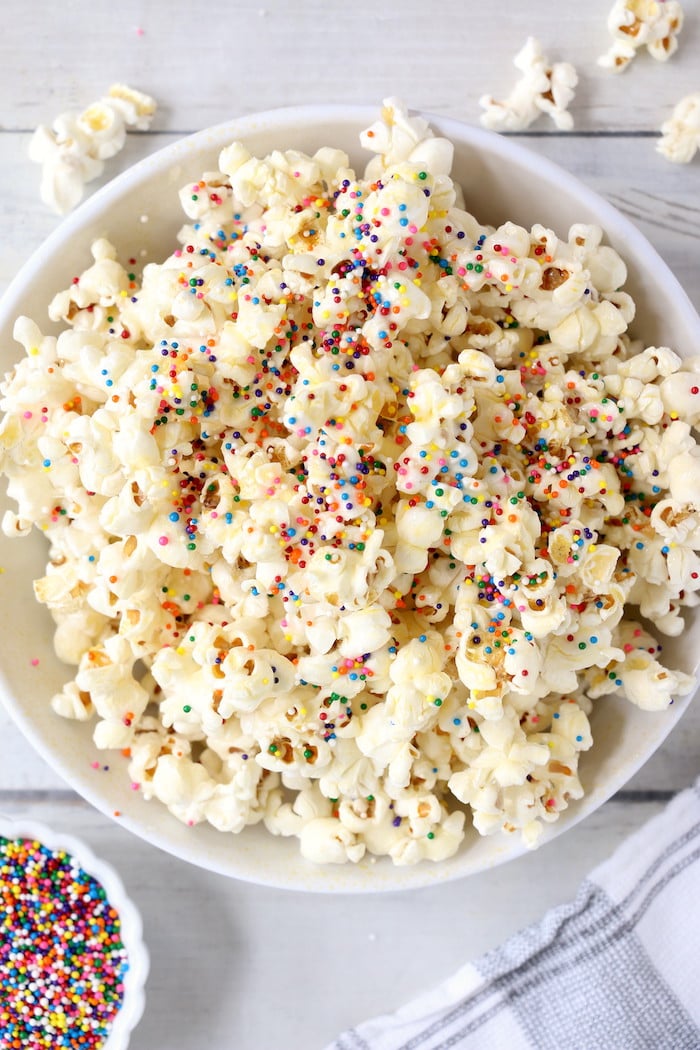 See this gorgeous, sticky vanilla sugar glaze? That's the star of this dish.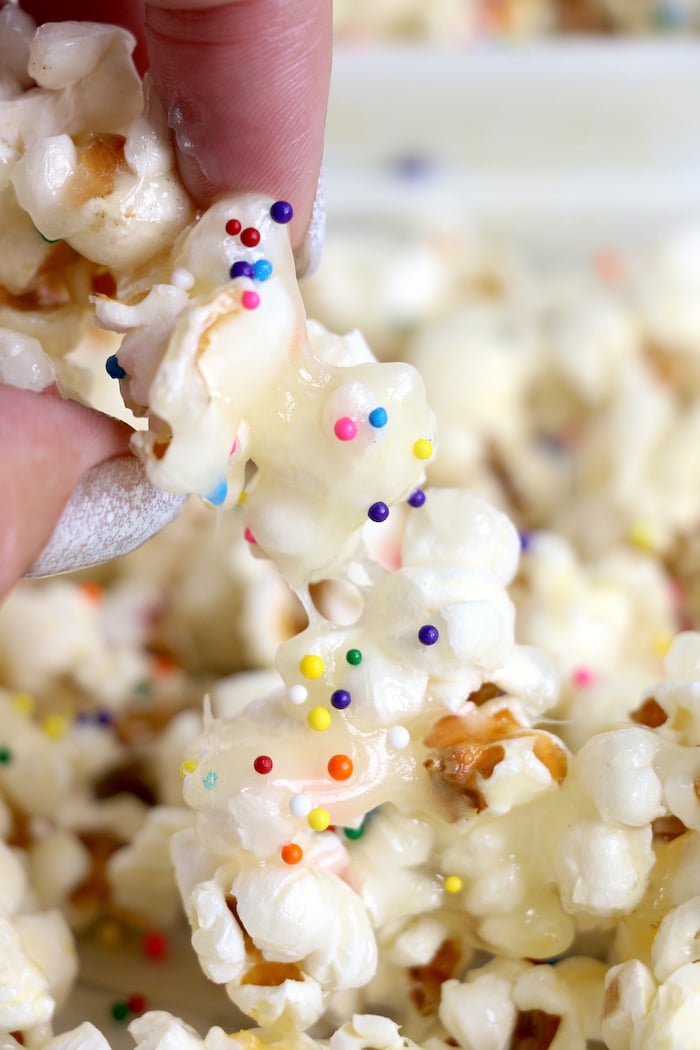 It's incredibly delicious and addicting.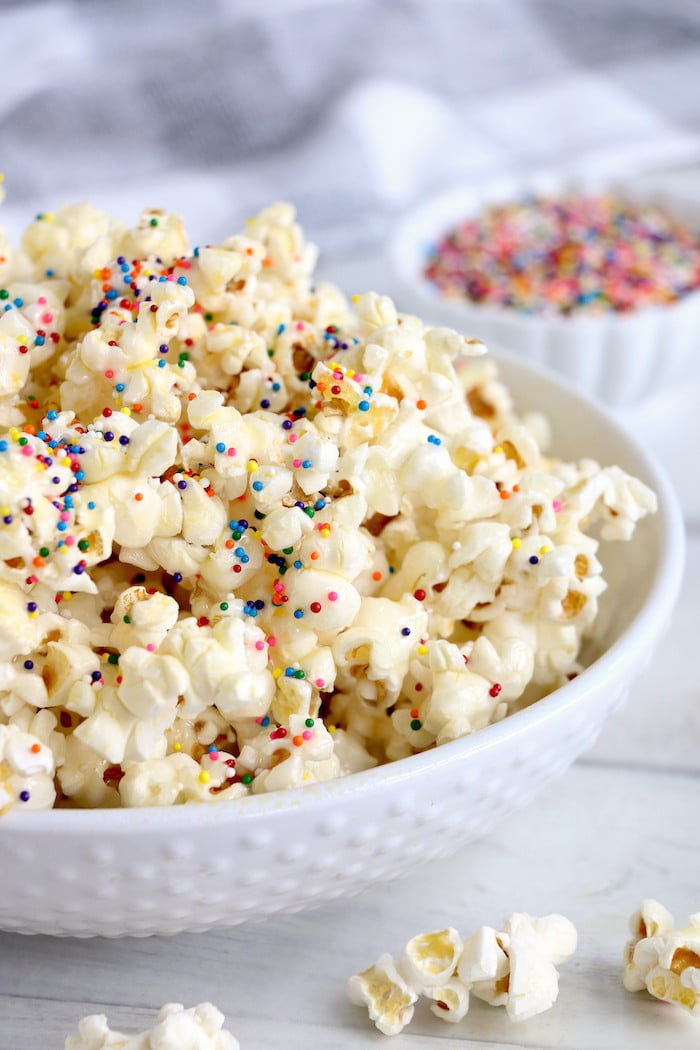 My nieces LOVE to dig down deep and scrape out all of the glaze from the bottom of the bowl. That's their favorite part.
WHAT'S THE EASIEST WAY TO EAT STICKY POPCORN?
We love to put our popcorn in a BIG bowl and set it right in the middle of the kitchen table. We all gather round and dig right in. The kids would tell you that eating sticky popcorn just wouldn't be the same if you put it in individual bowls.
I'm pretty sure everyone would be fighting over the big bowl because of that beautiful glaze that's hiding at the bottom.
DO I NEED TO USE CORN SYRUP TO MAKE STICKY POPCORN?
We've always used corn syrup but I've seen some people melt a couple cups of mini marshmallows with the butter and sugar instead. If you're a rice krispie fan, marshmallows may be the way to go. For our family, we'll probably always prepare it with corn syrup.
However you choose to prepare your popcorn, enjoy it. You'll be surprised how completely addicting it truly is!
HUNGRY FOR MORE SWEET & SIMPLE SNACKS?
Sticky Popcorn
Five-ingredient vanilla caramel corn that's sweet, sticky and completely addicting!
Ingredients
8 cups popcorn, popped
1/2 cup butter
1/2 cup corn syrup
3/4 cup sugar
1 tsp vanilla
Sprinkles of your choice (optional)
Instructions
Place butter, corn syrup, and sugar in a medium saucepan on medium heat.
Bring to a boil.
Boil for 2 minutes, then stir in vanilla.
Pour mixture over popped popcorn.
Add sprinkles and enjoy!