Easy Reindeer Chow – A delicious snack mix filled with pretzels, peanuts, Cheerios, Chex and M&Ms covered in white chocolate. Great for snacking and gift giving!
This post includes affiliate links. Please see my disclosure.
We've been gifting Christmas candy and snacks left and right lately. I've been busy in the kitchen making lots of fun and easy holiday-themed treats.
My husband, Josh, has been traveling a lot recently, so I've been sending bags of snacks and candy along with him on his trips to share with his colleagues.
Believe it or not, as a food blogger, I have pretty strong willpower. I taste EVERYTHING I make, but normally I only take bite or two and then I send everything off to share with others.
I have to admit that this Reindeer Chow I'm sharing today, I probably have had more than my fair share.?
It's a sweet and salty mix made with Cheerios, Chex mix, pretzels, peanuts and M&Ms covered in white chocolate. If you don't like peanuts, go ahead and leave them out.
In fact, snack mixes like this reindeer chow are actually pretty forgiving when it comes to what you throw into them.
Preparing the Reindeer Chow
When I make reindeer chow, I like to crush my pretzels before adding them to the mix. I prefer smaller pieces to the whole mini pretzels.
This, of course, is just my own preference. If you'd rather have larger pretzels, then go for it!  I actually use whole pretzels in my Christmas Crunch Snack Mix (only four ingredients!)
If younger kids will be enjoying the mix, I would recommend crushing the pretzels with a  rolling pin in a gallon ziplock bag.
You want to start by adding all but the white chocolate chips and shortening to a large mixing bowl. I love my big red Tupperware bowl.
It's great for mixing all sorts of things from snack mixes and salads to big batches of cookies and brownies.
I use the microwave to melt the white chocolate chips and shortening. In the photo below, you can still see there are a few lumps in the mixture.
If you're in the same boat, just stick it back in the microwave for about a minute more to ensure a smooth consistency.
Once you've achieved a smooth consistency, you just pour the white chocolate over the snack mix.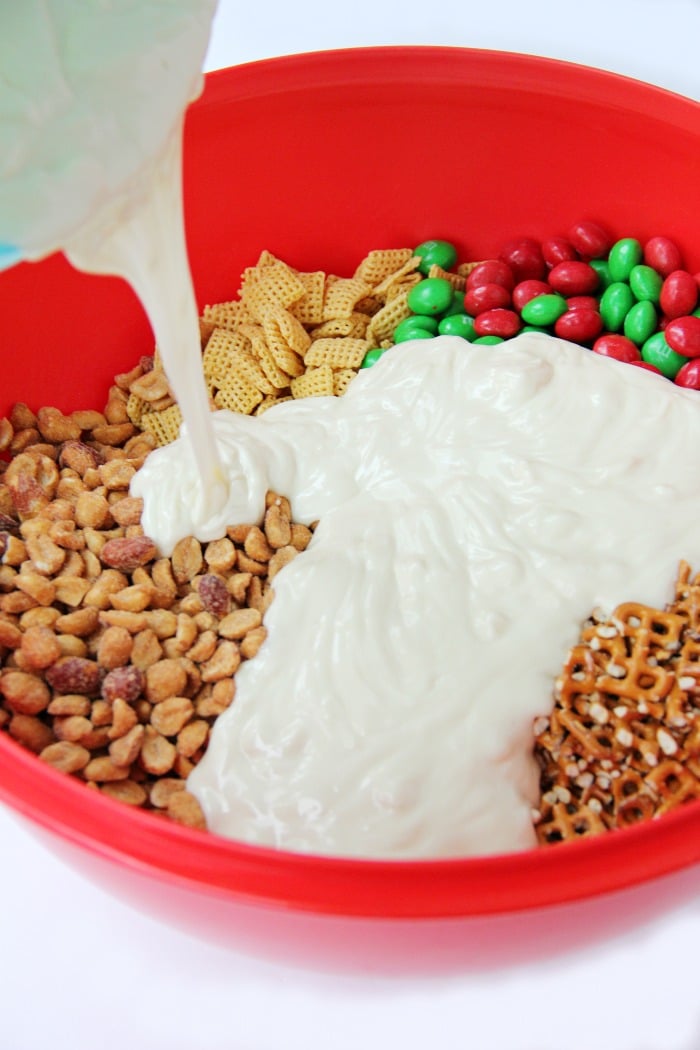 And then use a greased spatula or spoon to mix everything together.
Spread the mixture onto a baking pan covered with a silicone baking sheet or parchment paper, shake on some sprinkles and then refrigerate for 15-20 minutes.
You'll want to break off larger pieces of the mix from the pan and place it into a bowl for easy snacking.
Enjoying Your Snack Mix
I have to admit that I often leave the peanuts out. Peanuts aren't the kids' favorite, so if I omit anything, it's usually those.
This recipe filled a little over two plastic gallon bags. It's definitely enough for filling several little boxes for gift giving.
The holiday themed sprinkles are just a nice finishing touch. I love this Wilton's holiday assortment. It usually gets me through the holiday baking season each year.
Next time you're at the store, grab the ingredients to make this easy reindeer chow, pop in a movie and enjoy this fun snack mix with family and friends.
Word of warning. . .it's quite addictive, so make sure you do have others to share it with!
Still Have the Munchies?
Try these fun recipes:
Easy Reindeer Chow
Cheerios, Chex mix, pretzels, peanuts and M&Ms covered in white chocolate make up this delicious, classic Christmas mix! It's great for holiday munching and gift giving!
Instructions
Use a rolling pin to crush the pretzels in a plastic gallon ziplock bag.
Add the pretzels, Cheerios, Chex cereal, peanuts and M&Ms to a large mixing bowl. Set aside.
Add the white chocolate chips and shortening to a microwave-safe bowl and heat in 30 second increments, stirring each time, until chips are melted.
Pour the melted chocolate on top of the ingredients in the big mixing bowl.
Use a greased spatula to stir and combine.
Place the mix onto baking sheets lined with silicone mats or parchment paper, using spatula to flatten.
Shake on some sprinkles (optional),
Refrigerate baking pan for 15-20 minutes.
Break into pieces and store in an airtight container.
Notes
This recipe fills two standard size baking sheets and makes a little over two plastic gallon bags of snack mix.
(Visited 12,263 times, 1 visits today)