Air Fryer Scallops with Lemon Cream Sauce – Scallops browned to perfection in an air fryer, then drizzled with a lemon basil cream sauce.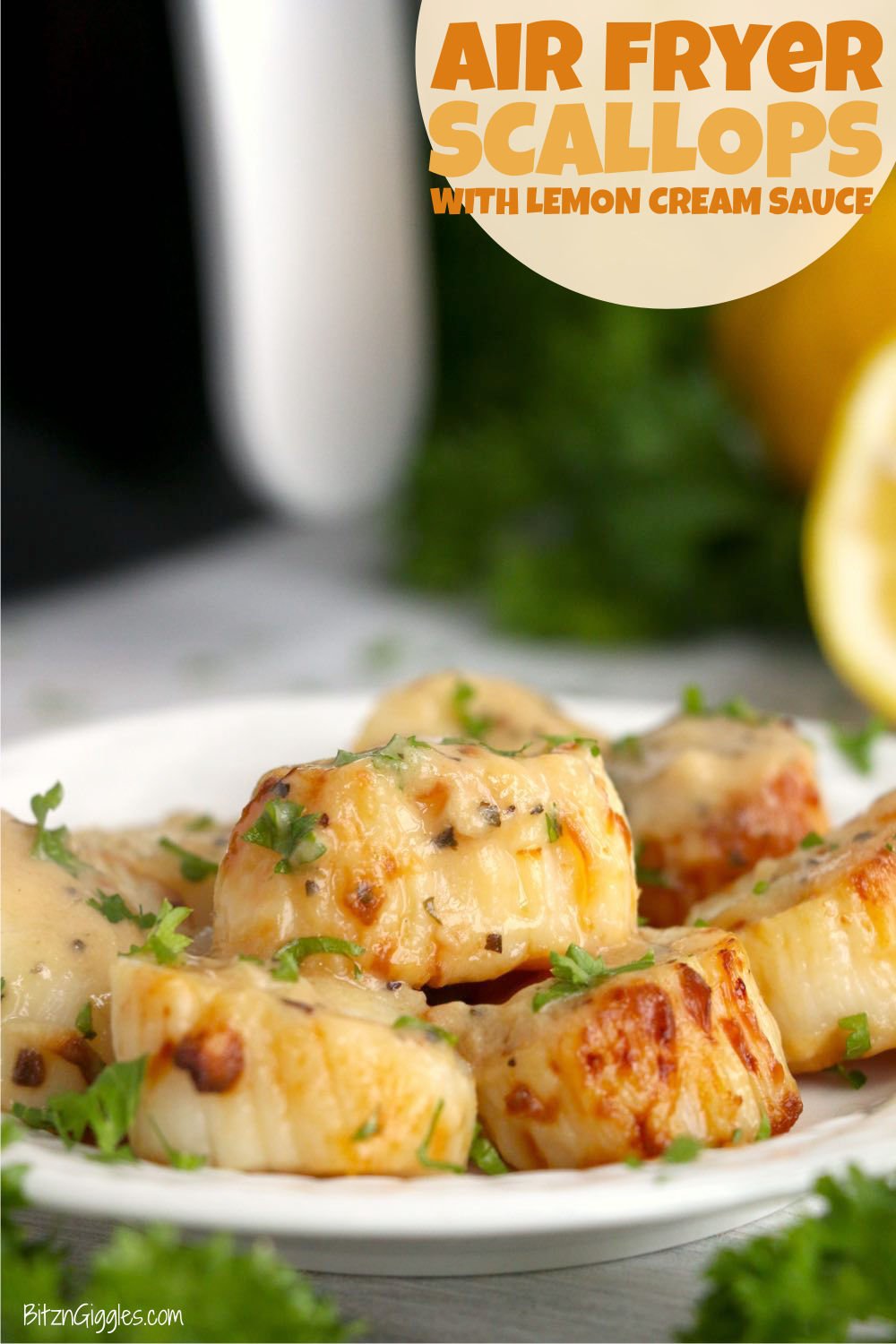 This post may include affiliate links. Please see my disclosure.
I absolutely love scallops. They have a mild, yet sweet flavor and are perfectly tender with a buttery texture. It's similar to eating crab or lobster.
Did you know that you can make scallops right in the air fryer? It only takes about 10 minutes to cook them to a golden brown and the lemon basil cream sauce is drizzled over the scallops right before serving.
It's the perfect week or date night meal!
HOW TO MAKE SCALLOPS WITH LEMON CREAM SAUCE
To make these scallops, you'll need:
Scallops
Olive oil
Garlic
Red pepper flakes
Chicken broth
Heavy cream
Lemon juice
Dried basil
Salt & pepper
Grab your ingredients and let's start making these delicious lemon cream scallops.
First, spray your air fryer basket with cooking spray. You can also use a bit of olive oil if you don't have any cooking spray on hand.
Place your scallops in the basket in a single layer. Do not overcrowd the basket! You scallops will not cook properly if the basket is crowded.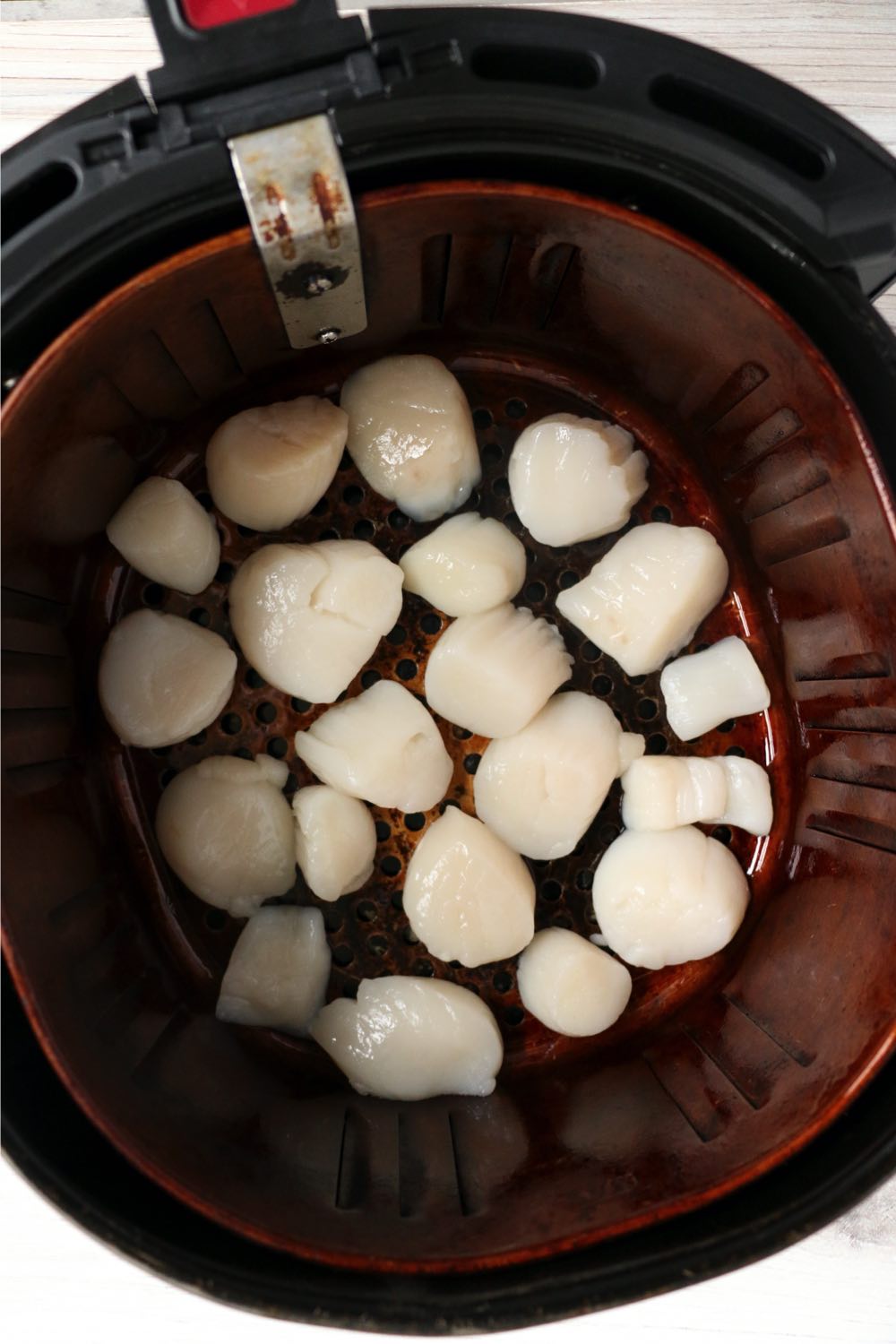 Turn your air fryer on to 400℉ and fry your scallops for 8 to 10 minutes, flipping them halfway through. Tongs come in handy for flipping.
While you are cooking the scallops, begin making your lemon cream sauce. Start by adding olive oil to a skillet on medium heat.
Then toss in the pepper flakes and minced garlic and cook until fragrant – about 1 to 2 minutes. Watch it carefully as garlic can burn quickly.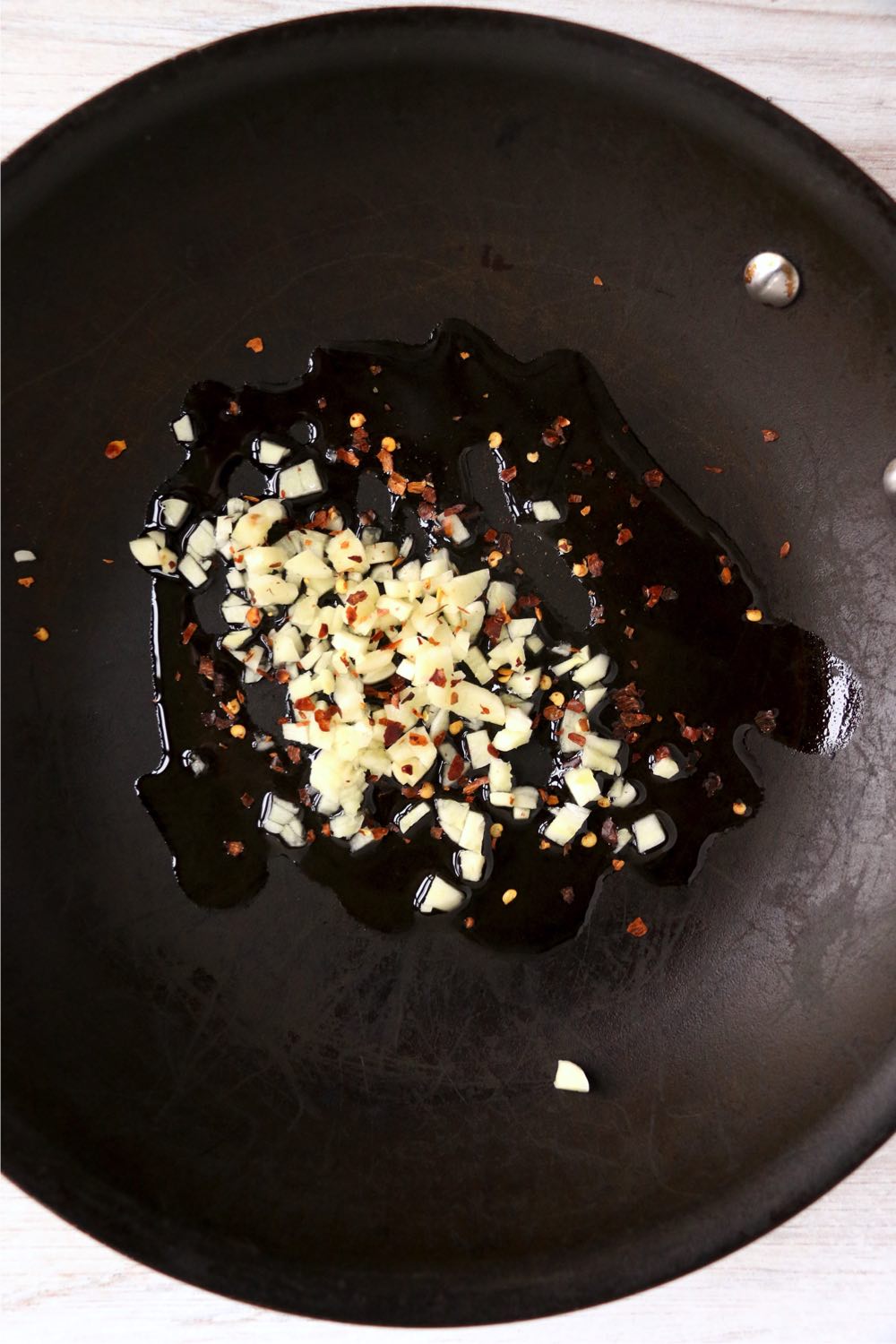 Add in the chicken broth, lemon juice, heavy cream, salt, pepper, and basil. Bring the sauce to a boil.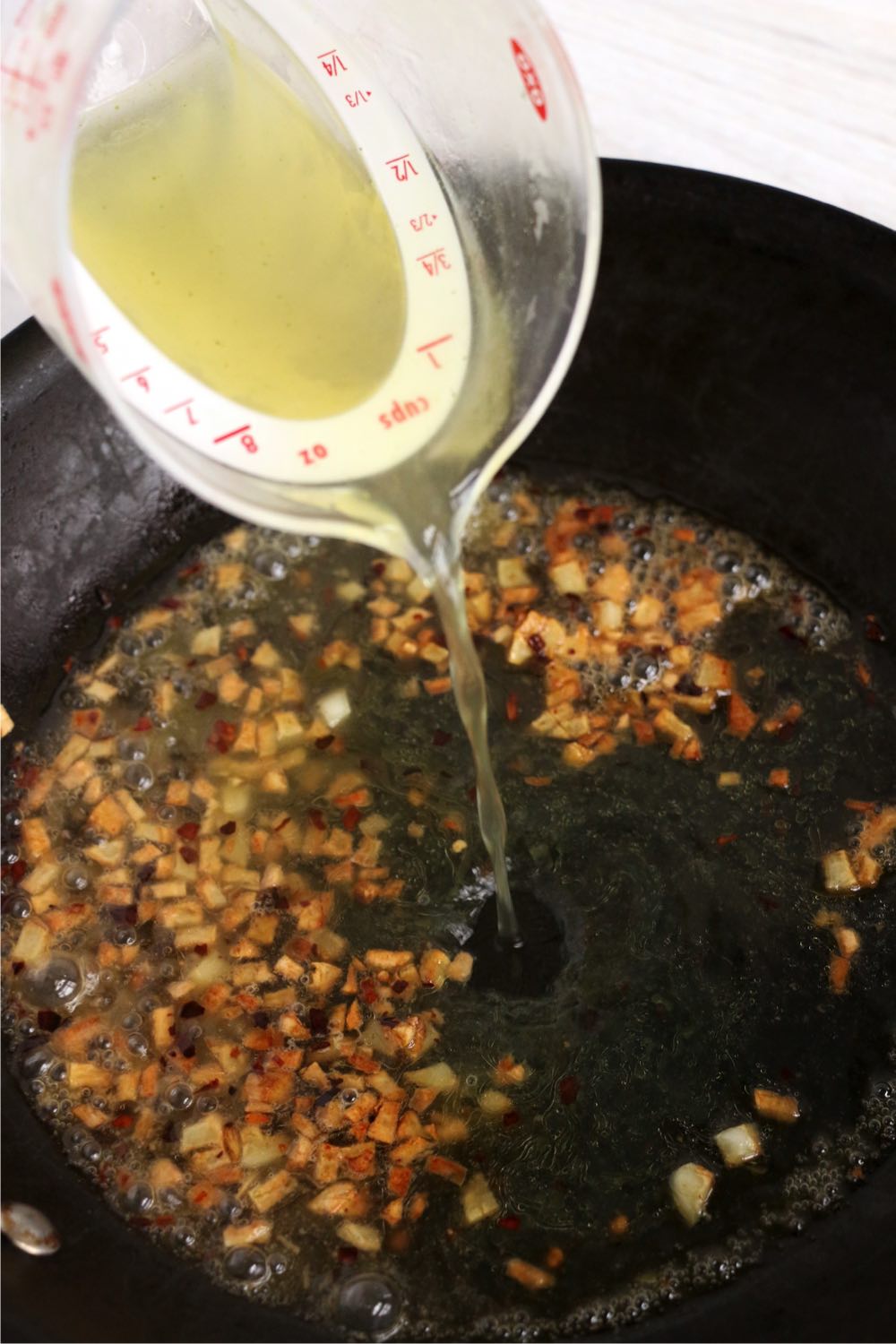 Then, reduce the heat and simmer for 3 to 5 minutes.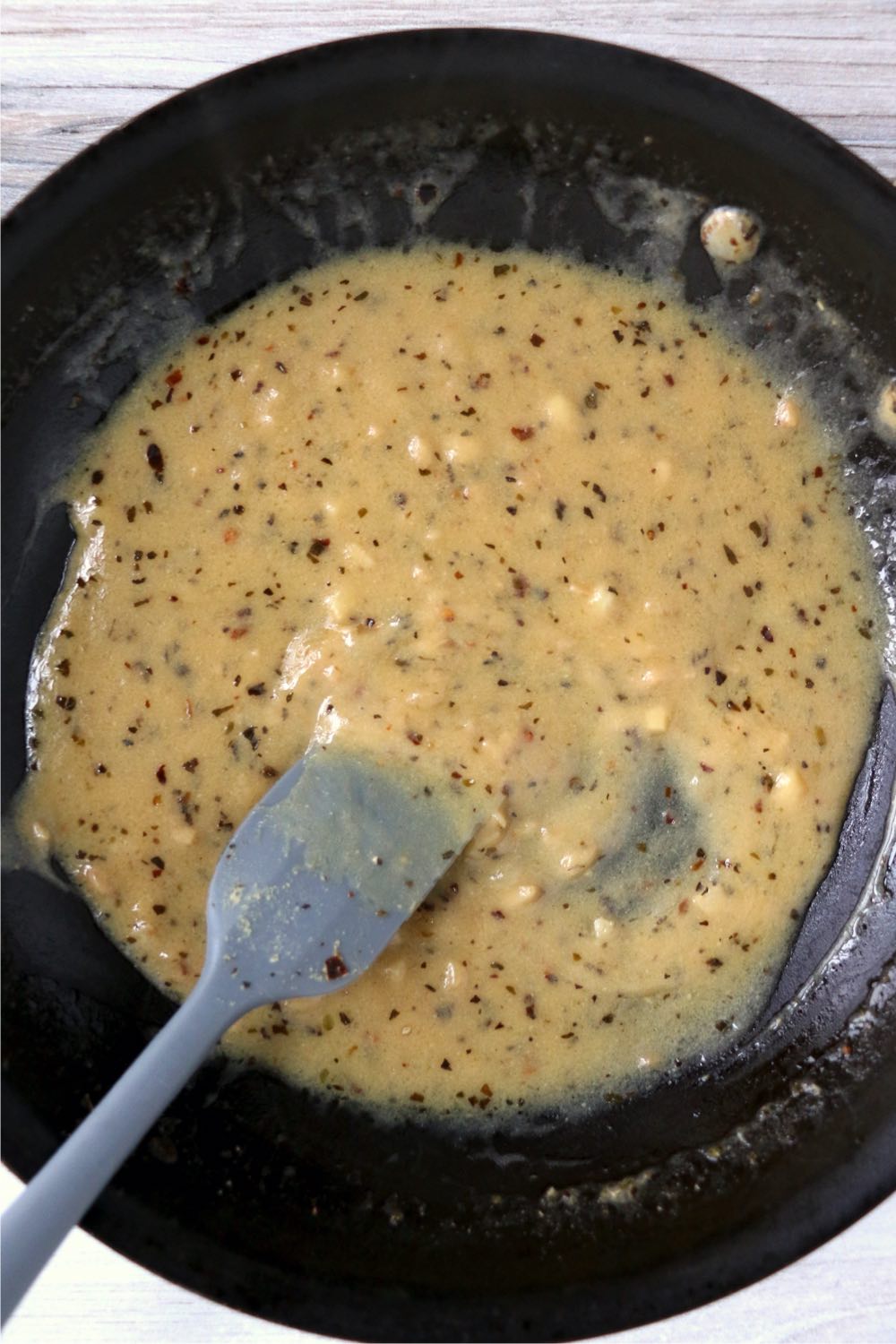 Your scallops will be a nice golden brown when they're ready.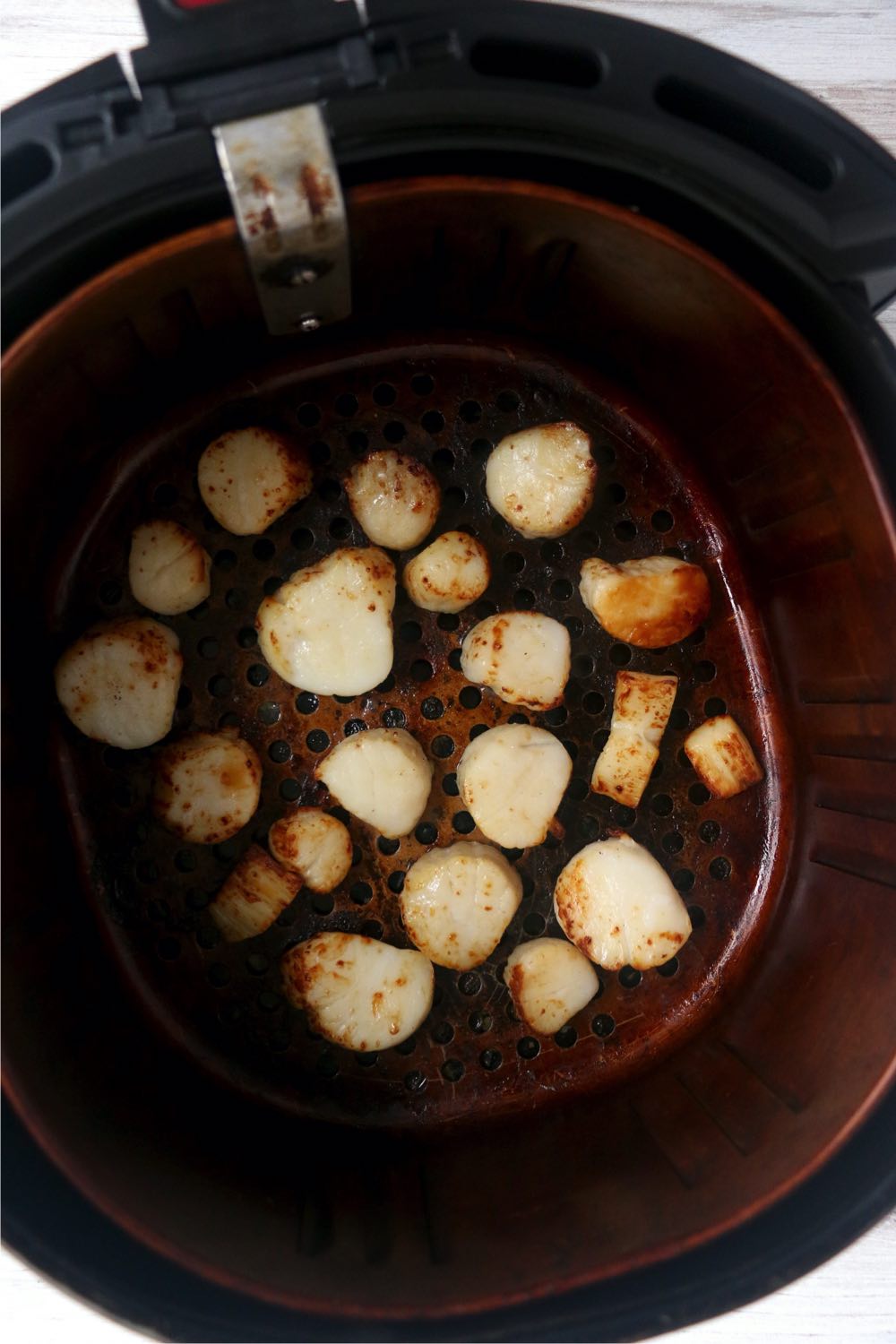 Drizzle the lemon cream sauce over the scallops once you have removed them from the air fryer.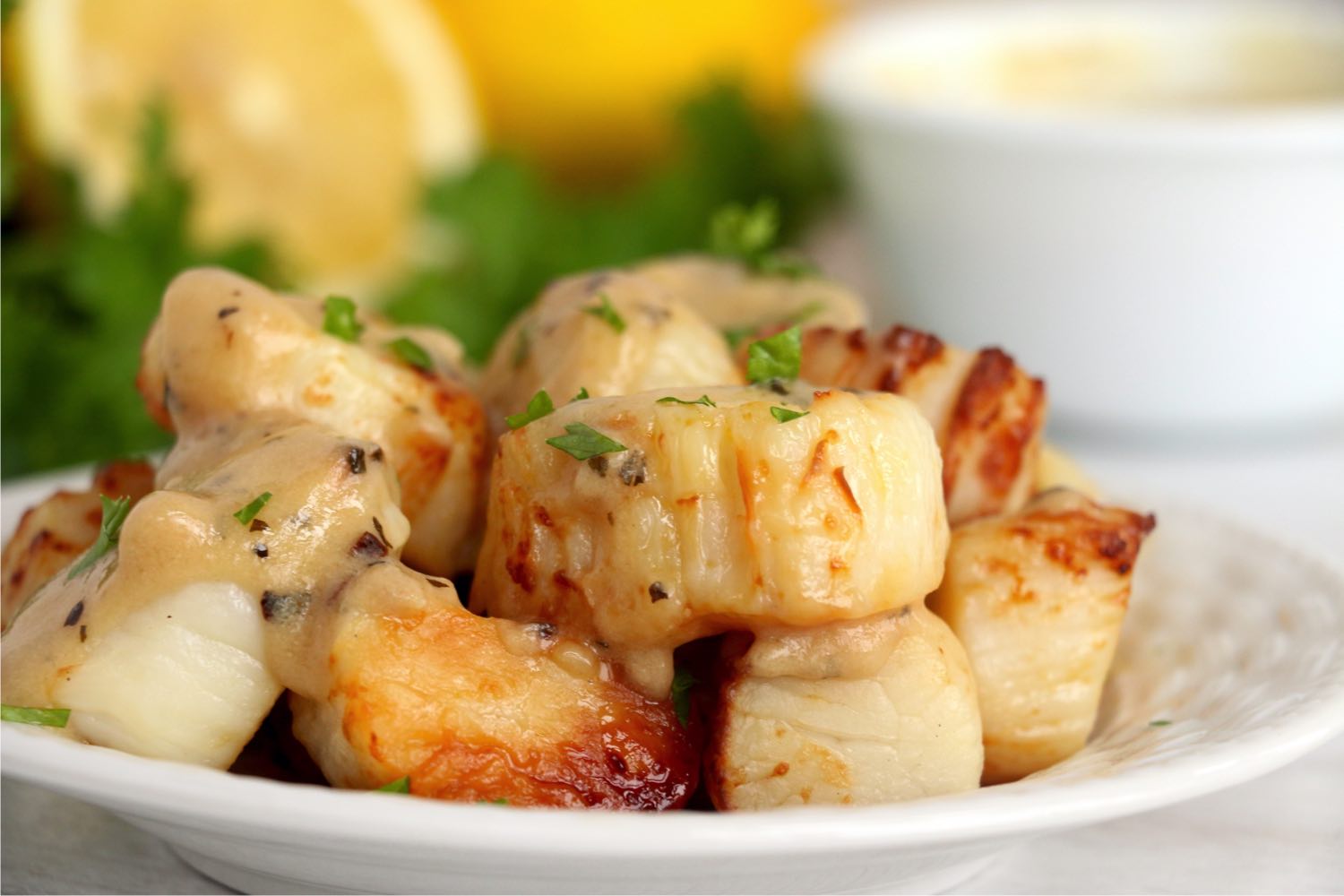 WHAT HAPPENS IF I OVERCOOK THE SCALLOPS?
You don't want to overcook your scallops because they will become tough and chewy. When cooking your scallops in the air fryer, make sure they are a golden brown color before removing them.
You should cook them for about 4 to 5 minutes on each side.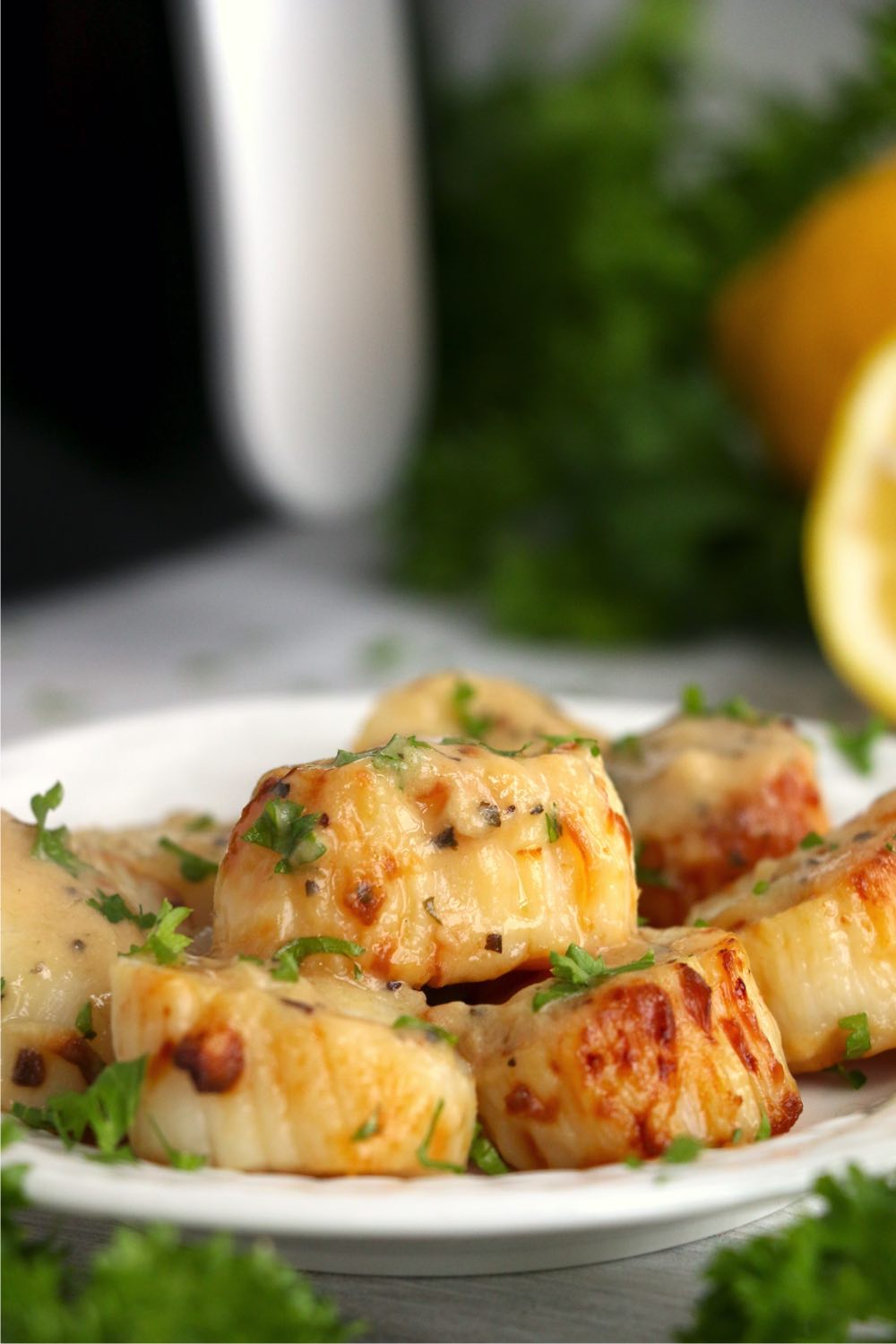 CAN YOU USE FROZEN SCALLOPS?
Absolutely! To cook frozen scallops in your air fryer, you will need to increase the time just a little. Add an extra minute or two to each side. Remember, you just want them to have a golden brown color.
HOW SHOULD YOU STORE LEFTOVER SCALLOPS?
Place any leftover scallops in a shallow airtight container, or wrap them tightly with aluminum foil or plastic wrap. They can be stored in the refrigerator for 3 to 4 days.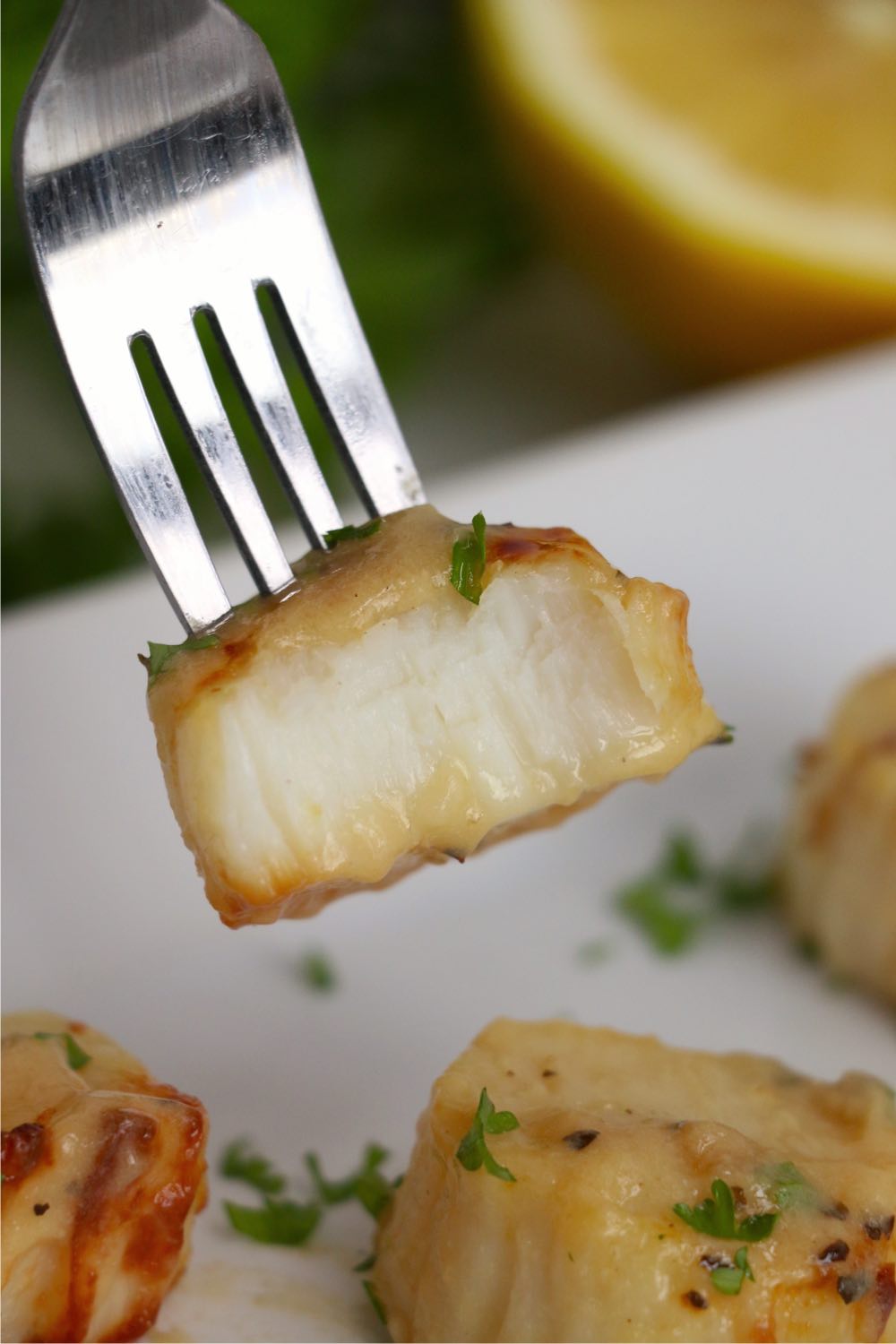 LOOKING FOR MORE AMAZING SEAFOOD RECIPES?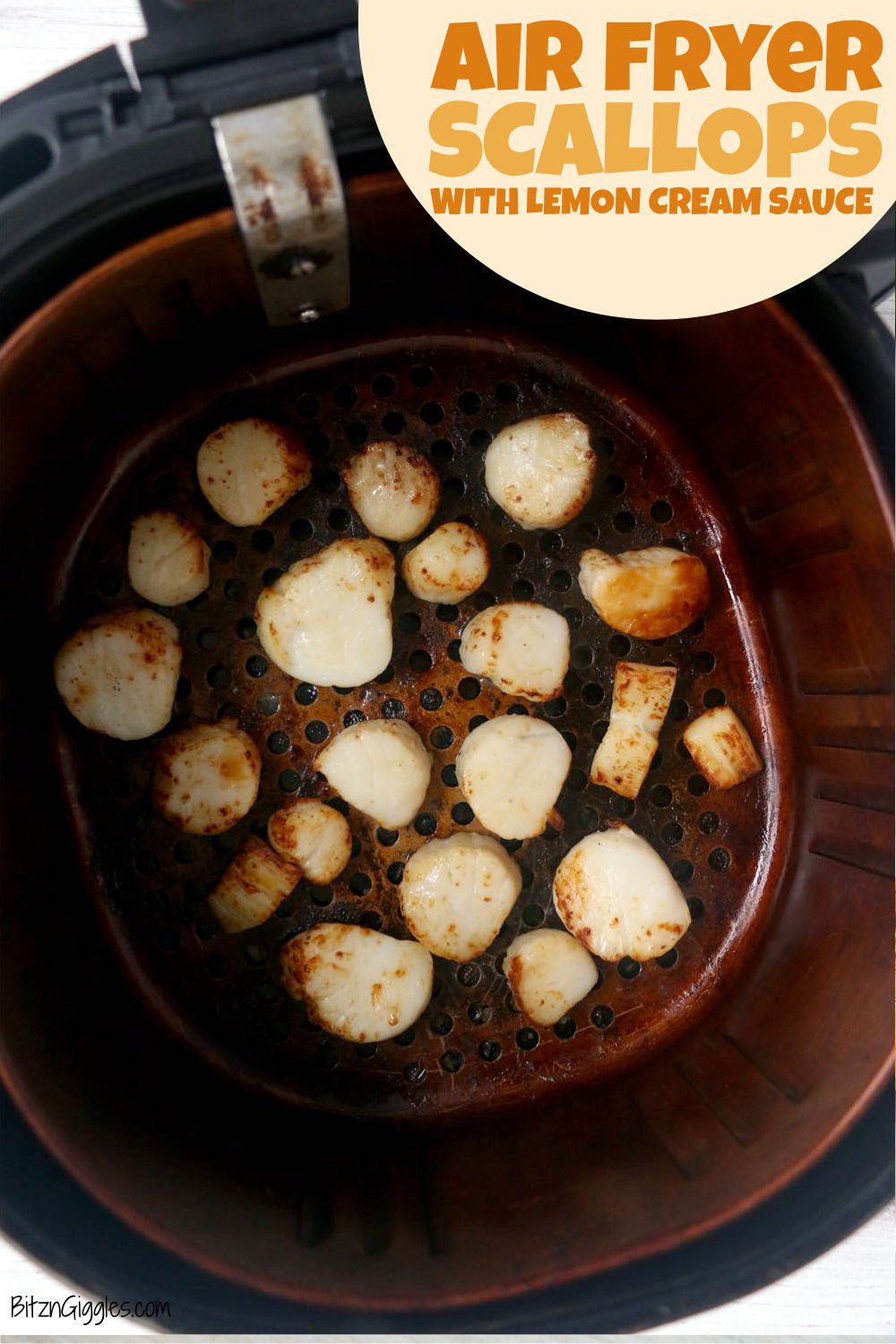 Air Fryer Scallops with Lemon Cream Sauce
Scallops browned to perfection in an air fryer, then drizzled with a lemon basil cream sauce.
Ingredients
1 pound scallops
1 tablespoon olive oil
2 cloves garlic, minced
1/4 teaspoon red pepper flakes
1/2 cup chicken broth
1/2 cup heavy cream
3 tablespoons lemon juice
1/2 teaspoon dried basil
Kosher salt and freshly ground black pepper, to taste
Instructions
Prepare your air fryer basket by spraying it with cooking oil.
Add scallops to air fryer basket in a single layer.
Air fry at 400ºF for 8-10 minutes, flipping halfway through.
While scallops are in the air fryer, prepare the lemon cream sauce.
Add olive oil, garlic, and red pepper flakes to a skillet.
Cook, stirring frequently, until fragrant. This should take about 1-2 minutes.
Stir in chicken broth, heavy cream, lemon juice and basil. Season with salt and pepper, to taste.
Bring to a boil. Reduce heat and simmer until slightly thickened. This will take about 3-5 minutes.
Drizzle over air fried scallops.
(Visited 3,200 times, 1 visits today)