Berry Pup Pops – A three-ingredient, healthy, frozen treat for your dog, made with fresh berries and yogurt.
This post may include affiliate links. Please see my disclosure.
Our English cream golden retriever, Belle, is crazy happy about the nice weather we've had the past couple days. She's been prancing around the yard all day long and we've gone on long walks each evening.
She also knows that when the weather warms up, I often make some delicious, cool treats for her to enjoy. Such was the case this week, when I whipped up these Berry Pup Pops. They're made with fresh berries and yogurt, and are a cinch to make!
With Memorial weekend just around the corner, it's the perfect time to make these fun red, white and blue treats for your favorite pup.
If your dog is lactose intolerant, refrain from making this treat.
How to Make Berry Pup Pops
Berry Pop Pops require only a few ingredients. If you don't give your dog rawhide sticks, I've listed an alternative "stick" option for this dog treat recipe. You could also use a dog biscuit.
Ingredients & Materials
Start by layering your ingredients by the tablespoon into a tall and narrow plastic cup.

Begin with yogurt, then strawberries, then yogurt, then blueberries and then more yogurt. Repeat once more.
Don't worry if the layers start to muddle together a bit. They will and it's okay.
After the final layer of yogurt, sprinkle some more strawberries and blueberries on top, and stick the rawhide stick in the middle of the cup.
Remember that you won't be filling the cup all the way.
When all is said and done, the pup pop should fill the cup about halfway.
Place the cups into the freezer for at least four hours. When they're done, use a little warm water from the faucet, and run it along the outsides of the cup to loosen the pup pops.
They should pop out easily.
And that's it. They're ready to go!
These pops are such a fun dog treat, and the ingredients are very good for your pooch. The yogurt can act like a probiotic, so it's great for your dog's digestive system. The berries are full of antioxidants, high fiber and Vitamin C.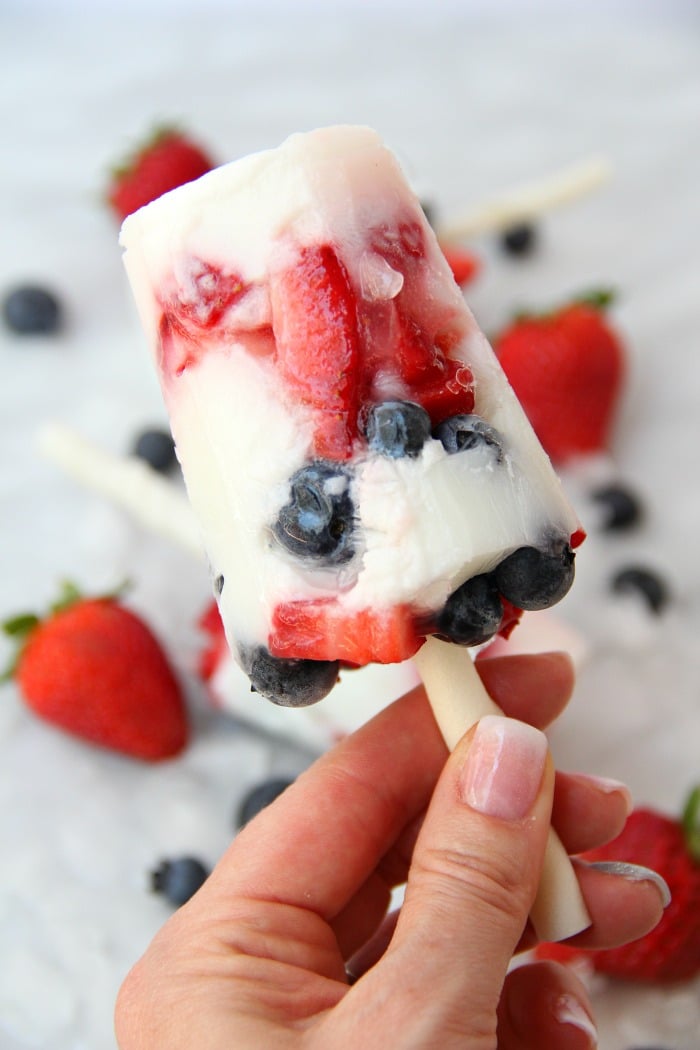 Did you know that strawberries can even help whiten your dog's teeth? Yep, it's true. I know what you're thinking and it's fine.
If you want to taste one of these dog treats, go right ahead. To you, it may not have much flavor, but your fur friend is going to love it for sure!
This is one treat you don't have to feel guilty about giving to your pet, and they're sure to hit the spot on a warm summer day!
Berry Pup Pop Recipe
Ingredients & Materials
Instructions
Place a heaping tablespoon of yogurt in the bottom of the cups.
Add just enough diced strawberries to cover the yogurt.
Cover the the strawberries with a heaping tablespoon of yogurt.
Add just enough blueberries to cover the yogurt.
Cover the blueberries with a heaping tablespoon of yogurt.
Repeat steps 1-5.
Add a few more strawberries and blueberries to the final layer of yogurt.
Place a rawhide stick in the center of each cup.
Freeze the cups for at least 4 hours.
Run warm water around the outside of the cups to help loosen the pup pops.
Serve to your pup under close supervision. They'll love it if you hold it for them to lick!
Pup Pop Tips
You can use either regular or greek plain yogurt for these pops. Just make sure the yogurt you use is free of any added sweeteners (artificial or natural).
If you have a smaller dog, make smaller pops by not repeating a second layer of ingredients.
Yogurt is good for dogs, but when given in excess, can lead to weight gain (like anything else).
The easiest way for your dog to eat the pop is if you hold it for them.
If you suspect your dog may be lactose intolerant, you should refrain from making these pup pops altogether. Greek yogurt, however, has less lactose than regular plain yogurt so if you just want to play it on the safe side, go Greek with the yogurt.
Looking for More Summer Dog Treats?