Easy Air Fryer Omelette – Prepared in the air fryer and filled with fresh veggies and cheese, this omelette is delicious and ready in 8 minutes!
This post may include affiliate links. Please see my disclosure.
Thank you McCormick for sponsoring this post. Visit your local Wal-Mart to pick up McCormick Good Morning Breakfast for your family!
I'm back with another EASY recipe for the air fryer! I don't know about you, but in the morning our family always tends to rush.
The snooze button gets hit multiple times, the kids pack their backpacks at the last minute and breakfast is often, well, an afterthought.
This year, we're making some changes. We're done rushing around.
This year, we're waking up on-time, we're waking up prepared and we're going to eat breakfast TOGETHER.
This easy Air Fryer Omelette is ready in 6 minutes, so there certainly aren't any excuses to skipping breakfast.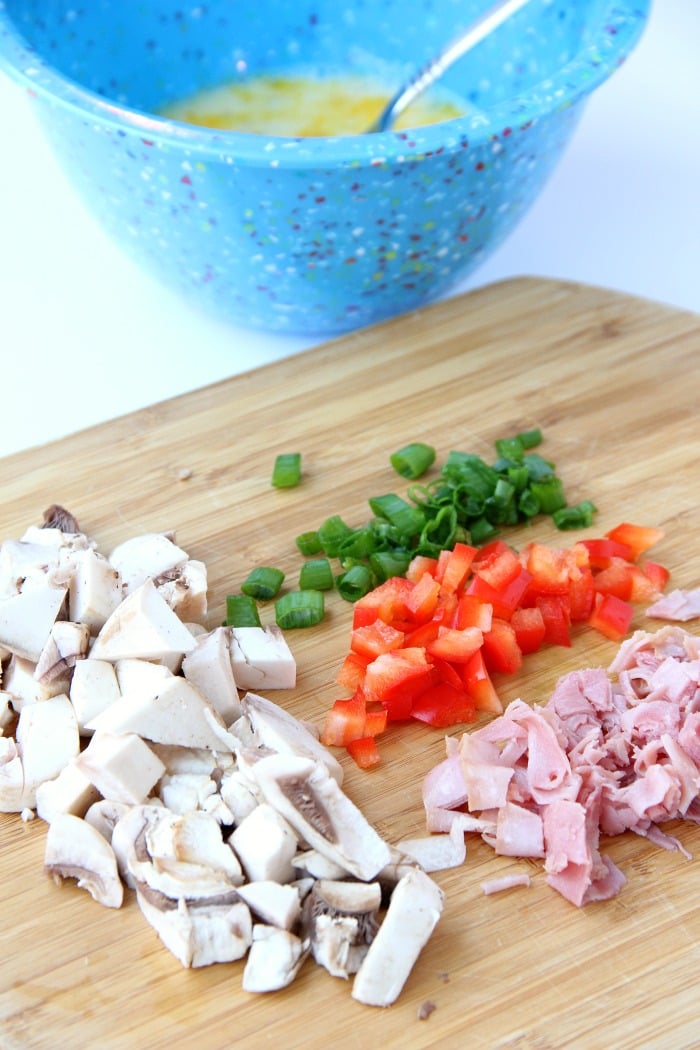 When you prep your omelette ingredients, you can either do it in the morning or dice them up the night before. I tend to dice them up the night before.
Sometimes I cut up more than what I need so I have enough veggies for two mornings worth of omelettes.
For a two-egg omelette, for example, I would chop up about 1/4 cup of fresh mushrooms and two tablespoons (or so) each of the rest of the ingredients.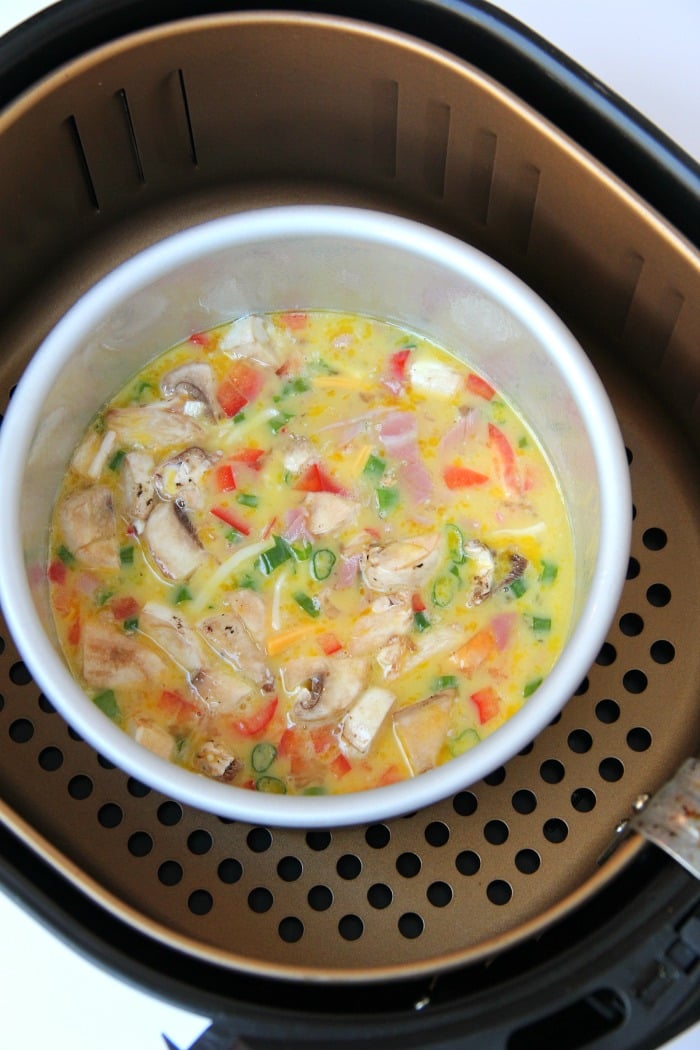 A lot of air fryers come with baking pans, but if yours didn't, this 6″x3″ pan works wonderfully.
Halfway through cooking time, I sprinkle on some McCormick Good Morning Breakfast Seasoning. For eggs, the Garden Herb is my favorite. It's perfectly blended, in a convenient little container.
No juggling multiple jars of seasoning. . .because who has time for that in the morning?
Mornings are fast, too fast. Between getting ready for your workday and preparing your kids for school, there isn't much time to create the flavorful, fulfilling breakfast your family deserves.
McCormick Good Morning breakfast is a break through line of products to help you do just that.
Get inspired to create delicious meals with sweet or savory breakfast seasonings that you shake on for an instant flavor upgrade.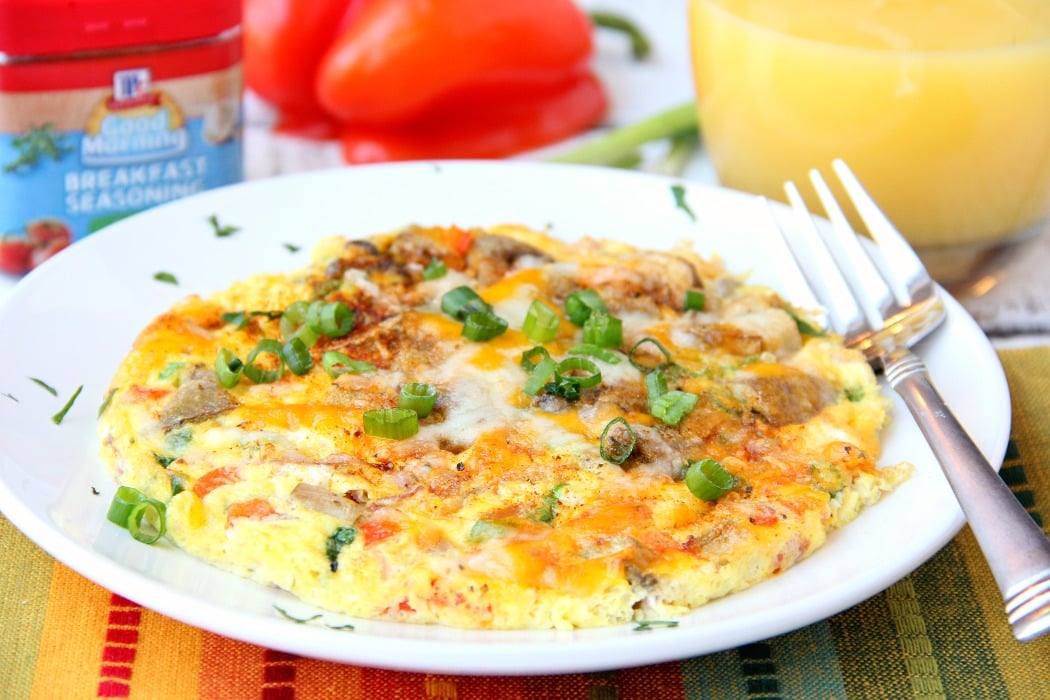 With a little garnish of green onions over the top, this omelette is cheesy, flavorful and delicious. The best part is, it literally takes only 8 minutes to make! Crazy, right?
Go ahead, walk away. Finish packing the kids' lunches while the timer counts down. There's no need to babysit a pan on the stove.
Have I convinced you yet that air fryers are one of the most genius inventions to-date? 🙂 Make time for a delicious breakfast. It's one of the most important meals of the day!
For more scrumptious air fryer recipes, check out this lemon chicken, parmesan shrimp, and these perfect baked potatoes!
Easy Air Fryer Omelette
Prepared in the air fryer and filled with fresh veggies and cheese, this omelette is delicious and ready in 8 minutes!
Ingredients
2 eggs
1/4 cup milk
Pinch of salt
Fresh meat and veggies, diced (I used red bell pepper, green onions, ham and mushrooms)
1 teaspoon McCormick Good Morning Breakfast Seasoning – Garden Herb
1/4 cup shredded cheese (I used cheddar and mozzarella)
Instructions
In a small bowl, mix the eggs and milk until well combined.
Add a pinch of salt to the egg mixture.
Add your veggies to the egg mixture.
Pour the egg mixture into a well-greased 6″x3″ pan.
Place the pan into the basket of the air fryer.
Cook at 350º Fahrenheit for 8-10 minutes.
Halfway through cooking sprinkle the breakfast seasoning onto the eggs and sprinkle the cheese over the top.
Use a thin spatula to loosen the omelette from the sides of the pan and transfer to a plate.
Garnish with extra green onions, optional

I was selected for this opportunity as a member of CLEVER and the content and opinions expressed here are all my own.
SaveSaveSaveSaveSaveSaveSaveSave
SaveSave
SaveSave
SaveSave
SaveSave