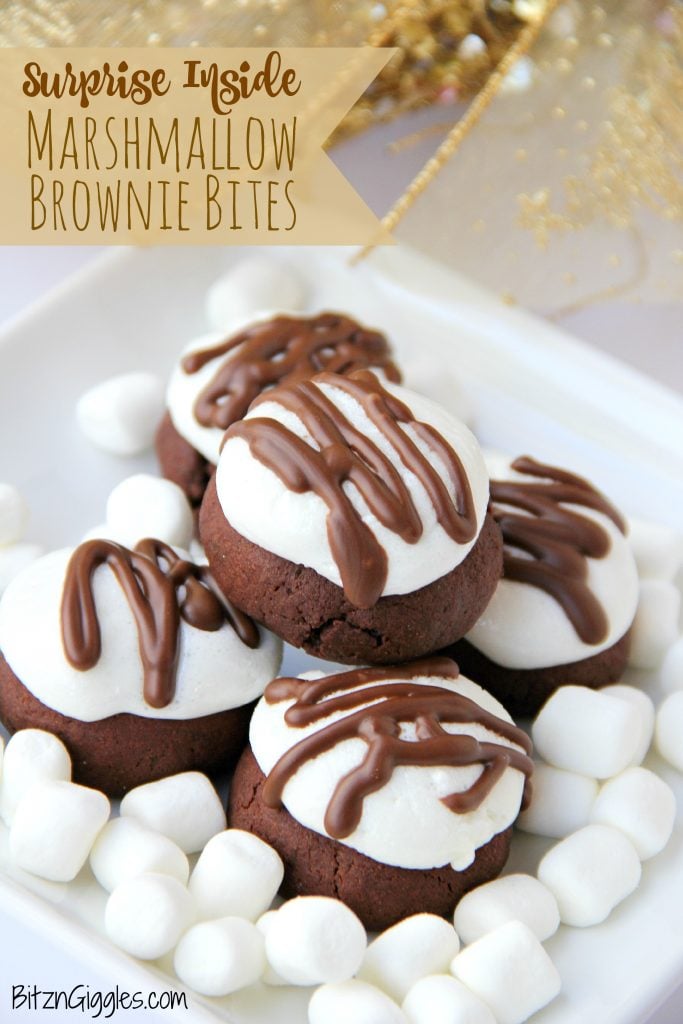 I feel like time has just been slipping away from me lately. Do you feel that way, too? Work has been a bit crazy, I'm trying to finish up Christmas shopping, the kids have things going on at school and a good meal in the evenings has been hard to come by. The cookies and treats, however, have been plentiful. Could it be stress that motivates me to bake? Stress or not, these Surprise Inside Marshmallow Brownie Bites are going to blow your mind.
I tend to have a "thing" for bites – both dessert and non-dessert – Peanut Butter & Chocolate Oat Bites, Chocolate Chip Cookie Dough Bites, Cucumber Bites, Cheesy Artichoke Bites. . .and the list goes on. I think I just like the fact that, if you wanted, you could pop the entire thing into your mouth and just chew. 🙂
The recipe I'm sharing today is quite simple really. You start by mixing up the dry ingredients, adding them to the wet and letting the dough chill for a couple hours. Here comes the surprise part. . .unwrap your Rolos and wrap the dough around each one. Bake. Then top each cookie with half of a marshmallow.
Tip: Use the back of a spoon to flatten the marshmallow onto the cookie to help it stick.
Allow to cool. Then. . .add the drizzle.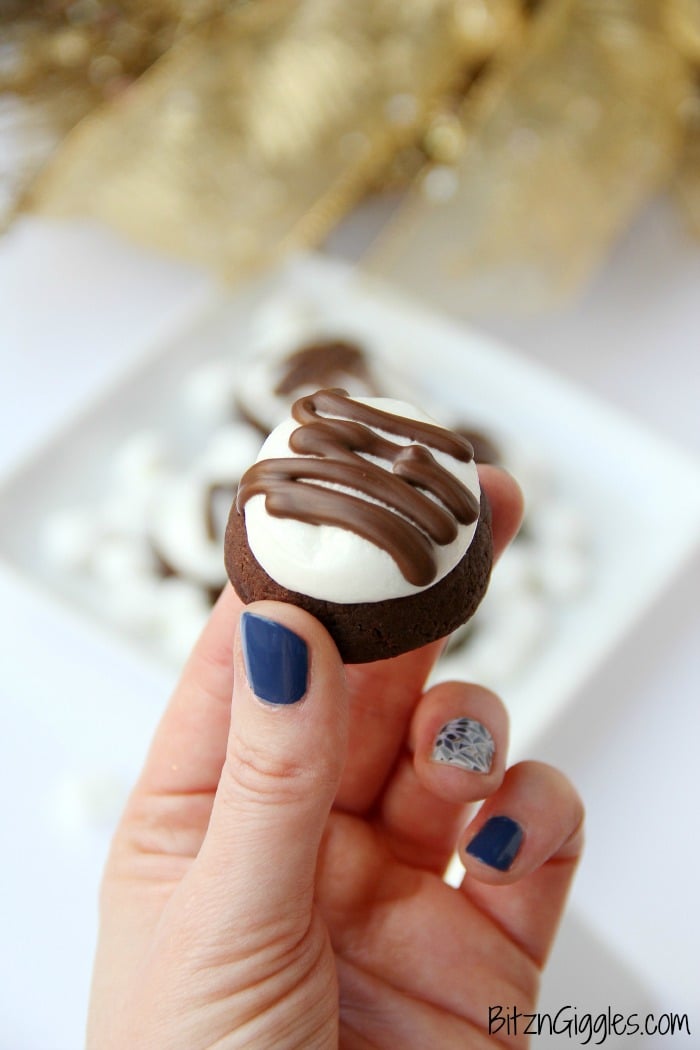 Can I just mention something while we're on this photo? I never wear nail polish. . .ever. I use my hands WAY too much during the day and I wash them like a million times. It's just too high maintenance for me. I can wreck a manicure the same day I get one. And the whole gel thing on my nails – I'm not into damage so I don't do that either. Dark confession: I do get pedicures, however. 🙂
My friend, Terrie, had a Jamberry party a couple weeks ago and of course I went. Partly to get out of the house for some socialization, partly because I was curious. . .and partly because she's an awesome, close friend. If she told me she wanted me to go to the park with her to watch squirrels, I'd do it.
I'll tell you what. . . I was kind of digging the whole concept of Jamberry. Stickers for your nails? Genius. While they tell me they can last like two weeks, mine came off on day two. They just started feeling "foreign" after the first day and then they started feeling "rough" rather than smooth and a little corner on one nail started to peel and I couldn't stand it. They all came off.
Anyway, woe is me. I have a couple other sets I need to use up yet and am thinking I'll pull them out over the holidays. Keep your eyes peeled and watch for them on Instagram.
So, back to our regularly scheduled program.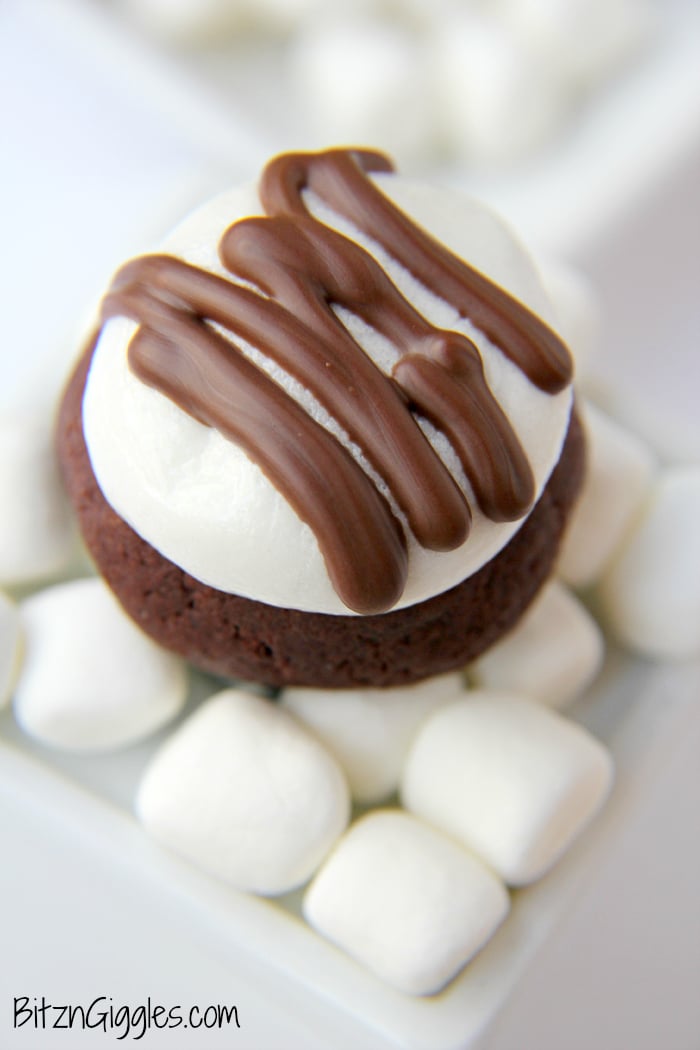 If you're a chocolate lover, you will DELIGHT in these brownie like cookies.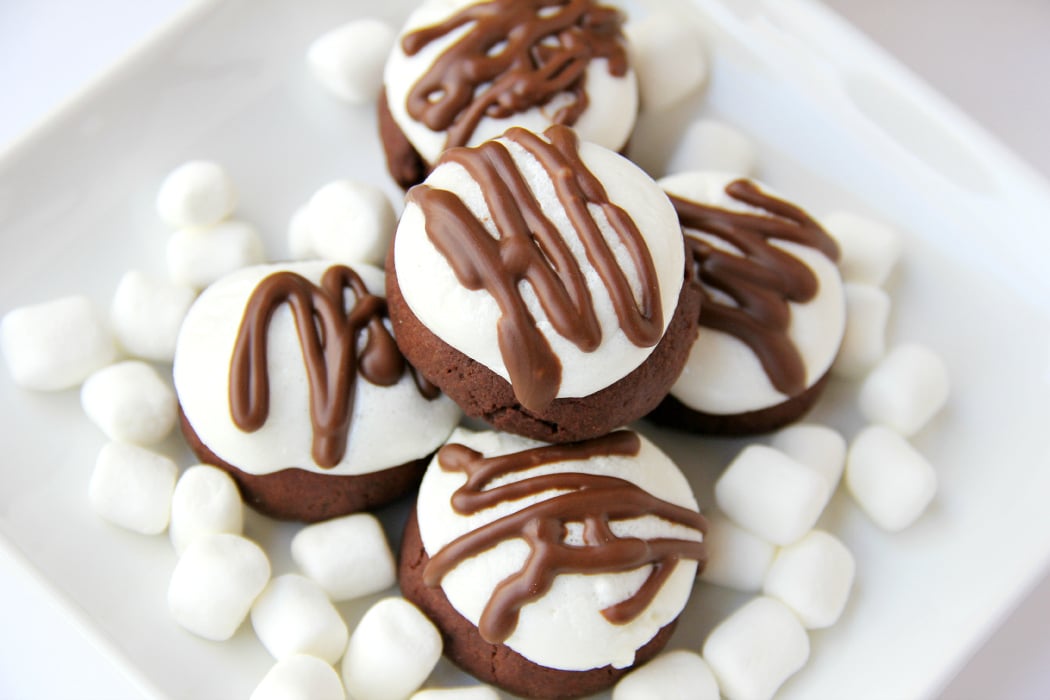 My favorite part has to be that chocolate and caramel center. I try to bite them exactly in half JUST so I can see the gooey caramel for myself. What a decadent bite-sized dessert! Aren't these pretty?
They're perfect for a Christmas cookie and candy platter. The marshmallow is like fresh fallen snow, the chocolate drizzle makes the cookies look "kind of fancy," and the chocolate caramel center will keep family and friends coming back for more. Fill a platter with these cookies and a merry little Christmas is sure to follow. 😉 Enjoy!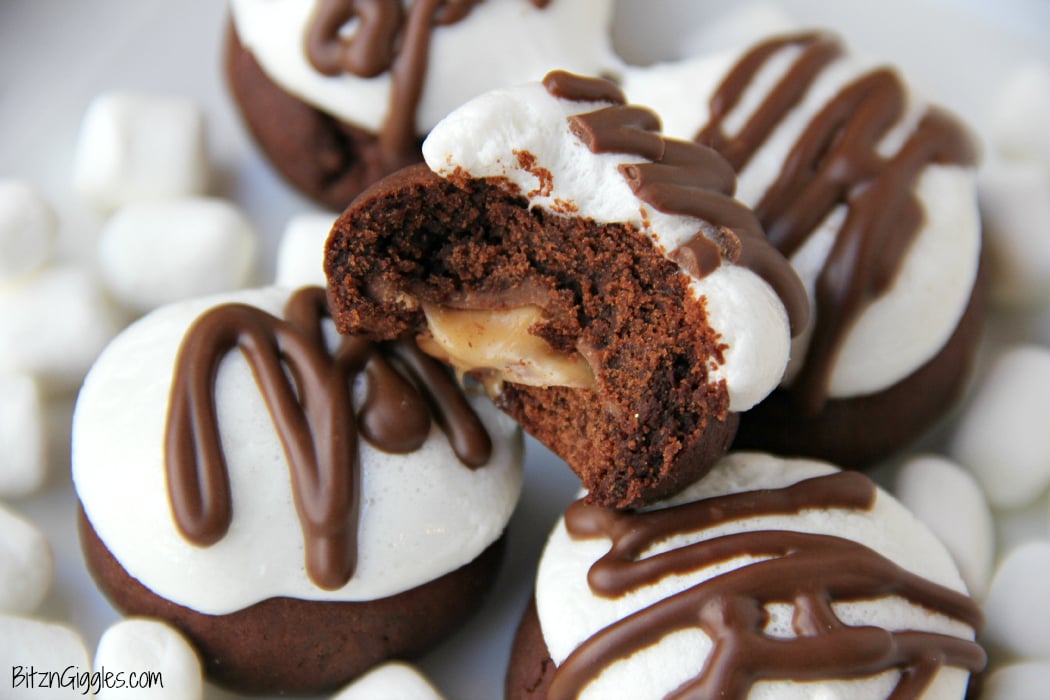 Surprise Inside Marshmallow Brownie Bites
Surprise Inside Marshmallow Brownie Bites – Bite-sized brownie cookies filled with a caramel center and topped with marshmallow and chocolate drizzle!
Ingredients
For the Brownie Bites
1½ cups all-purpose flour
½ cup unsweetened cocoa powder
¼ teaspoon baking soda
¼ teaspoon baking powder
¼ teaspoon salt
½ cup butter, softened
1 cup packed brown sugar
1 egg
1 teaspoon vanilla extract
2 tablespoons sour cream
28 Rolo candies
14 marshmallows, regular size, cut in half
For the Chocolate Drizzle
10 ounces semi-sweet chocolate chips
1/2 cup butter, unsalted
Instructions
For the Brownie Bites
In a medium bowl, stir together flour, cocoa powder, baking soda, baking powder and salt.
In a separate bowl, beat butter and brown sugar with an electric mixer until well-combined.
Beat in egg, vanilla and sour cream until smooth. Stir in flour mixture.
Cover and chill around two hours or until firm enough to shape.
Preheat oven to 350 degrees Fahrenheit.
Shape dough into 1¼-inch balls.
Push a Rolo into the center of each ball.
Bake for 8 minutes and remove from oven; top each with a half of a marshmallow.
Return to oven and bake 1-2 minutes more.
Cool on cookie sheet 2 minutes before removing. Transfer to wire rack to cool completely.
For the Chocolate Drizzle
Combine chocolate with butter in the top of a double boiler, over simmering water.
Stir frequently until melted and smooth. Remove from heat.
Spoon chocolate into a piping bag or just use a spoon and drizzle over the cookies. Allow to cool.
Store in an airtight container for up to 3 days.
Nutrition
Calories: 9636
Sugar: 1078
Sodium: 1233
Fat: 381
Saturated Fat: 264
Unsaturated Fat: 93
Trans Fat: 9
Carbohydrates: 1573
Protein: 55
Cholesterol: 689
(Visited 4,365 times, 1 visits today)