Pumpkin Mug Cake – A quick and easy microwave pumpkin mug cake. Topped with whipped cream and a cinnamon stick, this is the ultimate simple fall dessert!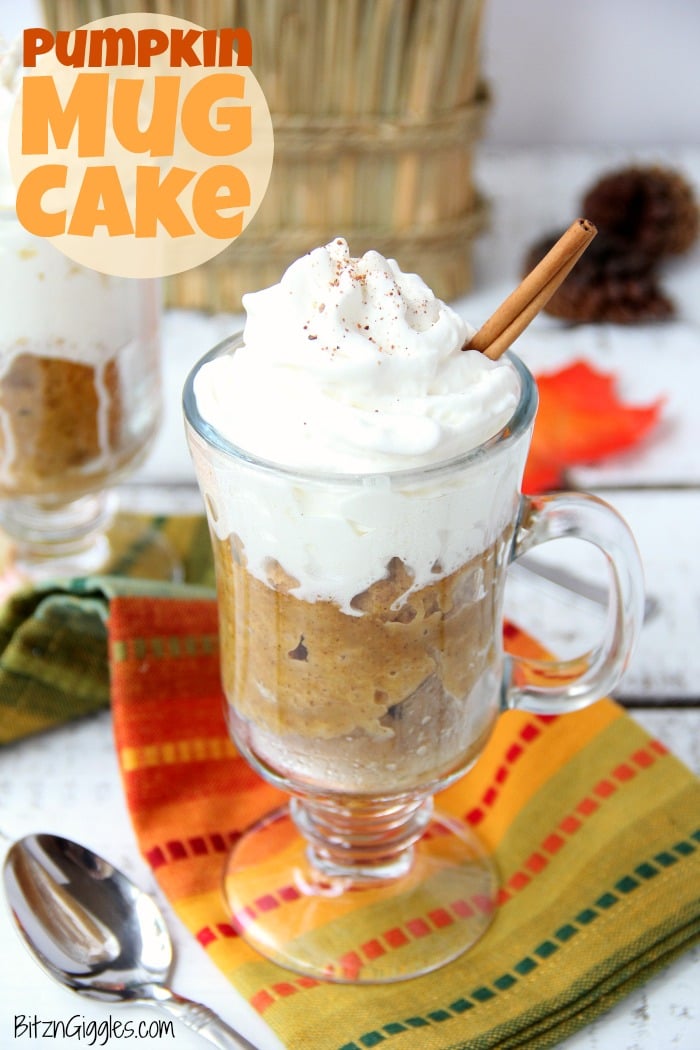 This post may include affiliate links. Please see my disclosure.
We ADORE mug cakes around here. I'm assuming you may too if you're here visiting today. In fact, maybe it was our popular vanilla mug cake that brought you here! Or maybe our chocolate mug cake? HOWEVER, you got here, welcome!
Since we're weeks away from Thanksgiving and completely immersed in everything PUMPKIN, I thought it would be fun to share the recipe for a delicious and simple Pumpkin Mug Cake.
Making the Pumpkin Mug Cake
Start by gathering all of your ingredients for the pumpkin mug cake. If you're wondering what pumpkin pie spice is, you can see it here.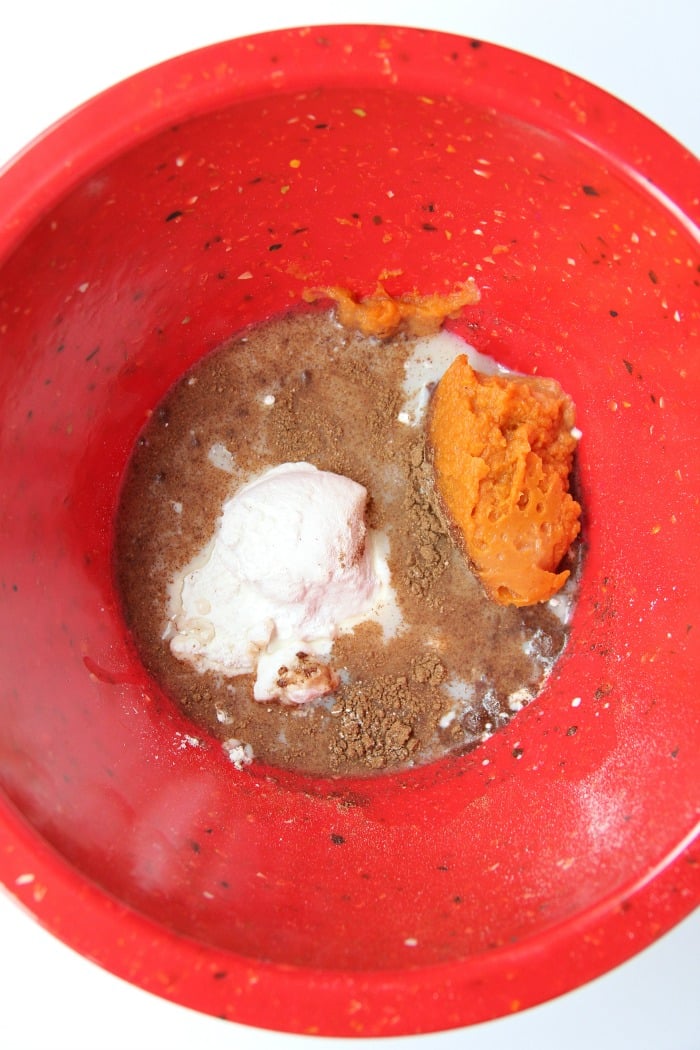 Pumpkin pie spice is a warm, fall spice blend. I like it because I don't always have each individual spice on-hand. It makes baking so much easier! I've never had a problem finding it in any of my local grocery stores.
I like to mix all of the ingredients together in a bowl before pouring the batter into a greased mug. I think the process is a bit less messy (even if you have one more bowl to wash).
If you're using small to standard size mugs (anything 8 ounces or smaller), you'll want to divide the batter into two smaller mugs. If you're using a larger mug (16 ounces or larger) you should be fine scooping the batter into just the one mug.
Keep bake time in mind if you're splitting the batter into two smaller mugs. Because each of the mugs have less batter, you may want to reduce bake time a bit so the cake doesn't dry out.
Use your finger to gently touch the top of the mug cake after baking. If it is firm to the touch, it's done. Remember, firm – not hard.? Sometimes mug cakes take a bit of experimentation in your microwave before you get them perfect.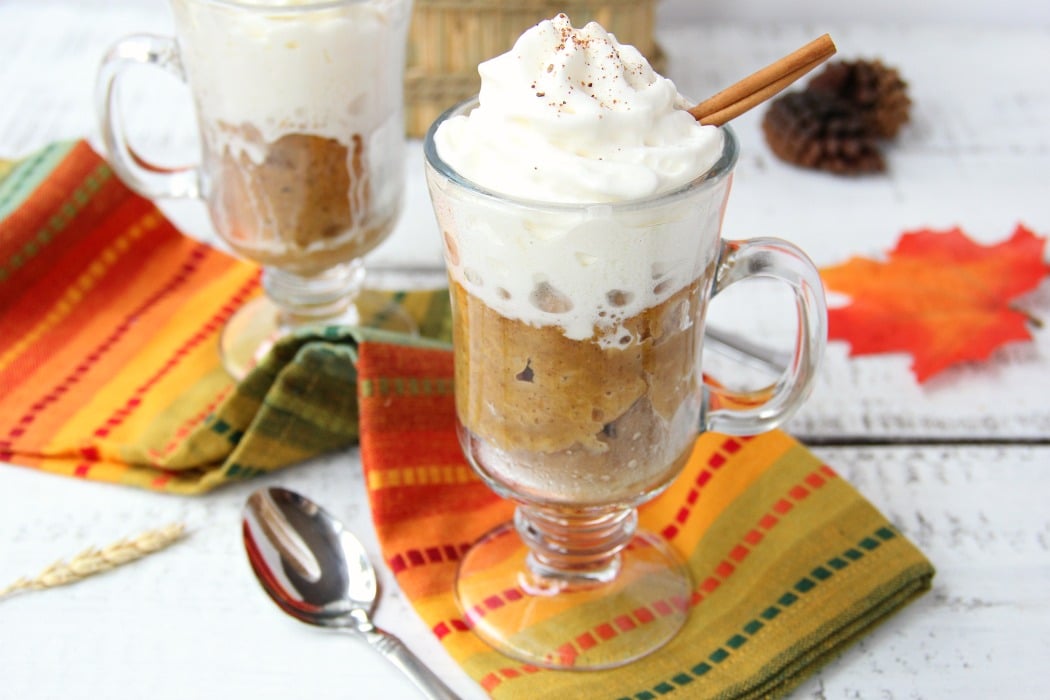 I ended up splitting the recipe into two mugs because I used Irish coffee mugs. I also reduced the bake time to 90 seconds.
Top with some delicious whipped cream, nutmeg and a cinnamon stick and DIG IN!
It's the perfect fall dessert when you're short on time and. . . patience. And for those looking to prepare something sweet in their apartment or college dorm room, it's also a winner!
Enjoy a little sweetness before we're deep into the holiday season. With Thanksgiving just a couple weeks away, we'll be talking pie and sides real soon!
Craving More Quick Mug Cake Recipes?
Hungry For More Pumpkin?
Pumpkin Mug Cake
A quick and easy microwave pumpkin mug cake. Topped with whipped cream and a cinnamon stick, this is the ultimate simple fall dessert!
Ingredients
4 tablespoons flour
1/2 teaspoon baking powder
2 tablespoons pure pumpkin
2 tablespoons sugar
1/2 tablespoon butter, softened
4 tablespoons milk
1/2 teaspoon vanilla extract
1/2 teaspoon pumpkin pie spice
Pinch of salt
Whipped cream for garnish, optional
Sprinkle of nutmeg and cinnamon sticks for garnish, optional
Instructions
Mix all ingredients in a bowl.
Pour into greased mug (at least 16 ounces) or two greased mugs (around 8 ounces).
Microwave on high for 1 minute 30 seconds (90 seconds) – 2 minutes depending on size of mug(s).
Top with whipped cream or ice cream.
Sprinkle with nutmeg and garnish with a cinnamon stick.
Notes
Lay a piece of paper toweling under the mug in the microwave as a precaution to catch any over-spill. If the cake bubbles up over the mug, the mug was a bit too small for the entire recipe. Split the recipe into two smaller mugs or use a larger "soup" mug.
(Visited 4,659 times, 1 visits today)