Garlic Herb Butter – Make your own flavorful butter with only four ingredients! It's the perfect topping for bread, steak and even your favorite pasta!
This post may include affiliate links. Please see my disclosure.
Have you been taking full advantage of your grill? We love to grill out in the summer – especially when you're talking steaks and salmon.
The recipe I'm sharing today for this four-ingredient garlic herb butter is so versatile and can be used on everything from steak and vegetables to pasta and potatoes.
Just a spoonful adds wonderful flavor to everything it touches. You're going to always want a log of this butter in your fridge at all times!
Let's get started!
HOW TO MAKE GARLIC HERB BUTTER:
To make your own compound butter, you'll only need four ingredients:
Salted butter
Rosemary
Thyme
Garlic
Begin by combining all of the ingredients in a small mixing bowl.
Spoon the mixture onto wax or parchment paper and roll into a small log. Close the ends of the paper by twisting and refrigerate for at least two hours.
Once the butter is chilled it can be sliced to make gorgeous rounds of butter.
WHAT CAN YOU USE THIS BUTTER ON?
This garlic herb butter just brings everything up a notch! You can use it on:
Seafood (like grilled fish and shrimp scampi!)
Bread
Pasta
Fresh vegetables
Potatoes
And more!
HOW LONG WILL COMPOUND BUTTER KEEP IN THE FRIDGE?
You can keep the butter in the fridge for 1-2 weeks and it will remain fresh.
While it's common to store plain butter at room temperature, you'll want to make sure this butter is refrigerated to keep the herbs fresh.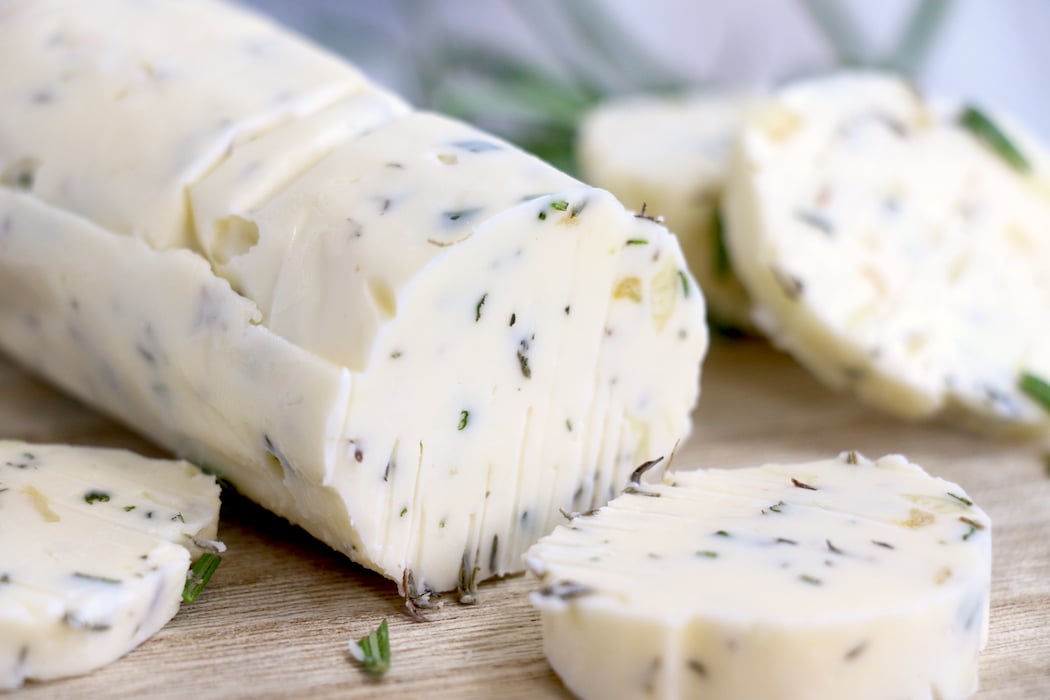 CAN I FREEZE HERB BUTTER?
Yes! After you have the butter wrapped in the wax or parchment paper, wrap it again in foil to protect it from picking up flavors of other foods in your freezer.
Once frozen, try and use the butter within 3-4 months.
LOOKING FOR MORE DELICIOUS RECIPES?
Garlic Herb Butter
Ingredients
1/2 cup salted butter, softened
1/2 tablespoon rosemary, finely chopped
1/2 tablespoon thyme, finely chopped
3 garlic cloves, minced
Instructions
Combine all ingredients in a small mixing bowl.
Spoon mixture onto wax or parchment paper.
Roll into a small log and close the ends by twisting.
Refrigerate 2 hours before using.
(Visited 2,008 times, 1 visits today)