Seven Layer Salad – A colorful, classic salad with seven layers of lettuce, veggies, cheese, eggs and bacon combined with a sweet dressing. Perfect for large gatherings and potlucks!
This post may include affiliate links. Please see my disclosure.
Summertime affords lots of opportunity for picnics and potlucks. It's so much fun to get a small group of friends or family together and ask everyone to bring their favorite dish to accompany the main "meat" being served.
Today, I'm sharing our family's classic recipe for Seven Layer Salad. It's been handed down for generations and is still requested time and time again.
It's a colorful and satisfying salad with seven layers of lettuce, veggies, cheese, eggs and bacon combined with a sweet dressing. Your friends and family are going to love it!
HOW TO MAKE SEVEN LAYER SALAD
To make this gorgeous seven layer salad, you'll need:
Lettuce
Tomatoes
Hardboiled eggs
Peas
Mayonnaise
Sour cream
Sugar
Shredded cheddar cheese
Bacon
Green onions
WHAT IS SEVEN LAYER SALAD?
Seven Layer Salad is a traditional American dish (some say that it originated in the South) that is often served in at trifle bowl so you can see each colorful layer.
People tend to vary some of the ingredient layers according to their tastes, and sometimes the dressing is moved to the middle of the dish versus slathering it over the top, but even with the different variations, it remains a very popular dish to serve at potlucks and parties.
WHAT IS IN A SEVEN LAYER SALAD?
The ingredients tend to vary, but the recipe I'm sharing today includes the following layers (including the dressing which makes an 8th layer):
Lettuce
Tomatoes
Hard-boiled eggs
Peas
Dressing
Cheddar cheese
Bacon
Green onions
Lettuce.
Traditionally, iceberg lettuce is used in seven layer salad. It has a very neutral taste and refreshing crunch. You could also combine it with some baby spinach, Romaine or spring lettuce mix.
Tomatoes.
In this recipe we use diced Roma tomatoes. You could also use halved grape tomatoes or tomatoes fresh from the garden.
Hard-Boiled Eggs.
I love hard-boiled eggs in salads. For some, it may seem like another agonizing step, but I promise, it's so easy. If you're looking for some instruction on how best to hard boil eggs, there's guidance on three different methods in this post.
Peas.
You'll want to use frozen peas rather than canned peas in your salad. Frozen peas are firmer and a brighter green than canned peas. All you need to do is thaw the peas and add them to the salad.
Dressing.
This dressing is SO simple. It's a combination of mayo, sour cream and sugar. The dressing actually "seals" in the freshness of the lettuce, tomatoes, eggs and peas.
Cheddar cheese.
You can used bagged cheddar cheese or shred fresh cheddar right off the block. The latter will, of course, taste better, but when mixed into all of the other ingredients, your family and guests probably won't know the difference.😉
Bacon.
Who could forget the bacon? Not me, that's for sure. Fresh bacon tastes the best and I often use my air fryer to crisp it up. If you're short on time, you could also use these store-bought bacon pieces, as well.
Green onions.
You can always substitute a yellow or red onion for green onions in the salad. I just like the look of the sliced green onions on top of the salad. It serves as a natural garnish!
WHAT OTHER INGREDIENTS COULD BE USED IN THE SALAD?
Feel free to play around with the layers of ingredients in the salad. Some of the other ingredients you might want to experiment with are:
Broccoli
Peppers (red bell, yellow or green)
Cauliflower
Cucumbers
Celery
Sugar snap peas
And more!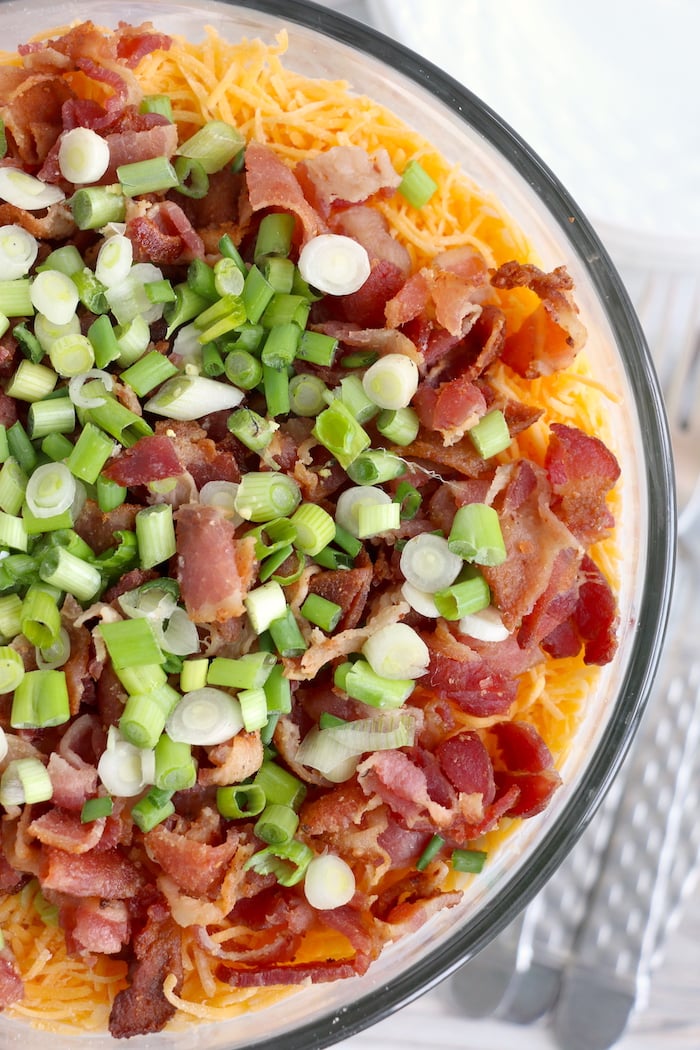 CAN YOU MAKE SEVEN LAYER SALAD AHEAD OF TIME?
Yes! And I recommend you do. It's an ideal make-ahead salad. I usually make it the day before I plan to serve it but I do know people who have made it two days ahead and it's still been fresh.
Cover the bowl with plastic wrap and refrigerate until serving.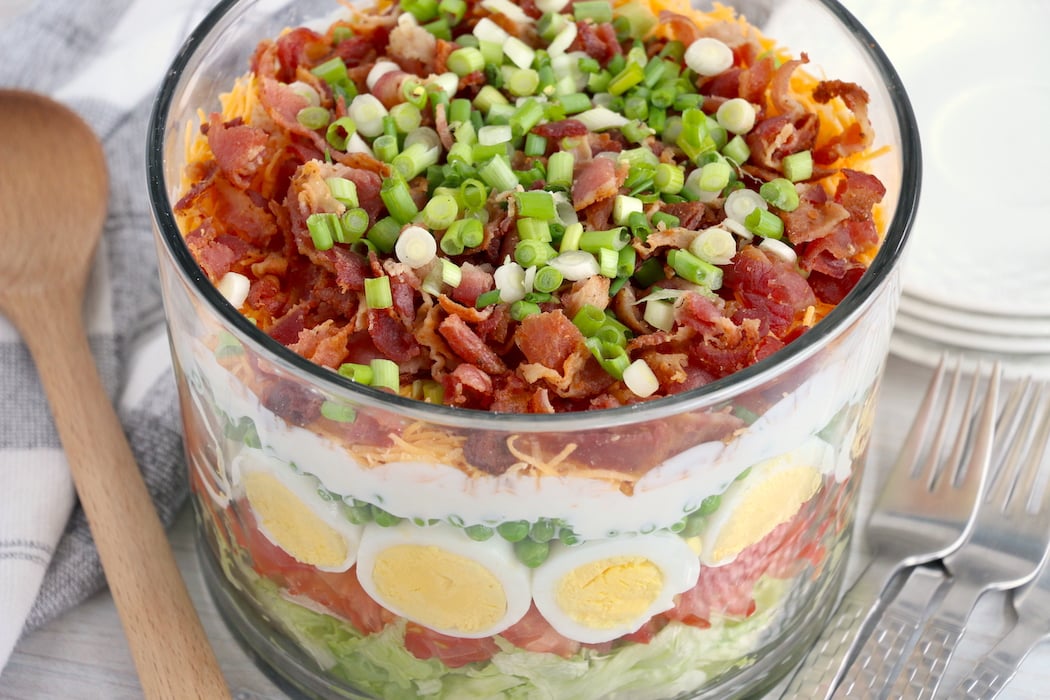 WHAT SHOULD I DO WITH LEFTOVERS?
As soon as you "disrupt" the layers in the salad, the lettuce can begin to wilt and the whole dish becomes a bit unappetizing. The salad is best when eaten the same day.
Add a little extra lettuce the second time around to give it a boost of freshness.
HOW SHOULD I SERVE SEVEN LAYER SALAD?
There are different serve ware options for this salad. The most important thing to keep in mind is you want to be able to see all of the gorgeous layers!
Here are some nice options:

SHOULD I MIX THE SALAD BEFORE SERVING?
No! Don't do it. Find a long-handled spoon and just let people dig in deep. Keeping the layers together will prevent it from becoming soggy too quickly.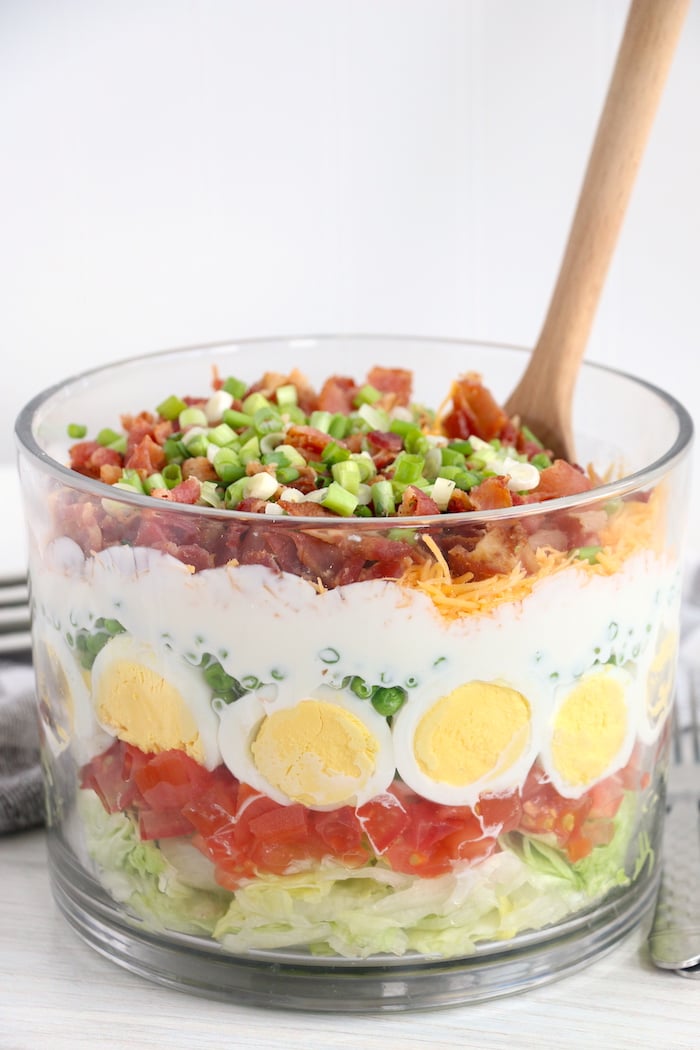 READY FOR MORE TASTY SUMMER SALADS?
Seven Layer Salad
A colorful, classic salad with seven layers of lettuce, veggies, cheese, eggs and bacon combined with a sweet dressing. Perfect for large gatherings and potlucks!
Ingredients
1/2 head lettuce, torn in pieces
2 large tomatoes, diced
4 boiled eggs, sliced
2 cups frozen peas, thawed
1 cup mayonnaise
1 cup sour cream
2 tablespoons sugar
2 cups shredded cheddar cheese
12 ounces bacon, cooked and chopped
4 green onions, chopped
Instructions
In a trifle bowl, layer the following ingredients: lettuce, tomatoes, eggs, and peas.
In a small bowl, combine mayonnaise, sour cream, and sugar.
Pour dressing over peas.
Finish by layering cheese, bacon, and green onions.
Chill and serve.
(Visited 6,661 times, 1 visits today)