Air Fryer Turkey Breast – Garlic and fresh herb-seasoned turkey in the air fryer – moist and juicy on the inside with a crispy, golden brown skin on the outside.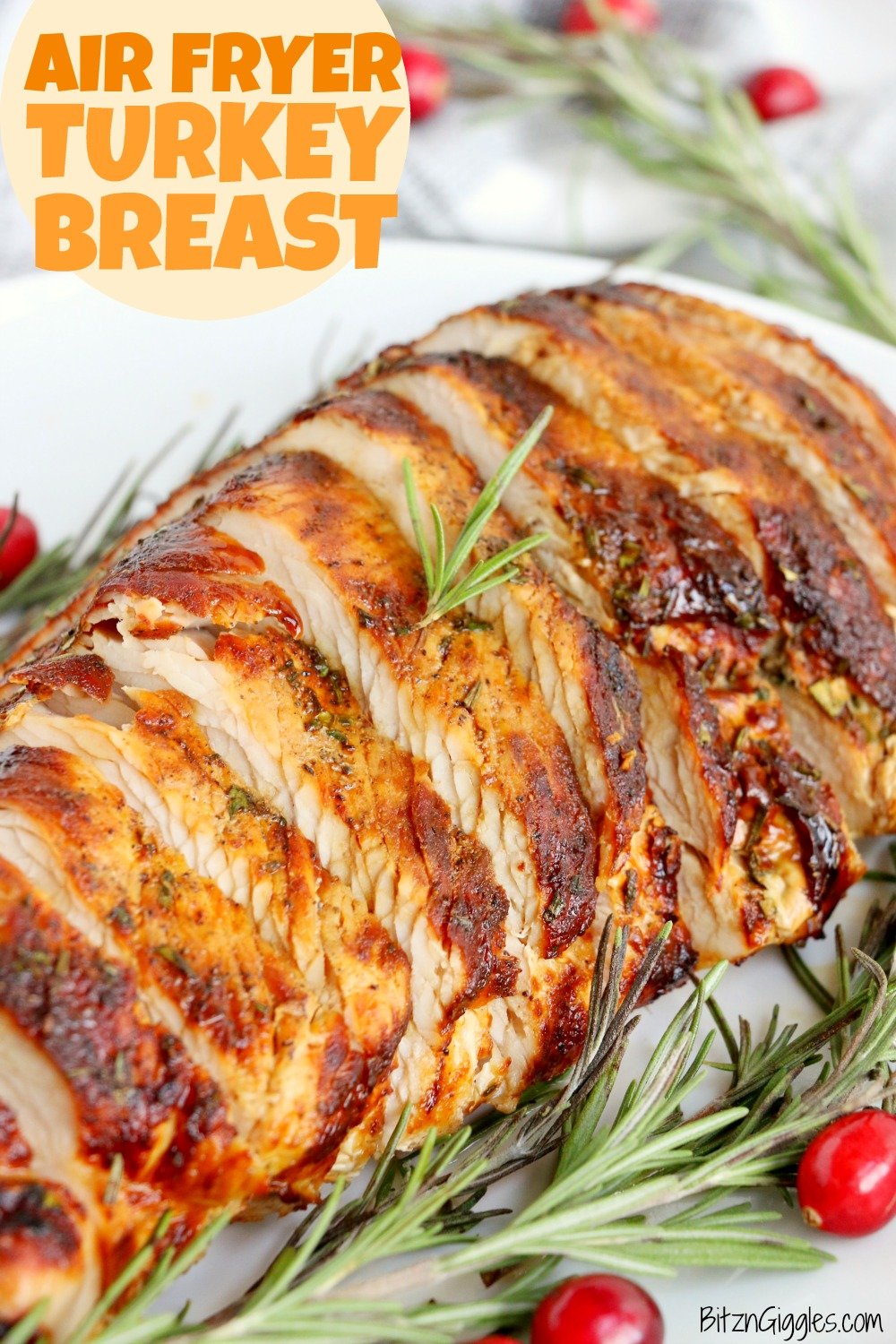 This post may include affiliate links. Please see my disclosure.
Thanksgiving is NEXT week, friends! Are you ready? If you're making a turkey in the oven you'd better be! Did you know that to thaw a frozen whole turkey in the fridge, it takes 24 hours for every 5 pounds of meat?!
The average Thanksgiving turkey is about 15 pounds, so that's a good three days of thawing!
Well, today, we're making turkey in 40 minutes! I know, I know. How is that possible? Well, you're right – there IS a catch. It's a turkey breast and it's only about three pounds, but if you're feeding a smaller group, or if there's only two of you, air frying is the way to go!
It's quick, juicy, flavorful and delicious. That's a lot to be thankful for!?
HOW TO MAKE AIR FRYER TURKEY BREAST
To make turkey breast in the air fryer, you'll need:
Boneless turkey breast
Fresh rosemary
Fresh parsley
Garlic cloves
Salt and pepper
I know it's always helpful to see exact ingredients. The boneless turkey breast I bought was about three pounds and from Jennie-O.
Prepare the seasonings, combine them in a bowl and get ready to put them on the star of the show.?
Gently use your fingers to "press" the seasonings onto the turkey breast. What? You don't need any olive oil? No, you don't. The turkey breast should be moist enough to hang onto the seasoning.
Place the seasoned turkey breast into the greased air fryer basket.
Air fry at 350º Fahrenheit for about 40 minutes or until the turkey breast reaches an internal temperature of 165º Fahrenheit.
This is where a digital thermometer comes in handy!
Some of the seasoning on the outside of the turkey may brown a bit more than the actual turkey. That's okay! The inside of the turkey is moist and juicy!
Once sliced, you can see just how beautifully done the meat really is! Who else wants to dig right into this turkey? It sure beats waiting days for a whole, frozen bird to thaw, don't you think?
HOW LARGE OF TURKEY BREAST CAN FIT IN THE AIR FRYER?
Well, that depends on the size of your air fryer. My air fryer is 5.3 quart and I can fit a 4-5 pound turkey breast just fine.
CAN I PUT A FROZEN TURKEY BREAST INTO THE AIR FRYER?

I wouldn't, but that's just me. Is it possible to cook a turkey from frozen in an air fryer? Yes. Will it be as juicy as if it were thawed? No. No, it will not. It will more towards the dry side.
If you do purchase a turkey breast that is already frozen, you can just thaw it in the fridge overnight before you air fry it. I promise you it won't take 3-4 days.?
HOW SHOULD I STORE LEFTOVER TURKEY BREAST?
The turkey should keep in the fridge for 3-4 days. It's great to use for sandwiches, salads or even casseroles! If you opt to freeze your leftovers, place the turkey in a freezer bag and store in the freezer for up to 3 months.
IN SEARCH OF MORE AIR FRYER RECIPES?
BECOME A MEMBER OF OUR AIR FRYER FACEBOOK GROUP!
To become part of our Air Fryer Easy Recipes community on Facebook, you can request to join here.
Air Fryer Turkey Breast
Garlic and fresh herb-seasoned turkey in the air fryer – moist and juicy on the inside with a crispy, golden brown skin on the outside.
Ingredients
3 pound boneless turkey breast, thawed
1 tablespoon fresh rosemary, chopped
1 tablespoon fresh parsley, chopped
2 garlic cloves, chopped
1 teaspoon salt
1 teaspoon pepper
Instructions
Combine all seasonings and press them onto the turkey breast.
Place turkey breast into a greased air fryer basket.
Air fry at 350ºF for 40 minutes or until internal temperature reaches 165ºF.
Allow turkey to rest for 10 minutes before carving and serving.
(Visited 13,211 times, 1 visits today)