Air Fryer Pot Roast – Fork-tender beef roast, marinated, then air fried to perfection. Cook time is only 30 minutes!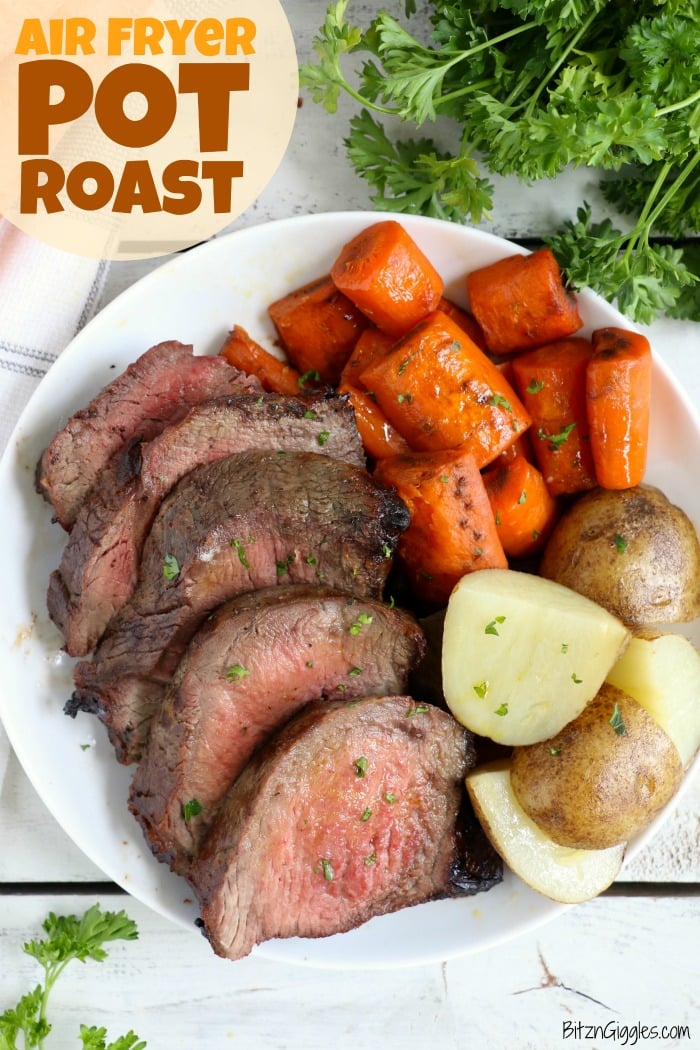 This post may include affiliate links. Please see my disclosure.
It's crazy how quickly the temperatures are changing here in Wisconsin. Summer was here and then all of a sudden. . .it was gone. Why am I shocked by this? I shouldn't be.
It's basically the story of our lives here in the Midwest. All of the seasons seem to be fleeting except our all time favorite season of all. . .winter.? If you couldn't tell, there was a TON of sarcasm in that last sentence.
It seems like it's a bit too early to be sharing a pot roast recipe, but after seeing all of the casserole, Halloween and pumpkin recipes surfacing already, I was pretty sure all would be okay.?
I ALWAYS used to use my crock pot to make this pot roast recipe. I'd put the roast in the crock pot early in the morning and set it on low for 8-10 hours while I was at work. The pot roast I'm sharing today is marinated and then made in the air fryer in 30 MINUTES!!
Ready to get dinner on the table in record time?
HOW TO MAKE AIR FRYER POT ROAST
To a make beef roast in the air fryer, you'll obviously need an air fryer and the following:
Orange juice
Soy sauce
Brown sugar
Worcestershire sauce
Beef chuck roast
Salt and pepper
You'll begin by making the marinade first. The marinade is super simple but very flavorful. All you need to do is combine the first four ingredients from the list above.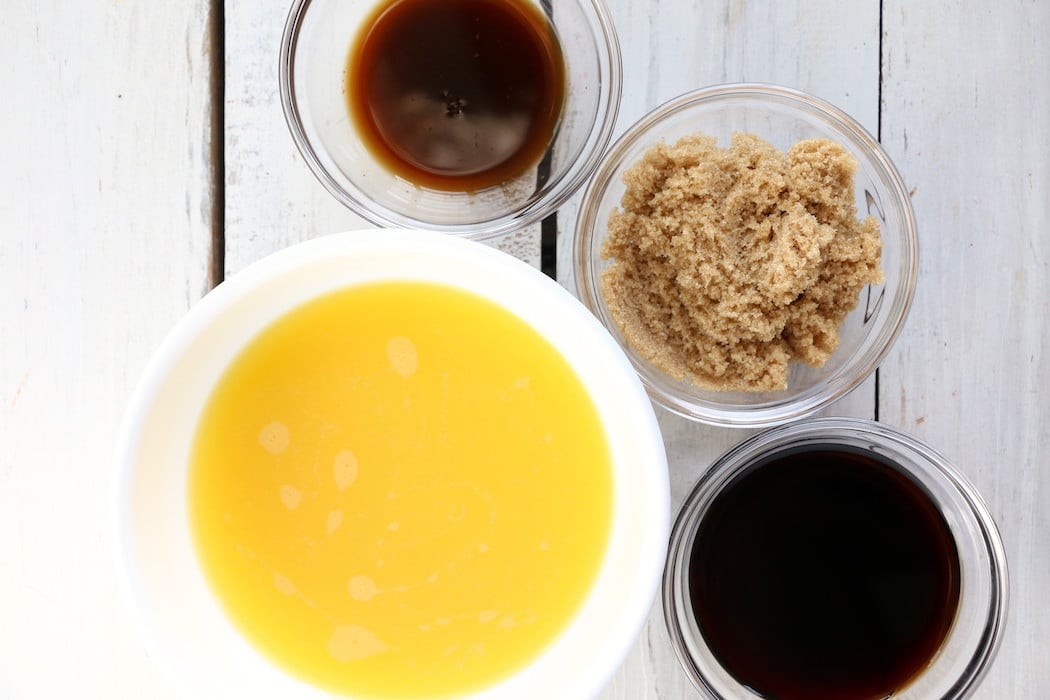 HOW DO YOU MARINADE A BEEF ROAST?
To marinade a roast, you can either pour the marinade over the meat in a baking dish/container or you can also place the meat in a resealable plastic gallon bag, pour the marinade in and seal it up tight before placing into the fridge.
At home, I often use a baking dish, but if I'm marinating meat to take up north to our lake cabin, I'll use a gallon bag because they're so much easier to transport and travel with.
If you're wondering how long you should marinade the roast, in my opinion, if you're working with any kind of beef, you should try and marinade it overnight. You need to give it ample time to soak up all that flavor.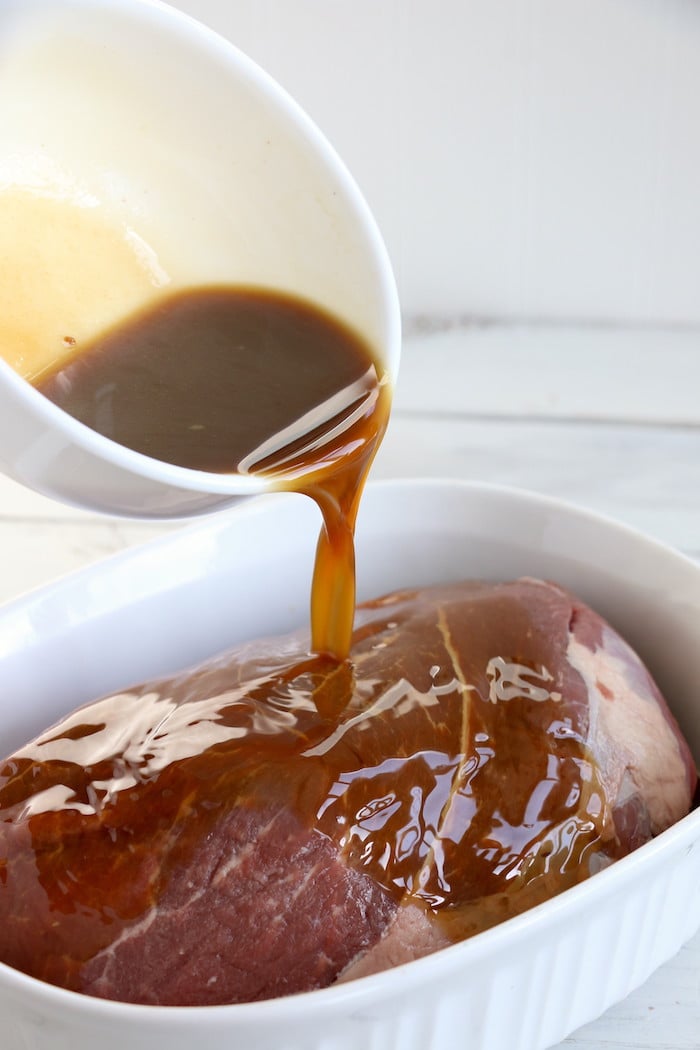 When the meat is finished marinating, salt and pepper the roast and place it in the air fryer basket.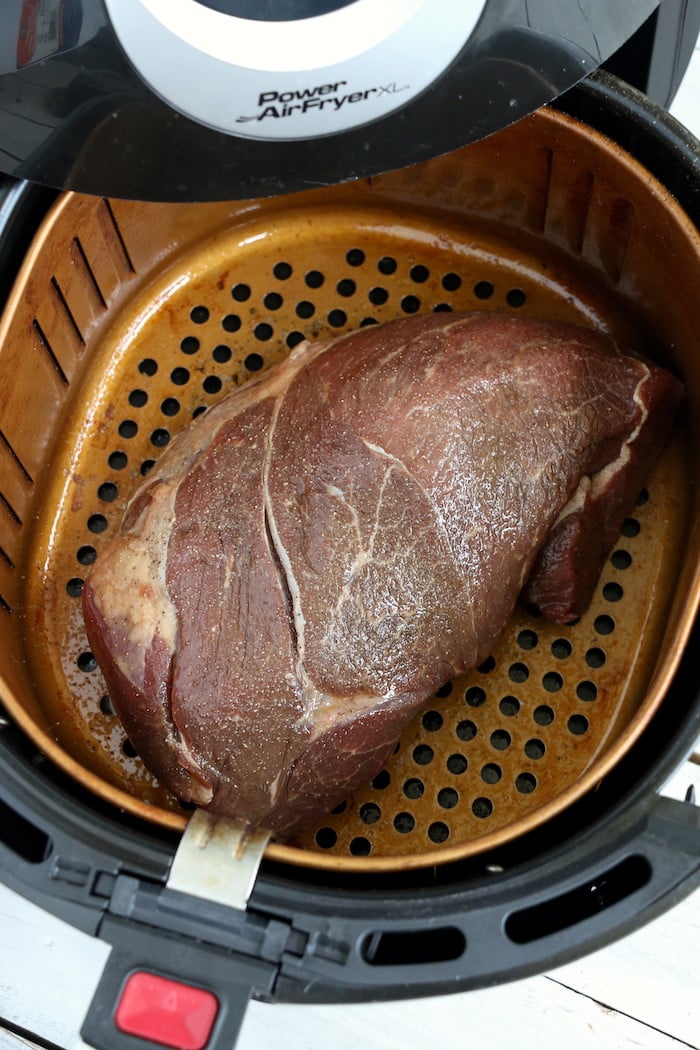 Now, let the air fryer do its magic. Set the air fryer to 400º Fahrenheit and cook the roast for 30 minutes, flipping the roast halfway through cook time.
HOW DO YOU KNOW WHEN A ROAST IS DONE?
The USDA suggests roasts be cooked to 145º Fahrenheit (that's medium well) and allowed to rest for 3 minutes. If you're looking for a printable meat and seafood temperature chart, you can grab one here!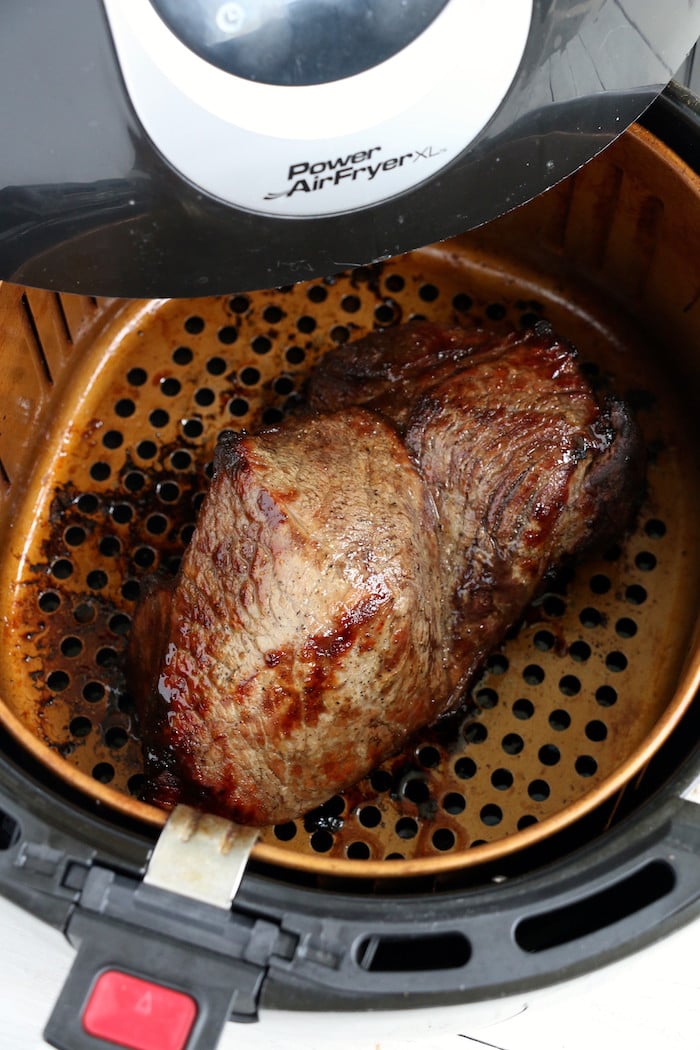 This roast is ready to go!
When I'm making a pot roast in the air fryer, I normally prepare carrots and potatoes either in the oven or in my Ninja Foodi.
This is probably one of the only drawbacks I run into when using my air fryer. In a slow cooker or electric pressure cooker like the Ninja Foodi, you can throw the potatoes and carrots right in with the roast.
Cooking multiple things in an air fryer, isn't always as easy, unfortunately.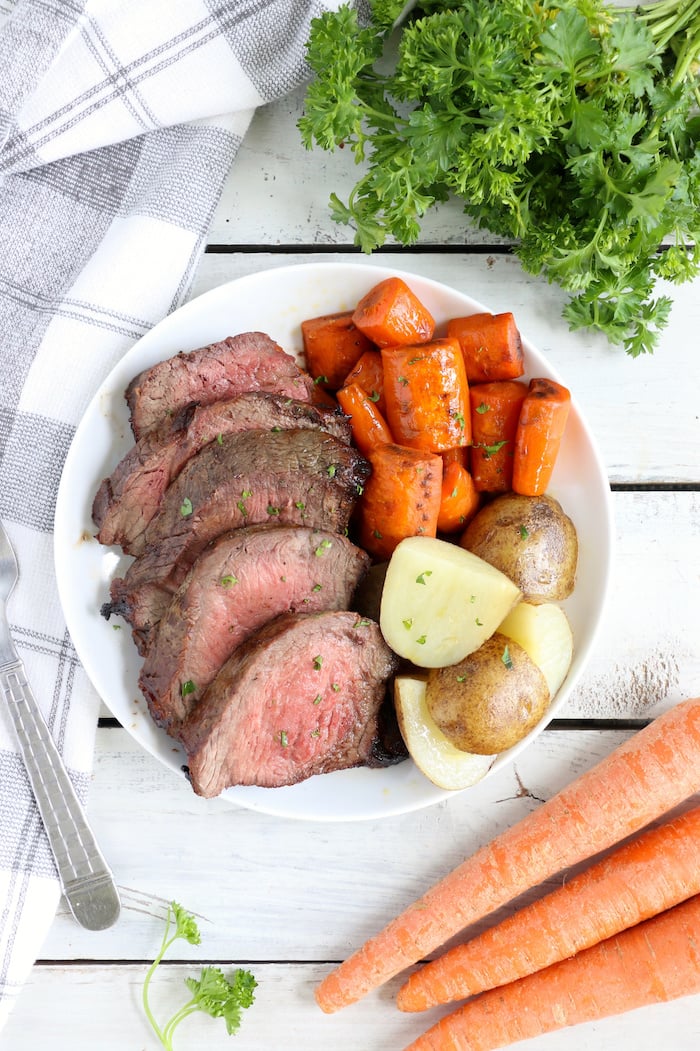 If you're looking for a good recipe for roasted carrots, try this one. If you're a mashed potato fan, then you need to check out this recipe.
These are both wonderful sides to serve and they would go well with your main course.
But sides aside, just look at that meat. It's perfectly prepared.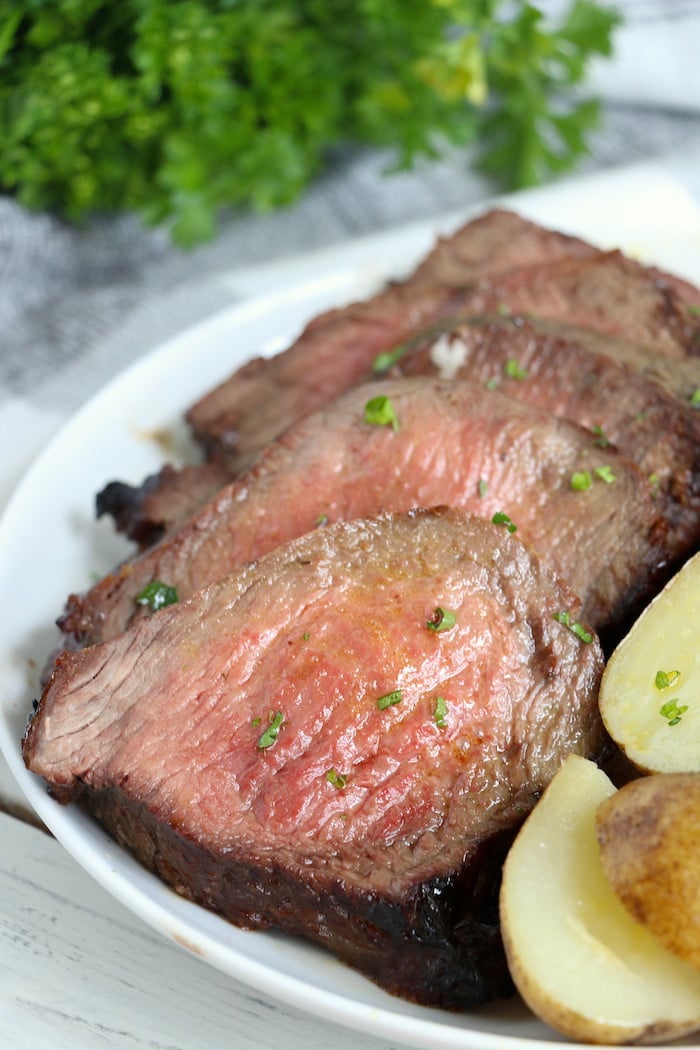 Remember that the ends of the roast will most likely be a bit more done than the middle of the roast.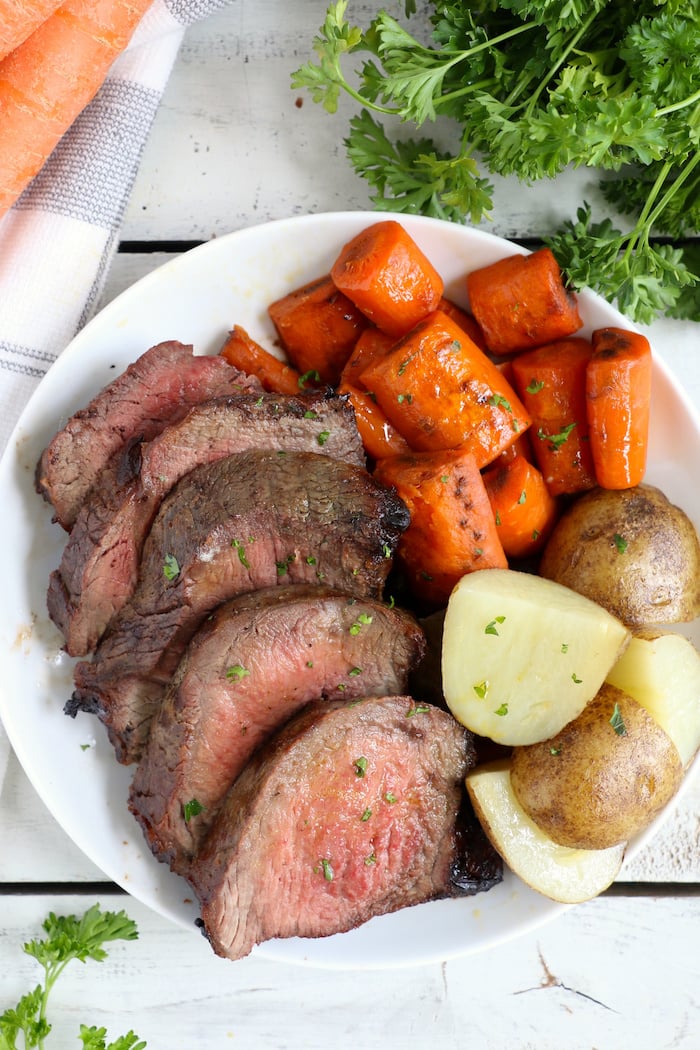 Always take your temperature from the middle. If you're looking for a good digital thermometer, this one is a favorite of mine.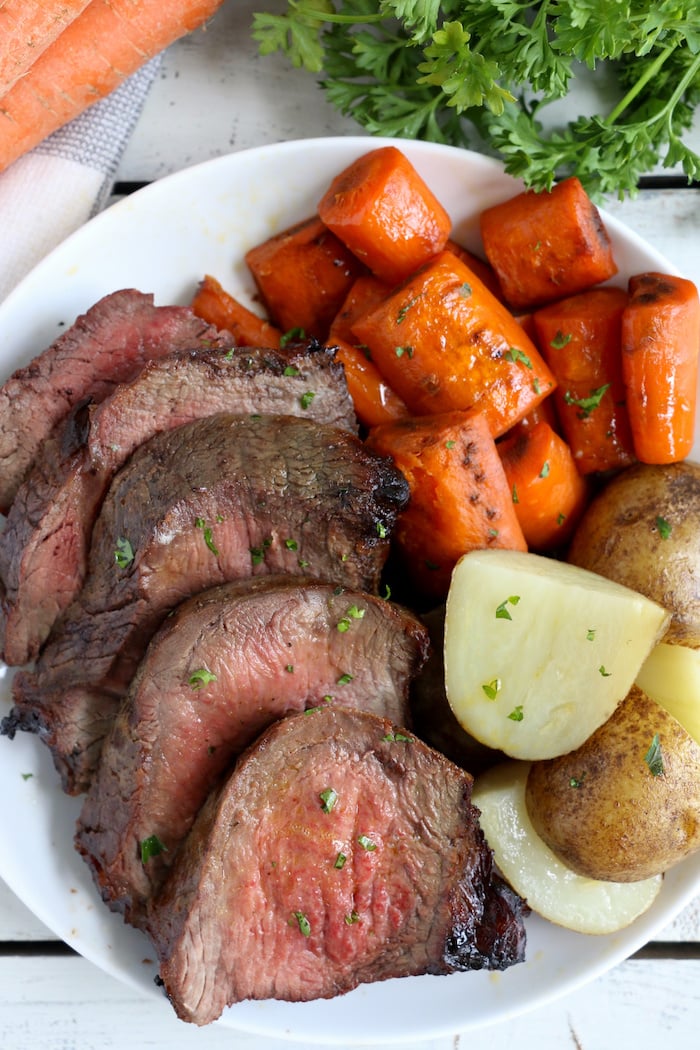 Roasts are one of my favorite comfort foods. Once I made my first roast in my air fryer, I was sold!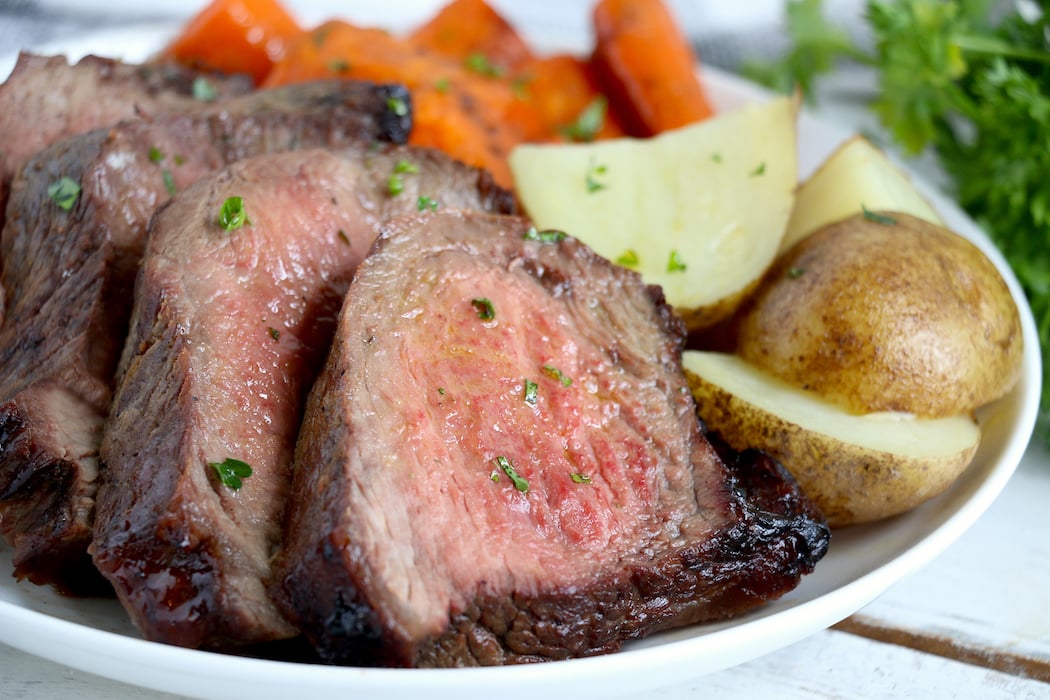 DO I NEED TO BROWN THE ROAST BEFORE AIR FRYING?
Often times when you make a roast in a crock pot you'll want to brown the outsides of the meat in some hot oil or butter. It just makes the meat look a bit more appetizing when you lift it out of the slow cooker.
Roasts require no browning, however, when you prepare them in an air fryer. After 30 minutes, the meat is tender on the inside and browned and a little crispy on the outside.
A slow cooker would never be able to produce the browning that you get with an air fryer.
If you're new to air frying, this recipe would be a great one to try. As with any air fryer recipe, make sure you check on your food while cooking. Some air fryers cook hotter than others.
At around 25 minutes, go ahead and check the temperature of the meat. Keep an eye on it as it cooks.
After I air fry something for the first time (and it turns out well) I'll make sure to record the instructions so preparation is even easier the next time.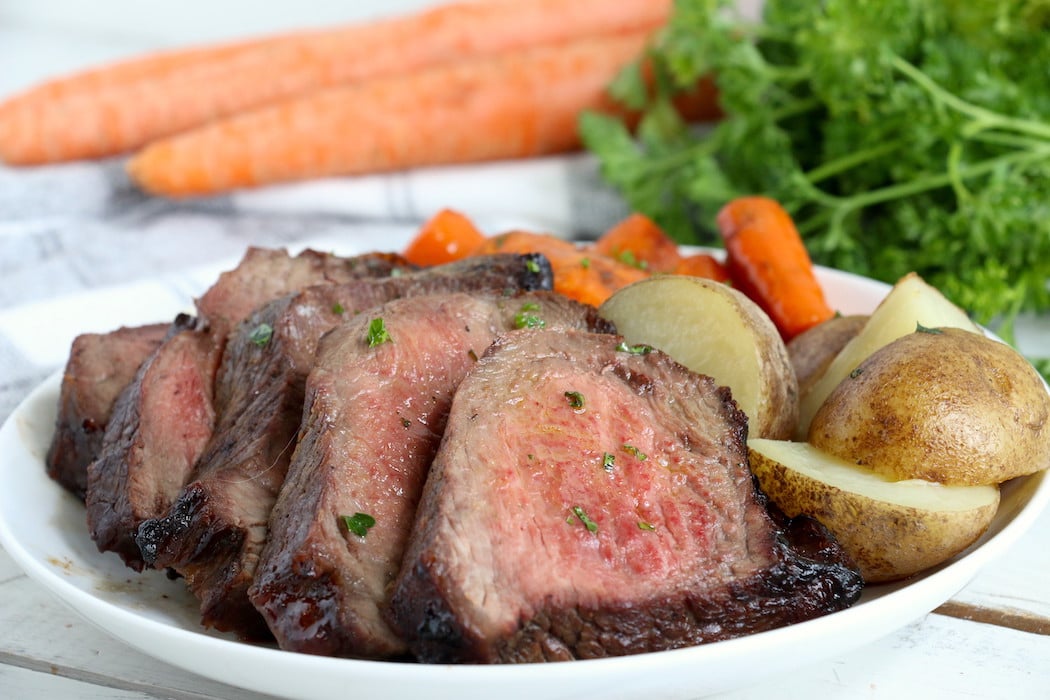 I hope you enjoy the recipe. Happy fall y'all.
IN SEARCH OF MORE AIR FRYER RECIPES?
BECOME A MEMBER OF OUR AIR FRYER FACEBOOK GROUP!
To become part of our Air Fryer Easy Recipes community on Facebook, you can request to join here.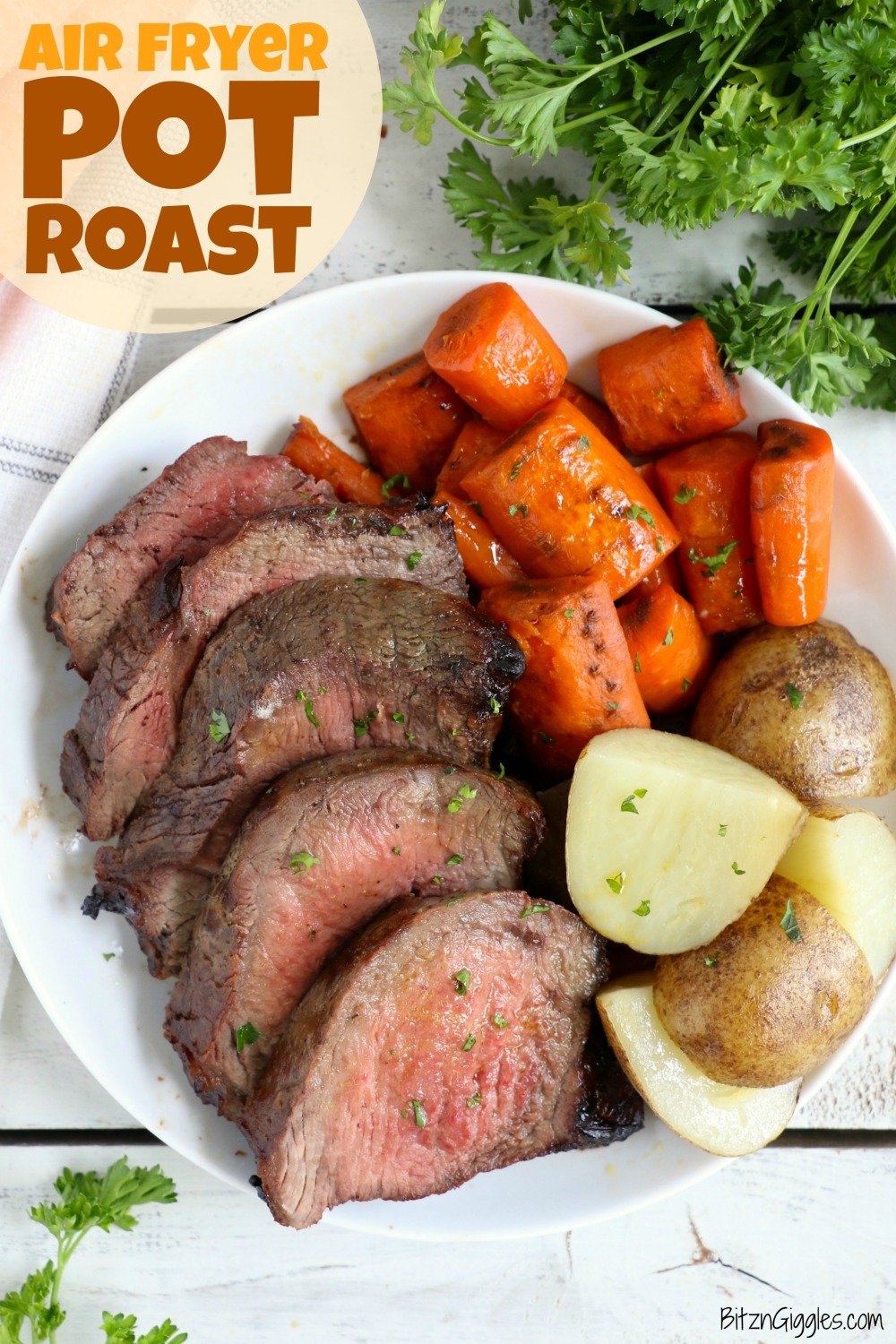 Air Fryer Pot Roast
Fork-tender beef roast, marinated, then air fried to perfection. Cook time is only 30 minutes!
Ingredients
1/2 cup orange juice
3 Tablespoons soy sauce
3 Tablespoons brown sugar
1 teaspoon Worcestershire sauce
3–4 pound beef chuck roast, thawed
1 teaspoon salt
1/2 tsp pepper
Instructions
Combine orange juice, soy sauce, brown sugar, and Worcestershire sauce.
Stir until sugar is dissolved.
Pour over roast and marinade for 8-24 hours.
Place roast in air fryer basket.
Sprinkle salt and pepper over top.
Air fry for 30 minutes at 400º Fahrenheit, flipping roast halfway through.
Allow to rest for at least three minutes.
Slice into thick cuts and serve.
(Visited 239,585 times, 1 visits today)