Pumpkin Oatmeal Dog Treats – Pumpkin, oatmeal and cozy spices make this the perfect fall treat for your dog!


A couple years ago I made these pumpkin and peanut butter dog treats. I loved that photo shoot so much I wanted to re-create it again with a bit of a different twist on the recipe. So, today, I'm sharing a recipe for some Homemade Pumpkin Oatmeal Dog Treats.
Do you know what else is special about today? It's our golden retriever's birthday! Belle is three years old!
Happy Birthday my sweet girl! She brings such joy to our lives and always keeps us laughing at her hilarious antics. She loves to lay on the floor with her legs straight up in the air. She's so goofy in almost everything she does. . .and that's why she fits so perfectly into this crazy family.
So, Belle, seems to love pumpkin anything. These pumpkin pops are one of her all-time favorite treats, but I've gotta' say. . .these special treats I'm sharing today seemed to disappear just as quickly.
Making Pumpkin Oatmeal Dog Treats
Ingredients
1/2 cup canned pumpkin
2 tablespoons vegetable oil
1/2 cup water
1/4 teaspoon nutmeg*
1/2 teaspoon ground cinnamon*
1/2 cup oatmeal
2 cups whole wheat flour
Instructions
Preheat oven to 375 degrees Fahrenheit.
Combine pumpkin, oil, water, nutmeg and cinnamon in a bowl.
Stir in oatmeal and flour to form a dough.
Roll dough to about 1/4″ thickness and cut with your choice cookie cutter.
Bake on ungreased cookie sheet for 40 minutes.
*When given in large amounts, nutmeg and cinnamon can be toxic to dogs. There are only tiny amounts used in this recipe to give the treats a little more flavor. If you have a smaller dog or just are concerned about adding them to the recipe, omit them. Your dog will still love the treats!
The only thing I needed to run to the store for was the pumpkin. I had everything else I needed in the pantry. And let me tell you something about canned pumpkin. You better get it early, folks. I don't know how many times I've waited until early November to purchase it and it's completely sold out! Does that happen where you live, too?
Well, I've gotten smarter over the years, so while I was at the store, I picked up a few cans to get me through the next few weeks of recipes. I've already had requests to make this cheesecake pie again, so of course I'll need to comply. 😉
Okay, so back to these delicious treats for my fur baby.
With the bone-shaped cookie cutter I was using, I got about 18 treats. Depending on how large of cookie cutter you use, you could probably get around 24 treats out of the dough.
Let me tell you what. . .do you see that pink dog tongue in the background? She was just licking her lips waiting for this sweet treat.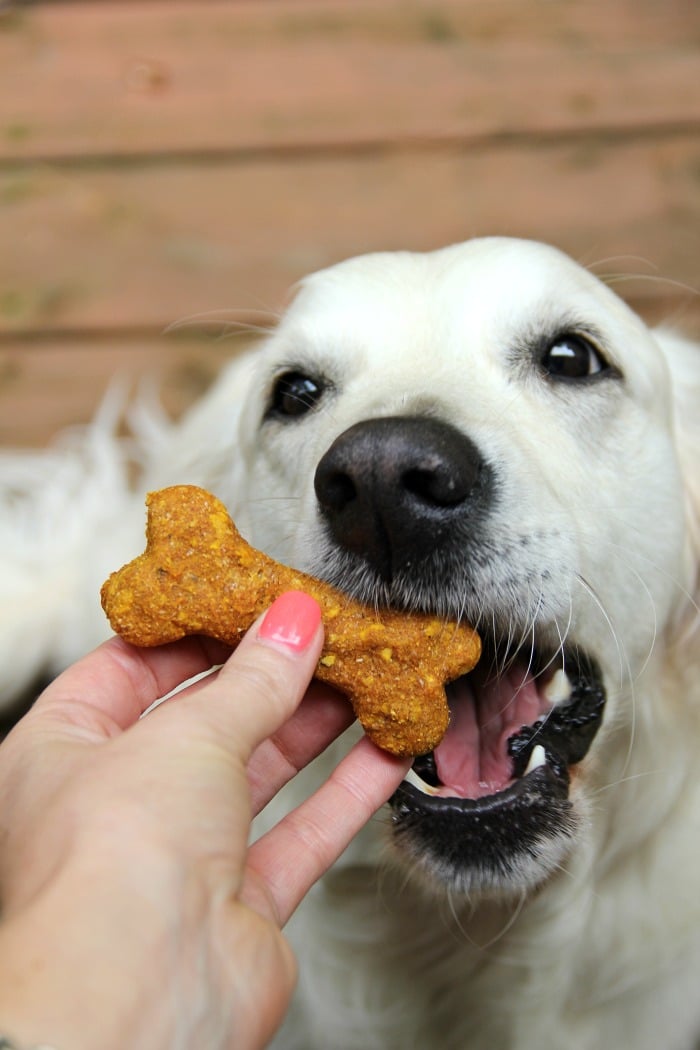 When her impatience got the best of her, she jumped up and grabbed the treat right out of my hand. Little does she know I set a couple aside for her very special day. Happy Birthday my sweet Belle-a-Boo. You truly have a special place in all our hearts.

(Visited 34,965 times, 1 visits today)