Tuna Pasta Salad – A classic, creamy potluck salad featuring hard-boiled eggs, peas, celery seed, onion and sweet pickle relish. It's always a family favorite!
This post may include affiliate links. Please see my disclosure.
Today I'm sharing a classic recipe that many of you might remember your grandmother or mom making when you were younger. It's a nostalgic salad that takes me back to some of my favorite family potlucks and church gatherings.
I feel like it shows up often at picnics because it makes A LOT. It's one of my favorite side dishes and I've become quite the connoisseur of potluck salads over the years. Tuna pasta salad is a little like chili in the sense that there are many different versions out there.
The version I'm sharing today is pretty classic – no crazy additions or substitutions – just the basics like hard-boiled eggs, peas, celery seed, onions and sweet pickle relish.
When I want a little extra crunch, I'll throw a handful of chopped celery in the salad as well. I hope you enjoy this salad as much as we do. Let's get to making it!
HOW TO MAKE TUNA PASTA SALAD
To make this sweet and delicious side dish you'll need:
Elbow macaroni
Celery seed
Salt & pepper
Canned tuna in water
Yellow onion
Frozen peas
Hard boiled eggs
When you have your macaroni noodles boiled, strained, rinsed and cooled, grab a mixing bowl and combine the Miracle Whip, relish, celery seed, mustard, salt and pepper.
Whisk the ingredients until they're well-combined.
Now pour the dressing over your cooled noodles.
And stir well!
Add the tuna, onions and frozen peas.
Fold in the chopped hard-boiled eggs and gently combine all ingredients.
Your tuna pasta salad is ready to serve!
CAN TUNA MACARONI SALAD BE MADE AHEAD OF TIME?
It's true that tuna macaroni salad is a little bit like chili and the flavors actually get better with time. You can make the salad a day or two in advance.
WHY DO YOU ADD THE PEAS STILL FROZEN?
If the noodles are still a little warm after rinsing with cool water, the frozen peas help to stop the pasta from cooking any further.
It's also believed that the peas will be sweeter than if you would have added them to the cooking water.
HOW DO YOU KEEP TUNA SALAD MOIST?
You can store the salad in an airtight container in the fridge for 3-5 days. If you find the salad loses some of its creaminess (which is very common), you can try a few things:
Add another tablespoon or two of Miracle Whip
Mix in a teaspoon or two of milk before serving
Stir in half of the sauce when preparing and add the other half when you're ready to serve OR
Wait to add the sauce until you're ready to serve
WHAT ELSE COULD YOU MIX INTO THIS TUNA SALAD?
You can be as basic or as creative as you like. Some mix-in options could be:
Chopped celery
Diced tomatoes
Cheese cubes
Chopped orange, red or yellow peppers
Pieces of bacon
Shredded chicken
Grated carrots
Diced cucumber
Sliced olives
Diced ham
CAN I USE MAYO INSTEAD OF MIRACLE WHIP?
Sure you can, but you're going to lose some of the "oomph." You can read all about the mayo vs. Miracle Whip debate here. In our family, we just prefer Miracle Whip over mayo because of the richer flavor and spices.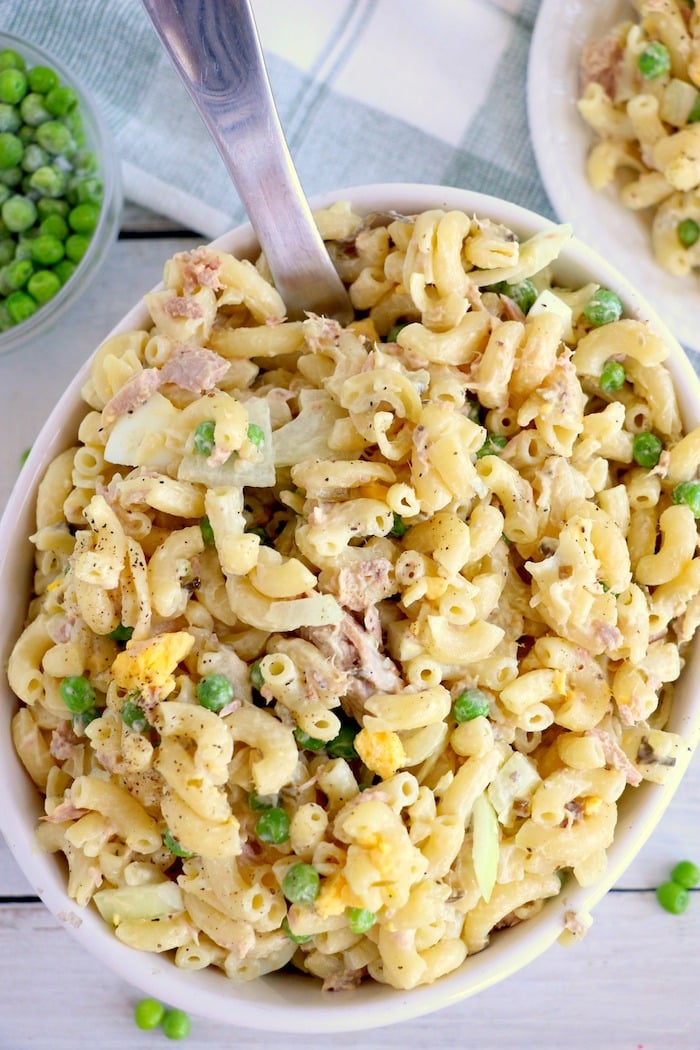 LOOKING FOR MORE SUMMER SALAD IDEAS?
Tuna Pasta Salad
A classic, creamy potluck salad featuring hard-boiled eggs, peas, celery seed, onion and sweet pickle relish. It's always a family favorite!
Ingredients
16 ounces elbow macaroni
1 cup Miracle Whip
1/2 cup sweet pickle relish
1/2 tablespoon celery seed
1 tablespoon yellow mustard
1 teaspoon salt
1/2 teaspoon pepper
2 – 5 oz cans tuna in water, drained
1 small yellow onion, diced
1 cup frozen peas, thawed
3 eggs, hard-boiled and chopped
Instructions
Cook macaroni according to the package directions.
When done, drain pasta in a colander and rinse with cold water until cooled.
Put noodles in a large mixing bowl.
In a medium mixing bowl, combine Miracle Whip, sweet pickle relish, celery seed, yellow mustard, salt and pepper.
Pour dressing over cooled pasta and stir well.
Add tuna, onions and frozen peas and mix well.
Fold in chopped hard-boiled eggs.
Stir until just mixed.
Chill in the fridge until ready to serve.
(Visited 5,371 times, 1 visits today)