Mashed Cauliflower – A low-carb and keto-friendly option for mashed potato lovers! A flavorful, guilt-free side dish perfect for healthier eating!
This post may include affiliate links. Please see my disclosure.
Are you a potato fan like I am? From mashed potatoes to hash brown potatoes, I love everything potatoes, BUT I definitely don't eat them like I used to.
For the past few years, my diet has certainly been more low-carb, so when I'm craving potatoes, I now reach for the cauliflower instead!
Today I'm sharing a quick and easy recipe for mashed cauliflower that's low-carb and keto-approved!
They really can taste just as good as regular mashed potatoes if you mash them correctly and use seasonings similar to what you'd use with potatoes.
HOW TO MAKE MASHED CAULIFLOWER
To make this mashed cauliflower, you'll need:
Cauliflower florets
Butter
Sour cream
Salt
Pepper
Garlic powder
You'll want to start by cooking your cauliflower florets.
HOW DO I COOK CAULIFLOWER?
There are many ways to cook cauliflower but the best way to do it when you're making this cauliflower mash is to steam it. Boiling the florets introduces too much water and will make your mash soupy and mushy.
I actually used my Ninja Foodi to steam the cauliflower and it took only 11 minutes. If you use a normal steamer or steam basket on the stovetop, steam for 10-12 minutes.
Cauliflower cooks much faster than potatoes (especially when already cut into florets), and you'll know it's done when it can be pierced easily with a fork.
Now, if you're looking for a bit of "roasted" flavor in the cauliflower, go ahead and roast it in the oven if you'd like. All you need to do is mix the florets with olive oil and roast in the oven for 20 minutes at 450º Fahrenheit.
HOW DO I PREVENT THE CAULIFLOWER FROM BECOMING TOO WATERY?
You may have tried making cauliflower mash in the past but didn't care for it because it turned out too watery.
If you let the cooked cauliflower "set" for 10-15 minutes before mashing, it allows any excess moisture to reabsorb back into the florets. When you mash the florets right out of the steamer or cooking pot, it may create a more watery mash.
In a large bowl, you'll want to add the florets, butter, sour cream, salt, pepper and garlic powder and then get ready to mash it all together!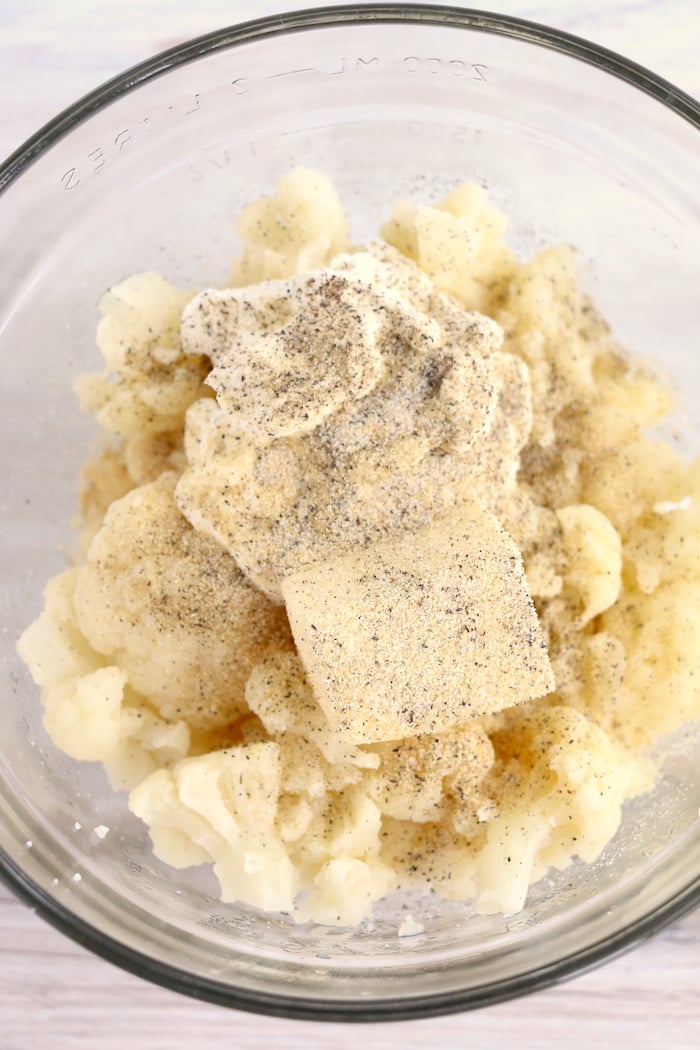 WHAT SHOULD I USE TO MASH THE CAULIFLOWER?
For the creamiest mash, use a food processor. I don't recommend using a blender. It just sounds so messy to me – and who needs that? If you really insist on using a blender, maybe try an immersion blender!
I used a hand mixer which produces a creamy mash with a little extra texture. For major texture, just use a normal handheld potato masher.
Just remember. . .if you opt for an appliance to help you mash, be careful not to over-process the cauliflower. It WILL turn to soup!
With some gentle mashing care, the end result is super delicious, and at first glance, really looks no different than normal mashed potatoes!
I like to add a bit of additional melted butter and some fresh parsley to the top of my mashed cauliflower before serving.
Don't you want to dig right in?
HOW DO I ADD EVEN MORE FLAVOR TO MASHED CAULIFLOWER?
Go ahead and shake things up even more by adding one or more of these ingredients to your cauliflower mash:
Bacon pieces
Roasted garlic
Fresh herbs (thyme, rosemary, etc.)
Sliced green onions or chives
Shredded cheese
WILL MASHED CAULIFLOWER REALLY TASTE LIKE MASHED POTATOES?
This isn't magic, but it's pretty close.😉 Keep in mind, this IS cauliflower, friends.
If you're not strict South Beach or Keto, you could try mixing half mashed cauliflower with half mashed potatoes and see if that makes a difference for you.
HOW SHOULD LEFTOVER MASHED CAULIFLOWER BE STORED?
When the cauliflower is cooled, store the leftovers in an airtight container. It will keep in the refrigerator for up to 3 days.
I hope you enjoy this low-carb mashed potato substitute.
If you're on the fence, just try it! You may be surprised at how amazing cauliflower can actually taste!
LOOKING FOR MORE HEALTHY SIDE DISH IDEAS?
Mashed Cauliflower
A low-carb and keto-friendly option for mashed potato lovers! A flavorful, guilt-free side dish perfect for healthier eating!
Ingredients
1 head cauliflower (cut into 1–2 inch florets), cooked and allowed to "set" for 10-15 minutes
3 tablespoons butter
6 tablespoons sour cream
1 teaspoon salt
1/4 teaspoon pepper
1/2 teaspoon garlic powder
Extra butter, garnish (optional)
Fresh parsley, garnish (optional)
Instructions
Place all ingredients in a large mixing bowl.
Beat with a hand mixer until light and fluffy.
Notes
I used my Ninja Foodi to steam the cauliflower. I placed 2 cups water in the bottom of the cooking pot and steamed the florets for 11 minutes.
Allow the cooked cauliflower to "set" for 10-15 minutes before mashing  to allow any excess moisture to reabsorb back into the florets. Mashing immediately may create a more watery mash.
(Visited 2,603 times, 1 visits today)