No-Bake Peanut Butter Clusters – White chocolate, crispy candy filled with chunky peanut butter, mini marshmallows, and roasted peanuts.
This post may include affiliate links. Please see my disclosure.
It's that time of year again! Cookie and candy making season! Over the holidays I love seeing and eating off of platters of sweets – cookies, fudge, candy and assorted chocolates.
Growing up, I remember my grandmother having a bowl of old-fashioned hard candies that would make an appearance around Christmas. Our hometown grocery store also had a display of all time favorites like angel food candy, turtles, popcorn balls and more.
It's traditions like this that really do make Christmas the most wonderful time of the year. Today, we're making No-Bake Peanut Butter Clusters.
You may have a different name for them but they're an old time favorite made with white chocolate, chunky/crunchy peanut butter, Rice Krispies, marshmallows and peanuts.
I like to drizzle mine with a little extra milk chocolate for the finishing touch. Delicious. And very addicting. You've been warned.?
Let's get to making these sweet and salty treats!
HOW TO MAKE PEANUT BUTTER CLUSTERS
To make these peanut butter clusters, you'll need:
Start by melting your almond bark and peanut butter in a 9×13″ pan. If you'd rather do this step in the microwave, you can.
The microwave cooks quick and hot, however, so you have to continue to check on the progress every so often by stopping the microwave and stirring the mixture to ensure it doesn't burn.
Even when using the oven to melt the bark and the peanut butter, you'll want to check on it and use a spoon to stir it around and break up the bigger chunks until completely melted.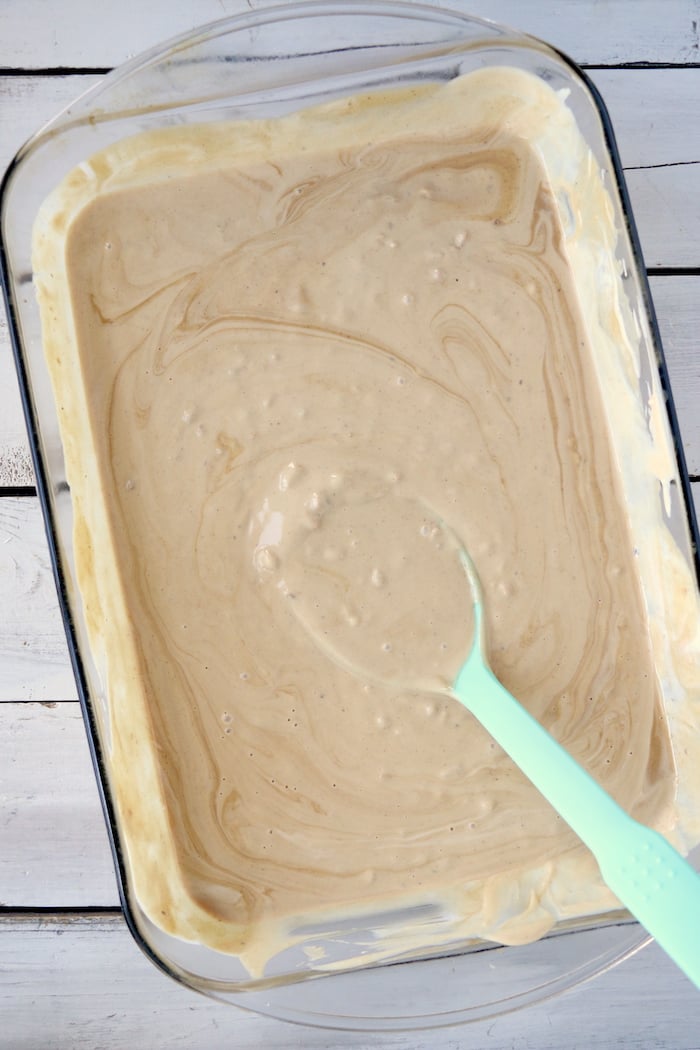 So, while this technically is a no-bake recipe I do use the oven just for warming the first couple ingredients. Nothing will be actually BAKED in the oven.
Once the peanut butter mixture is completely melted, remove the pan from the oven and add the Rice Krispies.
Then add in the marshmallows.
Once you add the peanuts, start stirring everything together and then use a tablespoon to scoop the candy onto a baking sheet lined with wax paper.
It's completely up to you if you want to do the chocolate drizzle at the end. I think it gives it a nice finishing touch.
All I do is melt some chocolate chips together with a little coconut oil and drizzle it over the candy clusters.
How delicious does that look?
The textures in the candy are incredible – the peanuts add crunch, the Rice Krispies add a light crispiness and the marshmallows are soft and chewy.
It's really a winning combination when you're talking Christmas candy.
CAN YOU FREEZE PEANUT BUTTER CLUSTERS?
WHAT ELSE COULD BE ADDED TO THESE CLUSTERS?
The options are pretty much endless. You could try:
Mini peanut butter cups
Pieces of candy bars (Kit Kats would be delish)
Raisins
Chopped pretzels
Popcorn
And more!
LOOKING FOR MORE CHRISTMAS GOODIE IDEAS?
No-Bake Peanut Butter Clusters
White chocolate, crispy, peanut butter candy filled with mini marshmallows, roasted peanuts and chocolate chips.
Ingredients
2 lb white almond bark
2 cups crunchy peanut butter
3 cups Rice Krispie cereal
2 cups mini marshmallows
2 cups dry roasted peanuts
1/2 cup milk chocolate chips
1 tsp coconut oil
Instructions
Preheat oven to 200ºF.
Place white almond bark and peanut butter in a 9×13 baking dish.
Place in oven for 15 minutes or until melted.
Be sure to stir every couple minutes to break the bigger chunks of almond bark up, until completely melted.
Add in the Rice Krispies, marshmallows and peanuts. Stir until coated.
Use a tablespoon to scoop candy onto a baking sheet lined with wax paper.
Melt chocolate chips and coconut oil together in the microwave in 30 second intervals until smooth.
Using a spoon, drizzle chocolate over clusters.
Place in the refrigerator for 20 minutes to allow to harden.
(Visited 7,132 times, 1 visits today)